An attractive port city Bodrum Turkey is situated on Aegean Coast, home to fascinating historic sights, fabulous beaches, crystal clear waters, and all-inclusive resorts. Bodrum is so much more than just another summer resort.
It's a historic destination in all its glory, with a plethora of sights and activities, and all the sun, sand, and sea you could ever dream of. Bodrum peninsula is the perfect mix of a beach town vacation with a cultural incursion, creating the perfect relaxation spot for families and groups with different interests but connected by their love for sunbathing and water sports. The traditional and modern life mix and match in harmony, while the peninsula has evolved to be an important center of entertainment, art, and trade.
Beach life in Turkey's St. Tropez
It's true that most travelers come to Bodrum for the beach life. And they're making the right choice! The most popular beaches – Gumbet and Bitez – can be reached by minibus or car, being situated 3 km, respectively 7 km away from the town. Bitez lures sun seekers with a sandy beach with shallow waters, perfect for swimming and water sports and both are renowned for their windsurfing conditions and create a beautiful setting for long days spent in the sun on sand and shingle beaches.
The beaches of Bodrum peninsula are ideal for diving and snorkeling too. If you decide to go farther, you should stop at Bagla, situated 14 km from the town, a mesmerizing place with powdery sand beaches. On the west coast, you'll find Akyar, Yalikavak, and Turgutreis, small fishing villages and stops for sailors. One of the most popular beaches on the peninsula, without ever being crowded, Camel Beach awaits between Ortakent and Yahsi and is loved for its clear waters and, as expected, interesting camel encounters. It's best to get here by boat, especially if you don't know the area.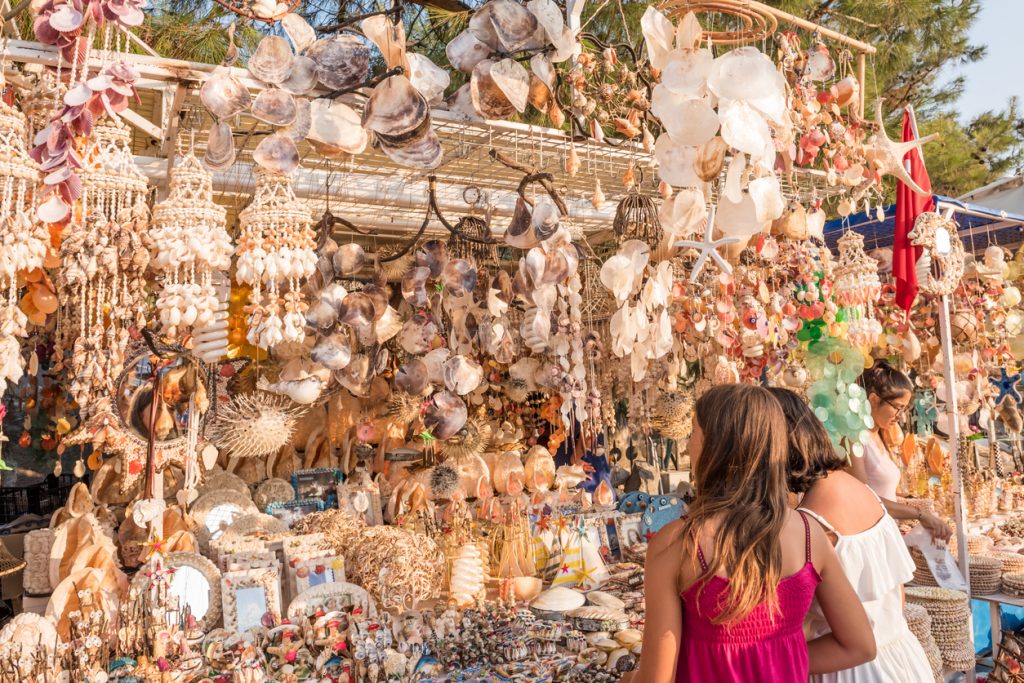 The historic little town of Bodrum
Bodrum Town enchants visitors with its cube-shaped white-washed houses dotted from place to place with minarets. If during the day, the calls of the muezzin resound all over town, when the night comes, Bodrum dances on the rhythms of house and techno music that can be heard from many clubs and bars.
The town's harbor is home to Turkish gullets – traditional, hand-built wooden yachts, a true attraction for most visitors. At the end of the harbor, you'll discover the 15th-century Saint Peter's Castle, built by the Knights of St John, still guarding the sea from its promontory. Stop here for a while, and also visit the award-winning Underwater Museum of Archeology, where you'll discover fascinating shipwrecks and artifacts, including the Uluburun shipwreck that dates back to the Bronze Age.
Behind the castle awaits a maze of alleyways that takes travelers to the town's market, while to the west, you'll find the Greco-Roman amphitheater, still standing and hosting live music.
The beautiful world beyond Bodrum Town
Farther away, you'll discover a myriad of villages, each with its own story, charm, and unique sights, ideal destinations if you want to uncover more about the interesting mix of old and new, cuisine and bazaars, Islamic traditions and beach life. The old fishing village of Torba awaits only 10 minutes away from Bodrum Town. Guarded by green hills, the village offers access to a quiet bay with blue waters, ideal for relaxation and bathing. Turkbuku, on the other hand, changes the pace and invites visitors to discover a chic village with an attractive bay where jet-skiers rule the waters. On summer nights, the village's shoreline becomes a vibrant party scene.
The name of Yalikavak is now on the lips of many millionaire yacht owners and luxury lovers due to its drastic change in scenery and abundance of facilities that cater to the needs of the rich and famous. The town has a brand new marina, a sandy beach, harbor front restaurants, and some of the most amazing sunsets on the coast. Despite its recent fame, Yalikavak has kept its small-town charm and laidback vibes.
About 20 minutes from Bodrum, travelers will discover the beautiful Barbaros Bay, a stretch of rocky coast that offers breathtaking views. Sleepy Gumusluk, known mostly for its Rabbit Island, is a 40 minutes ride away from Bodrum. Due to its shallow water, travelers can walk from the mainland to the island where they'll have the wonderful chance to spot fluffy bunnies. The village is home to a picturesque row of waterside restaurants renowned for their fish and seafood specialties.
Other Articles on Turkey
The Mediterranean to the core, a great area to visit is Kas and Kalkan. Perhaps you might want to compare all so why not look at our selection of the Top 5 Turkish resorts.