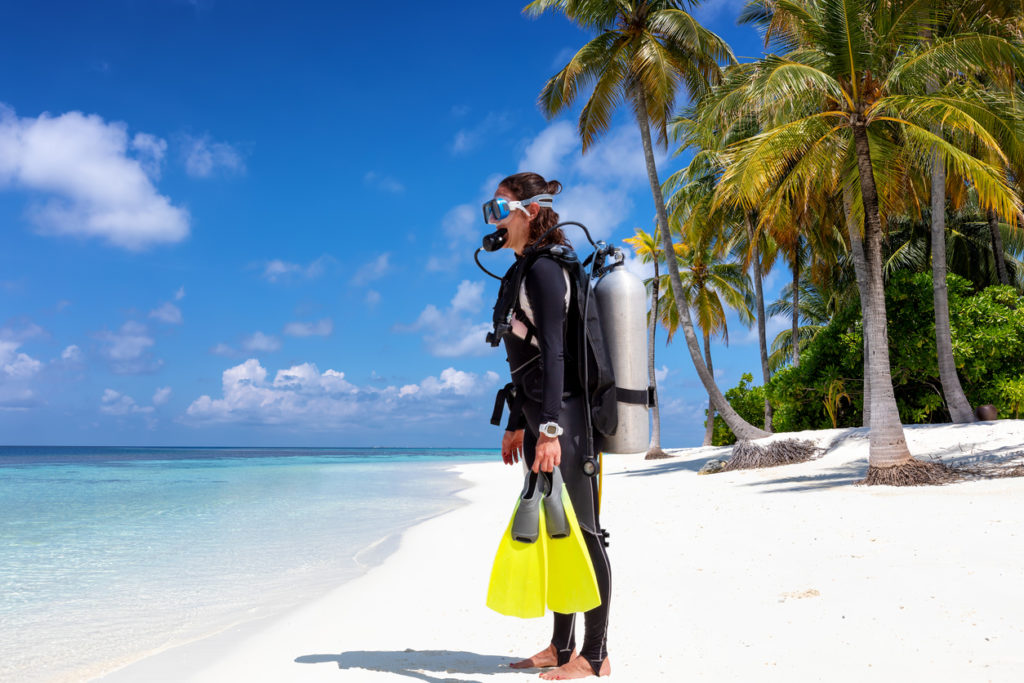 Diving is a spectacular experience that opens the gates to an intriguing and always surprising underwater world. We have selected the Top 5 Scuba Diving Destinations for you. Considering that 71% of our planet's surface is covered by water and 95% is unexplored, it's obvious we're just at the beginning of our journey of marine exploration.
However, there are spectacular known diving destinations that invite divers into a fascinating world of shapes, colors, and wonder. Whether you're an experienced diver or you're just thinking about trying scuba diving for the first time, here are the top 5 scuba diving destinations that will mesmerize and dazzle you: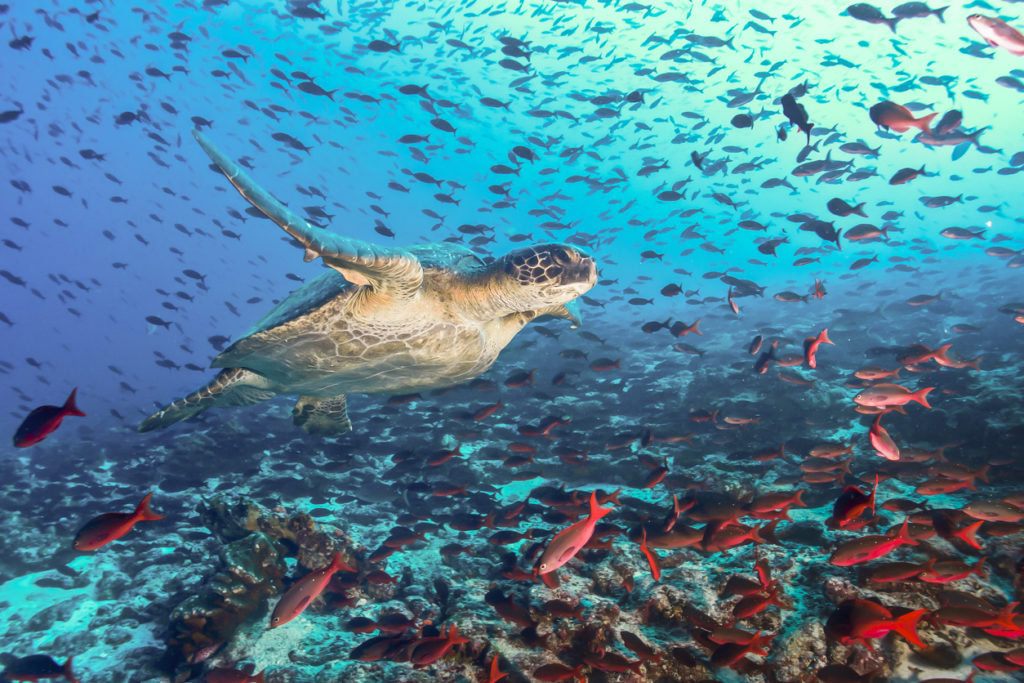 Galapagos
It's harder to get here but once you're in the water, you'll never want to leave. A realm too beautiful to be true, where life is unaltered by time and man, Galapagos is the perfect diving destination. You'll be welcomed by whale sharks, hammerhead sharks, sea lions, sea turtles, and penguins, especially from late June to October. And if you take into account that 20 percent of the marine life present here can't be found anywhere else in the world, the experience gets even more marvelous.
Most diving adventures happen on Darwin Island, especially at El Arco, home to spotted eagle rays, hammerheads, and silky sharks, and at El Arenal, famous for Darwin's stone arch. Roca Redonda on Isabela Island is actually the tip of an underwater volcano that emerges at the surface as an island. Here you'll find Galapagos and hammerhead sharks, barracudas, sea horses, and sea lions. Head to Cape Douglas on Fernandina Island if you want to admire fur seals and Galapagos sea lions while watching penguins "flying" past the dive site.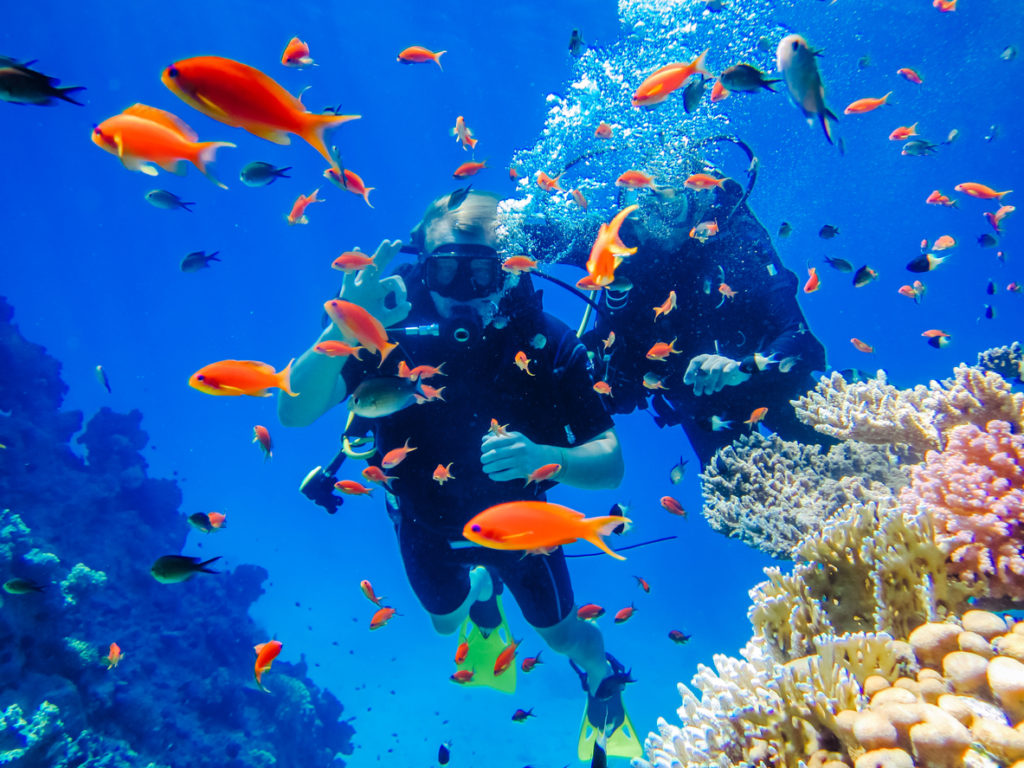 Red Sea, Egypt
Considered to be one of the seven wonders of the underwater world, the Red Sea is magnificent for diving. Home to over 1,000 species of invertebrates and over 200 species of coral, this marvelous sea lures divers into its azure waters to discover mysterious coves, coral gardens, towers, pinnacles, wrecks and millions of fish. If you're wondering which part of the Red Sea to explore? All parts would be the best answer!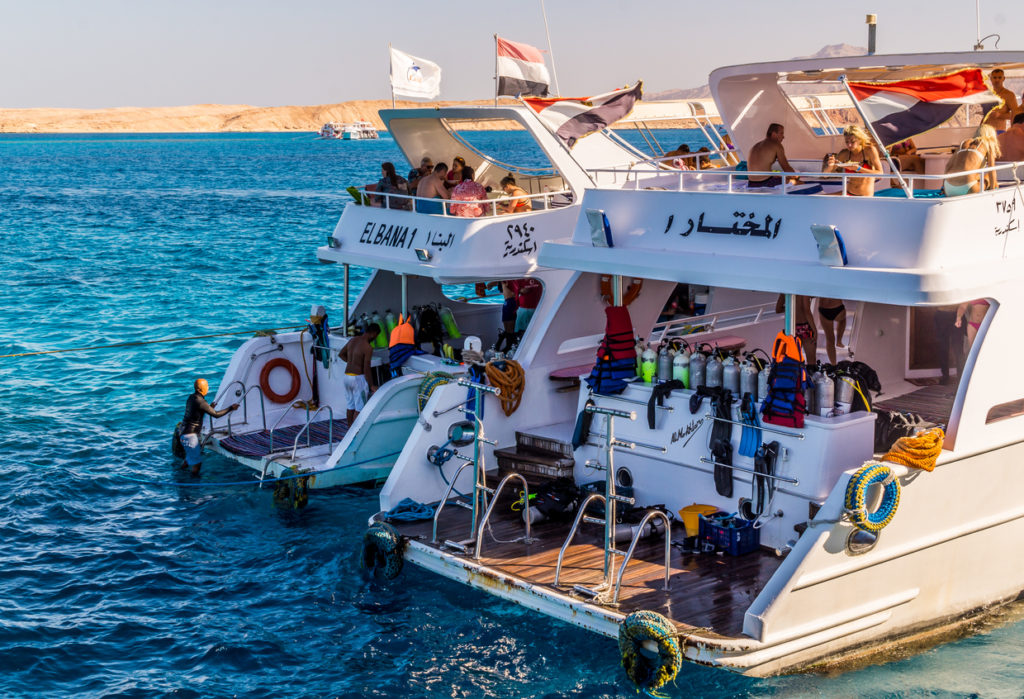 However, many say that the most beautiful dive sites await in Egypt. Taba on Pharaoh's Island is located in the northern part of the Gulf of Aqaba and is known for the fabulous frogfish, probably one of the weirdest and most fascinating fish ever, as well as for its schools of batfish and bream, eels, and beautiful coral reefs. The famous Blue Hole awaits in Dahab, a vertical underwater sink hole that has a depth of 400 feet. The site is legendary for its beauty and is the perfect place to swim among surgeonfish, butterflyfish, sea goldie, clownfish, wrasse, and angelfish. No currents will ruin your diving experience, but the Blue Hole is known for taking lives, so only experienced divers should venture into this surreal universe. You can read more on visiting Egypt and the Red Sea by clicking here.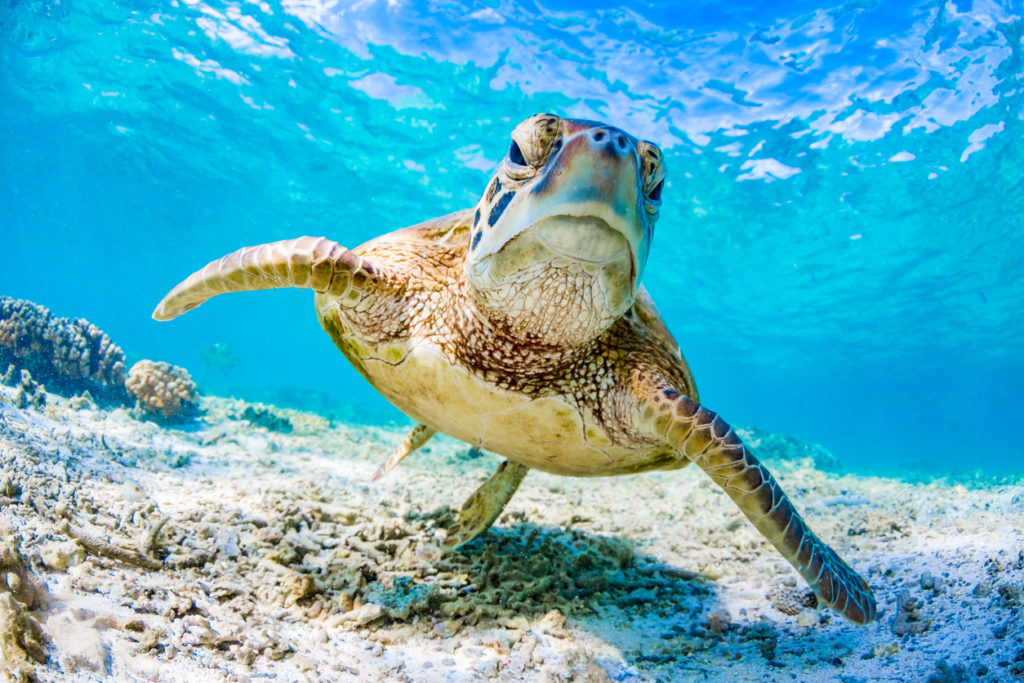 Great Barrier Reef, Australia
The Great Barrier Reef in Queensland needs no introduction. It's one of the most magnificent natural wonders on Earth, especially if you distance yourself from the touristy areas, such as Cairns, and head to the Ribbon reefs around Lizard Island. Australia is known as having the largest and healthiest coral reef system, and this place confirms the statistics.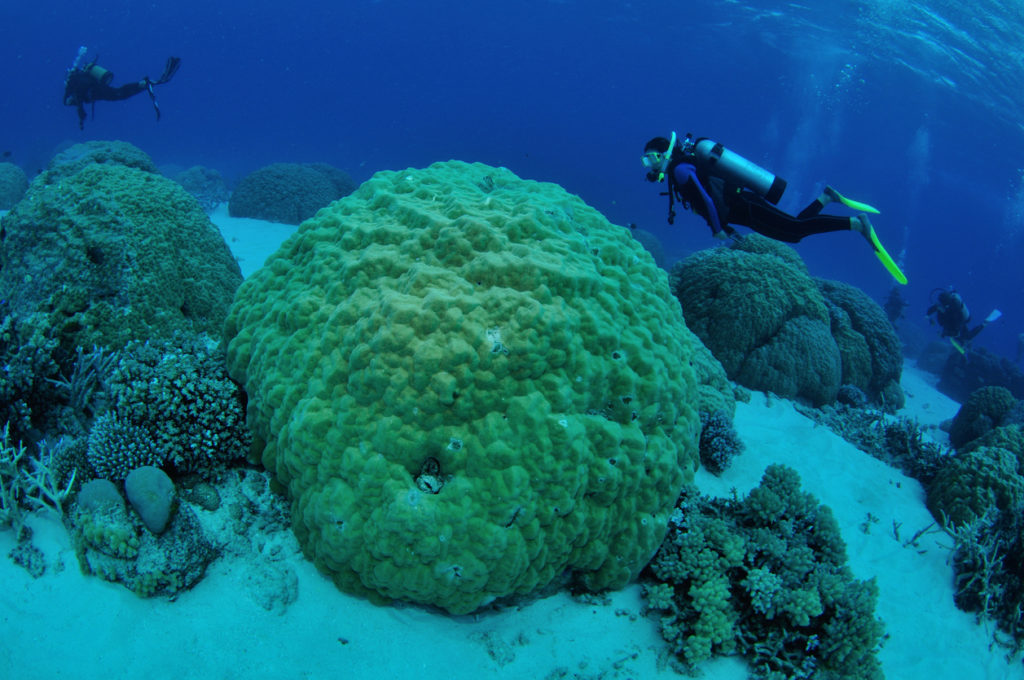 A magical universe awaits underwater, home to over 2,900 individual reefs, 300 coral cays, and 1,500 species of fish, whales, sharks, and giant turtles. Majestic and mysterious, this diving destination invites divers to discover its superb inhabitants, such as sharks of all species, humpback whales, and potato groupers that usually gather at Cod Hole and nudge visitors hoping for a treat. Ribbon Reefs itself has over 3,000 individual reef systems and coral cays. Osprey Reef is famous for its population of sharks while SS Yongala charms divers with sea turtles and a famous wreck ship brought into the depths by a cyclone in 1911.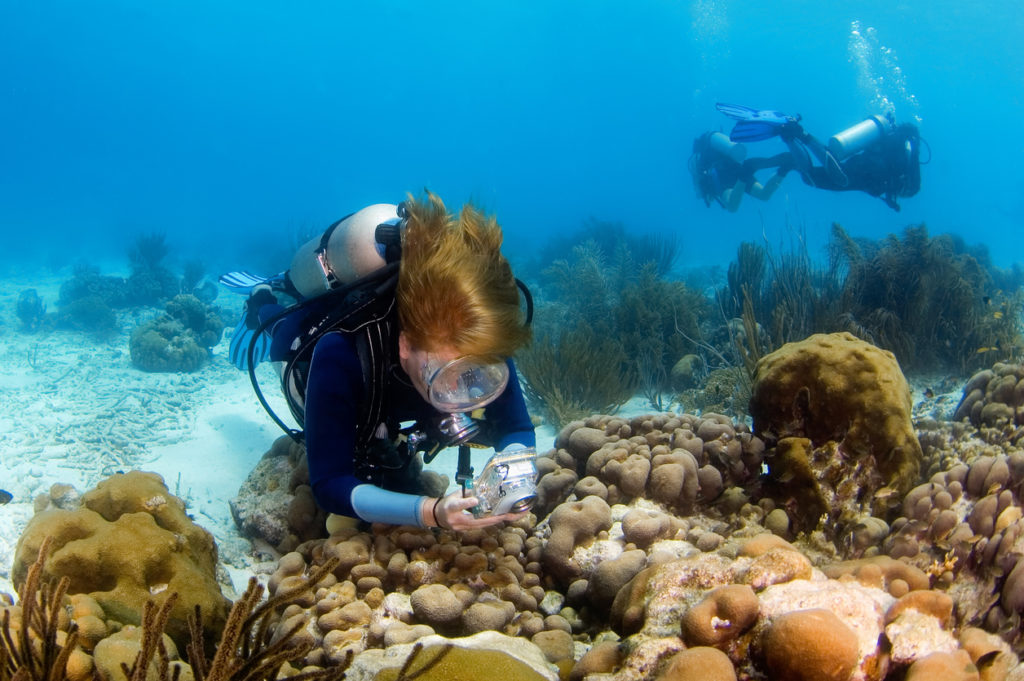 Bonaire
A seductive destination, Bonaire's beauty doesn't resume to its fabulous beaches. Bonaire is less touristy than other Caribbean islands and this means its coral reefs are untouched by tourism. The turquoise water is clean, safe, and abounding in fish of all colors. You won't find really big fish, but you'll discover an amazing coral reef system with minimal current and spectacular walls.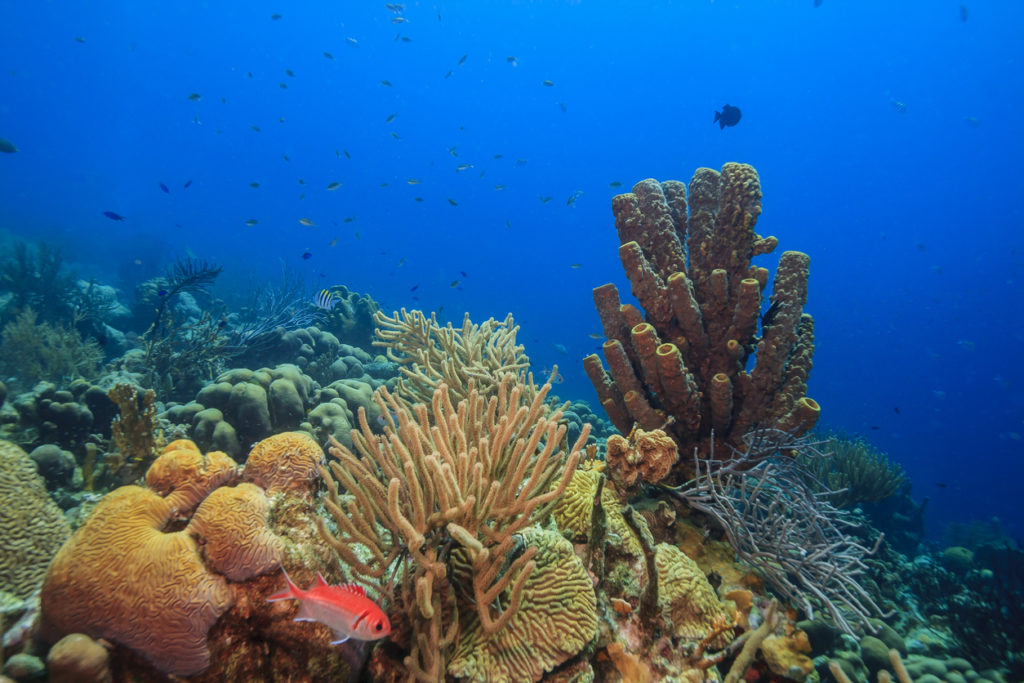 The island takes pride in its 86 lovely dive sites, 100 feet of visibility year-round, and more than 450 species of fish, including peacock flounders, queen parrotfish, ocean triggerfish, reef squids, and triggerfish. This is a great place to learn scuba diving due to its perfect water conditions and the presence of some of the best scuba instructors in the Caribbean. Moreover, since the island is not very crowded, you'll get to explore the underwater alone, enjoying the ocean's beauty in all its splendor undisturbed by other teams of divers. Read more about Bonaire by clicking here.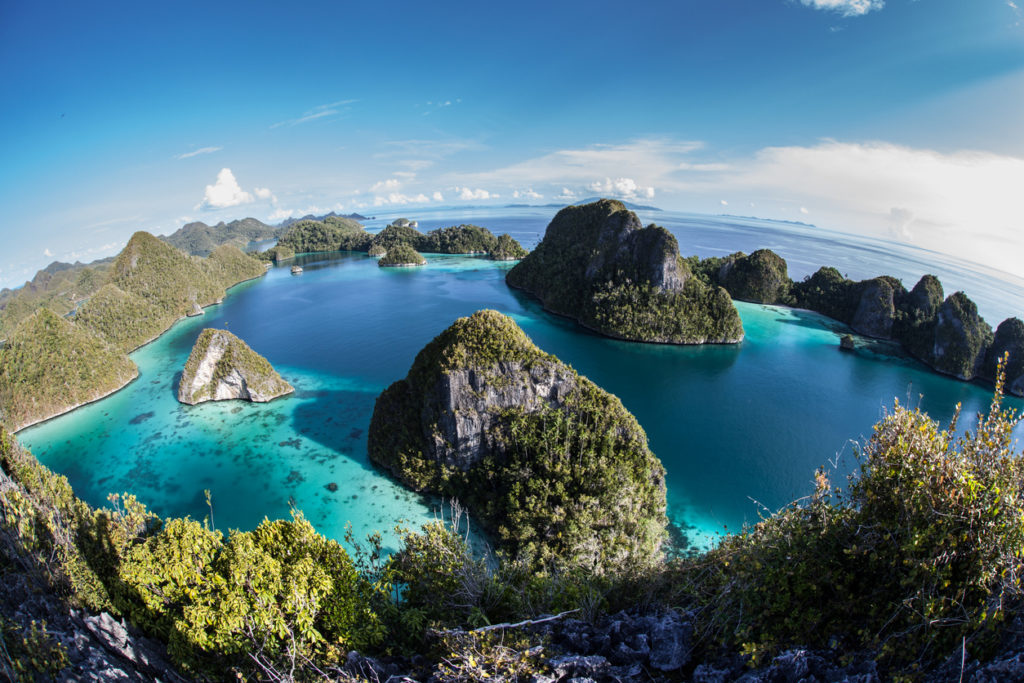 Indonesia
Home to more than 13,000 islands, the Indonesian Republic can easily fill the top 5 scuba diving destinations by itself. The country is part of the Coral Triangle, considered by experts the most bio-diverse habitat in all oceans. Raja Ampat is situated off the coast of New Guinea and creates a breathtaking scenery. Hundreds of little islands and pinnacles emerge from the waters that are home to more than 75 percent of all known coral species and more than 1,500 species of fish, including a variety of sharks, manta rays, and pygmy seahorses.
Alor is an island favored by hammerheads and an abundance of critters, while Komodo National Park is truly a fairy tale land, home to kaleidoscopic coral reefs, reef sharks, and manta rays, but also to dragons that promise an adventurous experience. The Lembeh Strait is known as the "Critter Capital of the Wolrd", so plan a diving experience there, if you want to discover a plethora of rare and unusual marine life and a world where nothing is quite as it seems. Bali has already conquered the hearts of millions and its diverse reefs are indeed gifts from the Gods, so if you want to combine a luxurious vacation with a memorable diving experience, you've found your destination! Read more on Indonesia by clicking here.
We hope you enjoyed this short by nice article on the Top 5 Scuba Diving Destinations.