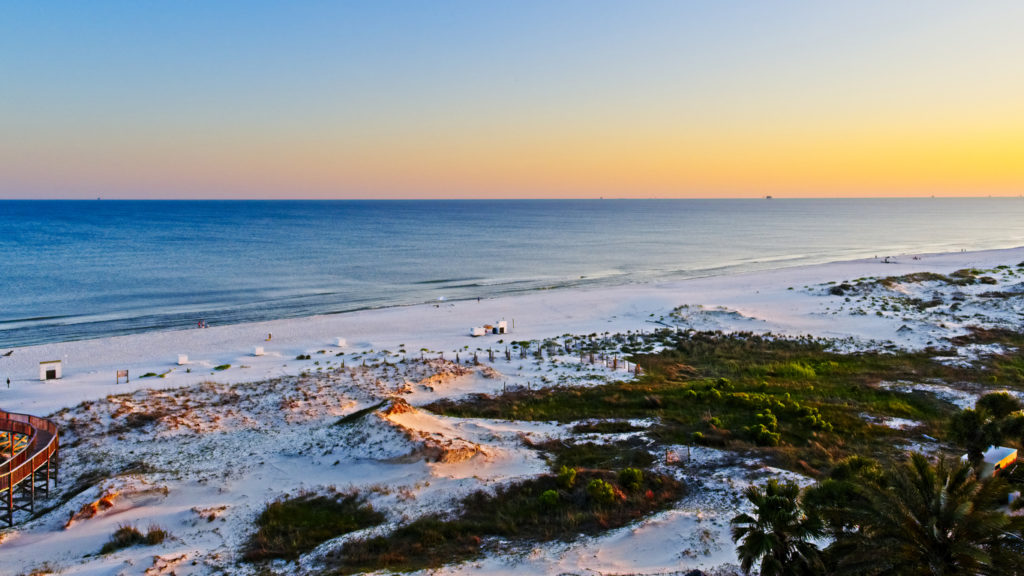 Sun worshippers often overlook Gulf Shores, Alabama, mistakenly believing there's nothing spectacular about this beach town. It's their loss!
Visit Gulf Shores and you find it has a splendid beach destination blessed with miles and miles of powdery-soft sandy beaches and tons of fun things to do. One of the South's best-kept secrets, Gulf Shores surprises first-time travelers with superb views of the Gulf, an incredible culinary scene that may very well rival the one in New Orleans, plenty of great accommodation options, and a shopping district meant to keep shopaholics on their toes and in the dressing rooms. 
Waiting for sunbathers at the southernmost tip of Alabama and covering a surface of 27,000 acres between Mobile Bay and Pensacola, Florida, this gorgeous and peaceful island strip combines the old-school Charleston charm with fun and contemporary beach resort vibes. Great for both couples and families with kids, Gulf Shores invites visitors to enjoy a relaxing and active beach vacation in Alabama. Curious about the fun activities that await here? Here are some of the most popular things to do in Gulf Shores: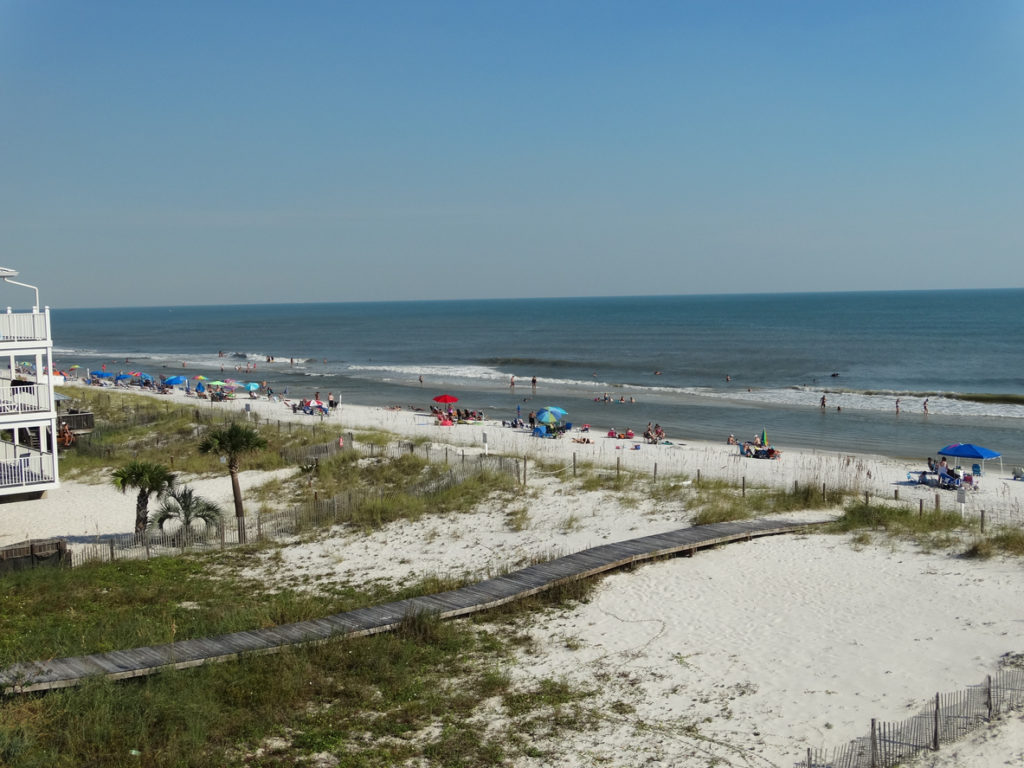 Be lazy on endless unspoiled beaches
What's a beach getaway without hours and hours of absolute laziness on a white-sugar sandy beach? Gulf Shores invites sunbathers to relax and enjoy the generous sun on 32 miles of gorgeous beaches. Dressed from head to toe in tiny quartz crystals, the beaches in Gulf Shores are incredibly powdery and almost blindly white. Whether you want to admire the sunrise on the beach, play beach volleyball or take to the waters and enjoy a vast variety of water sports, including surfing and kayaking, the beaches in Gulf Shores are an idyllic backdrop for all your beach-related endeavors.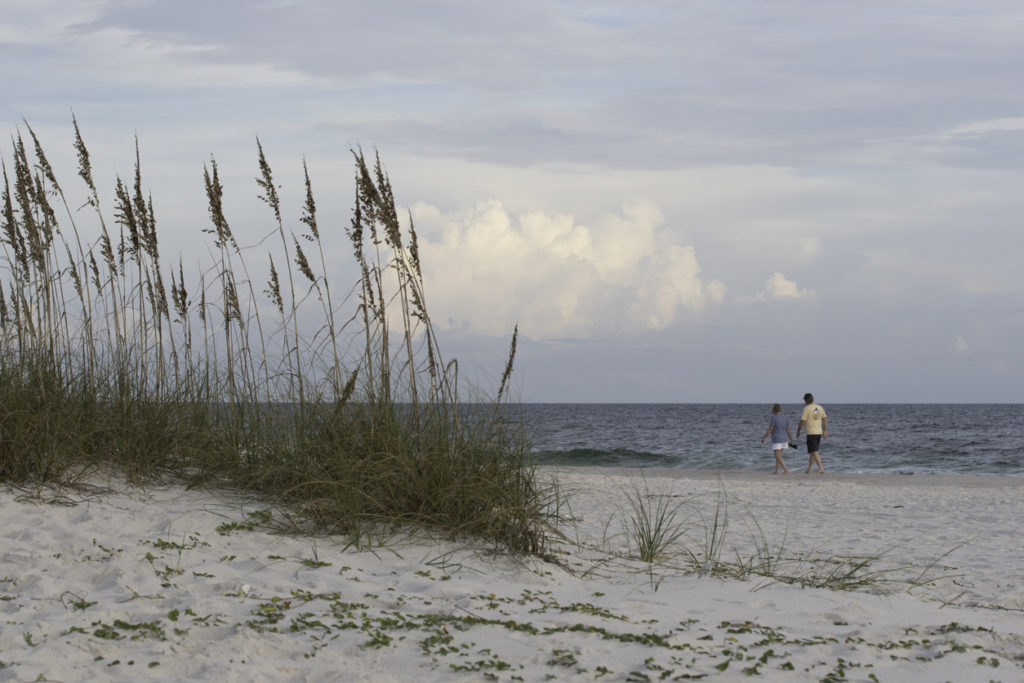 Book a room with ocean view
Gulf Shores and the neighboring Orange Beach welcome visitors with beautiful oceanfront hotels and splendid rooms with ocean views. From beachside residences to more than thirty hotels, you'll certainly have where to choose from if you decide to book a room in Gulf Shores or Orange Beach. Check out the Barefoot Bungalow II if you're planning a big-group reunion. This amazing 10-bedroom holiday home is situated right on the beach and dazzles guests with amazing ocean views. If you're planning a romantic beach escapade, The Lodge at Gulf State Park offers gorgeous king rooms with ocean views.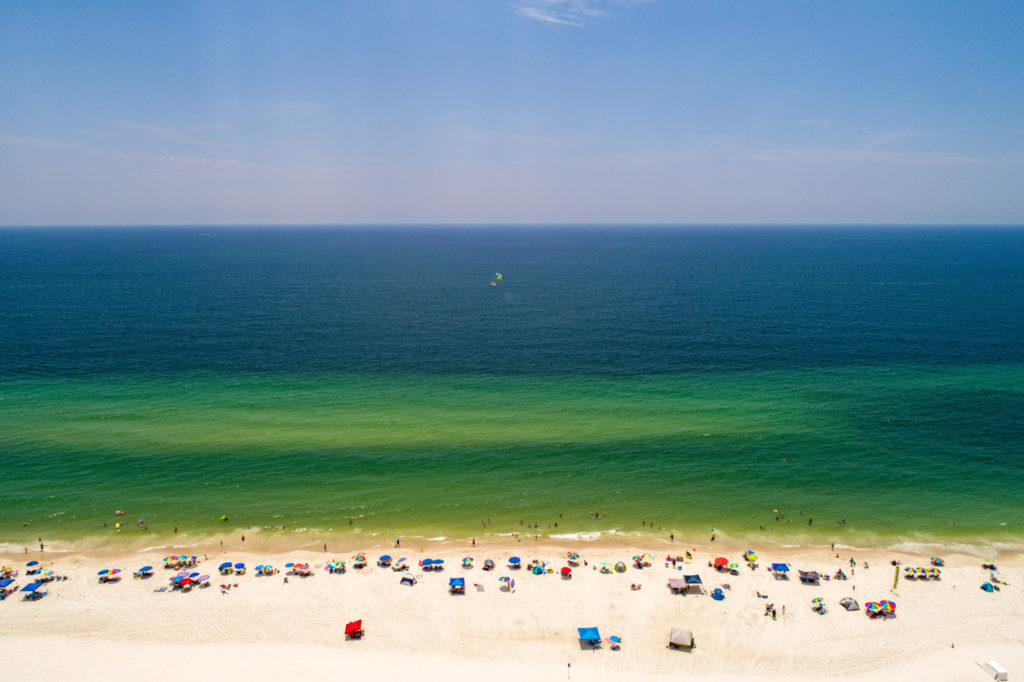 Explore the Gulf State Park
If the 32 miles of coastline are not enough for you, continue your beach adventure at the Gulf State Park that extends for two miles along Alabama's Gulf Coast. The park offers day passes and overnight stays at one of its 20 cabins and 11 cottages, as well as the well-equipped Gulf State Campground where you'll find almost 500 campsites and a swimming pool. The beaches are as enchanting as everywhere else in Gulf Shores and blessed with crystalline blue waters. Moreover, the park is remarkable due to its six ecosystems that await along the Hugh Branyon Backcountry Trail and lovely paved trails that will take you to wet pine woods, coastal dunes and swamps, and oak forests.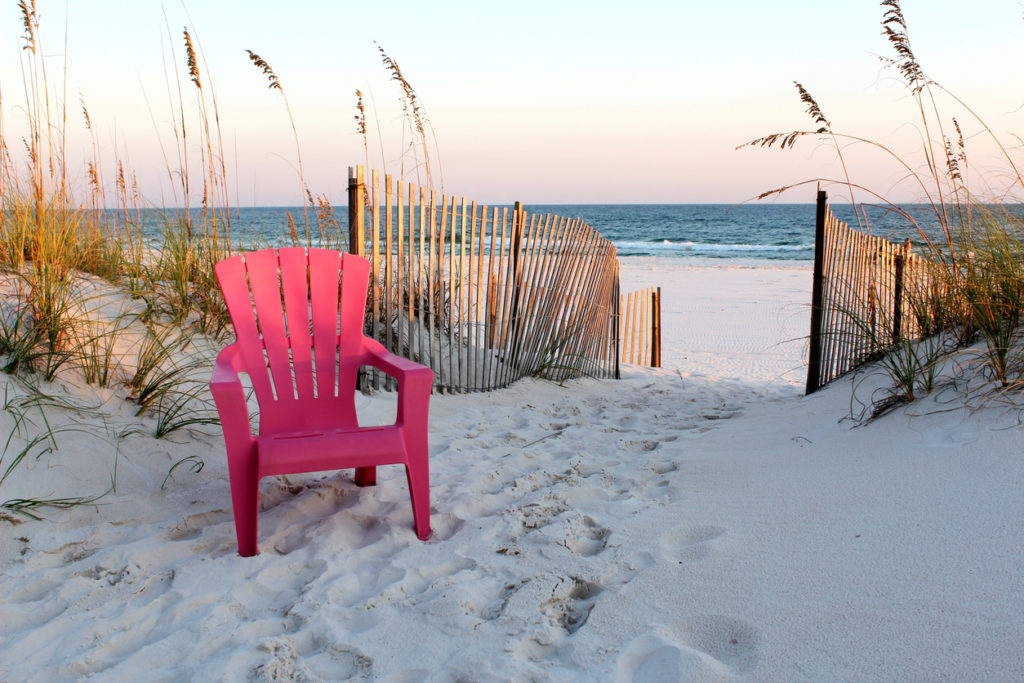 Experience the thrill of epic charter fishing
Fishers love the waters of the Gulf of Mexico due to its abundance and variety of fish. From white trout and mackerel to tuna and snapper, most anglers that embark on a fishing adventure from the Gulf State Park Pier, the second-longest pier on the Gulf of Mexico, experience the thrill of a great catch. The thirteen inshore artificial reefs attract redfish, flounder, cobia, and white trout, while if you adventure farther offshore, you increase your chances to return with an epic catch to brag about, like blue marlin and sailfish. The pier delights not only fishers but also "civilians" who can keep busy with shopping and eating fresh seafood.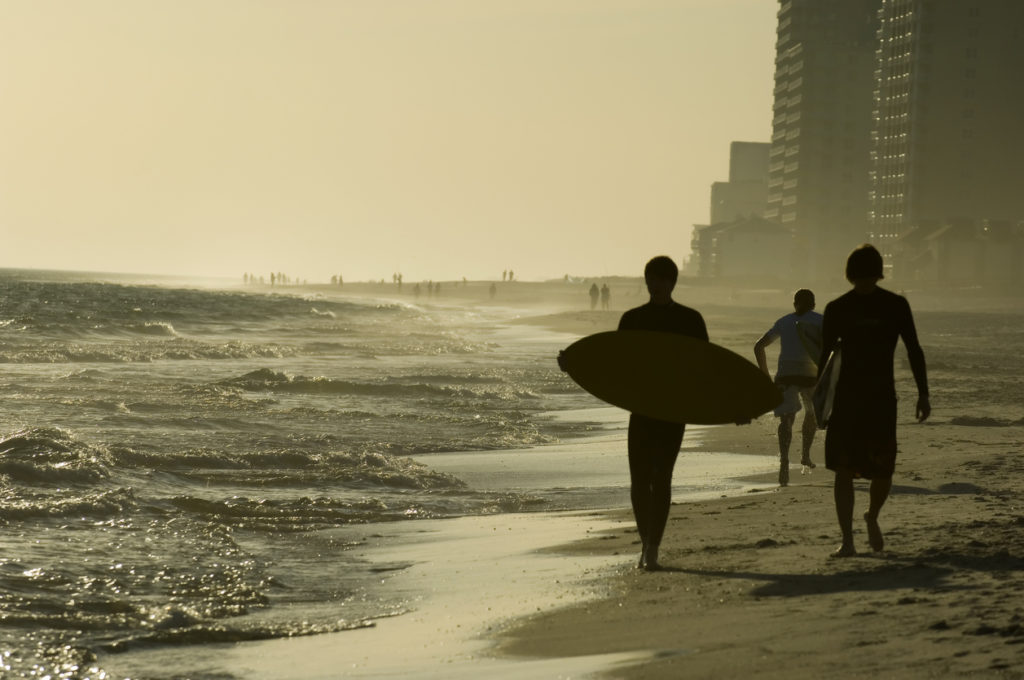 Sample the phenomenal local cuisine
Seafood and fish reign supreme on the tables in Gulf Shore coming to the local restaurants straight off the boat. However, the menus abound in a variety of cuisines and specialties, so you won't have a problem finding everything from sushi and pasta to burgers and traditional Southern dishes. The Big Fish Restaurant creates a welcoming and relaxed ambiance in a luxury setting and invites guests to taste delicious jumbo crab cake and other seafood specialties accompanied by exquisite liquors, while Café Grazie combines local seafood with Italian cuisine and creates extraordinary dishes garnished with extraordinary marina views.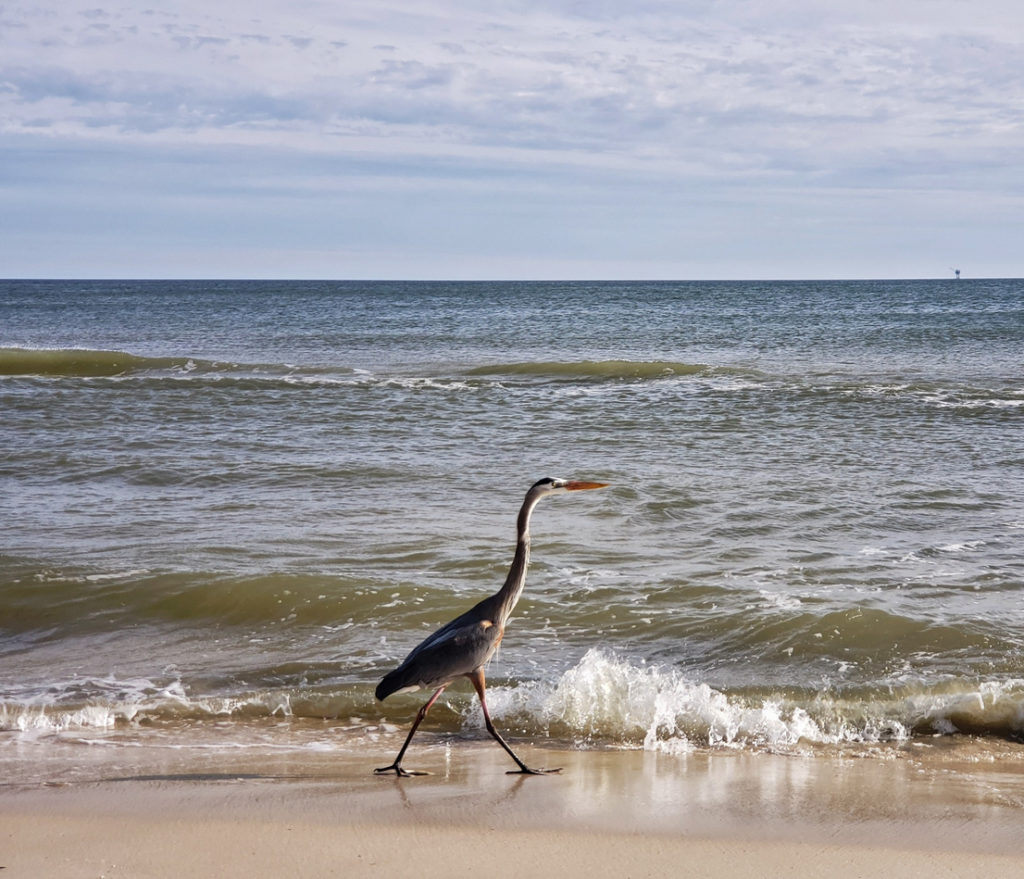 Adopt a sea turtle
Home to more than 50,000 endangered loggerhead and green sea turtles, the Gulf Coast is a great destination to admire these magnificent creatures and make a difference for them. Each summer, turtles return to the beaches to lay their eggs, and many volunteers make sure they can do this safe and sound with sponsorships from visitors like yourself. The funds are used for tracking and monitoring equipment and to make sure the turtle hatchlings will find their way safely into the waters of the Gulf.
Don't miss the Ferris wheel ride
Home to the tallest Ferris wheel on the Gulf Coast, the Ferris wheel in Gulf Shores is visible from miles away and a true landmark of the region. So, take a seat in one of its 24 gondolas and capture breathtaking views of the ocean and the surroundings. Once you're back on steady ground, you can play a round of mini-golf, enjoy a shopping session, or continue the adventure with a zip line ride.
For more tourist information click here. If you like this you might also like Panama City Beach in Florida too.