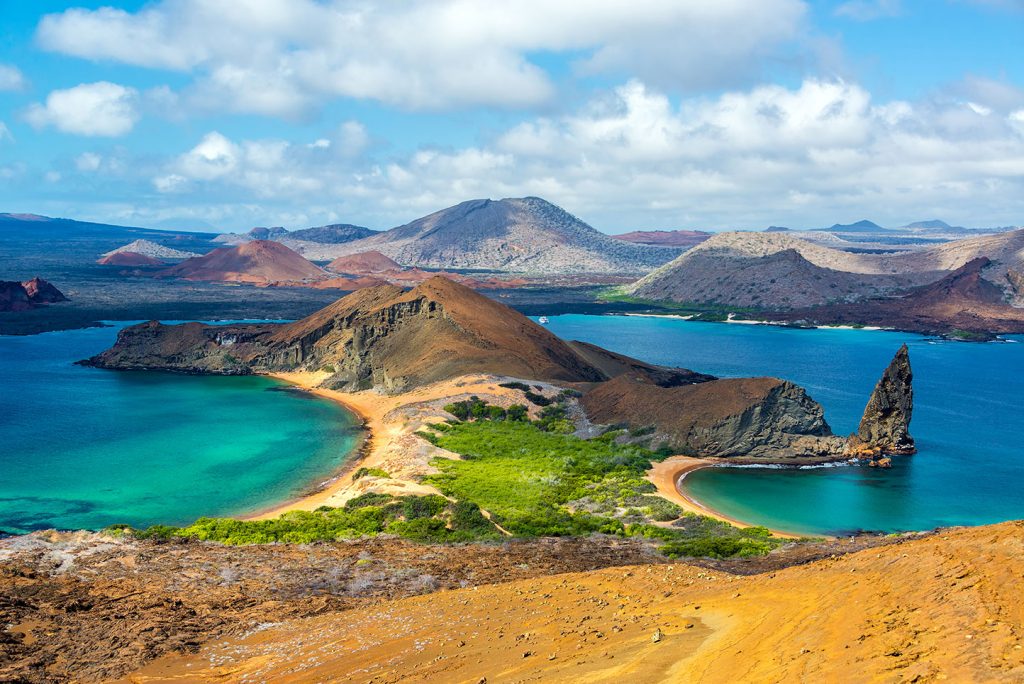 Galapagos is a fascinating corner of our planet – a paradise for wildlife and unforgettable experiences. After all, this archipelago is probably the most famous destination in the world for wildlife-watching. It's not at all surprising that Darwin has based its theory of natural selection on this amazing spectacle of wildlife.
Situated at 620 miles off the coast of Ecuador, Galapagos has brought together an outstanding variety of wildlife that walks the Earth, conquers the skies or hides underneath the waves. The archipelago includes 13 main volcanic islands, six smaller islands, and more than 100 islets. The amazing fact about these islands is that each one has its own atmosphere and charm, as well as its own share of distinctive wild creatures and landscape.
An amazing natural spectacle at every corner
The Galapagos Islands are an out-of-this-world realm, a place where you will get to admire lush green highlands and lava formations, cactus forests and hypnotic turquoise bays, as well as infinite tropical beaches. It's like heaven on Earth, especially for the wildlife that lives here. That's because the locals do everything possible to protect each species that has found a home on one of the Galapagos Islands.
More than 170,000 tourists have visited this destination last year, and the place is getting more and more crowded. Don't be surprised to be able to walk only certain paths during your tours on the islands or disembark your boat in special designated places. You will also be allowed to visit only certain parts of the national park. The tours of the island are usually guided by local certified guides. Why all these extreme measures? They need to protect the greatness and uniqueness of the Galapagos Islands!
Expect to find amazing wildlife at every corner! You will get to meet all Earth's creatures from tropical penguins to fashionable blue-feet boobies. The Galapagos penguin can be spotted mostly around the westernmost islands, in places like Pinnacle Rock, and on Isabela and Fernandina islands, where they breed. Also on these two islands, you will have the chance to admire the flightless cormorant that can be found nowhere else on our lovely planet.
However, the most famous winged creatures in the Galapagos Islands are undoubtedly Darwin's finches. Darwin managed to figure out that 13 species of these little birds have evolved from only one species on the mainland which led to his major revelation. You will be able to find them pretty much everywhere in the archipelago, just like the frigatebird that are not at all shy and make their appearances quite often.
Head to Santa Fé Island, a land that probably witnessed the beginning of time, if you want to admire the Española tortoise and land iguana. You will have the possibility to admire the giant tortoise of Galapagos in the Santa Cruz highlands, on Alcedo Volcano, and on San Cristobal and Santiago islands.
Hike, snorkel, dive, take in the views
The Galapagos Islands have been formed between 3 and 5 million years ago following a series of volcanic eruptions. There's no surprise that there are a lot of things to see and do on this chain of islands and islets. Some of the volcanoes are still active and everything is still changing. You can feel it in the air that there's something unique, strange, and captivating about this place. There's the stillness of dry deserts and the whisper of the ocean, the amazing sounds of outstanding land animals and the screams of the fascinating waved albatross. Everything in the Galapagos Islands intrigues!
Go hiking over dried lava beds or along the highlands and discover an outstanding variety of vegetation. Now is your chance to trek around the Sierra Negra, the second largest crater in the world. Isabela, the biggest island in the archipelago is home to no less than 6 volcanoes and is still volcanically active. During your hike, you will definitely get to see the giant tortoises that have a breeding center on this island. Off of Isabel, where the Tagus Cove and Bolivar Channel can be found, live no less than 16 different whale species, so there's a big chance you will spot marine creatures like the orca, minke, humpback and sperm whales.
If you want to discover the fascinating underwater world of the Galapagos, both diving and snorkeling are great ways to submerge. The best diving spots are on Wolf and Darwin Islands, where hammerhead sharks, eagle rays, whale sharks and more marine creature await, while snorkeling can be done…well, pretty much on all islands. The sea lions and Pacific sea turtle await to say hi on every island of the archipelago. The favorite islands for snorkeling though are Isla Lobos and San Cristobal.
Whether you walk, trek, swim, snorkel or dive in the Galapagos Islands, one thing is sure: you will be one of the few people on this Earth to witness this majestic spectacle of nature.