More than 50 years have gone by since the release of Lawrence of Arabia, a David Lean's masterpiece. A classical movie that has inspired many journeys to Saudi Arabia, especially since Lawrence of Arabia was actually a real British army officer that crossed the Jordan's desert about 100 years ago and played an important role in the Great Arab Revolt, fighting for Arab independence. The film is based on his account of wartime experiences gathered in his book called "The Seven Pillars of Wisdom".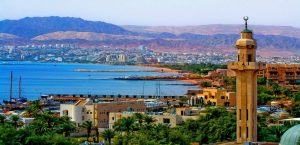 Not many have changed since then in the desert. Still an infinite land, vast and overwhelming, the desert is now however much more accessible than it was 100 years ago. It's actually a tourist destination and a great one I might add, especially if you want to break the patterns and discover the finest jewels of Jordan's desert.
Discover Amman – once a village, now an impressive capital
Let's start our journey with landing at Amman, Jordan's capital city. Lawrence arrived here in 1916, when Amman was only a village. However, it was already an important historic destination, housing the Roman, Byzantine and Islamic ruins of great value. Amman was then a new train station on the Ottoman Hejaz Railway, but when Lawrence started to write down his account, it had already became the capital of the Emirate of Transjordan, a position obtained following the revolt lead by the courageous Lawrence and his friend, Prince Faisal.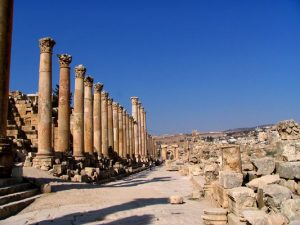 You will still be able to find sights that attest the presence of Lawrence here, such as original railway carriages from 1908, still working and taking passengers from Qatrana, as well as the house of Frederick Peake, where Lawrence stayed as a guest and wrote some, if not all, of his book. Today the house is named Darat al-Funun and houses an Arab and Jordanian art gallery.
Aqaba – a luxury beach town with a fascinating past
From Amman, tourists usually fly to Aqaba, which lies at the edge of the desert, framed by the Red Sea coast of Jordan. Here you will discover the Aqaba Castle, the fortress that made Lawrence famous and played the most important role in the Arab revolt. This is where in 1917, Lawrence united the Bedouin tribes and defeated the Ottoman Empire's army. Aqaba is now a fancy tourist destination that houses 5 star luxury resorts and beach hotels, as well as an important marine park. It's quite opulent and not at all what you would expect from a historic town, but it still reminds tourists about its past through the presence of its 14th century fortress.
Wadi Rum and the desert dunes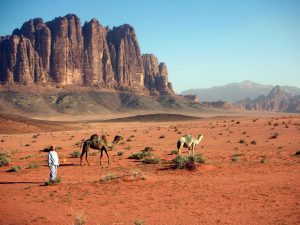 Another important location in our journey, which will take us on Lawrence's steps is Wadi Rum, where Lawrence first arrived when he was a junior officer. Here is that he found the Hashemite rebels, who will eventually fight alongside with him against the Ottoman Empire. You will discover here an impressive gorge, house to immense red rock monoliths, some of them measuring over 800 meters. Surrounded by sand corridors and a silence that echoes off the monoliths' walls, Wadi Rum is a historic location situated about 300 km away from Amman.
The desert's dune are an attraction by themselves, and those who want to take a camel ride to admire them, can do so by booking camel treks from Wadi Rum or 4×4 rides. Lawrence put together a plan to lead the army across this brick-red sand dunes and, since nothing has actually changed since then, you will get to see what he saw. During your guided trip, you can even discover more about the Zalabia Bedouin culture, actual descendants of the tribesmen who fought alongside Lawrence in the revolt.
Petra – where time lost a battle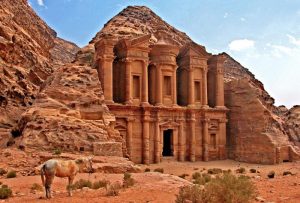 Your journey in the Jordanian desert must include a visit of Red Rose Rock City Petra, the most visited attraction in the country. The imposing and majestic Petra dates back to the 6th century B.C. and it still stands. It was built by the Nabataean Arabs, a Nomadic tribe who settled here and established a commercial empire. Lawrence too traveled to Petra before and during the war being fascinated with the ancient city's temples and tombs carved in the rock.
Azraq – where the Blue Fort hides
Many itineraries that follow the footsteps of Lawrence of Arabia also include Azraq on their map, an important oasis town. Here Lawrence and Prince Faisal, who were leading their troops to capture Damascus, rested for a while during the harsh winter of 1917. If you're courageous enough and not afraid of the most powerful silence you have ever had to endure, head to the Blue Fort, a string of desert castles that date back to the 7th and 8th century, and experience the "unfathomable silence" that Lawrence speaks about in his book. The fortress is far from the beaten path and is guarded now by direct descendants of the people who offered refuge to the army of Lawrence and Prince Faisal. It seems that Lawrence himself had a room above the gateway.
Those who are interested in Lawrence's life and go on this absolutely amazing journey will return home richer in knowledge and with an appetite to discover more and more about these lands and people. A journey into the Jordanian's desert is just the beginning of a journey into the Arabian long history.