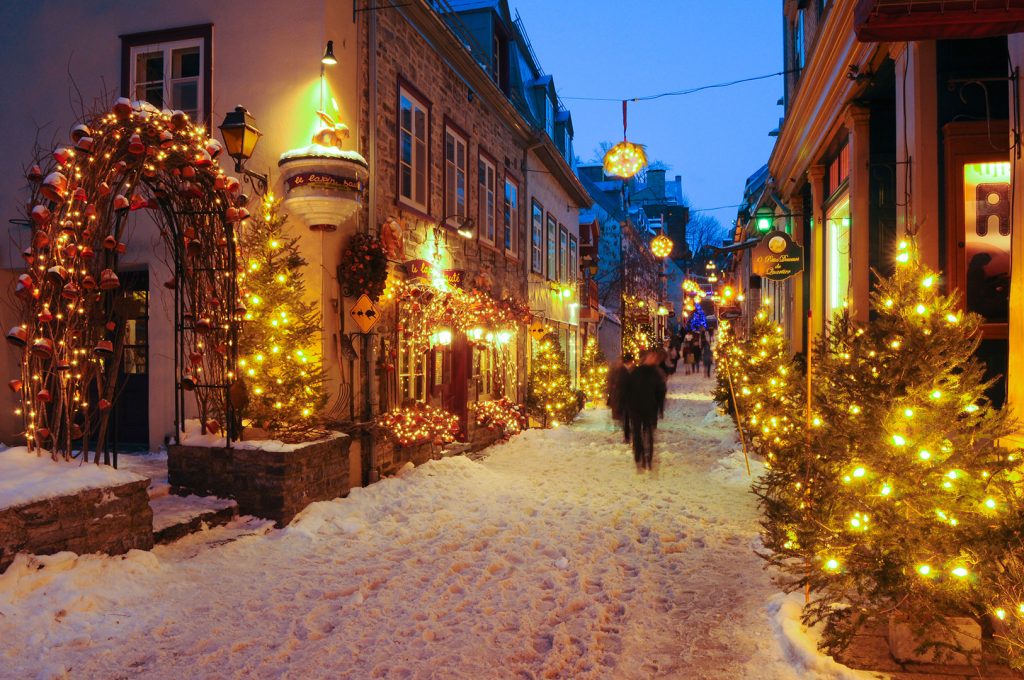 There are many winter wonderlands in the world, but somehow, the winter magic of Quebec City is unique and unsurpassed. Yes, you can spend the holidays in Dubai or Thailand, or in other warm and exotic destinations, but is it really Christmas if the weather is not frosty and snowy? Is it winter if the snow doesn't sparkle like diamonds in the winter sun? And what's winter without skiing, sledding and ice skating? Probably just any other season!
Anyway, I love spending winter in magical places, and Quebec has earned its rightful place in my heart, next to New York and Montreal. I am not drawn to Quebec only because the old town becomes a mesmerizing Christmas village during winter, and I have wonderful winter resorts waiting for me just a stone throw away from downtown, but also because Quebecers really know what joie de vivre is, even in the coldest months of the winter. As a matter of fact, the winter season is invigorating in Quebec. It feels like this is the time when locals are most happy and exhilarated. And they have so many reasons to be like this!
Old Quebec puts on his holiday clothes
Old Quebec is an UNESCO World Heritage Site and, as expected, is absolutely wonderful, regardless the season. However, when I first stepped on its cobblestone streets during the Christmas season, when all those lights and Christmas decorations started appearing at windows, in cafes and on houses, magic set in. It was an extravaganza of lights, globes and Christmas trees, and I felt once again like a little kid waiting for Santa to come.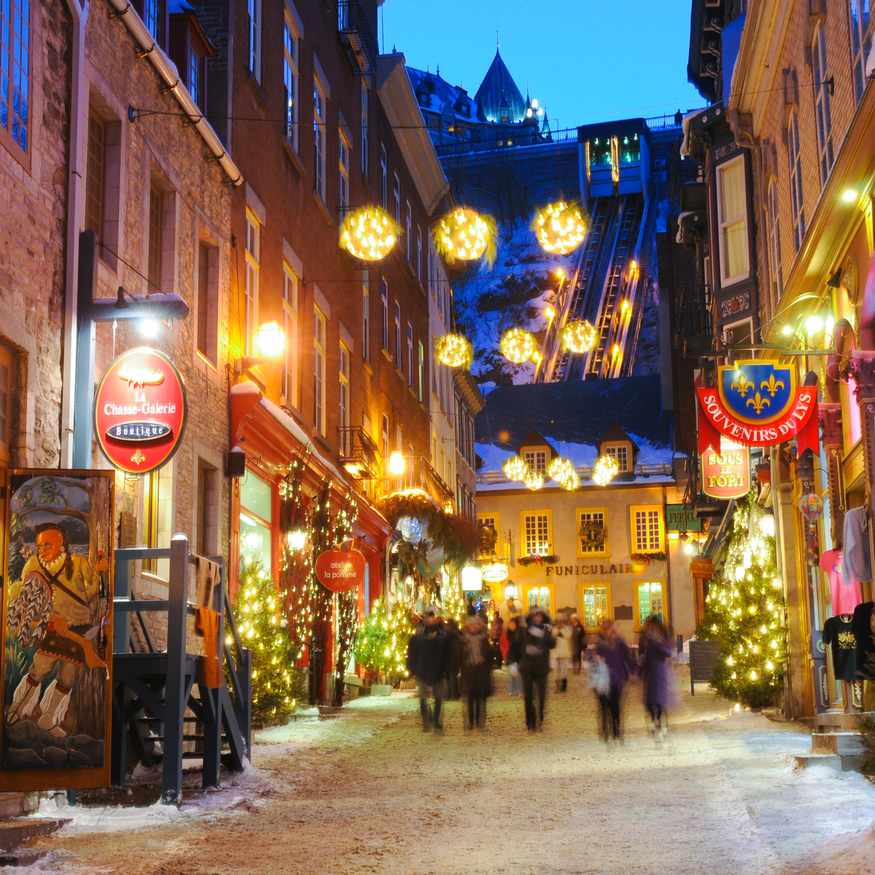 Old Quebec takes you back in time, when simple joys were all that matter. Here you can find art galleries and boutiques, chic restaurants and bohemian cafes, and many handicraft stores, from where I bought countless souvenirs and handmade Christmas gifts. I felt at home in Old Quebec. It was exactly what my heart desired when snowflakes and jingle bells announced the imminent arrival of Santa Claus. And, when I thought things couldn't get any better…the Petit Champlain appeared!
Petit Champlain took my breath way with its surreal beauty and dazzling Christmas ambiance. This is a beautiful street in the district with the same name, a place that probably has been illustrated on thousands of Christmas postcard and if it hasn't, it definitely should be. In 2014, the street was voted the best street in Canada, being described as charming and authentic. Petit Champlain gravitates around the local culture and French charm, and says a determined "no" to consumerism and mass tourism facilities. And I love it for this!
Wonderful old buildings stand proud along Petit Champlain, telling stories about European colonists and the architectural styles they brought with them. So, expect to find crepes and romantic cafes that will take you not only back in time, but also to beautiful European cities, such as Paris. As a matter of fact the entire old town is under the spell of history and European charm, a feature that it's hard to find in the Northern Hemisphere.
Snow and ice set the rules for fun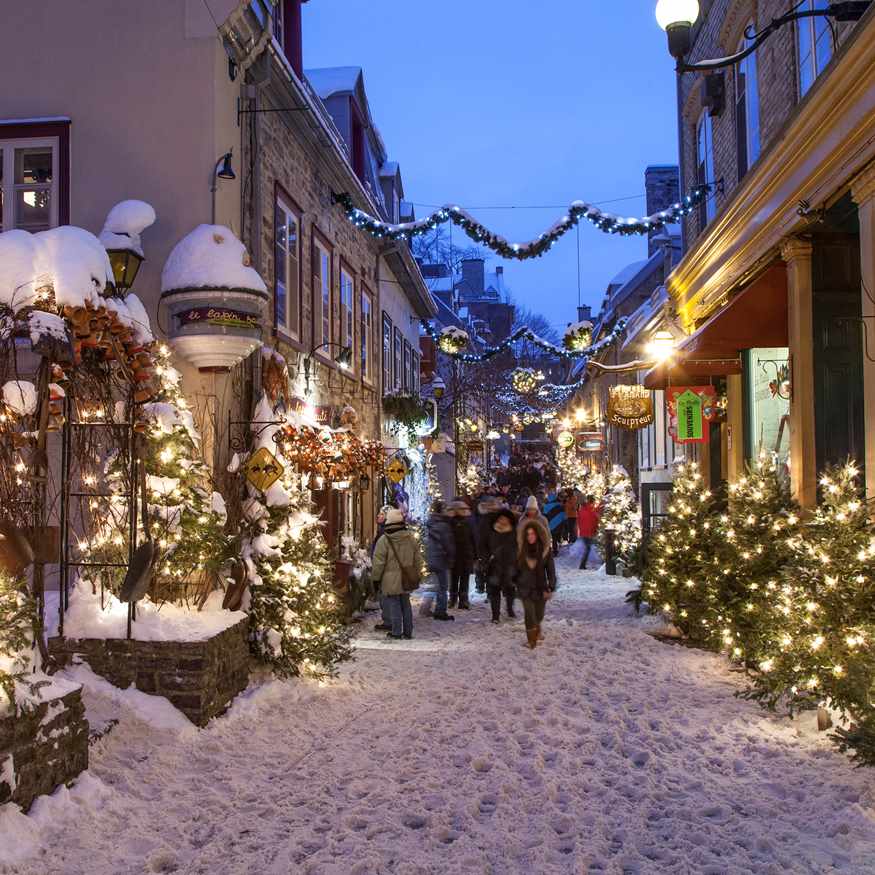 The most fun activities in Quebec involve snow and enchanting settings. There are no less than four winter resorts in the Quebec City area, perfect for skiers of all levels, as well as for snowboarding. So, you can choose from Mont-Sainte-Anne, Le Relais Centre, Stoneham Mountain Resort and Le Massif de Charlevoix. The latter is one hour away from Quebec and attracts both locals and tourists with the biggest vertical drop east of the Canadian Rockies and its steep terrain. Here you can also try your skills at rodeling or Austrian-style luge. Yes, it's like sledding but more fun!
If you're into cross-country skiing and snowshoeing, which I am not because of all the…effort, you will be glad to know that the region has over 2,000 kilometers of ski trails, so enjoy! While I am not a fan of long-term commitments that involve snow, I do enjoy ice skating, and especially skating on the rink at Place D'Youville, a remarkable place due to its romantic atmosphere. If you're feeling courageous, you can also try ice canoeing on the iced St. Lawrence River. It's a lot of fun, or so it seems, because I was only a spectator at this madness on ice. Want more ice? Check in at the Hotel de Glace! You can sleep in a room made of ice and drink a cocktail at -5°C. Well, this sounds just heart-warming, doesn't it?
However, since sleeping on ice is not really my thing, I preferred to warm more than just my heart at one of the many Nordic spas in the area of Quebec City. Station Blü was an absolute oasis of relaxation for my entire body which, even though loved the magic of Quebec, wasn't so much into spending many hours at cold temperatures. The sceneries surrounding the spa are enchanting and inspiring, and the baths and treatments lead the way to total relaxation.
One last winter treat before spring returns
If you can't visit Quebec City during the holiday season, you'll have one more chance to discover the city's winter magic before spring comes back to town. Every year, the city hosts the Quebec Winter Carnival, the largest winter carnival in the world, a dazzling, fun experience that revives the city and brings everybody together for a new wave of fun.
Bonhomme Carnaval is an extravagant winter celebration that has everything you might ever expect from a winter carnival and more! From parades and snow baths to sleigh rides, skating and even a giant foosball, all the activities prepared for visitors guarantee days and days of fun and parties.
Before saying good bye to the magic winter of Quebec City, don't forget to spend a few hours at the fascinating Aquarium du Quebec. It's true that the aquarium is there all year, but only in winter 400,000 lights create a fairy tale realm.