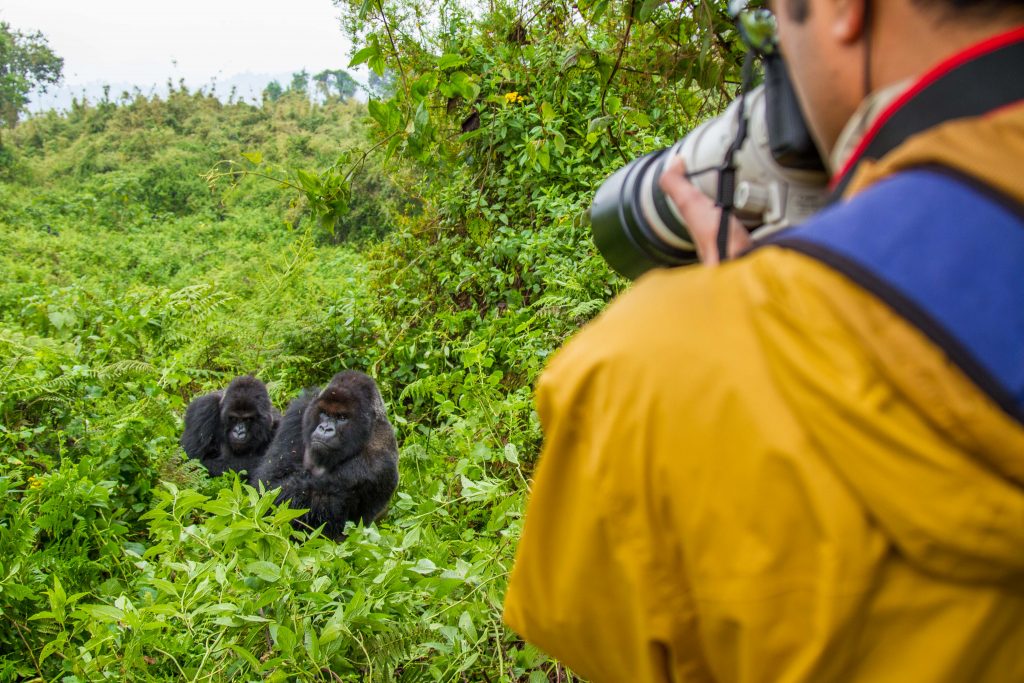 Rwanda is a beautiful country with three national parks, amazing mountain scenery, and diverse wildlife. It has a thriving capital city and offers visitors plenty of interesting things to see and do during their visit. It also has a growing economy, more women in Parliament than any other country in the world and friendly residents. As a matter of fact, Rwanda is one of the friendliest and safest countries in Africa.
However, the world still seems to associate Rwanda only with the tragic genocide of 1994. Yes, the country still suffers in silence for what happened then, and it will probably continue to commemorate this dreadful event for many years to come. However, visitors will encounter an optimistic and peaceful nation, where all residents call themselves now Rwandans. So, if you want to experience a safari adventure in Rwanda, go ahead and book it.
Home of outstanding natural beauty
Rwanda is mostly famous for its mountain gorillas, the main attraction that draws many tourists every year to these lands. While there are three national parks in Rwanda – Volcanoes National Park, Akagera National Park, and Nyungwe Forest National Park, only the first one is home to mountain gorillas.
Volcanoes National Park is situated in the northwest part of the country and is the number one destination for mountain gorilla tracking safaris. The park houses a section of the volcanic massif Virunga Mountains that cross the borders of Rwanda, Uganda and the Democratic Republic of Congo. There are no less than six active volcanoes here and three extinct ones. In what concerns gorillas, it's safe to say that they couldn't care less about borders, so they can be found in all three countries. However, this massif is a favorite home for 400 of them. This is the place that gives you the best opportunities to spot gorillas and enjoy a tracking safari.
The base of any gorilla trekking experience is the town of Musanze, situated about one or two hours away from Kigali, the capital city. The town is lively and you will find cafes, restaurants, and bars at every corner. Permits for trekking are to be received from Kinigi, a village nearby and also the headquarters of this national park. To make things easier, you can choose to book a safari in Rwanda and the tour operator will take care of all technicalities.
There are several lodges in the Volcanoes National Park. The newest lodge is the Gorilla Mountain View Lodge, a mid-range hotel that has 20 brick and tile cottages. Each of them has all the necessary amenities for a comfortable stay, including electricity and hot water. You will also find a bar and restaurant on-site, and the food here is quite delicious. The views are spectacular since the hotel is located at altitude.
The Sabyino Silverback Lodge, on the other hand, is the most luxurious lodge in the park. It is set at an altitude of 2,150 m, offering breathtaking views of the area. It houses 6 cottages and 2 suites, each of them equipped with private terraces and living rooms with fireplaces. The site also houses a restaurant, a bar, a library and a games room.
A day in the life of a mountain gorilla trekker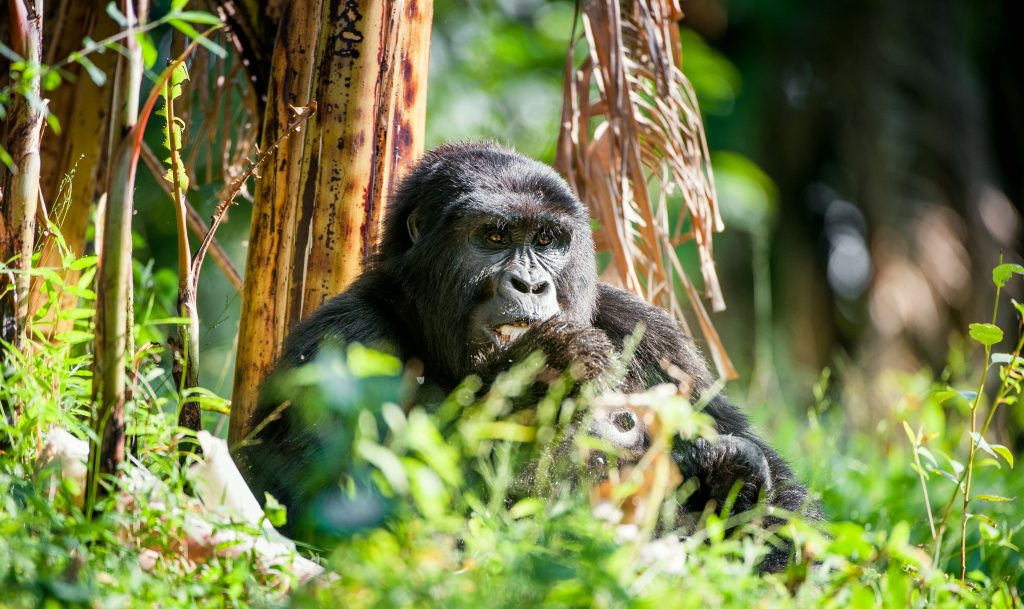 Once you've checked-in at your lodge and have your permit, you're ready to put on your trekking boots. A trekking day can last between one and four hours, depending on how willing the gorillas are to make an appearance. The best time to go gorilla trekking is…anytime. However, during the rainy season that lasts from April to May, it can be harder to hike. Tourists usually prefer the drier months between December and February, and June and September.
You don't have to be a gym card owner to be able to hike the tracks, but you should have a general level of fitness, so you can enjoy the overall experience. The trekking will be done at a slow pace. There will be plenty of breaks along the way.
The adventure starts early in the morning from the Kinigi village. The guides will most certainly speak English and be very experienced, so you have nothing to worry about. They know the gorillas' hideouts and will lead you there. You need to remember the hike will take place at an altitude of over 2,500 m. This means that it will be tiring even if the pace will be slow.
The moment when you will first see a 200-kg mountain gorilla will take your breath away. It's a spectacular being to look at and the experience is memorable. Gorillas don't mind being watched. They will carry on with their usual business, feeding and be interacting with each other. One of them might manifest its curiosity toward you, but you just need to take a few steps back and you'll be fine.
It's important to keep at least 7m between you and a mountain gorilla, even though some might try to get closer. Don't make sudden moves, keep your voices low and be relaxed. Mountain gorillas share 98% of human DNA, so make sure you protect their immune system. If you have a cold or flu, it's best to avoid going trekking.
There is more to Rwanda than its mountain gorillas
Don't limit your safari experience to just tracking mountain gorillas. Rwanda had an abundant wildlife and many routes that will lead to interesting places. Great destinations for day hikes are the tomb of Dian Fossey and her Karioske Research Centre, as well as the Crater Lake on Mount Bisoke. You can also go trekking for golden monkeys. They live in bamboo forests and are a lot easier to spot than mountain gorillas. Along the way, you can also spot forest elephants, bushbucks, giant forest hogs, buffalo, as well as over 200 species of birds. Rwanda is home to about 650 species of birds living in all three of its national parks.
The Akagera National Park is great for traditional safaris. It has a beautiful scenery dominated by lakes and a diverse wildlife. Nyungwe Forest National Park, on the other hand, is all about rainforest! It has a dense rainforest, home to many birds and primates, as well as great hiking trails.
Most visitors spend three or four days in Rwanda and, sometimes, add to their experience a safari in Tanzania and Kenya. However, if you were to spend more days in Rwanda, you will not regret your choice.