Many of us associate Australia with Sydney, Melbourne, beaches and, of course, kangaroos. Some, may probably throw in a few crocodiles and Koalas in the mix. But, how many of you know about Australia's Red Centre? It sounds like a name from a Harry Potter novel or maybe from a book talking about Judgment Day, doesn't it? However, the Red Centre of Australia is actually a gift from nature to us, mortals.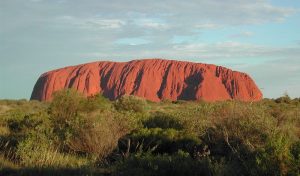 And even though it has no magical or biblical connotation, Australia's Red Centre is absolutely fascinating and a must see during your trip to this amazing country. The scenery is breathtaking and unlike anything you have ever seen before. I suddenly went mute when I found myself standing face to face with a surreal sunset that put a spell on the massive Uluru.
But, let's start with the beginning!
Alice Springs – it can't get more central than this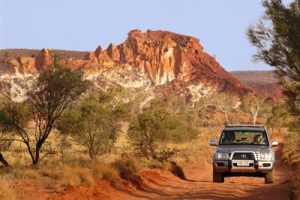 Alice Springs is a cosmopolitan town situated at the geographical centre of Australia. You can get here in about 5 hours by road from Ayers Rock Resort or 1 hour by plane. The town is rich in historical sights, and you will find a great deal of facts about its past if you visit the Telegraph Station, Royal Flying Doctor Service and Araluen Arts Centre, the latter dedicated to Aboriginal art. The first red rock gorge awaits at Standley Chasm, a great idea for a day trip destination from Alice Springs.
If you want to see the largest reptile display in the Northern Territory, then you're in the right place because the Alice Springs Reptile Center is a home to many reptiles, including the unique Perentie lizard and Throny Devil. Also, the Alice Springs Desert Park is the best place in the country to discover wildlife, housing nocturnal houses, so you can see even the animals that come out after dark. For panoramic views of the town and surroundings, plan a few moments at the Anzac Hill lookout.
We also booked a 4WD journey in Palm Valley and we discovered amazing rock formations and white sands along the bed of the Finke River, as well as luring rock pools shaded by palm trees. It was a great opportunity to visit Hermannsburg, an Aboriginal community famous for its art collection.
Uluru and Kata Tjuta – THE Red Centre destinations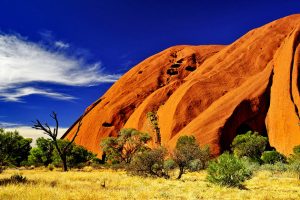 Alice Spring is a great base and starting point to the real Red Centre adventure. From here, visitors can join guided tours or access the Outback via The Ghan train. What's the Outback? The informal name given to immense dry regions of central Australia, including areas of New South Wales, Western Australia, Northern Territory and Western Australia. Wikipedia says it best! As a matter of fact, central Australia is the heart of the Outback and the place where red earth and iconic land formations are the rule and not the exception.
The Red Centre is home to the surreal Uluru and magical Kata-Tjuta, known in the past as Ayres Rock and The Olgas. You will discover here much more than an overwhelming desert and a pile of rocks. A fascinating eco system awaits in the Red Centre and the interesting Aboriginal culture. This is a place sacred for the Anangu people and a World Heritage Listed Area.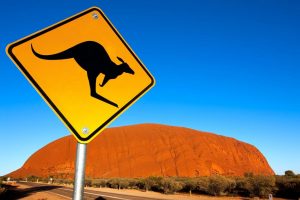 Over 400,000 visitors come here yearly to admire the impressive Uluru rock, rising from apparently nowhere in the middle of a desert, like an unearthly creature, metamorphosing itself in the light of sunrise or sunset in a spectacular and breathtaking appearance. This is when its colors change from brown through orange, to eventually become red and grey. It's a natural wonder, a spectacle of nature that leaves everyone in awe. It is made of arkosic sandstone and reaches an altitude of 348 meters, being taller than the Eiffel Tower and having a circumference of 9.4 km. A vast monolith that couldn't care less about time, space or humanity, just standing there, waiting to be applauded for the simple reason of being. However, a trip to Uluru will not only take you face to face to the greatness of nature, but it will also give you the opportunity to discover its cultural and spiritual importance for the Anangu landowners.
Uluru is part of the Uluru-Kata Tjuta National Park, which means that it is also a Kata Tjuta to see, situated about 30 km from Uluru. Kata Tjuta means "many heads" and this is exactly what you'll discover. 36 domed heads, impressive through their aspect and cultural significance. Red land, which fascinates both geologists and simple visitors, Kata Tjuta might seem like a creature that can't give life. However, you'll discover plenty of stubborn flora and fauna that has found a home among the domes and contributes to the breathtaking landscape created by the rock itself. The tallest "head" reaches about 546 meters high.
Be curious and ask about the sites' stories. You will have the chance to find out many interesting facts about their history, fauna and flora, but also fascinating legends, stories created to augment the park's mystery and beauty. And who doesn't love a good story about sacred sites?