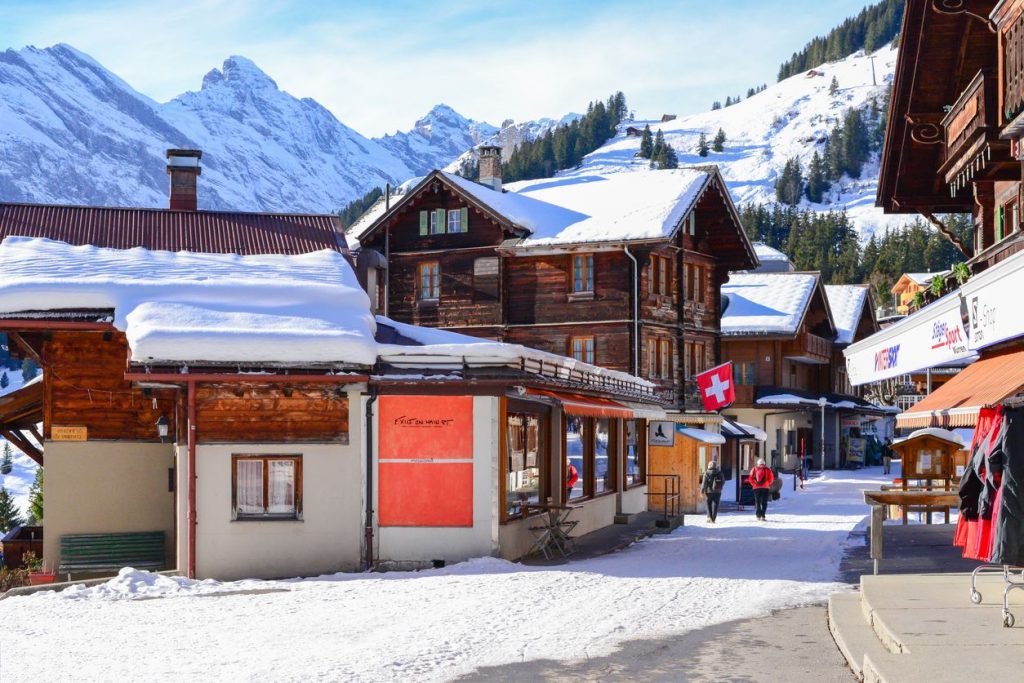 There's something so romantic about a Swiss ski village. I know! Everybody is going there to enjoy the ski slopes, have fun with their friends and family, and just get away from their daily routine. But, you have to admit that if you take a look around, it's impossible not to feel overwhelmed with the scenery's breathtaking beauty. The sun rays sparkle like diamonds on the purest snow you've ever seen, and when the night comes…oh, when the night comes, there's magic everywhere. The tucked away Swiss villages just get cozy at the foot of majestic mountains, the lights are glittering in the night and the starry sky is guiding your way toward a cozy chalet. What can be more romantic than this?
St. Moritz
A famous ski destination, St. Moritz was a favorite of Hollywood stars like Audrey Hepburn and Charlie Chaplin. And I don't think they came here just for the great ski slopes. St. Moritz is absolutely superb! There's a certain old-school charm that has nothing against meeting the chicness of our era. You will see ancient buildings and modern sophistication, luxury chalets and palatial hotels. Couples who like to keep it elegant and classic, we'll just fall in love with St. Moritz. However, there is more than gorgeous suites and elegant dining venues to St. Moritz. Its romantic ambience is created by a huge frozen lake that creates the "Ballroom of the Alps", as well as by majestic forests, proud peaks and old chapels. You'll just feel like waltzing in St. Moritz…besides skiing, of course!
Saas Fee
Saas Fee is a quaint little Swiss village nestled between 13 peaks. It's just perfect for a romantic getaway. Quiet and cozy, Saas Fee is all about relaxation, skiing, and amazing views. The village is surrounded by peaks that reach altitudes of over 4,000 meters. Its center is car-free, so you will be able to walk the village's narrow pathways in your own rhythm, just taking in the views, and visiting the boutiques and restaurants along the way. The old stone turrets of Hotel La Gorge will certainly capture your attention for a few minutes too. When the night comes, the village gets wrapped in a romantic glow, with lights flickering on and stars shining bright. You will be happy to find out that Saas Fee is a great culinary destination, so book a table by the fire at the dü fondue restaurant and enjoy a delicious dinner and a glass of flavored wine every night.
Klosters
Classy Klosters never disappoints the romantics. It was good enough for Greta Garbo, Gene Kelley, and Rex Harrison, so even if you don't know anything else about this little Swiss ski village, you will definitely want to visit it. The atmosphere in Klosters has that old age charm but, at the same time, stays humble and inviting. The village has its rustic beauty untouched by time, highlighted by a wooded valley and beautiful peaks and fairytale lakes. The cherry on top is a Romanesque monastery tower that adds romance and beauty to the scenery.
Verbier
The perfect Swiss ski resort to relax while admiring the scenery, Verbier is a fairytale village. It has old dairies, vintage buildings and luxurious chalets worthy of guests like Leonardo DiCaprio and Sir Richard Branson. And when you think that these chalets were once the homes of modest farmers and shepherds! Verbier is the perfect example of a village where the old blends harmoniously with the new. You will discover modern lodgings and a 17th-century chapel, as well as sophisticated restaurants and the ruins of a 12th-century castle that belonged to the Count of Savoy. And the views! Infinite views of across the valley.
Murren
What was once a modest farming village is now a romantic, classic ski resort. Murren became famous following the first Slalom race that was organized here in 1922 by Sir Arnold Lunn and as the backdrop for a James Bond movie, but its fame and recognition didn't steal away its traditional charm. It still has 400-year old buildings and a certain modesty that only adds to its beauty and romantic ambience. The new Walser style buildings find their way naturally into this winter painting and enliven the ambience. There are no expensive cars racing through the village. Only trains chugging up and down the mountain like in an old movie and amazing views of deep valleys and beautiful glaciers.
So, next time you're planning to propose or just run away from it all with your loved one, forget about exotic paradises or Paris! Just take them to one of these romantic Swiss villages!