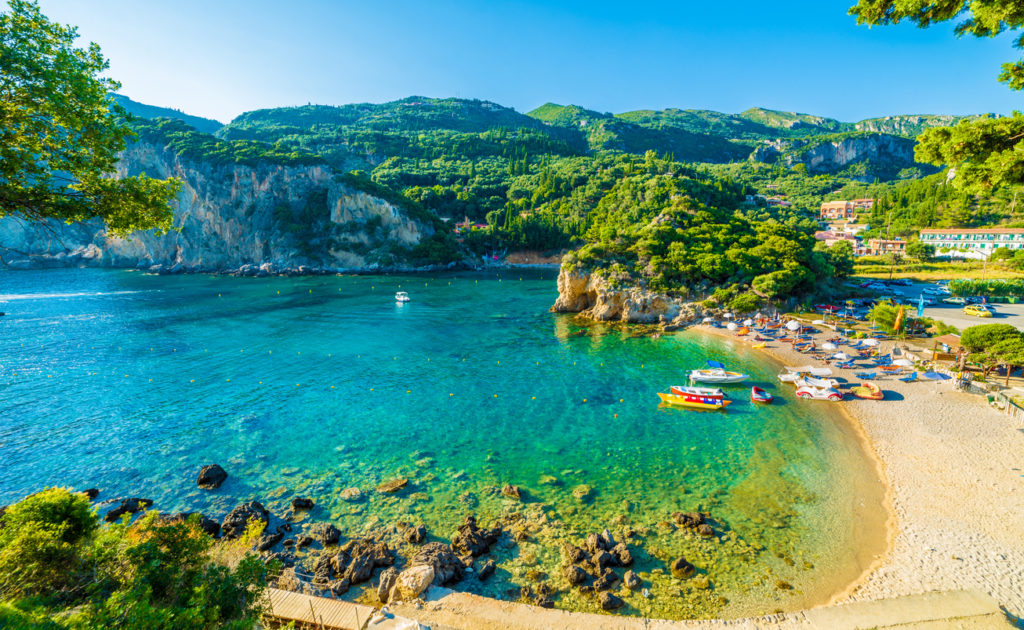 One of the most beautiful islands in Greece, Corfu mesmerizes travelers with its seductive beaches and lush vegetation. Remarkable due to its abundance of greenery, this paradisiacal Ionian island is the best destination to escape the daily rhythm. Escape to Corfu to spend a few days among wildflowers, olive trees, and cypresses! Run to Corfu to be lazy on its powdery white-sanded beaches! Let the emerald waters of the Ionian Sea caress your skin! Embrace Corfu's history and culture, and indulge in culinary delicacies.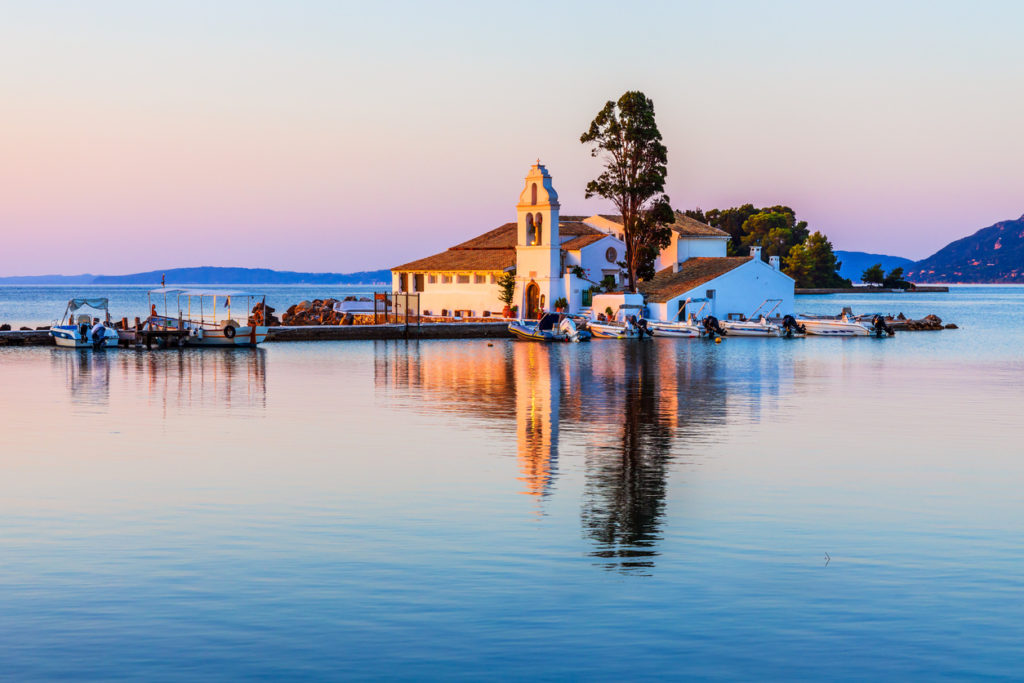 Whether you're a couple searching for a romantic summer destination or a family looking for all-inclusive resorts, Corfu will answer your call and pamper your senses. Backpackers love the island due to its plethora of campsites and affordable services, while party-goers have their resorts reserved especially for them!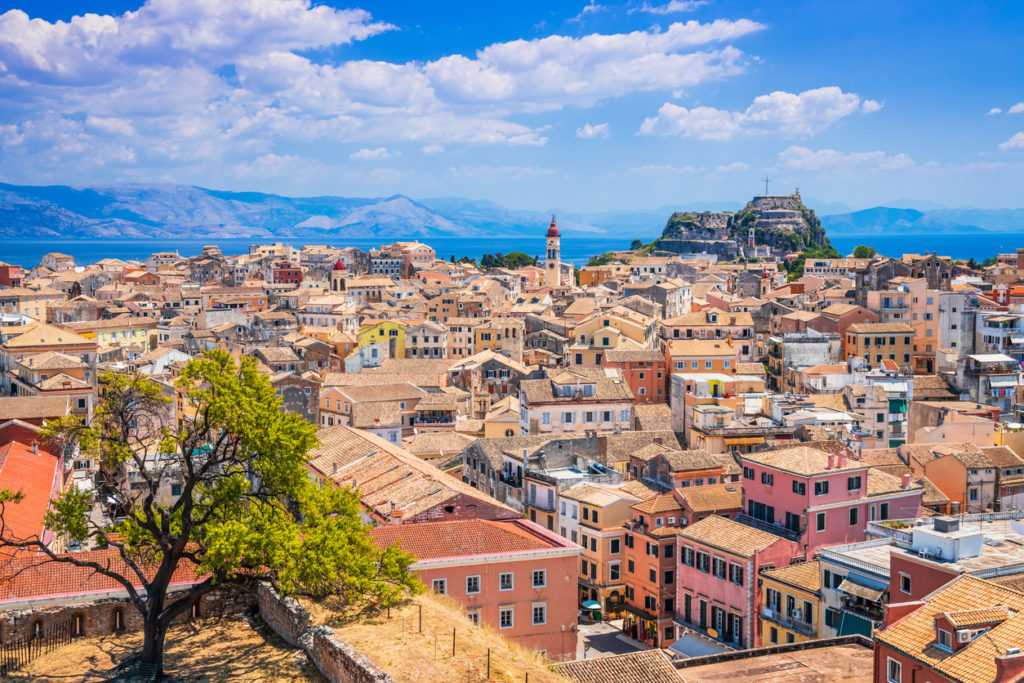 Corfu Town
All journeys of exploration start in Corfu Town, the island's fascinating capital. The city is dominated by its splendid Venetian Old Town, a beautiful UNESCO World Heritage Site. Whether you're a history buff or just a curious visitor, this magnificent old town will lure you in with its narrow cobbled streets and lovely architecture.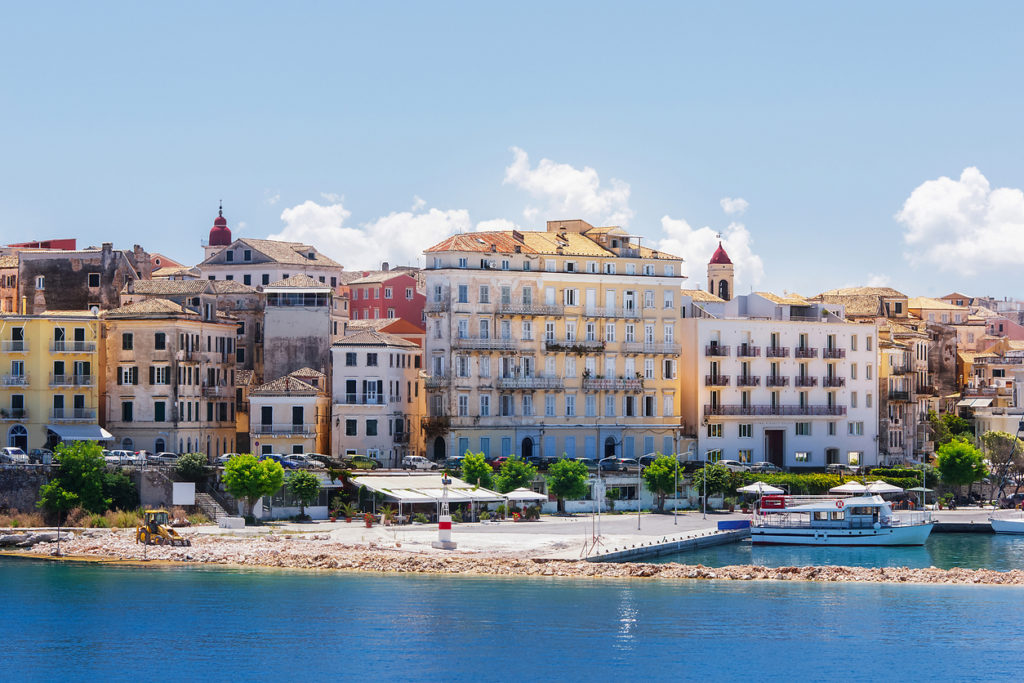 Once upon a time known as Kastropolis – City of Castles, Corfu's Old Town brings under one name Italian and French influences that have materialized into a superb Old Fortress, the Palace of Saint Michael, and the Liston, the city's aristocratic promenade. All roads lead to the Spianada, the Old Town's main square, and from there to the Old Fort. However, the most enchanting attraction in the Old Town is undoubtedly its spectacle of facades painted in shades of ochre and pink and adorned with green shutters. A popular stop for cruises and a departure point for tourists chasing the sun, Corfu Town makes for a wonderful introduction into Corfu's culture and past.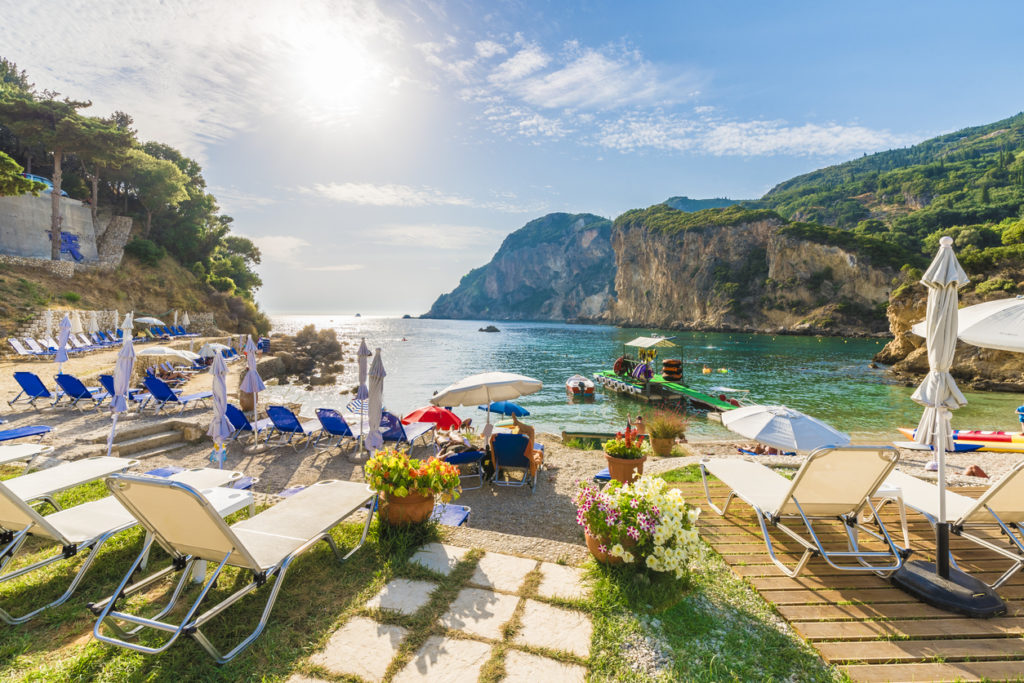 Popular Paleokastritsa
By far the most popular summer destination in Corfu, Paleokastritsa attracts visitors with gorgeous bays and beautiful beaches. The sandiest of them all is undoubtedly Agios Spyridon, while the most dramatic has to be the majestic La Grotta. The scenery is dominated by the presence of a 13th-century Byzantine monastery that rewards hikers with superb views of the surroundings. The white beaches contrast beautifully with the island's blue waters while the lemon trees wrap the village is a sweet scent. An ideal destination for both couples and families, Paleokastritsa encapsulates Corfu's charm and natural beauty.
Romantic Sidari
Romantic to the core, yet lively and contemporary, Sidari is an idyllic village famous for its Blue Flag sands and vibrant nightlife. The resort boasts tranquil bays and secret coves and delights couples in love with its renowned Canal D'Amour. The canal is a collection of rock formations that embrace small bays with crystalline waters. The village's main beach measures only 500 m, but it's a wonderful place to spend a few days relaxing and enjoying its shallow waters. Back in town, you'll find picturesque narrow streets and the most famous church on the island, a traditional single-nave basilica.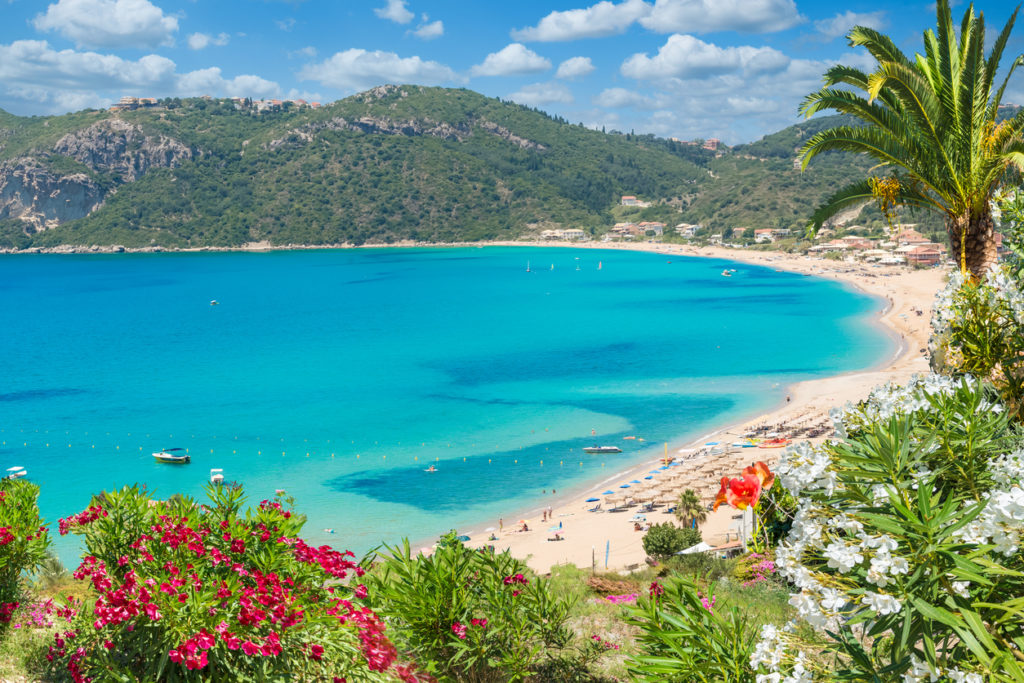 Peaceful Agios Georgios
Ideal for couples seeking a peaceful resort in Corfu, Agio Georgios' personality is defined by its beautiful beach and slow-paced daily rhythm. A rural destination, the resort has a one-kilometer ribbon of sand and low-rise hotels that allow visitors to capture spectacular views at every corner. There is not much to do in Agios Georgios. Nevertheless, if you want a change of scenery, you can always take to the walking trails for a short adventure among olive trees.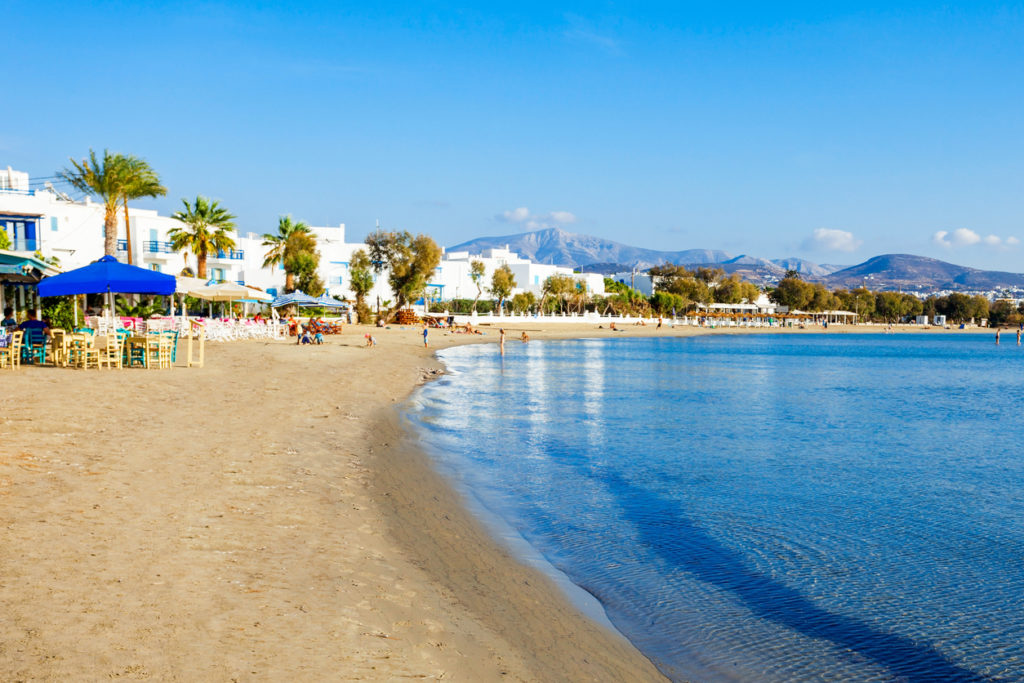 Buzzing Agios Gordios
Home to a two-kilometer Blue Flag beach framed by green mountains, Agios Gordios attracts both couples and families due to its soft sands, calm waters, and abundance of water sports. A wonderful destination for mature couples and families with small kids, the resort has a variety of amenities, apartments, and tavernas. Backpackers often drop by too due to its proximity to Pink Palace, a backpacker resort hidden in the hills behind the village. The resort is renowned for its fun toga parties and quad bike tours, as well as numerous other organized activities. Nearby, you'll also find the beaches of Pelekas, Glyfada or Mirtiotissa. The latter is one of the best naturist beaches in Europe.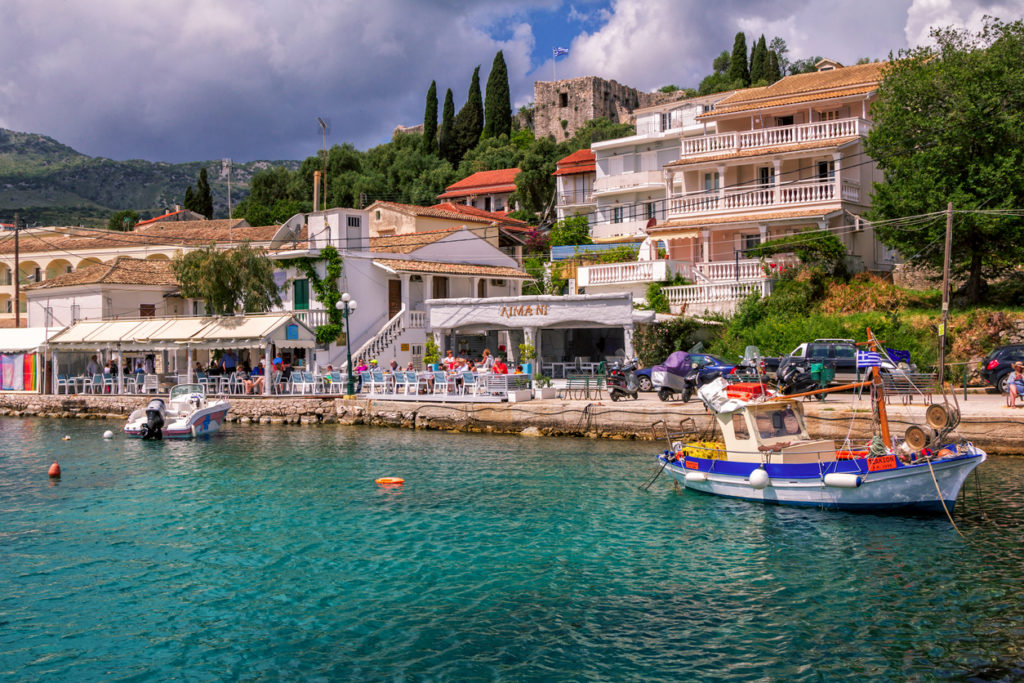 Quaint Kassiopi
One of the most popular resorts in Corfu, Kassiopi welcomes sunbathers with pebbly beaches. However, the resort compensates for the lack of sand with its emerald waters. Lively and charming, Kassiopi has somehow managed to protect its traditional fishing village ambiance. Its picturesque setting is dominated by a Byzantine castle, while its main harbor lures visitors with many cafes and restaurants. If you want to relax on a sandy beach, head to the nearby Kalamionas Beach. The beach is ideal for snorkeling and enjoying the sun on a blanket of sand.