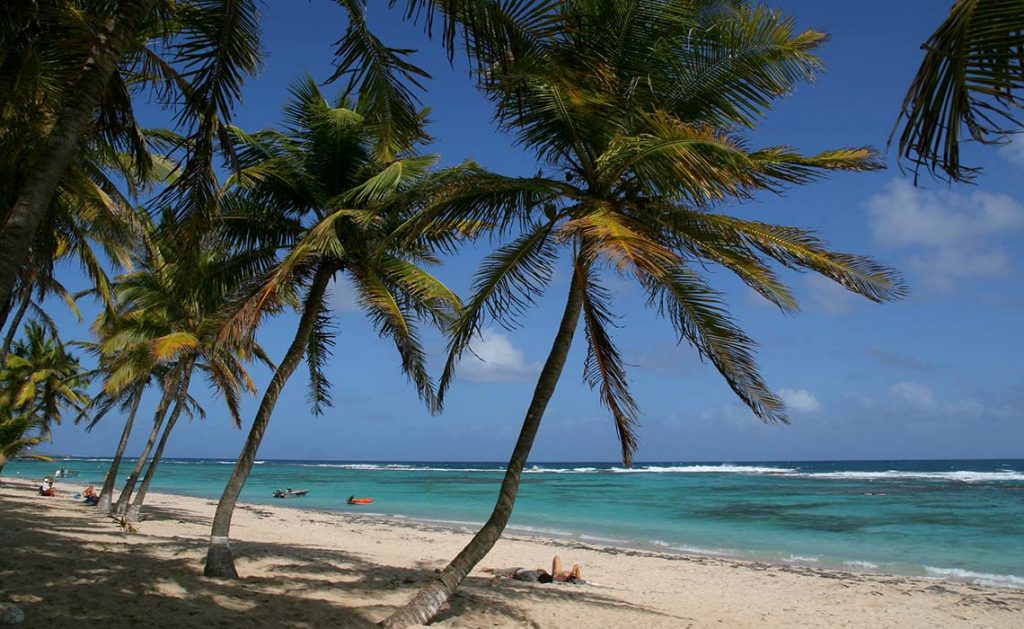 I spent only one week in Guadeloupe and, after a few hours there, I was already planning my return. It's an incredible destination that will take you along a beautiful, winding coastline, where the Caribbean meets the Atlantic, up on green, virgin hills and into the heart of colorful villages. The Guadeloupeans are some of the most welcoming and friendly people I have ever met. They smile all the time and, once you get to admire the breathtaking scenery that the archipelago boasts, you can easily understand their joy of life.
There's something about this destination that makes it special to me. It may be the long, pristine fine sand beaches or the turquoise waters that can easily hypnotize you, or it may be its colorful markets, friendly locals and the sound of gwa ka drums that enliven the beaches when the night comes. Or, it may very well be all of the above!
A French archipelago with an African essence
The locals speak French, which is the country's official language. It wouldn't hurt to learn a few French phrases before a trip here. English is quite hard to find in these parts, so try your French, even though it's rusty or you're just learning the bonjour and boulangerie parts. The locals will appreciate the effort! Don't forget about merci!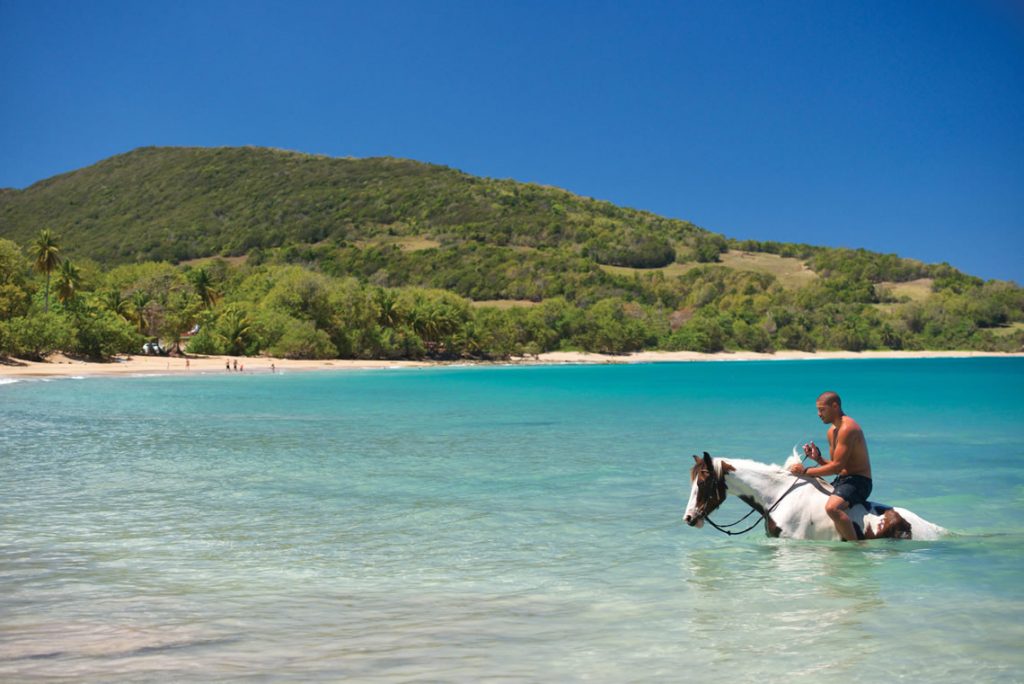 Guadeloupe is proud of its African roots, and you will immediately notice the Afro-Caribbean influence that makes its presence known in the everyday life of the islands. Even though traditions are still cherished here, you will find sophistication and luxury in Guadeloupe. There's a certain harmony and peaceful coexistence between these two characteristics that can only contribute to an unforgettable vacation.
The archipelago includes five islands: Grande Terre, Basse Terre, Marie-Galante, Les Saints and La Desirade. The first two islands, the most popular tourist destinations, are connected by a small bridge. While Grande Terre houses the traditional hotels and organized beaches you're used to find in the Caribbean, Basse Terre is a bit wilder and greener, with amazing gold and black sand beaches, as well as a rainforest and a volcano. Here the hotels are replaced by inns and guesthouses, and the ambiance is more rural and quiet. The other three islands are great day trip destinations because you can easily access them by ferry.
And, talking about ferries, you just have to do some island hopping during your visit to Guadeloupe, because new and amazing scenery always awaits just a boat ride away. So, you can easily get from Grande Terre to Marie Galante or from Basse Terre to Les Saintes. Of course, no one can stop you, and they shouldn't even dare to try, to hop on a boat and visit the neighboring islands of St. Lucia, Martinique and Dominica. The tickets can be booked online and you will not even have to stay in line to get to your seat on the boat.
An authentic and captivating beach culture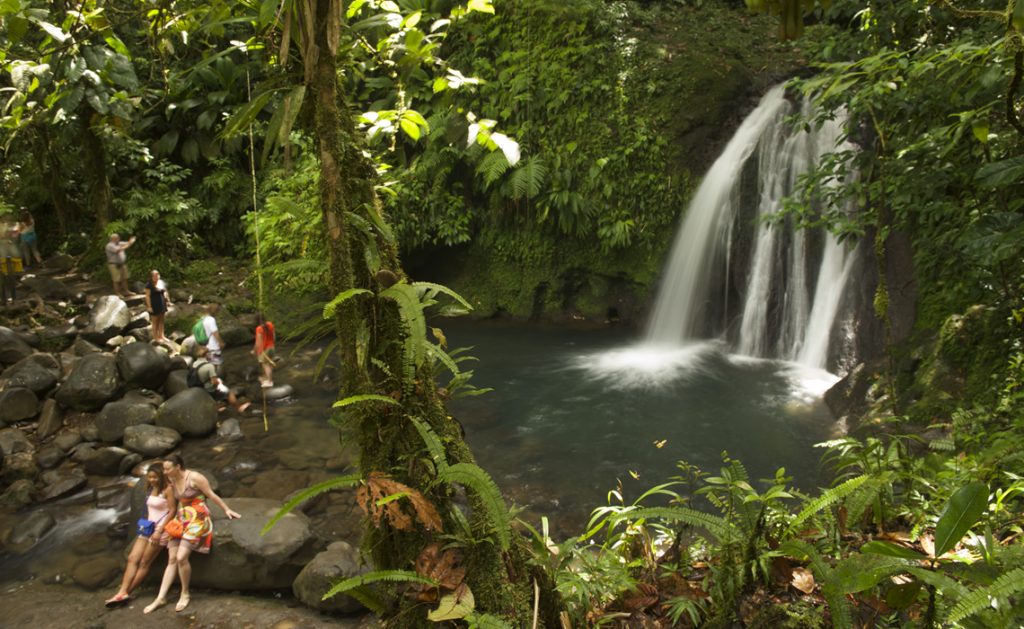 Now, the beaches of Guadeloupe! There are no words to describe the glorious beaches that have a home on the shores of this amazing archipelago. No less than 270 beaches await here, so you can be sure you will find your personal corner of paradise on a strip of sand that can very well be the perfect place to touch happiness. The beaches here are never crowded and always safe, without shady characters keeping an eye on your backpack or annoying vendors trying to make it to Forbes on your expense. I absolutely loved to swim in the waters that caressed the shores of Rocroy Beach in Basse Terre, and sunbathe on the soft sand of Vieux-Fort Beach on Marie-Galante.
And the beaches here are more than just the perfect place to be lazy and day dream. They are part of the community, with locals relaxing here after a day of work, parents bringing their children to play ball and couples meeting to declare their undying love. The beach becomes every day a playground for everyone. You will find drinks and food at the beach entrance, but no crazy parties or noise. Yes, you will definitely imagine how amazing would be to be able to live here!
When it comes to food, always choose Creole cuisine! Make sure you start any meal with a Ti' Punch, an aperitif famous in these parts, and then order any Creole dishes that seem appealing to you, from cod fritters and conch stews to everything that is dipped in curry. Seafood is the superstar on the islands, and so is the wine.
However, don't think that Guadeloupe's beauty is limited to its superb beaches. The interior surprises visitors with beautiful rainforests and pineapple fields, as well as traditional fishing villages. Guadeloupe's Parc National is a dream come true for nature lovers, being home to a volcano and over 100 waterfalls, as well as numerous marked trails. Where can you capture the most beautiful views? On the volcano's summit, of course!
You definitely need more than one week to discover the archipelago's beauty and flavors, so don't make the same mistake I made. Plan a longer vacation here, and be open to everything that Guadeloupe has to offer – including its many, many rum flavors.