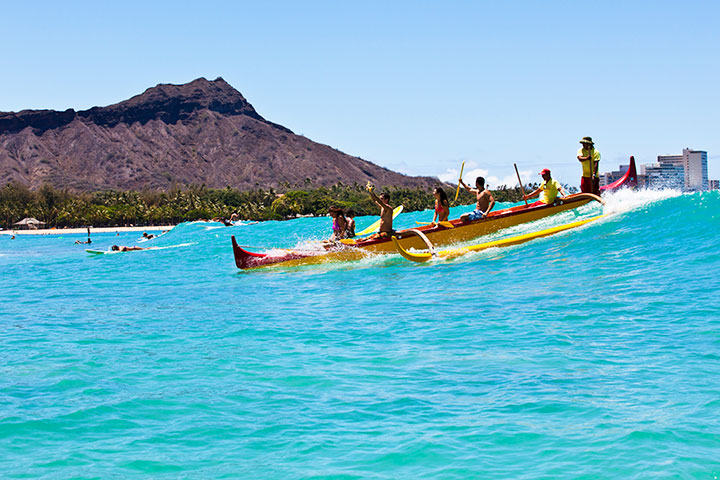 Oh, the Oahu beaches in Hawaii! Beach lovers feel in paradise there, and I am one of them. I just love the beaches of Hawaii, the exotic ambiance with a familiar touch, as well as the infinite ocean that invites to day dreaming and long swimming sessions.
You probably already know a few things about the beaches of Oahu, especially since among them is the world famous Waikiki Beach. Surfers surely know about this destination, due to its high-octane waves, especially the ones visiting the North Shore during winter, which are probably their Nemesis, or for the really talented ones, their best friends.
However, there is more about the beaches of Oahu than this! After all, the coastline of Oahu stretches along 112 miles, so it just has to be more. So, come on! Let's escape the daily routine and our worries on the beaches of Oahu.
Where surfing is king
Oahu is a superb Hawaiian island, offering visitors the thrill-of-a-lifetime experience. After all, here you can surf those awfully giant waves on the North Shore, sunbathe on white sand beaches, discover the underwater world of Hanauma Bay, experience windsurfing and kayaking on Kailua, hike atop grumpy cliffs and enjoy sunset drinks on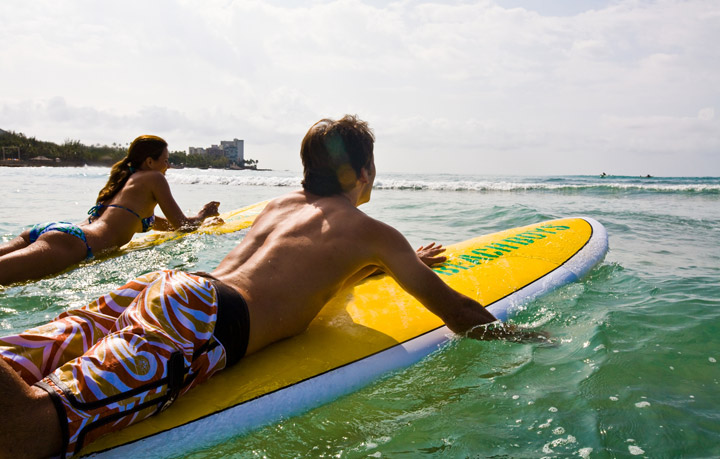 the beautiful Waikiki Beach. If this isn't the perfect vacation place, I don't know what is! Oahu is the third largest island in Hawaii, and its nickname is actually "The Gathering Place", so make sure you bring your friends and family here, because if there is one place where gatherings go really well, Hawaii is definitely the place.
The beaches here are absolutely amazing with strips of sand for every taste. You can find here all types of beaches, from crowded, organized beaches, where people watching is one of the top beach activities, to secluded, romantic bays, and from one of the best surfing spots in the world to snorkeling paradises.
The monstrous waves await on the North Shore beaches. If you're really, but really good at surfing, head to Waimea Bay. Basically riding the waves here, or at least attempting to, will prove if you can call yourself an expert surfer or you still have some things to learn about this sport. The beach here is legendary, being one of the first places where surfers attempted to ride the giant waves back in the 50s. While many things have changed since then, basically the facilities and equipment, the waves are as monstrous as before. The place is also a great spot for swimming and snorkeling, of course, away from the waves.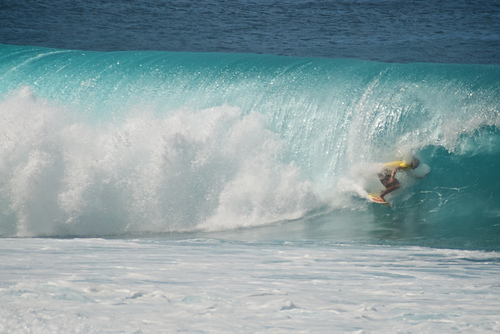 Did anyone say massive tubes? Then massive tubes Oahu shall offer, especially at Ehukai Beach, a place where giant waves smash furiously over a sharp reef and turn the waters here into one of the most dangerous surf spots in the world. So, considered yourself warned! This is one of the venues where the Triple Crown of Surfing takes place. Yes, we're talking this level of surfing!
If you're not into close up with death on waves experiences, you can try the waves at the Sunset Beach. We promise these are totally rideable waves. The beach has quite an impressive number of reef breaks and a two-mile strip of soft sand.
Now, if surfing is not exactly your sport, but you still love the ocean, we recommend the Kawela Bay, also known as Turtle Bay. This is the perfect place for snorkeling and, if you're lucky, you can even spot a honu (Hawaiian green sea turtle) during your snorkeling experience.
Less surfing, more chillin'
Let's move on to the east coast of Oahu, the place where people are less into surfing, more into other water sports, and mostly into sunbathing. The Makapuu Beach, situated only 35 minutes of Waikiki, hides between frowned cliffs and lava rocks. There you will find amazing tide pools and plenty of bodyboarders to take advantage of them. Locals love this place and locals always know best!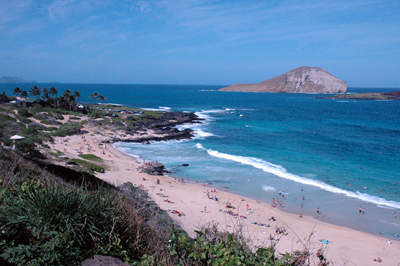 Calm, crystalline waters, powder soft white sand and a certain elegance await at Lanikai Beach, ranked by Conde Nast as the number 1 beach in the world, in 1996. True, that was a long time ago, but we're talking about a beach! Trust me, its beauty is untouched by time. Just around the corner from this beach, you will find Kailua Beach, an amazing place for windsurfing, kayaking, sailing and canoeing. A great beach destination for families too! Also a perfect spot for family quality time, Waimanalo Beach offers 4 miles of soft sand and calm waters, perfect for bodysurfing, bodyboarding and… body-relaxing.
And now it's time for the one and only Waikiki Beach, the VIP of Hawaiian beaches, visited by more than 4 million people every year. Situated on the South Shore, Waikiki Beach is a great place for beginners who want to learn the secrets of surfing, due to its small, but always there wave breaks, as well as for paddling and canoeing. Of course, being lazy on the beach is a primary activity that keep us all busy many hours.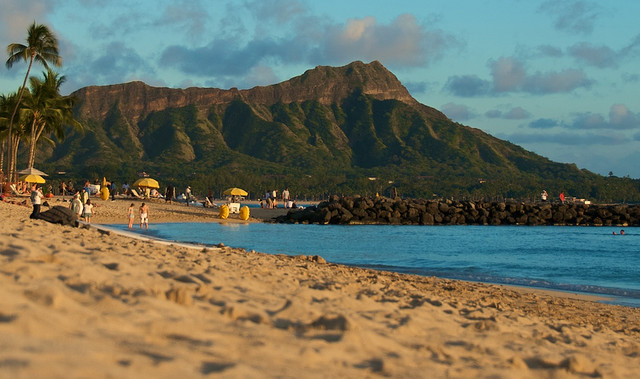 Calmer waters await a few minutes away from Waikiki, at Ala Moana Beach Park, as well as the Magic Island, a man-made peninsula with a shallow lagoon. Head to Hanauma Bay Nature Preserve, if you want to snorkel and discover a fascinating marine world, abounding in tropical fish and shallow waters.
The West Coast has some great beaches, such as the Ko Olina Resort and Marina that houses many man-made lagoons, ideal for family beach fun. The best surfing on the West Coast happens at Makaha Beach, with big waves challenging surfers and sometimes winning the battle. The last strip of sand on the West Coast is Yokohama Bay, a curvy beach that dazzles the audience with turquoise waters and guest appearances from playful dolphins.
From north to south and east to west, Oahu fascinates beach lovers and invites them in an exotic paradise where nature is Queen and surfing is King!