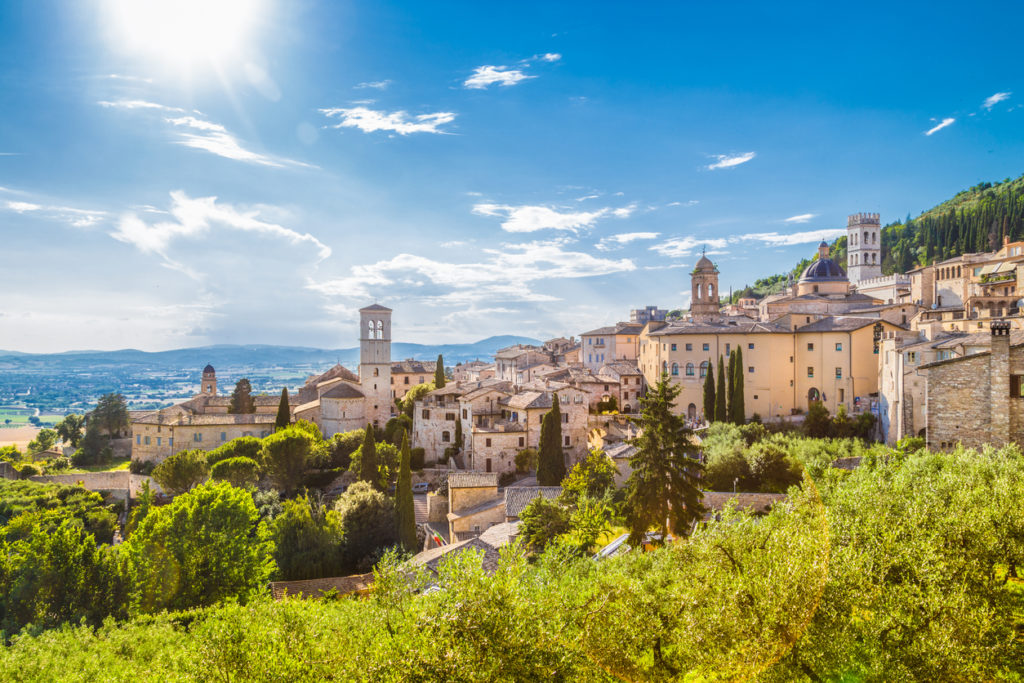 A beautiful region in Italy that is known as a top culinay region and for its beautiful landscapes. Umbria provides perfect relaxation and a slower way of life, it is the perfect region to forget about everything and enjoy the present. Whether you wish to explore the abundance of Etruscan ruins, medieval towns, endulge in some of Italy's finest food or admire at the natural beauty, Umbria has something for all.
You will find Umbria in the middle of Italy, nestled between the two well known regions of Tuscany and Lazio. Due to its more famous neighbours, Umbria is almost like a hidden gem with many tourists overlooking it.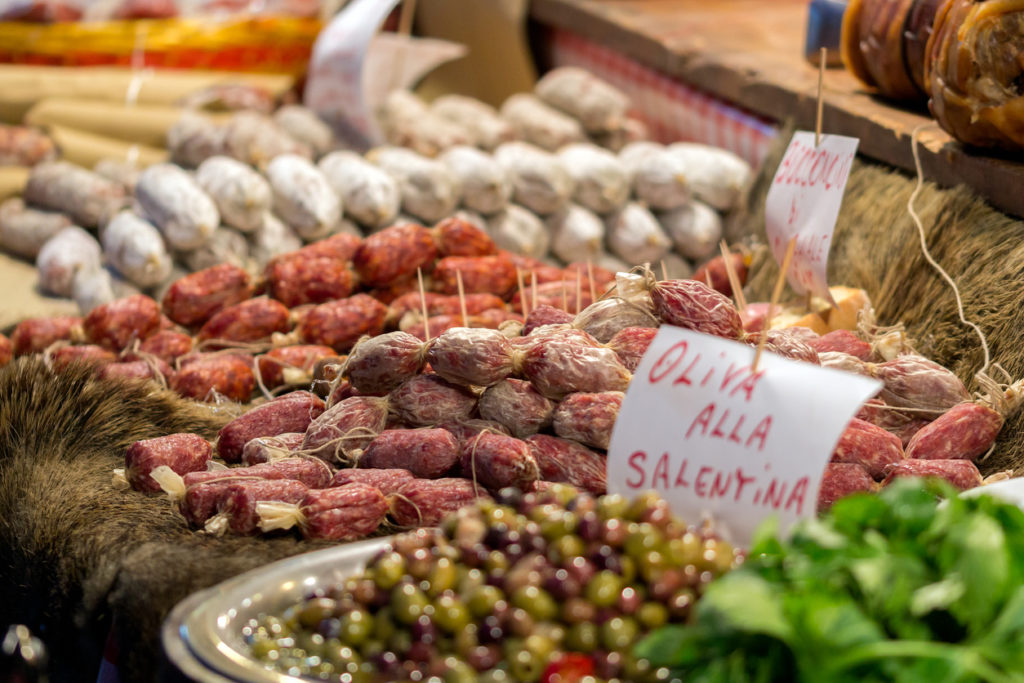 Edulge in the food
The region is known for its white truffles and winter black truffles, if you eat locally you can expect to find many restraunts use local truffles in their dishes. Umbria also produces the best olive oil in Italy, argueably thw world; the olive oil produced in the region is high in vitamin E and antioxidants. If you love salumi, you must try some from this region. Salumi was actaully perfected in Umbria and the region has the best Italy has to offer, so if you get the chance be sure to try and taste some. Many restaurants throughout the region like to use local produce as much as possible, you really will taste some incredible food while visiting.
A visit to Umbria's capital, Perugia, should be on your list of places to visit. It is the perfect city if you wish to try some delicious food after visiting museums and a spot of shopping. The city is known as the culinary heart of Umbria and boasts delcious food that reflects the regions history. A dish you must try is Stringozzi, a long thick pasta which is flavoured with truffles from the region.
Assisi is a village located in the countryside surrounding Perugia and is a lovely place to stop for a snack and try the cheese and meats on offer. Assisi is famous for two types of food. Franciscan Pagnotta is a bread which contains raisins and almonds, you will find this bread pairs well with the local San Francesco wine. Rocciata di Assisi, a dessert which is similar to a strudel with the dough being filled with dried fruit and flavoured with cocoa and cinnamon.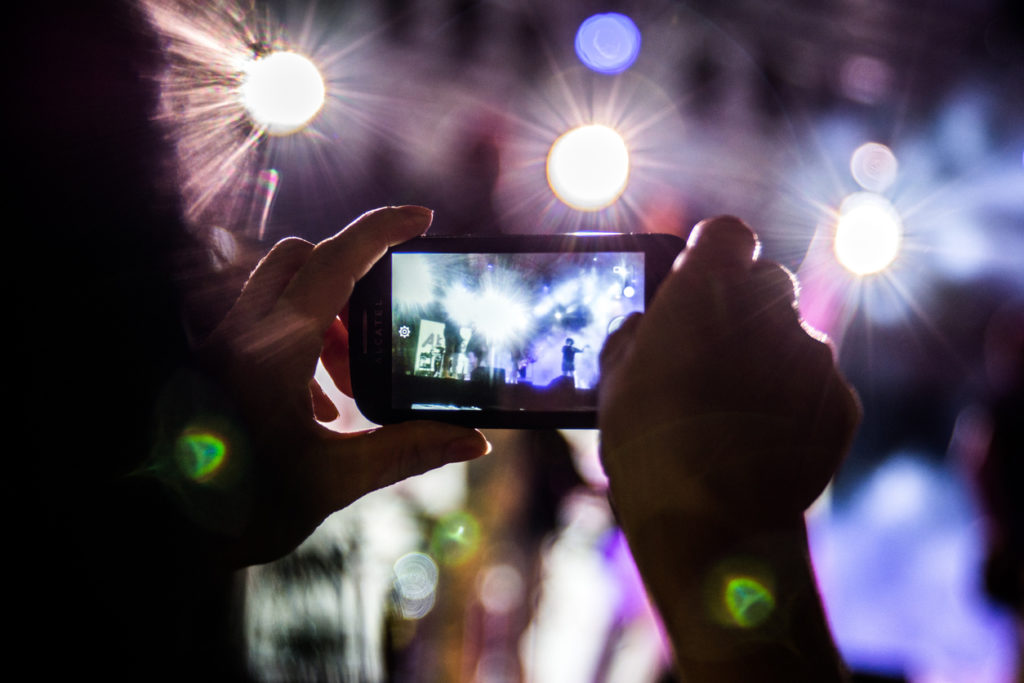 Enjoy the music
In July, umbria is flooded with fans from across thr world who descend upon Perugia for a summer jazz festival. Artisits such as Elton John have previously performed here! The festival lasts for ten days of which you will be able to hear jazz music across the city; it creates a completely unique atmosphere. 2023 marks the festival's 50th aniversary, so expect it to be better than ever!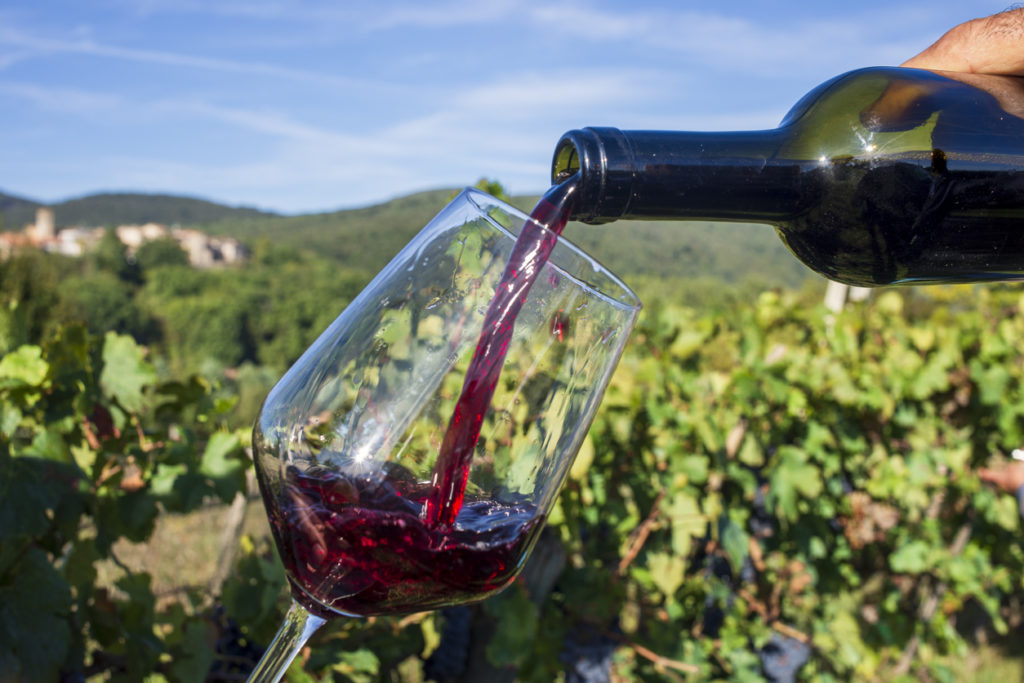 Sip the wine
Umbria produces some lovely wines.
Etruscans and Umbrians were the first to plant vines in Umbria 3,000 years ago and the region then got its name for the white wine Orvieto, which is now under the names of Trebbiano, Verdello or Canaiolo Bianco..
Those who love harmonious red and white wines will find it is best to visit Colli Perugini which are in the surrounding hills around the capital of Perugia. South of Montefalco, which is south of Perugia, is the white variety of Grechetto , found at Todi, which thrives there and taste nutty. You will also find the variety of Trebbiano produced there.
The typical whites found in Umbria are dry but are classed into different grades of sweetness, secco, abboccato, amabile and dolce.
It is best to visit either a wine bar or vineyards to test all the local vintages associated with the region.
Explore the Natural Beauty
Umbria is the "green heart" of Italy. You will find beautiful hillsides, olive groves, vineyards and outside the city of Terni are the stunning Marmore Falls.
Umbria is the perfect location to get away from the world, take a break and absorb the beauty of the land. Immerse yourself in nature.
Marmore Waterfalls: Without a doubt of the most beautiful waterfalls to see in Italy. You will find it located in Valneria inside the National Park of Marmore Waterfalls. The falls are from the Velino river and can be gazed upon from several viewpoints. There are six different paths which lead to the falls that all differ in difficulty, be sure to choose the right one for your ability. All trails have incredible scenery.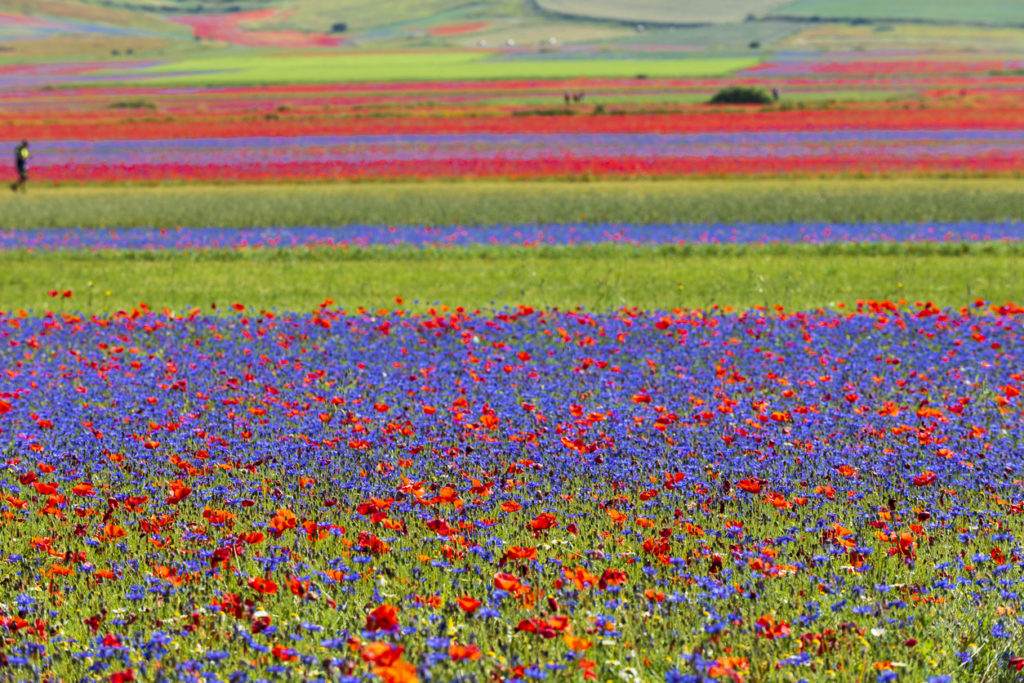 Castelluccio Di Norcia: This is a small village located in Valnerina high up in the mountains inside the National Park of Sibillini Mountains. The best time to visit this village is in late spring to early summer, the flowering of the lentil fields occur then. Thousands of lentil flowers bloom all together with other flowers creating fields and fields of flowers! It is a spectacular sight and one an artist would love to paint!
Ciltunno Springs: Clitunno springs is located along the Flaminia way which is between Spoleto and Foligno. It has vibrant green trees and crystal clear water where swans and ducks can be seen. It is a brilliant place to be one with nature and have a walk.
Trasimeno Lake: This is the biggest lake in central Italy and many go and visit, it is not somewhere to be missed if you visit the Umbria region. There are many villages and castles located around the lake as well as stunning landscapes. This lake can satisfy everyone's needs.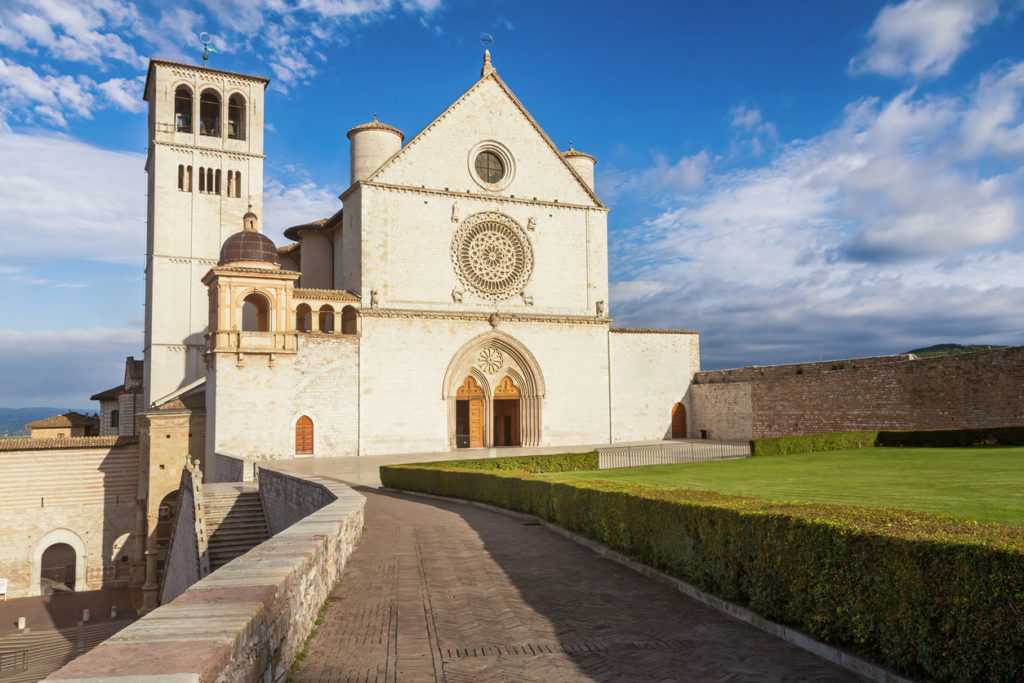 Visit the Churches
The beautiful medieval city of Assisi is a listed UNESCO world heritage site for its architecture and unique history. Pilgrims flock to this city as it is the birthplace of Saint Francis, founder of the Franciscan religious order, and centre of the St Francis Way. Many of the sites linked to Saint Francis's life are in this city.
The Basilica of St Francis it an important site worth a visit. It is here you will find the tomb of Saint Francis. The basilica is comprised of two churched which are superimposed on each other. The upper basilica is famous for its frescoes and its gothic and bright look. The lower basilica is decorated by the works on the great masters of Florentine dating from 1300. Well worth a visit if you are an admirer of art.
The church of Saint Maria Maggiore was originally Assisi's cathedral. It was originally built on a roman house which was built over a pagan temple. You will see above the main doorway there is a rose window, this window dates back to 1162 and is suspected to be signed by the same architect who built the Cathedral of San Rufino. This church has three naves and frescos which date back to 15th and 16th centuries. In the crypt there I the remains of the original church and contains a 9th century sarcophagus.
The Church of San Damiano is small and was built by Saint Francis and also where he stayed. It is an important stop for pilgrims. The church has a single nave and is decorated with frescos of San Damiano, Saint Rufinus, the Madonna and Jesus.