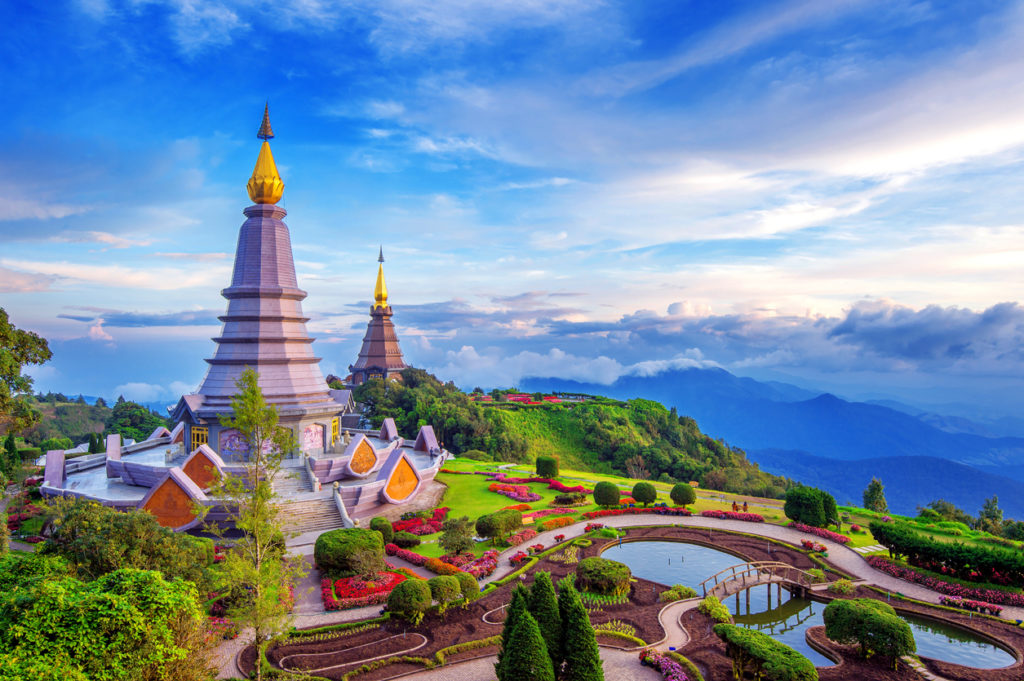 Loud, exotic, and humid, Bangkok is a world of its own that does only what it pleases. Anything is possible in Bangkok, a larger-than-life city where magnificent temples and historic markets coexist peacefully with infinite skyscrapers and fabulous rooftop bars. Bangkok is intoxicating, exhilarating, and addictive! You'll discover a universe of striking contrasts, with ruined buildings crouching next to shiny holy shrines, and luxury hotels standing proud while saffron-robed monks are living their frugal lives.
A place where the traditional intertwines with the contemporary and where every street surprises and dazzles, Thailand's capital is a city you either love or hate. There's no room for mixed feelings or doubts. Bangkok demands your entire attention and leaves a mark even if you discover you don't like it.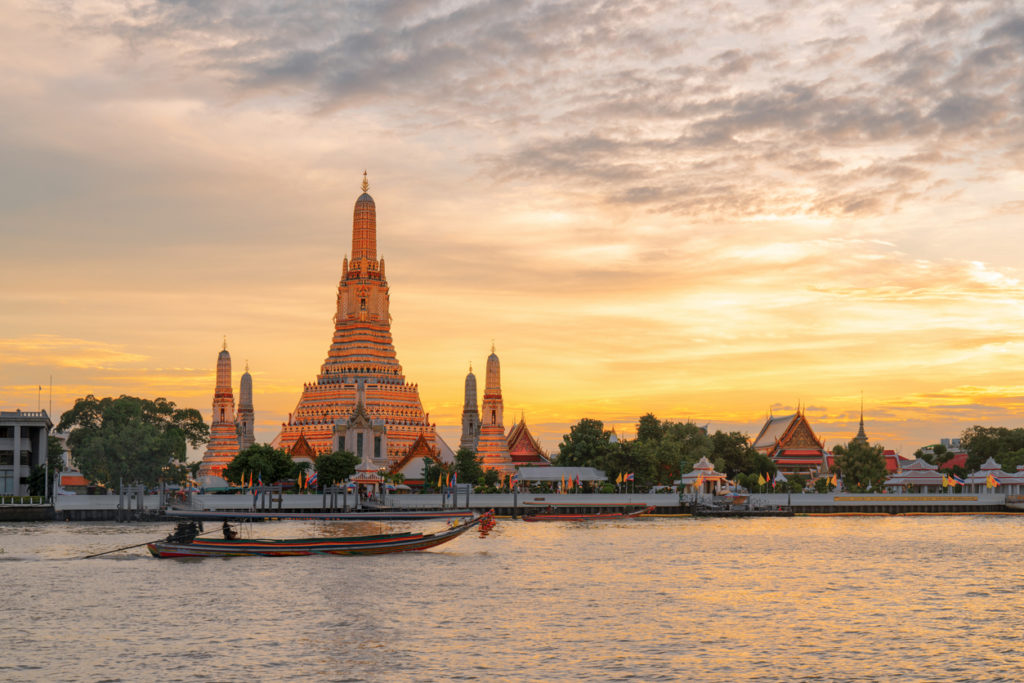 Rattanakosin – the magic of old Bangkok
Most journeys of exploration begin in Rattanakosin, the Old City of Bangkok. This is where visitors discover the most spectacular historical attractions in Bangkok and the old Thai world that unveils at every corner and along narrow canals. Chao Phraya River separates the city proper from Bangkok's old capital, Thonburi, and enchants with a frenzy of floating markets and fascinating cruises.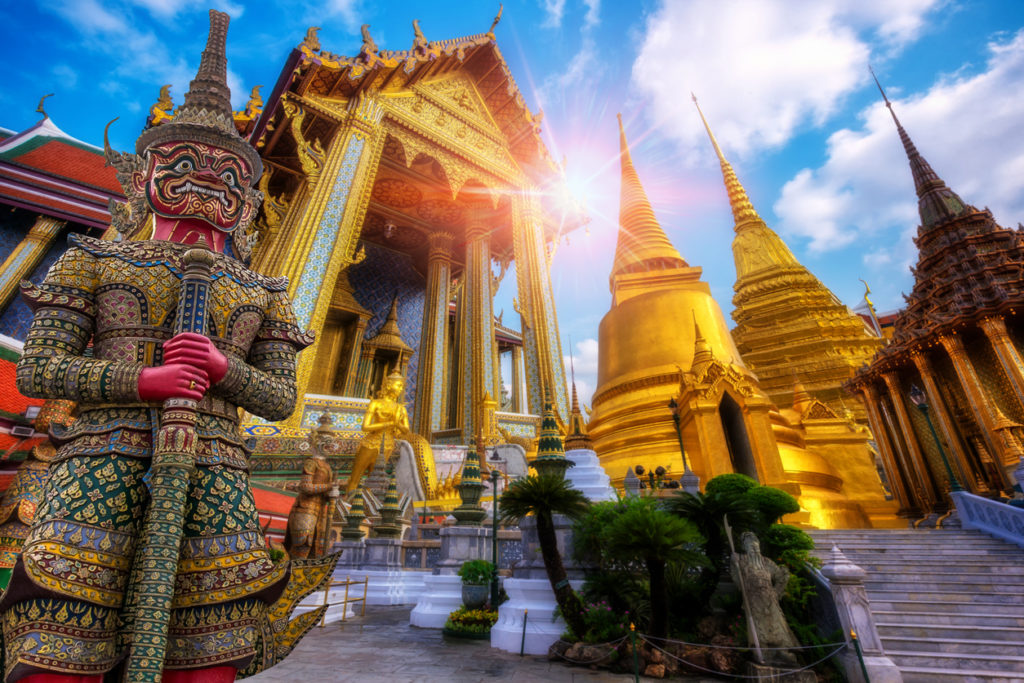 The Grand Palace is by far the most visited attraction in Bangkok, a phenomenal structure that resembles a small town. The palace was built in 1782 and, even though the King doesn't live here anymore, the palace is still a spectacular sight. The complex is colossal housing within its walls the famous Wat Phra Kaew temple and the Emerald Buddha, as well as superb gardens and the Royal offices.
While the Wat Phra Kaew is the holiest of all Thai temples, home to the mesmerizing 500-years-old Emerald Buddha covered in jade from head to toes, Wat Pho, the 20-hectare temple that awaits right next to the Grand Palace is the oldest temple in Thailand. Moreover, this also is the largest temple in the country and houses a 46 m-long and 15 m-high Reclining Buddha, one of Thailand's most impressive sights. The temple is adorned with superb chapels, towers, and pavilions, as well as beautiful rock gardens.
Opposite Wat Pho, just a short ferry ride from Tha Tien Pier (Pier 8), awaits Wat Arun or the Temple of Dawn, the first home of the Emerald Buddha. The temple is remarkable due to its 79 m-high prang that offers superb views over the Chao Phraya River and is dedicated to Aruna, the Indian God of Dawn, representing Mount Meru, home of the Gods.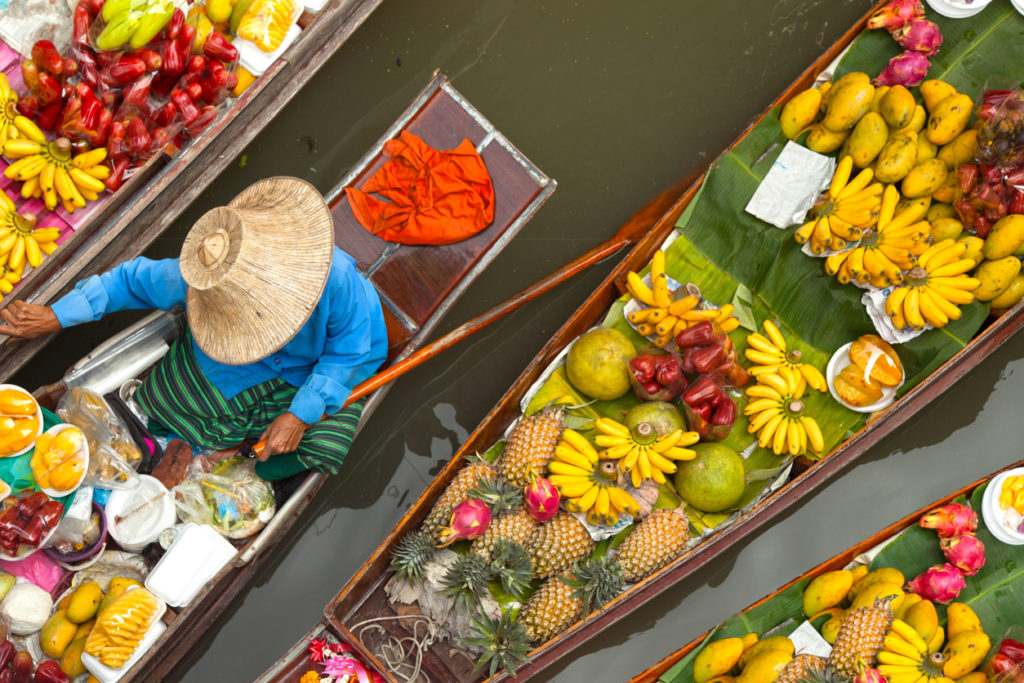 Eat your way through Bangkok – from floating markets to Chinatown
Floating markets shouldn't be missed, a frenzy of colors and scents that invades the canals and tempts visitors with traditional Thai food. Try and visit the authentic floating markets though and skip the tourist traps. Since the big floating markets are situated about 100 km away from Bangkok, most tourists book day trips with various tour companies. Unfortunately, many lead them to tourist floating markets where they'll just have to find their way through a sea of selfie sticks and end up buying cheap souvenirs.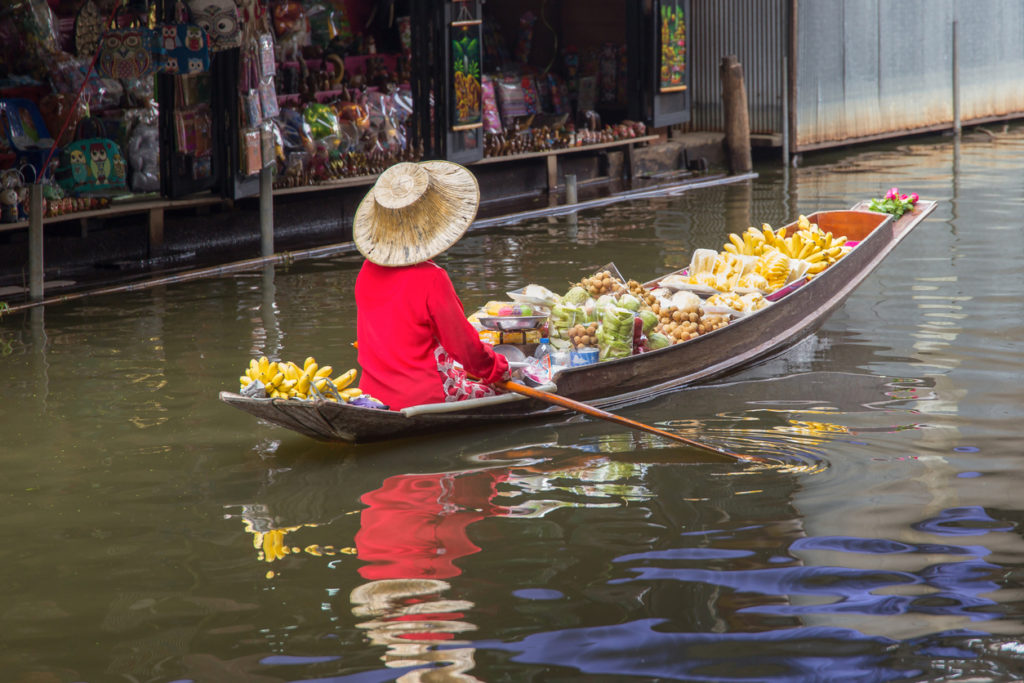 The main tourist market in Bangkok is Damnoen Saduwak, but the Amphawa and Tha Kha floating markets are nicer and more authentic. Bangkok has an overwhelming number of markets that vary from food markets and weekend markets to night markets. On the outskirts of central Bangkok, you'll also discover the pretty Khlong Lat Mayom Floating Market, while the Chatuchak Weekend Market awaits with fresh food and delightful Thai delicacies. And, although not as famous as the other floating markets in Bangkok, the magical Pak Klong Talad, Bangkok's flower market, shouldn't be missed either.
Synonym with street food, Bangkok tempts visitors with an abundance of delicious Thai food, like Pad noodles, Som Tum salads, and Gay Yang Nam Pung. Often considered the best street food city in the world, Bangkok offers unforgettable culinary adventures. One of the best neighborhoods for street food hunting is Yaowarat Road in Chinatown, where the Thai treats are replaced by Chinese specialties. The streets and alleys abound in food stalls and temples, so you'll be mixing sightseeing with a culinary tour. While you're here, visit the Wat Traimit Temple for a chance to admire the largest gold Buddha in the world.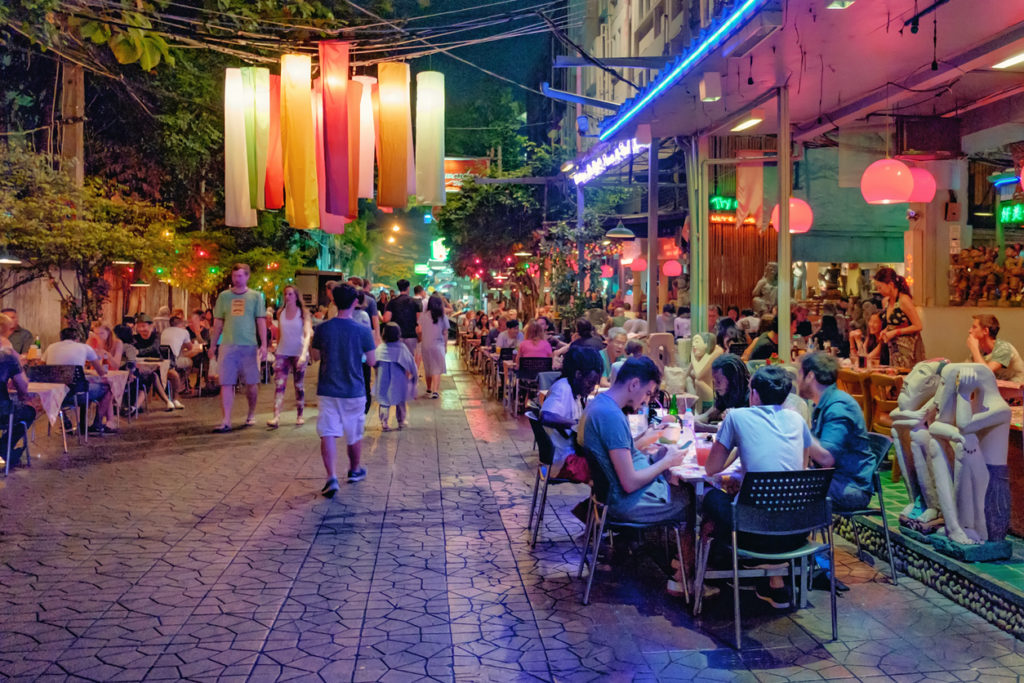 Shop till you drop – and then sip an exotic cocktail
A mecca for shopaholics, modern Bangkok awaits with countless shopping malls and designer boutiques, most of them situated around Sukhumvit Road. One of the largest shopping centers in Bangkok, Siam Paragon is a five-story building that houses over 250 stores varying from designer shops to bookstores and restaurants. MBK center impresses with its eight floors and tempts visitors with everything from clothing and domestic appliances to perfumes and souvenirs. The MBK Trade and Entertainment Center houses a modern cinema, a Thai boxing arena, and a huge food court area.
For cheap clothes head to Platinum, while if you want to purchase affordable electronics, Pantip should be your first choice. Pratunam is one of the most popular Bangkok's markets and the perfect place to buy inexpensive clothes and shoes. Every weekend, Chatuchak market, one of the best weekend markets in the world awaits with everything you can imagine, merchandise sold from tents where the sellers are always ready to haggle. This also is a great place to try some Thai street food.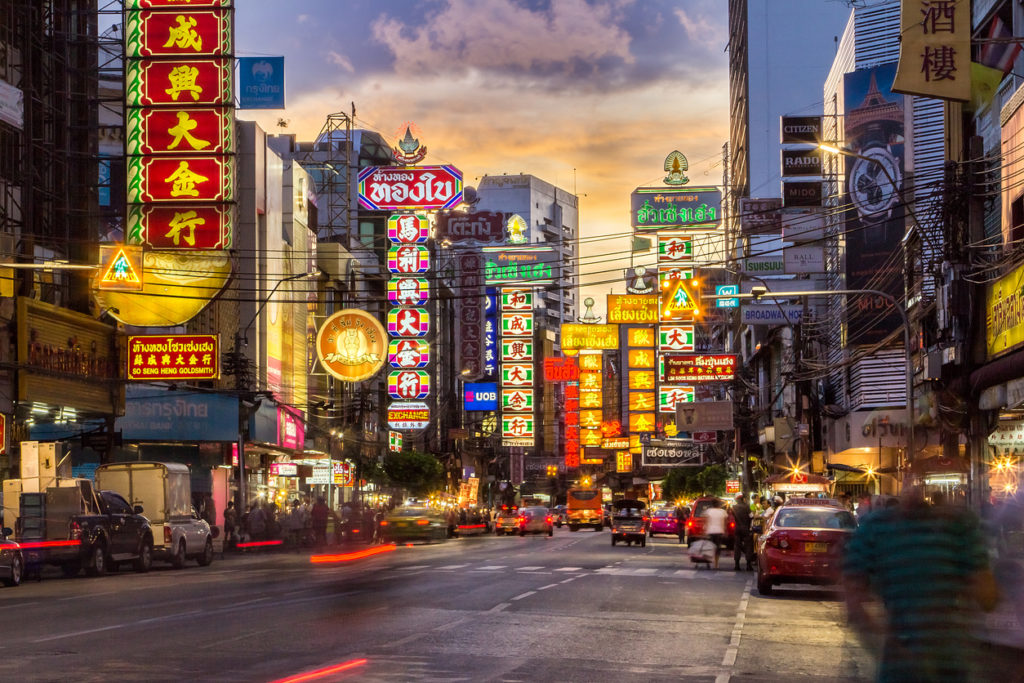 When the night comes, the city gets all dressed up with a faerie of lights and invites locals and tourists alike to taste exquisite cocktails while admiring breathtaking views. The rooftop bars are attractions per se, spectacular locations that pamper guests with fine dining, international cocktails, and city views. Some of the best rooftop bars in Bangkok are Sky Bar – Lebua, at State Tower, Vertigo and the Moon Bar at Banyan Tree Hotel, and Octave Rooftop Bar at Marriott Hotel. Remember to always book a table ahead and dress nicely.