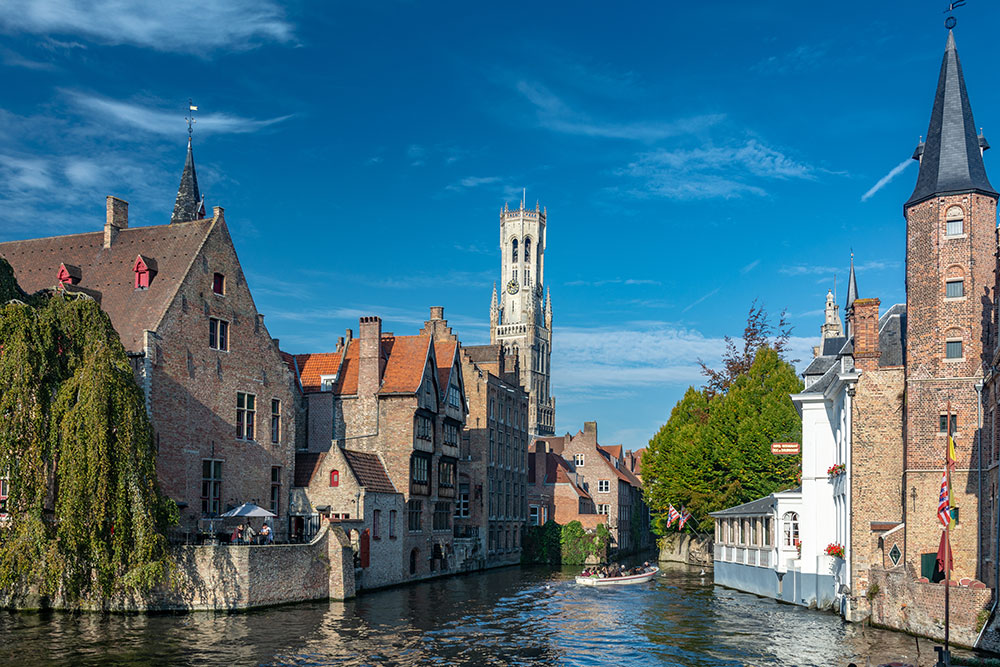 One of Venice's most worthy rivals for the most romantic destination in Europe award, Brugge is a charming, medieval city in Belgium. Abandoned 200 years ago, when the center of trade in Northern Europe moved from here to Antwerp, Brugge was dormant for many years before the British arrived in 1815. What they found was a perfectly preserved medieval city, so they started restoring its architecture. And here it is now! A postcard-perfect destination!
Called by many the "Venice of the North", Brugge has the advantage of being less crowded and cheaper than other romantic European destinations. Not as famous as Venice or Paris, this beautiful city is less touristy and allows travelers to walk its picturesque streets without having to find clever ways to face the crowds.
With medieval architecture, legions of swans on the canals, cobblestone streets and markets, Brugge creates an intimate atmosphere, especially during autumn and winter. Travel back to the 14th century and discover a city like no others that creates the perfect ambiance for love affairs. So, don't fight the need to enjoy all the romantic clichés and let Brugge make you feel like you're a teenager in love again.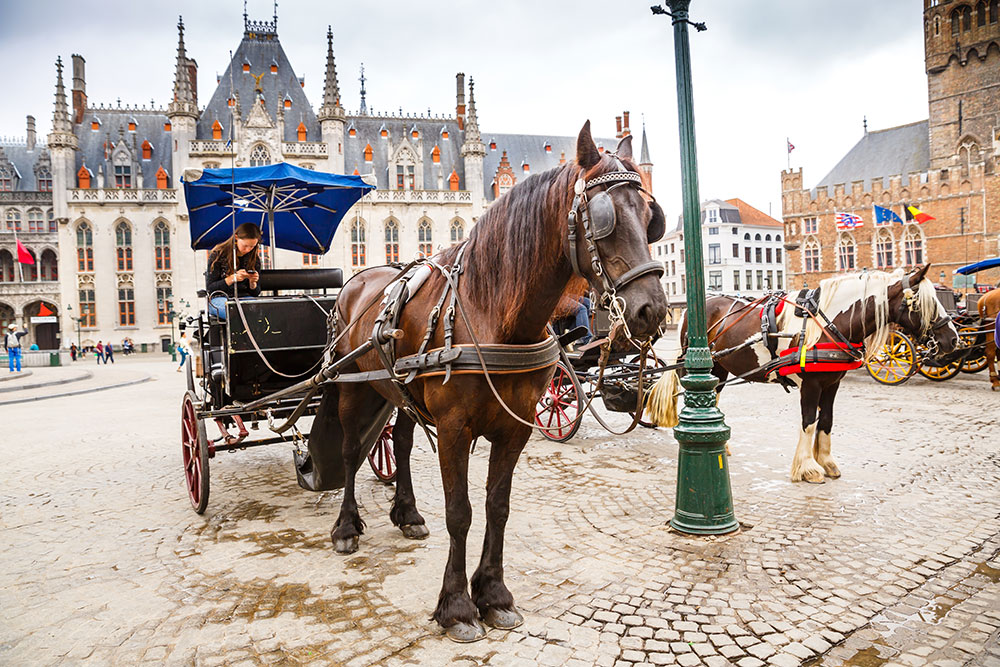 Declare your love for each other in a horse-drawn carriage
Yes, all those fairy tales and romantic comedies are definitely to blame for our need for romantic horse-drawn carriage rides, but just do it! Let Brugge lure you in the world of romance and hop on that carriage! Cuddle under a blanket and travel back to a time where love was simpler cause was pretty much very rare. Enjoy the carriage ride along winding streets, historical bridges and canals, and listen to the interesting commentary provided by your coachman. The carriage usually stops for about 10 minutes at The Begijnhof, a ring of serene white-washed houses, once the home of Beguines – girls and widows who were dedicated to charitable causes. Currently, the houses are inhabited by the sisters of the Order of Saint Benedict who still wear the Beguine habit. You can wait for a carriage at the Carriage station in the Markt, Brugge's main square, or you can book a carriage tour.
Continue declaring your love on a boat tour
Visiting Brugge and not enjoying a boat tour is like visiting…Venice and not enjoying a gondola ride. A total shame! Couples MUST take a romantic cruise along the canals in Brugge. It's the law! Discover Brugge from different angles and enjoy a plethora of superb views that will just make you want to write or recite poetry! Or at least think about it. The tour usually takes 30 minutes, enough to see many things that you wouldn't be able to discover by foot. Just enjoy it!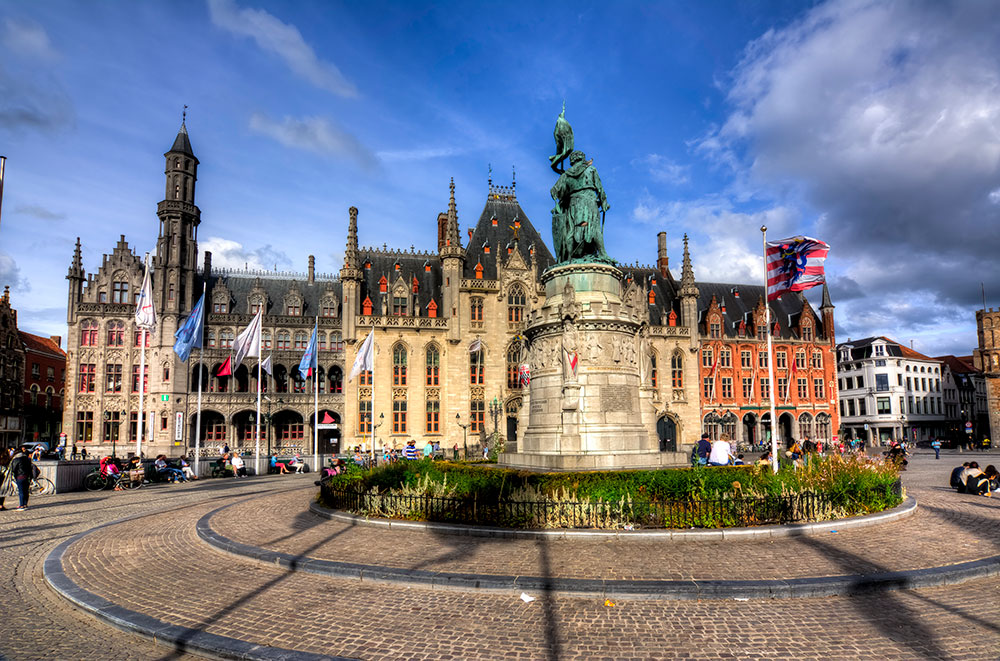 Take a break from declaring your love and have a beer
Although, this too might be considered a truly romantic thing to do in Brugge. Belgium is known as the "Beer Capital of the World", so don't miss your chance to taste as many types of beers as possible. Visit a microbrewery and listen to everything that locals have to say about beers. For a romantic place to drink beer, head to Brewery Bourgogne des Flandres, order a tasting paddle and just enjoy the evening laughing and possibly making promises that you'll probably forget the next day. But it's the thought that matters!
Hold that thought about love declaring and have a waffle
And, I mean, a real Belgian waffle…from Belgium. Do not return home without trying at least a couple Belgian waffles. With sugar or cream, chocolate or marshmallows, with yeast or no yeast, just eat those waffles. It's like nothing you've ever tasted, especially if you have a sweet tooth. Stop at a (romantic) café and order as many waffles as you can eat. Who knows if you're coming back to Belgium? Play it safe. If you like sweet and dense waffles, order the un-yeasted ones, while if you like them less sweet and fluffier, opt for the yeast ones. Trust me, I know what I'm saying. Try the waffles at Lizzie's Wafel's Brugge or at Ice Bar Oyya or anywhere they have waffles in the menu really!
Resume your love declaring while wandering the historic streets
The narrow cobblestone streets of Brugge are the perfect setting for long hand-in-hand walks. Hide away from other romantic tourists and walk along the Groenerei, the Sint-Annarei, and the Gouden-Handrei quays. Stop for a picnic in the Minnewater Park and share your bread with hundreds of swans that float nonchalantly on the Lake of Love, boosting the romance in the air. Stroll over the Minnewater Bridge or the Lover's Bridge, if you're searching for a guarantee that you'll be forever in love. Or at least that's what the legend is saying! It actually didn't work for the main characters in the legend, Mina and Stromberg. The story goes like this – she pretty much died in the woods after her father tried forcing her to marry some other guy than Stromberg. When Stromberg found out about her tragic death, he built a dam to hold back the stream, buried her there and let water flow over her grave, creating the Lake of Love you're walking over now. The end!
And…CHOCOLATE
Chocolate is an aphrodisiac, so go at it! I don't think I have to tell you that when in Belgium, you should try the chocolate. Belgium chocolate is famous worldwide for its fineness and heavenly taste. You'll find it everywhere, especially if you're walking down the Breidelstraat, where The Chocolate Line, The Old Chocolate House, and Stefs Chocolatier await! You can say I love you even if your mouth is full of chocolate. Try it!
If you likes this you may also like to read this other article: https://www.purevacations.com/a-weekend-in-rome/