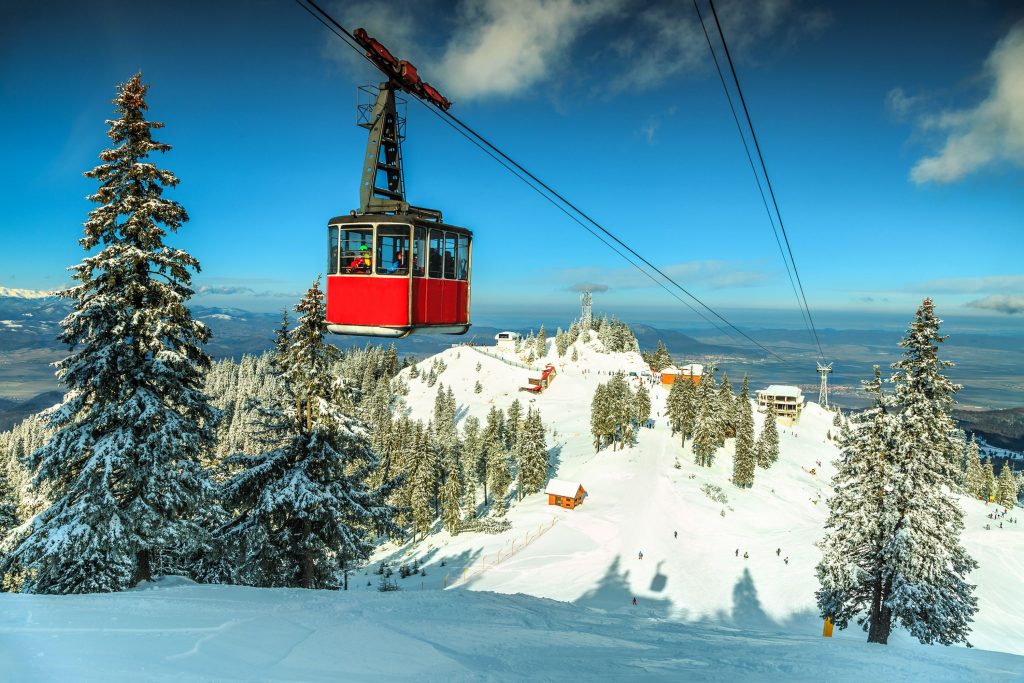 You will not hear many of your friends talking about their ski vacation in Romania, except if you are a Romanian or have Romanian friends, but this doesn't mean you shouldn't experience this winter adventure. Romania is not exactly known as a top ski destination or even as a ski destination at all because it's an Eastern European country that still struggles with anonymity due to its communist past. But, if you think about it, this is what makes this country even more interesting and attractive.
Planning a ski trip to Romania is your chance to find out more about this beautiful and really affordable country. It's a haven for backpackers and for those who want to enjoy a ski trip without spending a fortune. So, forget about Switzerland, Aspen, Italy, and France this winter! Go to Romania!
Poiana Brasov
Probably the most famous ski destination in Romania, Poiana Brasov doesn't find it hard at all to compete with Western European ski destinations. That's because a lot of money has been invested in its lodgings and ski slopes. The ski resort is surrounded by the beautiful Carpathian Mountains and close to the historic city of Brasov. You will be able to enjoy well-kept ski slopes for beginners and intermediate skiers while having easy access to the historical center of Brasov and its gorgeous old buildings. The ski area covers 80 hectares and the length of its slopes reaches 23.9 km. If Mother Nature is not feeling very generous when it comes to snow, the snow cannons will surely make up for its lack of generosity. There are ski schools available in Poiana Brasov with friendly English-speaking ski instructors, and a plethora of hotels to choose from, from affordable chalets to luxurious hotels. And even the luxurious accommodation is really affordable here, especially when compared to the ski resorts in Austria, France, and Switzerland.
Sinaia
One of my favorite Romanian ski resorts, Sinaia impresses visitors with a certain royal charm. That's because this ski resort is home to two beautiful royal castles – Peles and Pelisor. You know, before the Communists took over, Romania was a monarchy led by King Michael, a cousin of Queen Elizabeth of England! The castle was built by King Carol I who transformed Sinaia from a monastery settlement into an elegant mountain retreat. Sinaia is located only two hours from Bucharest by train and is a lively winter resort. It has a casino that dates back to 1912 and was once a stop on the route of the Orient Express. Also, Sinaia has plenty of snow to go around for everyone. You will find no queues for the lifts but excellent ski slopes. You can ski at an altitude of 2000 m and enjoy beautiful views along the way. Sinaia has 20 ski slopes that sum up about 20 km and two of its ski slopes are destined exclusively to advanced skiers.
Busteni
Sinaia's less famous neighbor, Busteni is not as charming and rich in history, but it has great ski slopes and provides even cheaper accommodation than Poiana Brasov and Sinaia. It has one of the most modern chair-lifts in Romania and two slopes blessed with snow all winter. It can get rather crowded during the peak season but you will still find your way down the slopes. The views are spectacular and you will get to admire two famous Romanian natural wonders: the Sphinx and Babele – created by the talented hands of nature. You will also have the chance to admire and even see up close, if you're into hiking, the huge cross on the Caraiman peak built in 1926-1928 to honor the soldiers who lost their lives defending the railway line against the Austrian and Hungarian armies during the World War I.
Straja
While Sinaia and Busteni are situated in the famous Prahova Valley, the most popular ski destination in Romania, if you want to stay away from tourist crowds and still enjoy awesome ski slopes, you should head to Straja. This winter resort is located in the Hunedoara County at an altitude of 1445 meters. There are no less than 12 ski slopes in Straja, each of them having their own cable car. Five of these slopes have nocturnal installations and one of them even has artificial snow. The longest ski slope in Straja is Straja slope which has a length of 8.1 km. The scenery is breathtaking and many people come here to spend a few days even if they don't know how to ski. Straja is a very charming Romanian winter destination that has the advantage of not being as crowded and popular as Poiana Brasov and Sinaia while offering great views and modern accommodation. It's perfect for those who want to learn how to ski or to enjoy a relaxing winter holiday.
Just to make an idea about the prices in a Romanian ski destination, it's enough to say that a trip with the cable car or gondola in Poiana Brasov, the most expensive ski resort in Romania, costs about $5 for adults and $2,5 for kids. Renting the ski equipment will cost you about $10 per day. So, get ready for your Romanian ski trip!