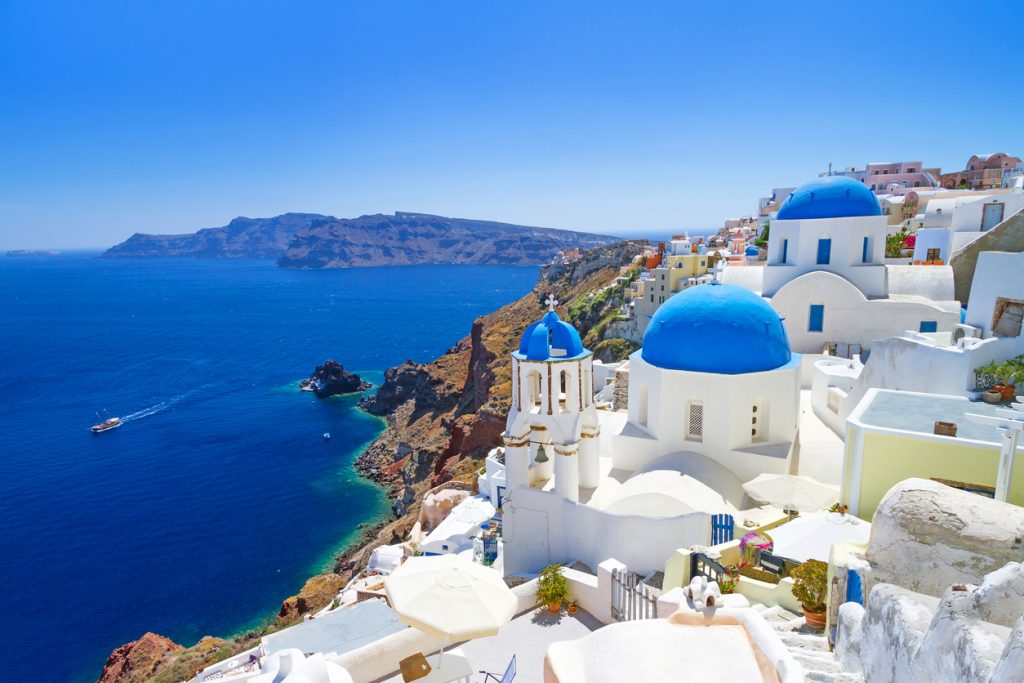 A land where the sun plays graciously with the hypnotic blue of the Aegean Sea and the white-washed traditional houses contrast beautifully with the blue domes of little churches, Santorini is the superstar of the Greek Islands. A magical realm that seems more like the creation of a painter than a real destination, this island spectacularly combines great beaches, picturesque villages, and romantic sunsets.
A volcanic island nestled in a caldera created by a colossal volcanic eruption that happened thousands of years ago, Santorini is the supermodel of the Cyclades archipelago. Officially known as Thira, the island is situated halfway between Athens and Crete and includes a few smaller islets.
Santorini is loved by couples and families alike and is one of the most popular destinations in Europe. Considering its amazing scenery and abundance of romantic accommodation options, it's no wonder that more than 1.5 million travelers come here every year looking for the best spots to admire the legendary Santorini sunsets and dazzling panoramas.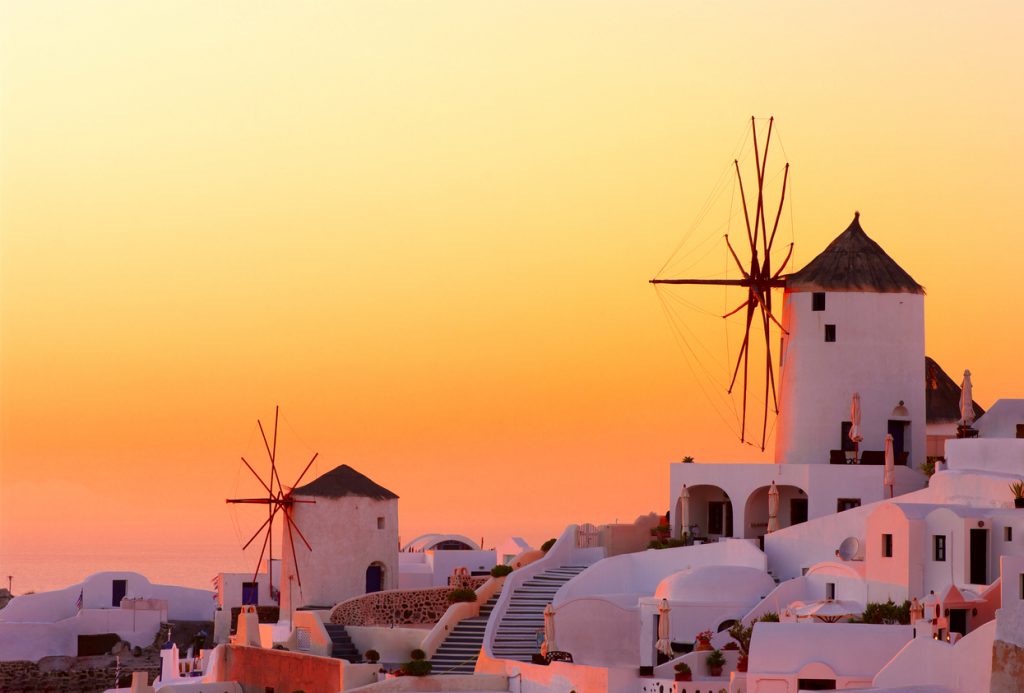 Picture-perfect villages
The island is home to 13 villages and only 14,000 residents. However, when summer comes, Santorini becomes too small for the abundance of tourists eager to embrace all that the island has to offer.
The most famous village of all is undoubtedly Oia, also the most beautiful and most expensive on the island. Many come here to feed their appetite for fantastic sunsets because this is where the magic happens. When the sun says goodbye to this divine island, crowds of tourists invade the walls of Kastro Castle, a Venetian masterpiece, to make sure they have a prime spot to capture the sunset and take home a little bit of Santorini's magic. From Oia, you can also admire Palia and Nea Kameni islands, as well as Thirassia Island.
Otherwise a quiet and melancholic village, home to a Naval Museum and a picturesque mill, with narrow cobblestone alleyways, Oia welcomes visitors with a serene ambiance and an abundance of art galleries, taverns, and boutiques, as well as fancy hotels and cozy guesthouses.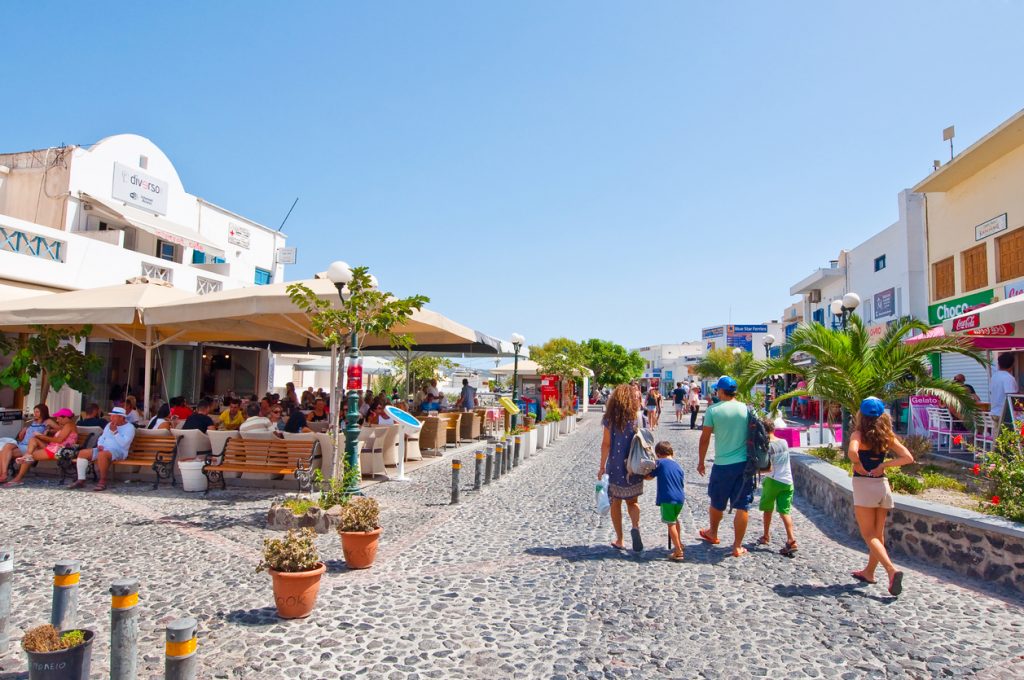 Fira, the island's capital and heart, is perched on an imposing cliff, at an altitude of 260 m, offering mesmerizing panoramas of the caldera. A vibrant town adorned with beautiful houses that remind travelers about the island's Venetian past, terraces flooded by the sun, and little churches with iconic blue domes, Fira changes the pace and invites visitors to buy clothes and jewels, stop for coffee and sweet treats and enjoy copious meals in one of the many taverns and restaurants in town. Travelers who prefer luxurious accommodation, private pools, and fabulous views, will easily find their place in Fira.
All roads lead unavoidably to Plateia Theotokopoulou, the main square, but also to the Archaeological Museum that tells fascinating stories about the island's past, the Museum of Prehistoric Thera, where visitors can admire ancient vestiges, and the Orthodox Metropolitan Cathedral, an architectural poetry dressed in white that was built in 1827 and renovated after the earthquake of 1956.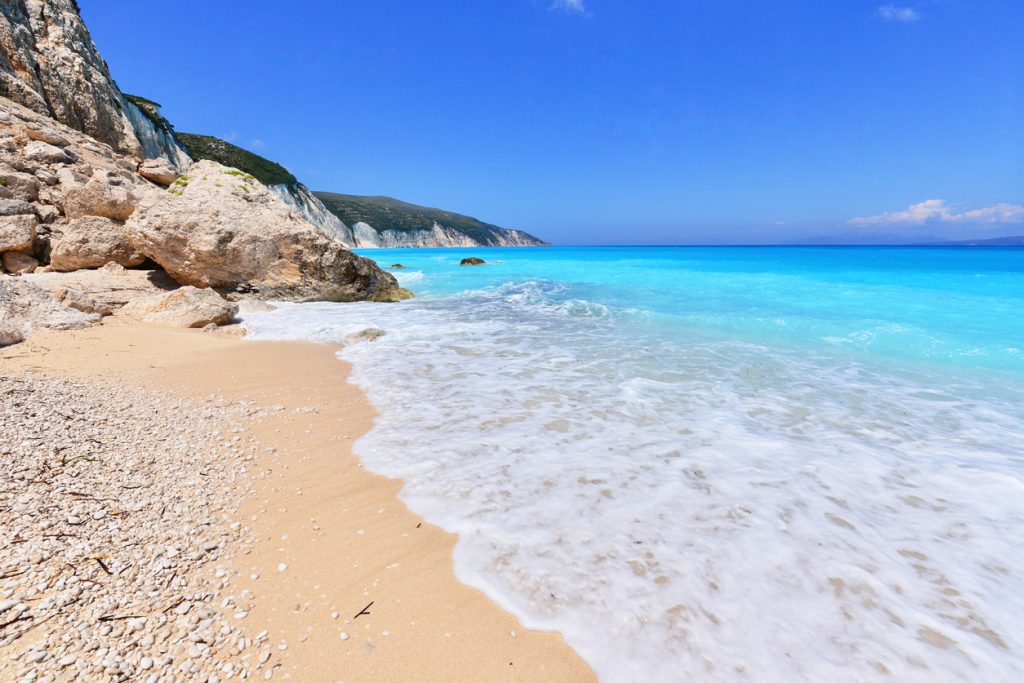 A plethora of activities for everyone
There's no better place to relax and unwind than Santorini. Head to the Red Beach, preferably in the late afternoon, to avoid tourist crowds, to enjoy a sunset dip on a red sand beach. Most beaches in Santorini are rocky, so pay attention to where you step or swim. If you want to visit another unique beach, plan a trip to Perissa Black Sand Beach, known for its black sand and numerous taverns that are always happy to welcome guests.
For cliff diving and sunbathing, you can also go to Agios Nikolaos rock, situated in Ammoudi Bay, a little fishing village at the base of Oia. Visit the Akrotiri excavation site, if you're interested to find more about the civilization buried in volcanic ash by the 17th-century BC Minoan Eruption.
If you're into hiking, get your hiking boots and head to the 10.5-km trekking route that will guide you along the edge of the caldera. The hike takes about two or three hours and connects Oia to Fira. Travelers who are up for the challenge will be rewarded with spectacular views of the sea.
Island hopping is also a great way to spend a day in Santorini, especially if you want to discover the small inlets around Santorini. The departing point is Athinios Port and the boat will take you to see Nea Kameni, an uninhabited little island, Palea Kameni, perfect for dips in hot springs, Thirassia, home to the lovely village of Manolas, and Oia, where you'll get just in time for the sunset.