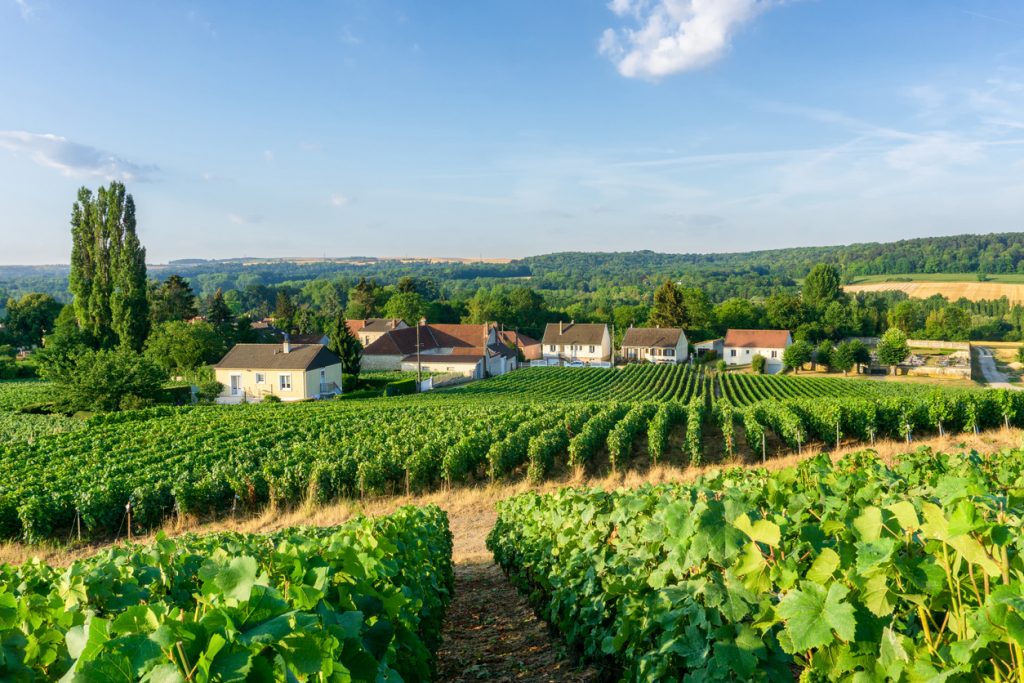 There's no celebration without champagne! The most elegant and expensive sparkling wine in the world, champagne gets to pop only when the occasion is worthy of its presence. A trip to the Champagne region is the perfect excuse to drink champagne for no special reason at all. Pair it with fine French culinary delicacies and tours of quaint villages and impeccably-pruned vines and you'll get an unforgettable sensorial experience.
The Champagne region awaits only 40 minutes from Paris, a UNESCO World Heritage Site where you'll discover traditional villages and classical towns, miles and miles of vines growing beautifully on undulating hills, and traditions that go back hundreds of years. Gravitating around Reims, Epernay, and Hautvillers, the tours of Champagne promise pampering of the sense and an immersion in a sparkling world of French delights.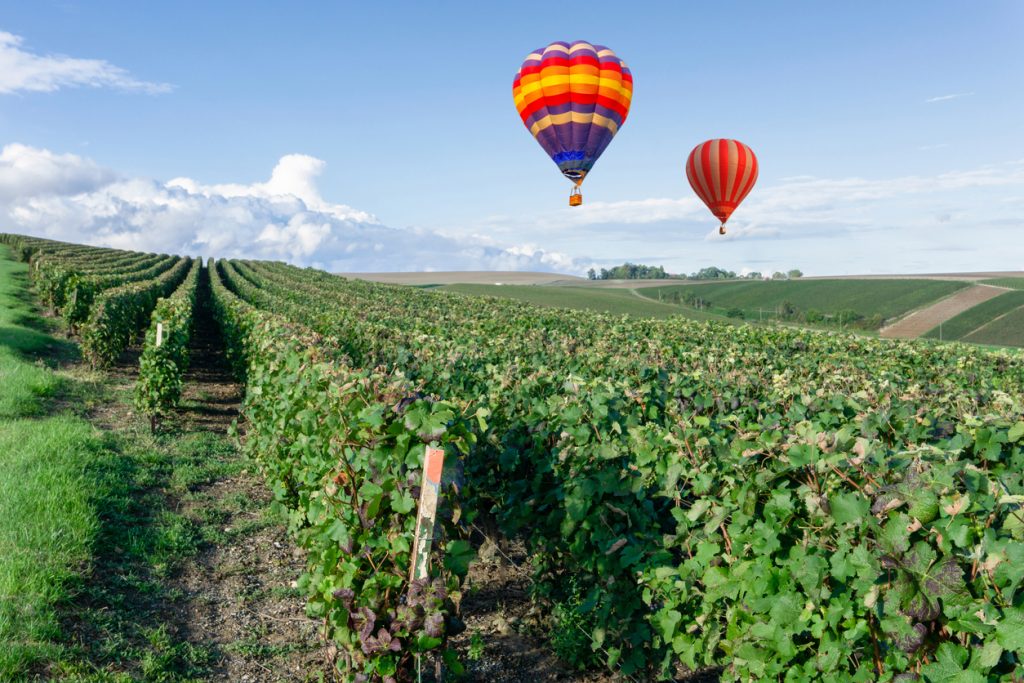 Reims – history and champagne
Home to UNESCO World Heritage Sites and fabulous architecture, Reims is often the base or the departure point for an exploration of the Champagne region. Despite being the biggest city in the region, the atmosphere is relaxed and welcoming. While it's impossible to miss the grandiose Notre Dame Cathedral, a superb example of Gothic architecture and the coronation site of many kings of France, not many come here for the landmarks and museums.
Reims is home to some of the most appreciated champagne houses in the region. Veuve Clicquot produces 18 million bottles of champagne every year and keeps them in its extraordinary 4th-century crayères (chalk cellars). Visitors enjoy the privilege of tasting the sensational Cave Privée range of bubbly that has previously spent more than twenty years in the cellar. Ruinart is the only champagne house to be considered a national monument. This is the first to store its champagne in Roman chalk mines that date back to the 3rd century. A tour of the house is always accompanied by a tasting of Chardonnay cuvées.
Complete your tour of Reims with a visit to the Jardin des Crayères brasserie and order unpretentious but superb French dishes. If you're not traveling on a budget, right next door to this chic brasserie, you'll find Les Parc de Crayères, a restaurant that received two Michelin stars and reinvents everything you know about French cuisine.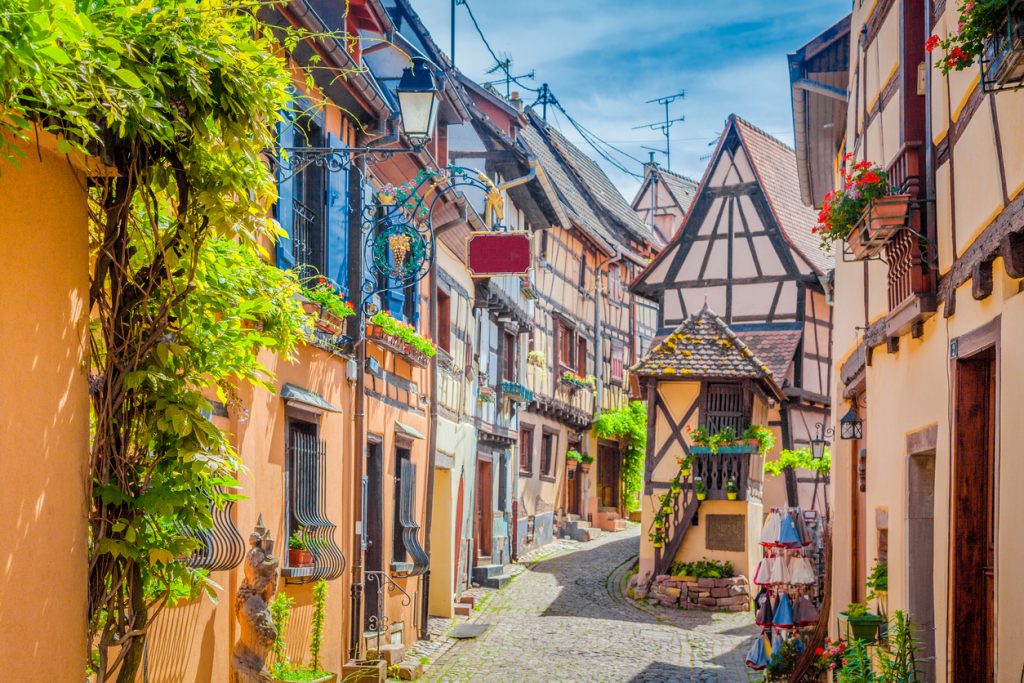 Epernay – the capital of Champagne
Considered the capital of the region, Epernay houses the spectacular Champagne Avenue, a grand boulevard lined with majestic houses and chateaux where you'll find the wineries of renowned champagne producers. While the one-kilometer boulevard is home to famous names, like Moét et Chandon, Perrier Jouet, and Mercier, below are hidden more than 100 kilometers of cellars and 200 million bottles of the finest bubbles.
Here you'll learn that champagne is made only from chardonnay, pinot noir or pinot meunier, or possibly a blend of one or two grape varieties, and that it was never meant to be enjoyed only on special occasions. Locals don't necessarily consider champagne a sophisticated drink. However, since the French treat wine and food with utmost respect anyway, it's no wonder there's no special treatment reserved for the glamorous bubbly.
Champagne can be paired with a variety of dishes. Have lunch at Bistro le 7 and you'll get to choose your champagne from an extensive list, including champagne produced by small producers, as well as simple but refined French delicacies.
Hautvillers – where the wine turned into champagne
While many of the Champagne houses in the region are quite decadent with fine-dining restaurants and luxurious accommodation, the champagne houses in Hautvillers enchant travelers with traditional charm and an unpretentious atmosphere. You'll find plenty of cellars filled with fine vintages and friendly producers ready to invite in you for a tasting.
A picturesque village on the hill with cute winding lanes, Hautvillers will always have a special place in the champagne's history. This is where the Benedictine monk Dom Pérignon perfected the way the Champagne wine became the glamorous bubbly. He added effervescence to wine through natural processes and selected the pinot noir as one of the perfect grape varieties to make champagne. If you want to pay your respects to this great man, visit the altar of Abbaye Saint-Pierre d'Hautvillers where Dom Pérignon has been resting for more than two hundred years.
Don't leave Champagne without having tried the famous Reims ham and mustard, as well as regional cheeses, such as Chaource that goes perfectly with champagne, and Langres even tastier with a glass of local red wine. Truffles and pink biscuits should also make it on your priority must-savor list, as well as chocolate, especially if it's filled with Marc de Champagne liquor.