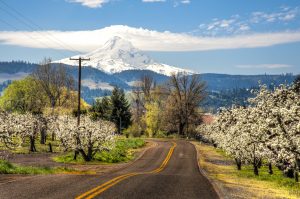 One trip to Mount Hood in Oregon is never enough to discover all the wonders that this region has to offer. However, it can be a great start, especially if you're a determined hiker who just wants to get on the Mount Hood's peak. This 11,240-foot still active volcano is often a haven for locals and tourists who want to escape the city and routine and dive into deep forests, flowery meadows, and quiet lakes.
I first visited this area in 1988, my uncle Gordon lived just to the west of it, and I became enchanted by its splendor as I cycled my bike around the corner and staring in my face was Mount Hood.
You can see the delicate white cone of Mount Hood about one hour east of Portland, just sitting there majestically, waiting to be conquered. The lively city of Hood River is enjoying the privilege of being located right at the foot of the mountain, a place called home mostly by outdoor enthusiasts. It's enough to ask them for directions and a frenzy of kayaking, cycling, paddle boarding, and hiking stories will invade the conversation. Listen carefully, smile politely, and keep moving to find your own trail towards your fascinating outdoor story about Mount Hood.
Come to Mount Hood for…Mount Hood
Many visit the region for the gorgeous waterfalls created by the Columbia River Gorge, from Crown Point to the Fruit Loop, and they are indeed a marvelous creation of Mother Nature. However, you should choose a different route. A route that will take you to Mount Hood, where a maze of hiking trails astound hikers of all levels of experience. Mount Hood is home to the Timberline Lodge, a meeting point for the Timberline Trail and the Pacific Crest Trail, but you will find numerous other beautiful trails to satisfy your appetite for hiking. While snow buries the trails situated closer to the peak from October to July, the lower hikes are open from April to December.
And, speaking of snow, did you know that Mount Hood is home to the largest night ski area in the US? This is definitely the place to be if you're into skiing and snowboarding. A true winter wonderland located in the backyard of Portland, Mount Hood welcomes winter sports fans with the Mount Hood Meadows, Timberline, and Mt. Hood Skibowl.
Wild beauty as far as the eye can see
And there is so much more to do here! For breathtaking views of the mountain, you should rent a canoe and just float on the Trillium Lake. The lake reflects Mount Hood's greatness and the beauty of a dense conifer forest that adorns the surrounding scenery. Photographers will just fall in love with this place!
There are eight protected wilderness areas in the Mount Hood National Forest, which means that you will find over 300,000 acres of pure beauty all around you. In the summer, you there are plenty of gorgeous places for camping, boating, and fishing, while winter creates the perfect setting for the entire palette of winter sports. Don't miss a visit to the Rock Creek Reservoir!
If you simply can't go home without seeing a waterfall first, you should at least make sure you see the most grandiose of all. The Willamette Falls is the largest waterfall by volume in the Northwest and a paradise for kayakers of all levels. Since its waters have been restricted in the past from the public, you can imagine the enthusiasm of kayakers who have now access to the forbidden apple of kayaking.
Don't leave just yet…
But wait! There is more to see. You can explore the region's many wineries and vineyards, and enjoy the sweet flavors of local wines. Pinot tasting rooms await at Oswego Hills and Ribera Vineyards, while Oregon berry wines can be discovered at Buddha Kat Winery. Willamette Valley is a perfect destination for a winery tour. The road will take you to family wineries, such as Christopher Bridge and Villa Catalana Cellars.
If you're a fan of beer, you will be glad to know that over 20 breweries and tap rooms await to be visited throughout Mt. Hood Territory. They are the perfect place to end a day of hiking or skiing, so head over to Mt. Hood Brewing Company for an ice cold beer or the Fearless Brewing Company for a Clackamas Cream Ale. Looking for a memorable taste? Try the beer made after the recipe of President George Washington at Coin Toss Brewing. This will definitely be something to talk about back home!
As you can see, be it summer or winter a trip to Mount Hood is going to be a rewarding encounter with nature…and a flavored glass of wine or a refreshing pint of beer.