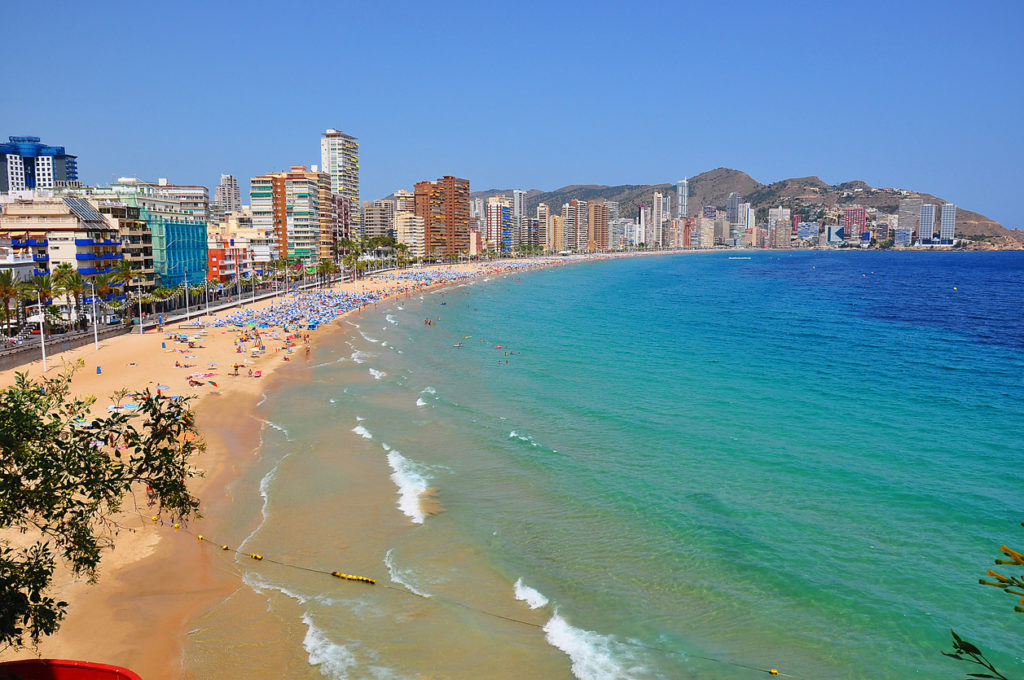 Costa Blanca has been a favorite beach destination for Europeans for many decades now. It's true that mass tourism has brought along mammoth concrete resorts and an abundance of villas, but you'll still find unspoiled beaches and secret coves and that distinctive traditional charm of Spain.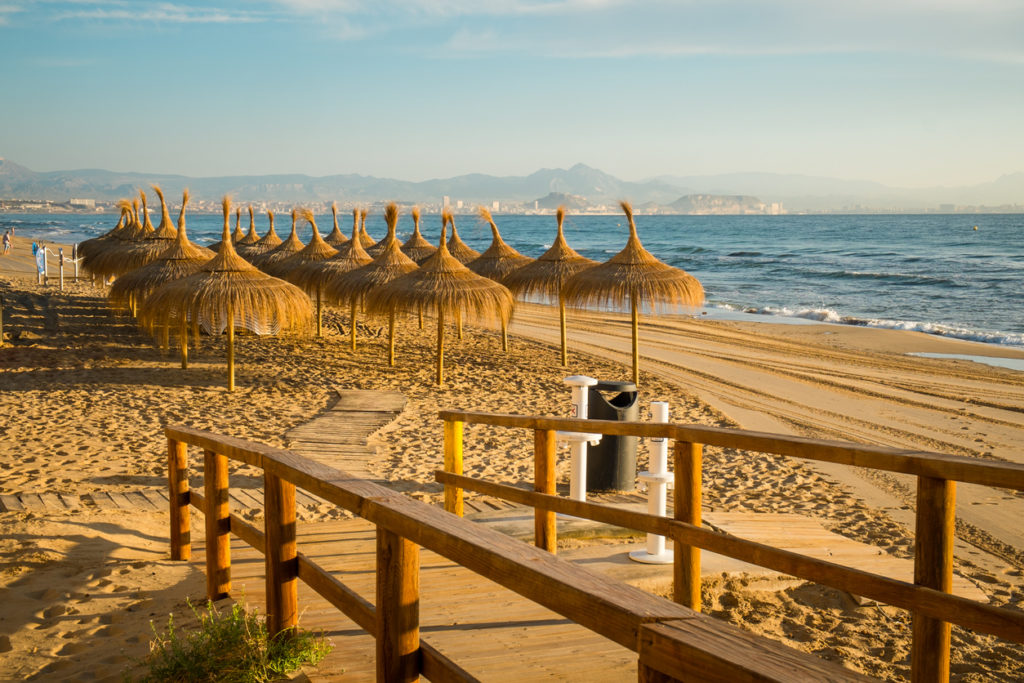 The White Coast of Spain is home to some of the best beaches in the country, especially if you're sunbathing on the strips of sand between Denia and Benidorm, two of the most popular beach resorts in Costa Blanca.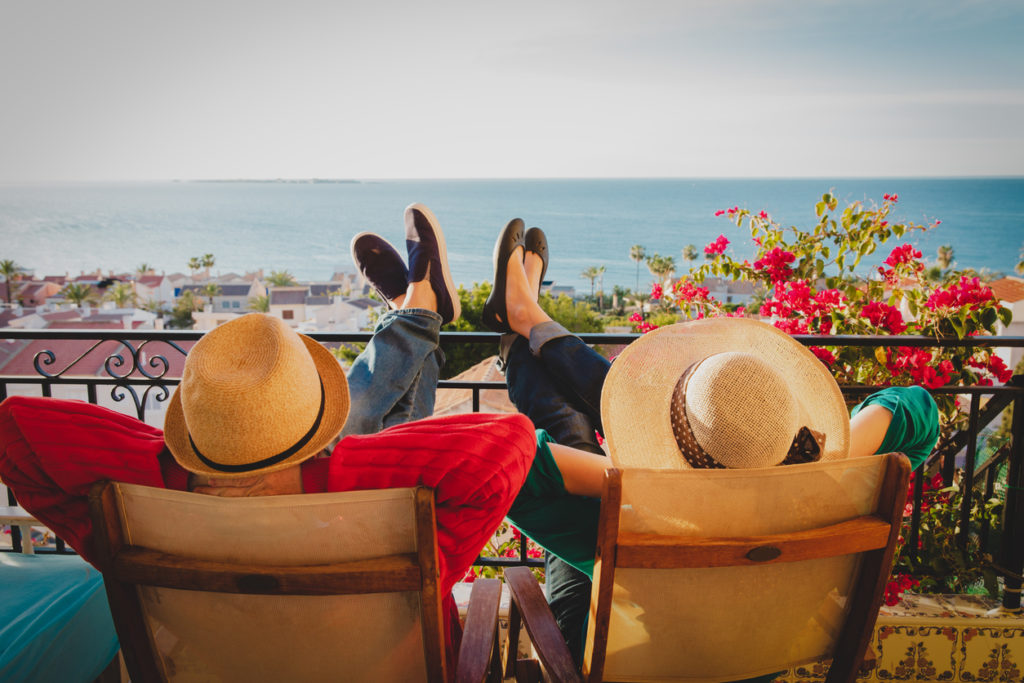 The coast is stretching south of Valencia, along the Mediterranean Sea, and takes travelers to lovely places like Denia, Alicante, and Torrevieja. Book ahead if you're planning a trip to Costa Blanca in the summer and take the inland route to Gandia for a chance to visit the historic town of Xativa and the beautiful city of Orihuela. Don't miss a trip to Santa Pola, a lovely fishing town where, if you're lucky, you can spot gracious pink flamingos enjoying their time on the Salt Flats Nature Reserve.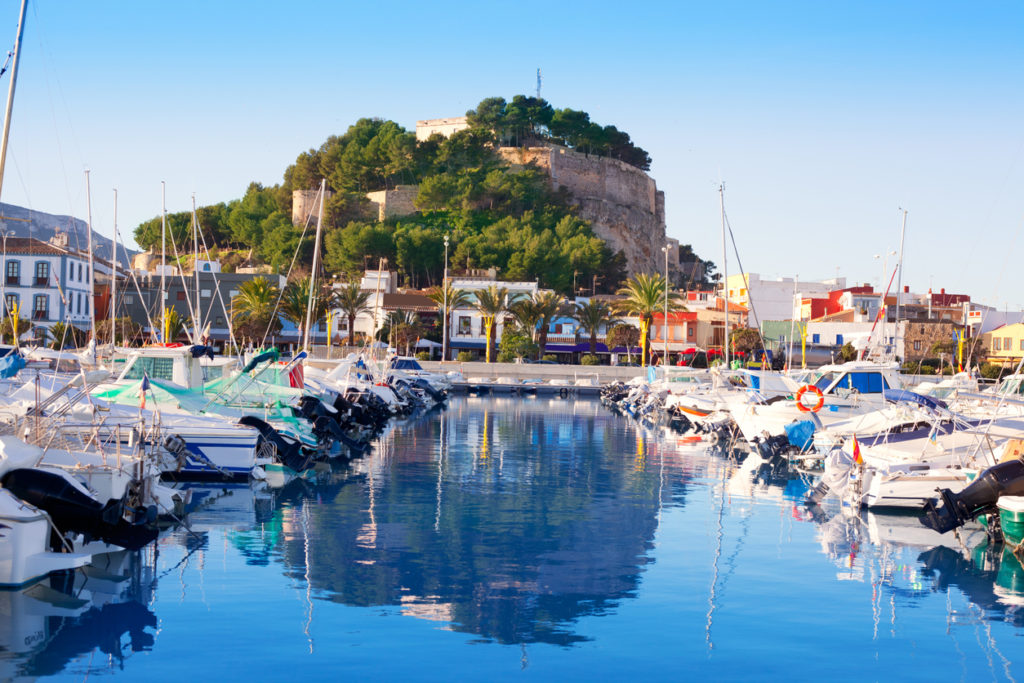 Denia
The first popular beach resort that welcomes you on your journey of exploration is the lovely Denia, a beautiful town dominated by the presence of the imposing 18th-century Castillo de Denia. A visit to the castle familiarizes the traveler with the region's fascinating history, while a tour of the town is the perfect excuse to enjoy some tapas and prawn at one of the many local restaurants and get caught in the vibrant atmosphere of this lively settlement. You'll find more fiestas here than in any other city of Spain and the starting point of more than 20 miles of Blue Flag ribbons of sand to the north and intriguing rocky coves to the south, ideal for diving sessions.
Benidorm
A great destination for families, but also one of the most famous beach resorts in the world, Benidorm has everything you can expect from a high-caliber summer resort. You'll find the usual gargantuan all-inclusive resorts and an invasion of Manhattan-like skyscrapers, but also charming boutique hotels and villas that create a more intimate and cozy holiday ambiance. Be it winter or summer, Benidorm never sleeps and makes sure its guests are always entertained. The two main Blue Flag beaches are Levante and Poniente that cuddle the charming old town between their soft embraces. The beaches are equipped with everything both adults and kids need to relax and have fun, including showers and playgrounds. Even though it might seem impossible at first, there is a way to escape the crowds of Benidorm and enjoy a quiet beach day. Just plan a day trip to Mal Pas that awaits beneath a cliff or to the fishing village of La Vila Joiosa home to more Blue Flag beaches.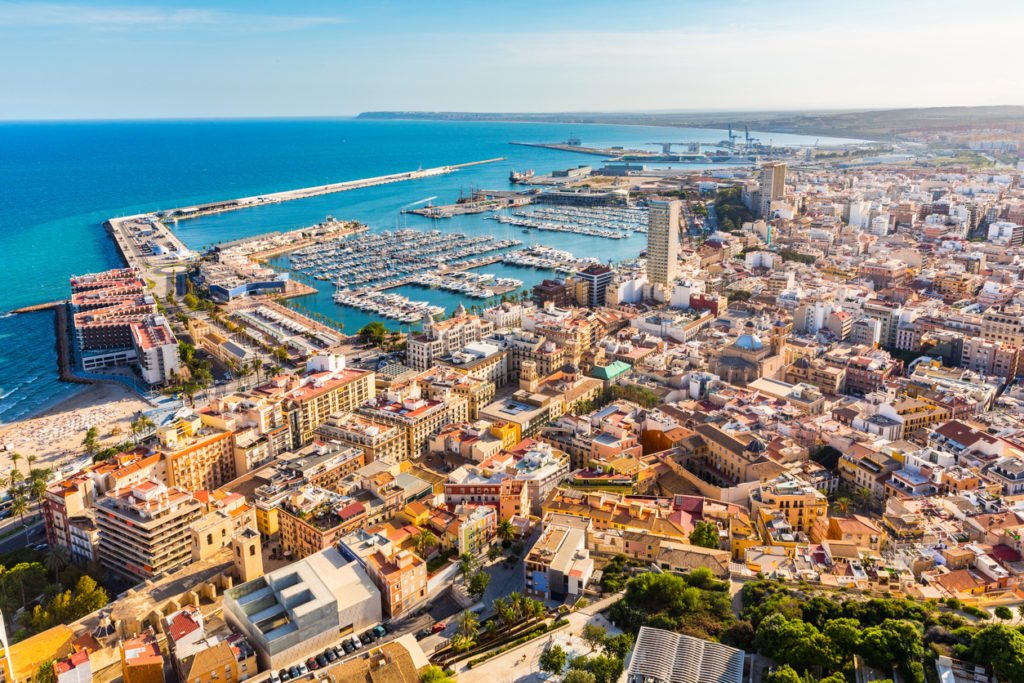 Alicante
Alicante hides a busy working city behind an exotic atmosphere created with a superb collection of palm trees, a huge sandy beach, and great pubs and bars. The city invites tourists to discover an enchanting old town and historic tales that date back to the 6th century BC when the Iberian civilization was shaping these lands. If you're a history buff, you'll love to spend a few hours of your beach holiday in Costa Blanca in some of the city's fascinating museums and archaeological sites. Posh guests will feel at home in Alicante due to the abundance of world-class restaurants, elegant boutiques, and luxurious hotels that have as a backdrop an immense port bejeweled with shiny yachts. For superb views of the city, head to the Santa Barbara Castle and discover some pages of Spain's Moorish past.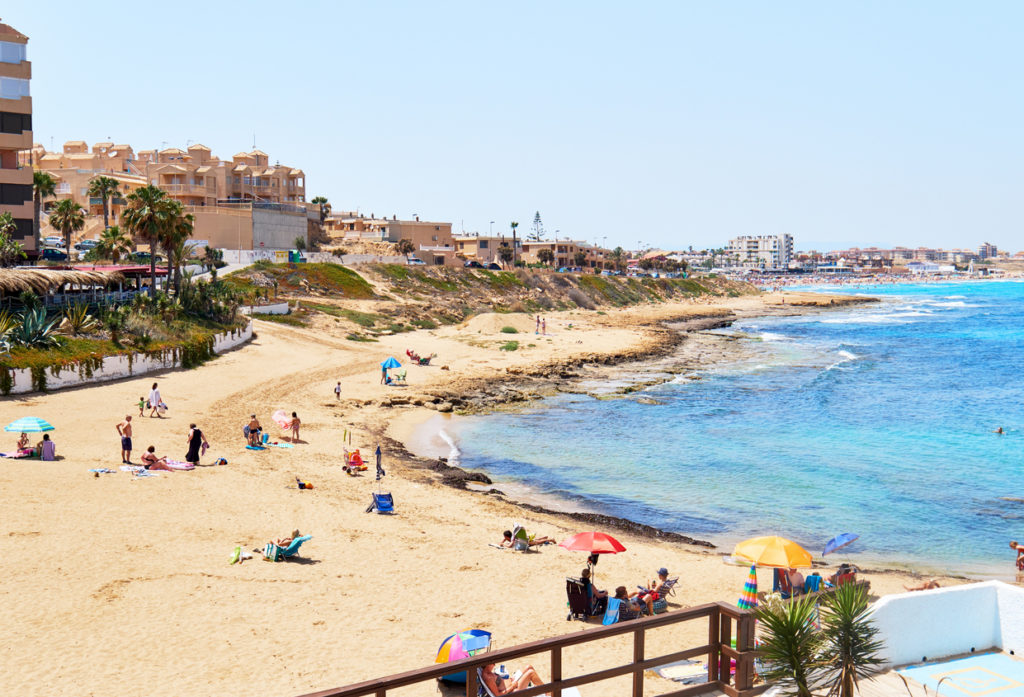 Torrevieja
A favorite of expats, Torrevieja is a bustling summer resort and a real magnet for golfers. The city abounds in golf resorts, including the famous Villamartin and Lomas de Campoamor golf courses, due to its mostly flat scenery. While the city has great beaches and wonderful sports facilities, its landscape is actually dominated by the presence of two large saltwater lakes that attract tourists looking for the healing touch of nature. The quiet Los Montesinos area offers easy access to the lakes, but also to a good selection of shops and bars for a complete holiday experience.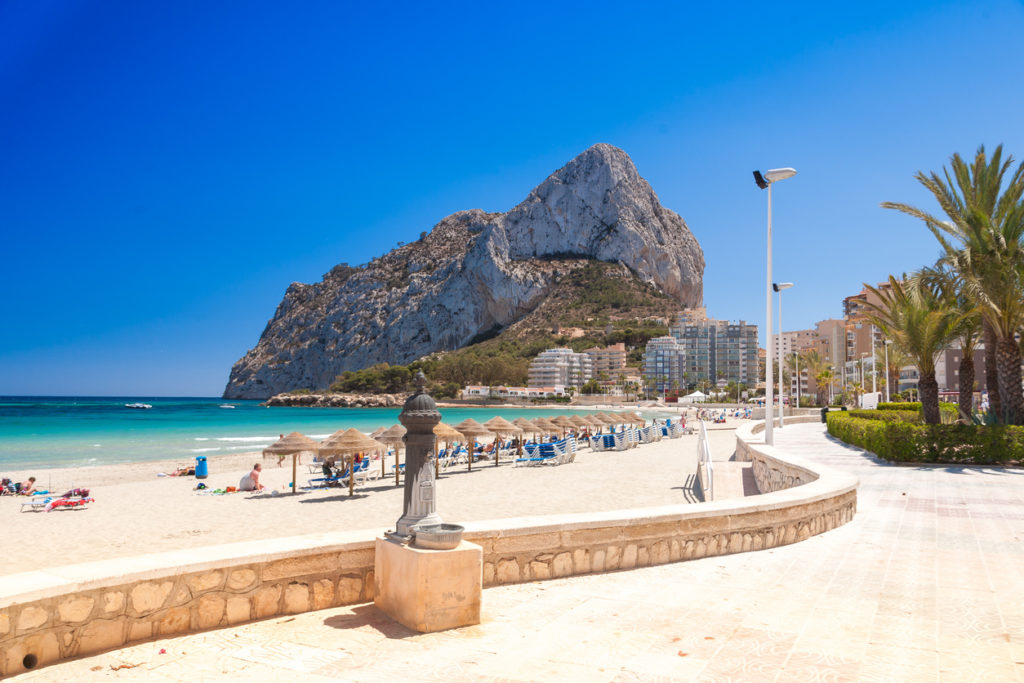 Calpe
If you want a change of scenery and ambiance, the city of Calpe invites you to unwind in a cosmopolitan atmosphere while admiring a spectacular rock that abruptly interrupts the infinite stretches of sand. A trip to Calpe offers not only the chance to be lazy on impeccable beaches but also to hike and discover the natural beauty of the Parc Natural del Penyal D'Ifac that rewards visitors with beautiful views of the entire coast – only if they make it to the top. If you change your mind regarding the steep climb to the top, you can always turn around or just stop from the very beginning on the secluded white-pebbled beach that welcomes you at the park's entrance. Calpe loves to party, so you'll probably find a fiesta during your holiday in Costa Blanca, especially if you're here for the Moors and Christians mock battles or the German Oktoberfest.
If you enjoyed this article you might also like: https://www.purevacations.com/discover-ronda-spain/