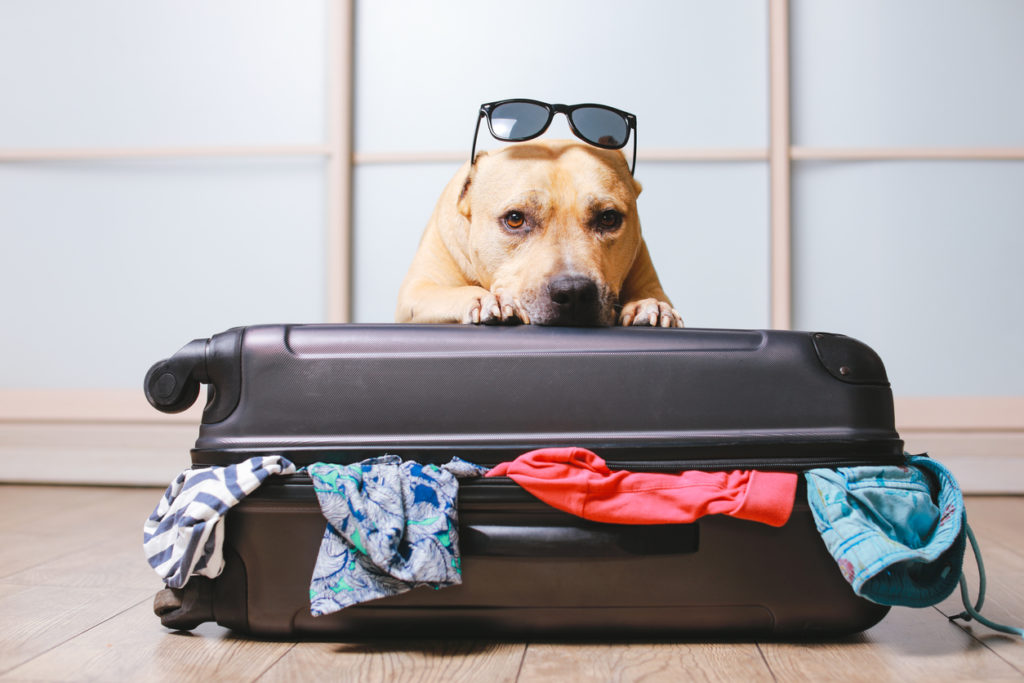 5 Ways How You Can Do It Better
Close your eyes and imagine yourself in your dream travel destination.
Is it a quiet beach by the ocean? Sitting on the sand, with the sound of waves quietly hitting the coast and the wind gently smudging your face… Or maybe it's a big city at night? With thousands of hundreds of colorful lights and city noises all around, full of energy and adrenaline?
Whatever your dream trip is, you know that what can make it even better is the uplifting company of your loyal pet. However, you probably also know that on a trip such a company is inevitably connected to many problems with your pet's safety and comfort.
What if we told you that there are ways to deal with those complications, so you and your pup can both enjoy any journey? To find out the tips on how to travel with your pet and make the best out of it, follow our short guide.
Bring All the Necessary Equipment
If you decide to travel with a pup, always remember to take your dog's necessary items. That includes, of course, proper amounts of food and water. Please note that in the case of travel (in fact, at all other times too), the healthier, the better. For instance, the Simply Nourish dog food and fresh water by your dog's side will ensure it won't feel nauseous during the long ride.
Moreover, also remember about comfortable bedding, toys, accessories, and required medicine. In general, you should pack everything that smells like home so that it can be comforting to your dog. What's more, don't forget to pack your pet documentation and make sure your pup is appropriately vaccinated – especially if you're going abroad.
Do Your Research
The most crucial part of traveling with your furry friend is to make sure that the place you will be visiting is pet friendly. Typically, it's best to call the locations you're interested in beforehand and make sure about their pet policy ahead of time. That includes all the possible shopping malls, restaurants, etc. If you stay in a hotel, don't forget to call the reception desk to ask about their pet policy.
Alternatively, if you're planning on visiting a place not designed for animals, you might leave your dog in one of the dog hostels and spend a day on your own.
Organize a Road Trip
Road trips in your own car are the best possible way to travel with a pet. You don't need to have a big camper – a comfortable car should be enough for two people and a dog.
If you decide on a road trip, it's best to get your dog accustomed to car rides first. Don't forget it's perfectly normal for your puppy to feel bored or nauseous while being in a car. To possibly minimize those negative effects, you should make sure that your dog spends some time in it before.
Get him accustomed through a series of small steps: first travel with it short distance, and then gradually make each journey longer. Don't forget to keep your dog safe: it's best if you purchase a crate or a barrier for the car. Moreover, always provide your pet with water, and include a few breaks in your journey.
Use Pet Apps
Don't forget to search the web for dog-friendly apps to make the best out of your trip. Some of these will recommend to you the best pet-friendly places, including those designed especially for your pet, such as dog cafes.
Other apps will inform you about the discounts and provide you with special coupons. Some programs can even help you locate the closest emergency hospital if anything dangerous happens to your pup away from home. Better safe than sorry: on a long trip, it's something that at some point might come in handy, so do your research before traveling.
Don't Stress
Lastly, don't stress too much about your pet and the minor changes in its behavior. It's normal that it might not be interested in the same activities that it usually loves. Be tolerant: away from home, it might need some time to start feeling safe and comfortable.
Even your dog's daily patterns might change; just as you spend your days a bit differently on vacation, so does your pet. Let it be, but always control it's safety and the safety of the people around. On vacation, it's more important than ever for your dog to know manners and behave well.
Conclusion
Pet travel doesn't have to be a nightmare. The most important thing is to give your dog the time to get used to the situation and provide it with a lot of love and comfort. Don't forget that your first trips away from home were never easy, either; in fact, your dog is in that regard just like you.
Knowing all the best tips for improving traveling with your dog, you can prepare yourself for what's best: enjoying the journey. You will soon find out that having your pup as a company will bring you many new friends! People love dogs and will always smile at you if you have one. Moreover, you are bound to befriend many other pet lovers – for example, in a dog park. Enjoy!