I am not a big runner, but when it comes to chasing the northern lights Minnesota, I find myself speeding faster than Usain Bolt himself – metaphorically speaking, of course.
Who wouldn't want to witness the magic of Earth and Universe collide? It's only natural for avid travelers and nature lovers to go to great lengths to admire the majestic Aurora Borealis.
For many years. I wrongly believed that the northern lights can be spotted only in the far, far away land. However, Minnesota proved me wrong. It seems that you don't have to go to the North Pole to wrap yourself in the spectacular colors of the northern lights. You just have to go to the northeastern tip of Minnesota, along the shores of Lake Superior.
Northern Lights Minnesota – Getting ready for a cold night in the forest
A few of my friends and I took the chance to freeze to death in the Superior National Forest on the Oberg Mountain. The best place in Minnesota to capture the northern lights glowing over the Moose Mountain, Oberg Lake and Lake Superior. You will find plenty of spaces ideal for lying on your back and waiting for the magic to happen…or for Jack Frost to pay a visit. That's why one of the best advice I got before my trip to Oberg Mountain was to pack blankets, dress in layers and hold tight to my thermos filled with hot chocolate or tea.

Another very good tip was to check the forecast before spending the night in a forest. Waiting for the northern lights to appear can be a long process. Don't believe that forecasts will be able to tell you the exact date and hour when the mesmerizing lights might make an appearance. Because no one can predict them, but you should at least make sure you will take your chance on a clear night with no moonlight. This is the perfect setting for the capricious northern lights to allow humble humans to spot their silhouettes.
Also, it might help if you just sit there, in the cold, clear night, in the heart of a forest, with all lights turned off. It might sound like an invitation for bad things to happen, but there's nothing to worry about. I've been there, kept all my lights off, including car lights, flashlight and even cell phone (to be honest, the cell phone was not off, but it had the screen dimmed) and I lived to tell the story.
The magical ingredients for a successful endeavor – patience and hope

Once we were all set up with warm blankets, drinks to keep us warm – let's call them hot chocolate, surrounded by absolute darkness, we had only one thing to do: have patience! We knew that we had to look to the north so, thanks to our compass, we managed to find the right north, and we just stood there, all facing the same direction, waiting and hoping. And waiting and hoping, eating, drinking, waiting and hoping we did!
We also knew the fancy northern lights usually appear between 9 pm and 4 am, so we made sure to be awake the entire time, or at least did our duty as friends and woke up whoever dared to fall asleep. And we waited and hoped.
And then, around 2 am, the impossible became possible, and the sky was invaded by green-yellow lights with a shy touch of purple. It was a breathtaking spectacle of lights that made me cry instantly, and I continued sobbing for a while, even after we left. It was surreal, magical, humbling. You realize then you are actually an insignificant creature in the eyes of the Universe, which has the power to do mind-blowing tricks with just a stream of rebel charged particles that decided to escape Sun's ruling. All it takes is a pinch of solar wind to bring the particles into our atmosphere and voila! – a fairy tale night sky.
Forecast might help, but it's the dedication and ambition that make the difference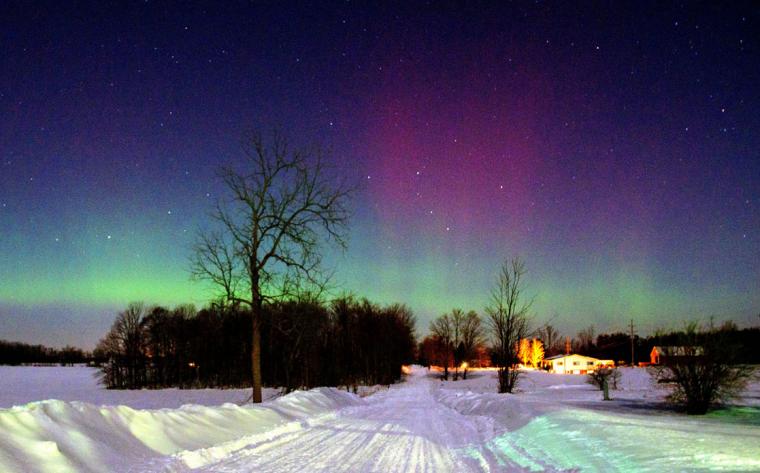 Like I said before, nobody knows when this wonder of nature will appear to light up the night sky. You just have to make the most out of a few, approximate predictions. It seems that the northern lights favor the period between late fall and early spring in Minnesota. Yes, as expected, the highest chances to spot them are during a really cold night, because they test your endurance and dedication to see if you're worthy to see them!
Although they are unpredictable and no one can argue this, it wouldn't hurt to check out the auroral forecast issued by the NOAA Space Prediction Center. They provide an Estimate Planetary K Index which focuses on KP levels, graded from 0 to 9. In Earth language, if the KP is 4 or higher, pack your blankets and thermos because there is a chance you'll get to see the northern lights.
If you will ever find yourself in an area from where you can spot the northern lights, be it Alaska, Canada, Finland, Iceland, Montana or Minnesota, you should instantly grab the opportunity and go freeze for a while under the night sky. They might honor you with their presence, and you will forget all about the low temperatures and discomfort, and remember only that you've been in paradise for a few moments.
Check an aurora forecaster
There are a few websites that offer good northern lights forecasting capabilities. To see them in Minnesota, you'll be looking for a KP of 4 or higher.