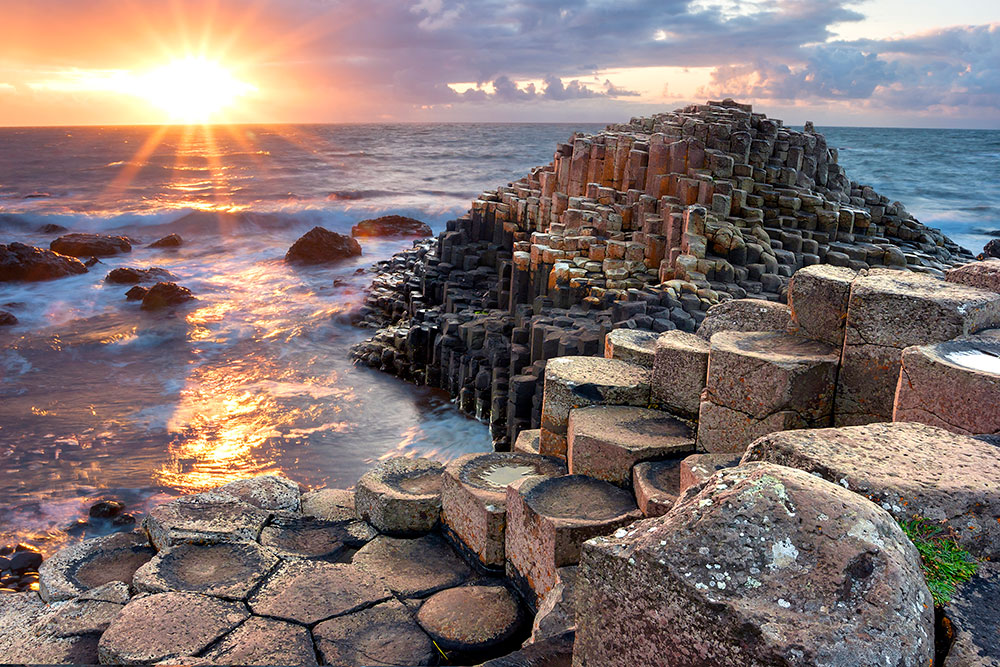 It's not hard to believe in magic in Ireland. And not because of the leprechauns and pots of gold at the end of rainbows. Simply because Ireland is like no other place in the world. Ireland steals hearts and holds them prisoners. Travelers return again and again to this magical land where they'll discover traces of a fascinating history with Celtic, Viking and Anglo-Norman roots. From green meadows and peaceful fields to rugged cliffs and a spectacular coastline, Ireland dips all its beauty in a magical aura. Add to this joyful nights spent at the local pubs while listening to passionate Irish music, and you'll never want to return home!
However, if moving to Ireland is not an option (yet!), you should make the best of the days you're going to spend here and visit at least a few of these places (or all!).
For breathtaking scenery
If you're visiting Ireland for the spectacular views, you'll need at least a few months to discover them all. Do start with the Giant's Causeway, one of the most visited attractions in Ireland, and the only UNESCO Heritage site in Northern Ireland. It's true that recently the region has seen an increase in popularity due to a little TV show filmed in the area, maybe you've heard of it – Game of Thrones, but the Giant's Causeway doesn't need any introduction or advertising. Its picture perfect scenery unveils the true beauty of the Irish coastline. One of the most admired sites in the region is the Dark Hedges area along the Bregagh Road. Don't miss a visit of the Carrick-a-rede Rope Bridge for more stupendous views of the coastline and stop for a while at the Dunluce Castle and Murlough Bay.
Rising up from the swells of the Atlantic, the Cliffs of Moher have been sprinkled in abundance with magical dust. Silvery and rugged, the cliffs are guarding the ocean's shores, only to subdue to its waves at the edge of The Burren region, a unique area in Ireland. Reaching an altitude of 120 meters, the cliffs offer superb views of the coastline and the Aran Islands, in Galway Bay, and are home to beautiful meadows and millions of years of geological wonders. Featured in the movie "Harry Potter and the Half-Blood Prince", this fairy tale scenery will reveal Ireland's rugged beauty.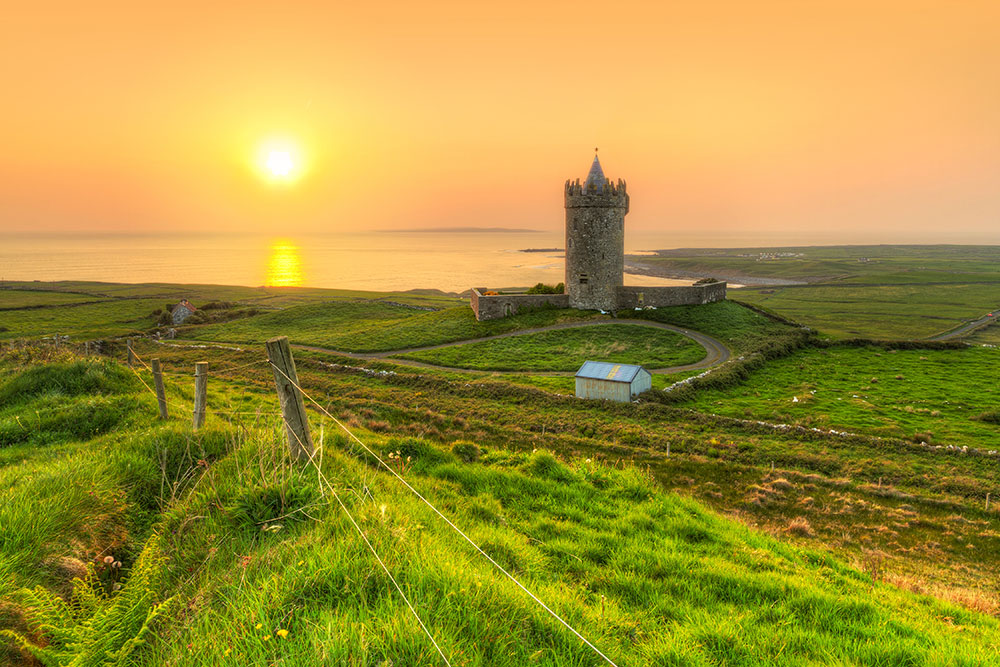 For history and culture
If you're a history buff, Ireland will keep you busy for many, many days! Although it's a small island, Ireland had a very tumultuous past and was once the "playground" of raiders from Scandinavia. You'll still see traces of Viking architecture and hear Celtic tales that will probably never be true but you'll always want to believe. The Gaelic culture is fascinating and survived endless wars and attempts to be subdued and buried.
Built in 1195, the Kilkenny Castle has successfully defeated time and it's still standing tall in Kilkenny, a strategic point in this region. The castle tells stories of Norman occupation but it also fascinates visitors with terrifying ghost stories, most of them based on true stories! After all, Kilkenny Castle is of the most haunted places in Ireland.
Visit the Aran Islands and travel back in time for a little while. This is your chance to discover the Ireland of the 1800s. You'll find no signs of tourism on these islands and not even of the British occupation. This is one of the few Gaeltacht areas in Ireland, its residents speaking Gaelic Irish. Prepare to read the signs and newspapers in a language that might very well be the official language of fairies and leprechauns for you. However, people are friendly and welcoming and will extend you the courtesy of speaking proper English, especially if they'll see that you're trying too hard! The three main islands, Inishmore, Inishmaan, and Inisheer are home to around 1,200 inhabitants and provide plenty of opportunities for cycling, hiking, fishing, and discovering Bronze Age forts.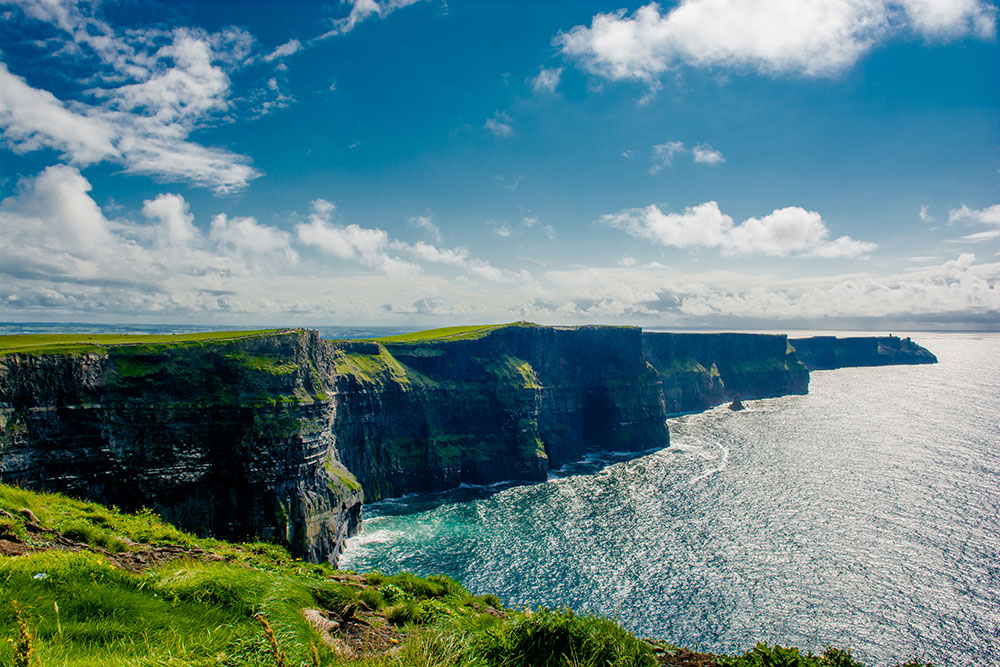 For picturesque villages
Oh, the villages of Ireland! Small, pretty, traditional, and colorful, the most picturesque villages in Ireland are captivating and unforgettable. Doolin is one of those postcard-perfect villages that illustrate the beauty of the Irish countryside. It has a labyrinth of narrow rural roads that will eventually take you to stone walls and green meadows while offering dramatic views of the ocean. Also known as the unofficial capital of Irish traditional music, the village will keep you entertained with its little pubs and charming inhabitants. It can be a great base for visiting the Cliffs of Moher and the Aran Islands.
Nestled between the beaches of County Kerry and the rugged beauty of Mount Brandon, "quaint but cosmopolitan", as Lonely Planet defines it, Dingle is a charming town where you'll discover colorful traditional houses, fishing boats, and local distilleries. This is the place where travelers come to spot dolphins, admire the amazing views at the Conor Pass, or just spend their day in one of the 50 local pubs, tasting the local beer and whiskey. The ladies will fall in love with the artisan shops and galleries in Dingle and will probably invest a small fortune in the local economy. Good for them!
You can visit Ireland for many reasons but you'll always find a drop of magic everywhere you look! You just have to believe!