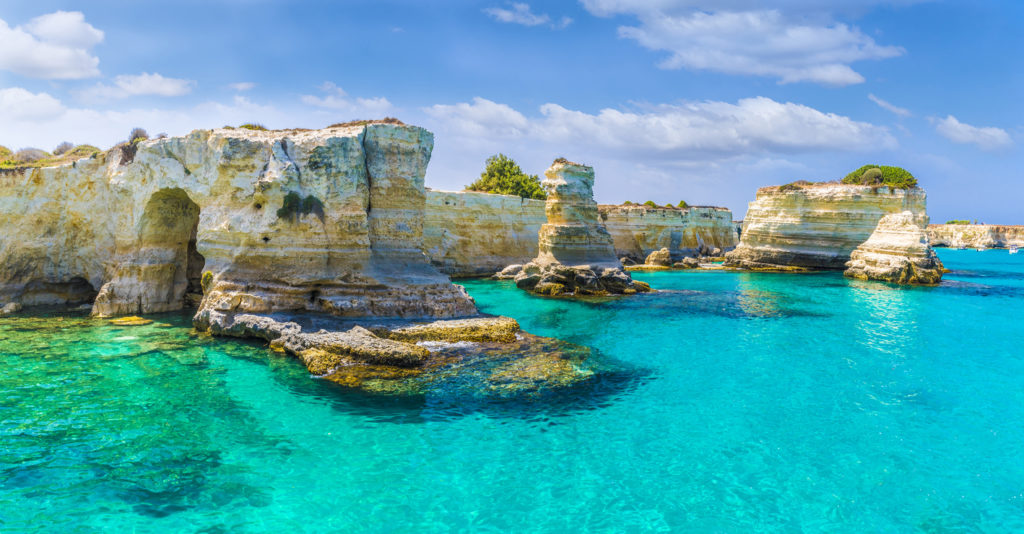 The area of Puglia is 400 km from north to south and is Italy's heel and a scenic region. The region is no longer just a holiday destination for Italians! Tourists from all over the world flock to Puglia to enjoy its crystal clear sea, miles of sandy beaches, and a tranquillity hard to find in Italy's more popular summer destinations, like the Amalfi Coast, Capri or Lake Como.
In recent years, more and more bungalow tourist villages have been raised along the region's shoreline, and many resorts are changing their old clothes with new, shiny attires to create the comfort modern travelers are looking for. However, the B&Bs continue to be a favorite accommodation type for many visitors who want to experience the genuine Italian lifestyle in a cozy and bohemian décor.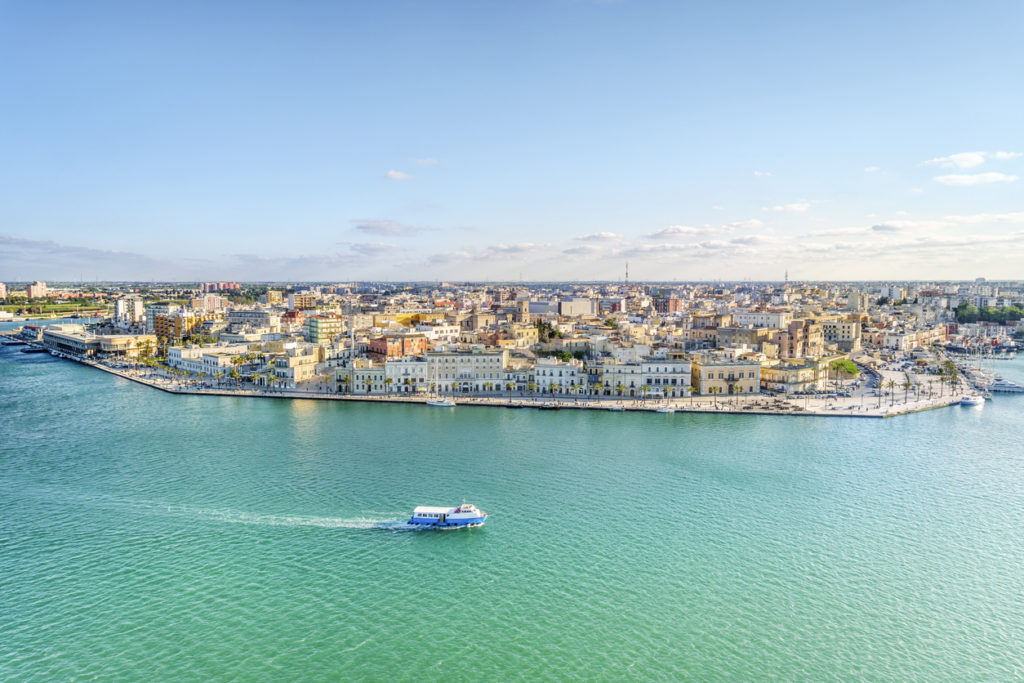 Know before you go
Puglia is easily accessible due to its two main airports, Bari and Brindisi, an ideal base for exploring the region and the perfect starting point for a Puglia holiday. Rent a car and tour the region at a slow pace mostly because you won't have any other choice. Time flows slowly in Puglia, with communities taking their time off for long siestas and shops being open only early in the morning and late afternoon. No one seems to be in a rush to get anywhere, so why try to change things? Go with the flow and imitate the locals!
Puglia is a region best visited in the summer when the sun is shining brightly, the sea caresses the shore with warm waters, and every town and village resounds with the music and joyful ambience of festivals and events. August is the month when Puglia is invaded by crowds of tourists and families with kids determined to enjoy their summer holiday as loudly as possible.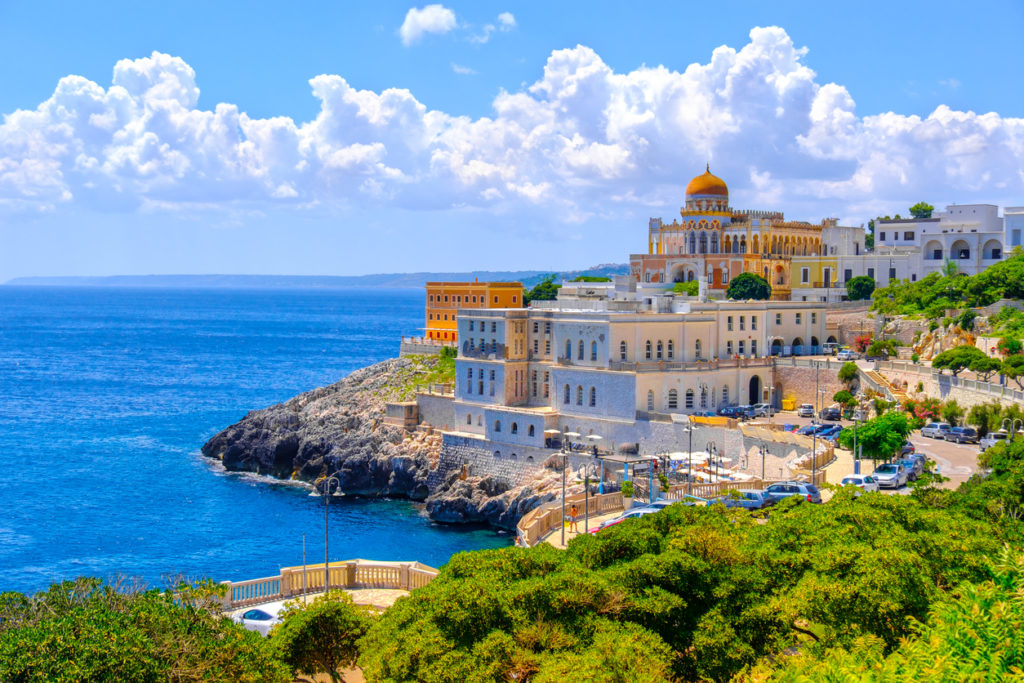 The best time to visit Puglia is late June or mid-September, but the region is glorious even in spring when the countryside is dressed in wildflowers and throughout autumn when the weather continues to be mild and gentle and the scenery is wrapped in a romantic veil.
Attractions in Puglia
TOne of the main activities in Puglia is wandering the cobblestone streets of its idyllic medieval towns that will steal your heart. The northernmost province of Puglia, Matera, is home to the picturesque town of Sassi, famous for its Park of the Rupestrian Churches, a fascinating cluster of churches, monasteries, and houses carved by Mother Nature into the volcanic hillside. The city of caves lures travelers with a gorgeous medieval town adorned with cave hotels and romantic restaurants that dazzle visitors with splendid views of the city.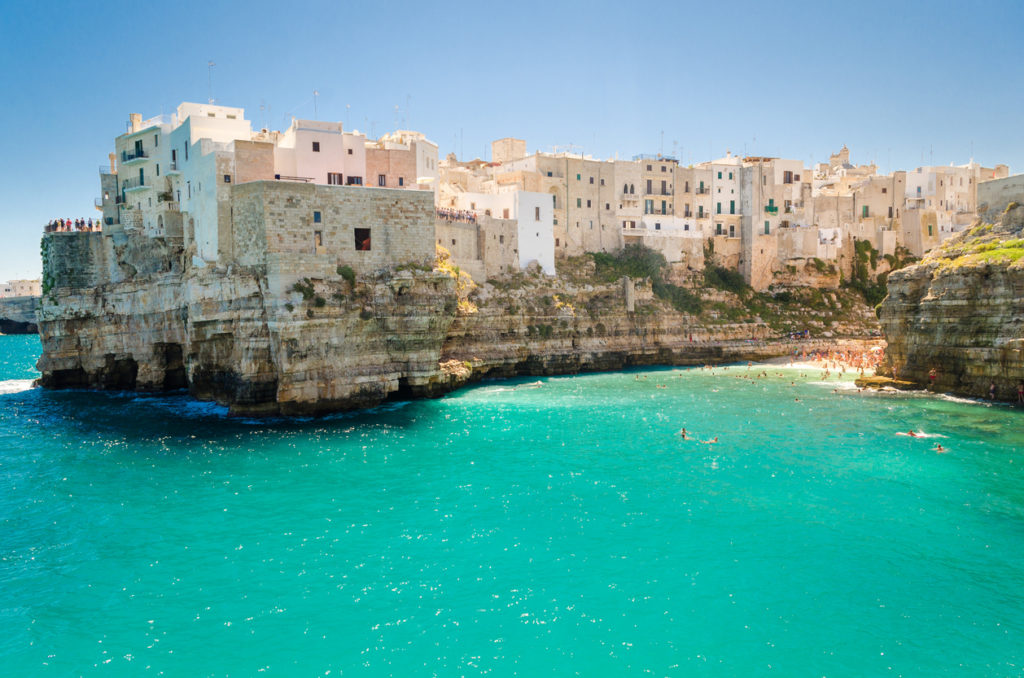 A region inhabited since 3.000 B.C., Puglia boasts an impressive historical heritage that tells stories about the Greeks, the Romans, the Byzantines, the Normans, the Swabians, the French and the Spanish. All these populations have left their mark into Puglia's landscape and have embellished the region with cities and monuments. Many towns and cities still have Kasbah-like quarters, reminiscent of the ninth century, when the Saracens ruled the region. A visit to Bari will take you to one of the biggest and most beautiful of them, as well as to a maze of medieval streets and the beautiful basilica of Saint Nicolas.
Normans left a few architectural souvenirs all over Puglia shaped like richly-ornate cathedrals, while towns like Lecce, also known as "Florence of the South", and Martina Franca mesmerize travelers with Baroque buildings, white alleyways, and stories about the Spanish ruling. If you want to witness Swabian grandeur, visit the Castel del Monte at Lucera, a jewel left behind by the Swabian Frederick II. The inner region of Puglia is adorned with endless wheat fields, olive and almond groves, and vineyards that create a pastoral landscape and attract travelers in search of genuine Italian hospitality.
If you head south, you'll discover the marvellous Itria Valley, famous all over the world due to its out-of-this-world and inspiring "Trulli" dwellings. These cone-shaped structures are unique in the world and can be admired especially in the villages of Alberobello and Locorotondo.
Don't miss a trip to Salento, a fascinating little area, home to superb landscapes and ancient traditions, where the locals still speak "Griko", a language similar to ancient Greek. Here lies Italy's easternmost city, Otranto, where you'll discover a majestic Aragonese castle, and Taranto, one of the most powerful Greek colonies in Italy, is currently home to an interesting National Archaeological Museum.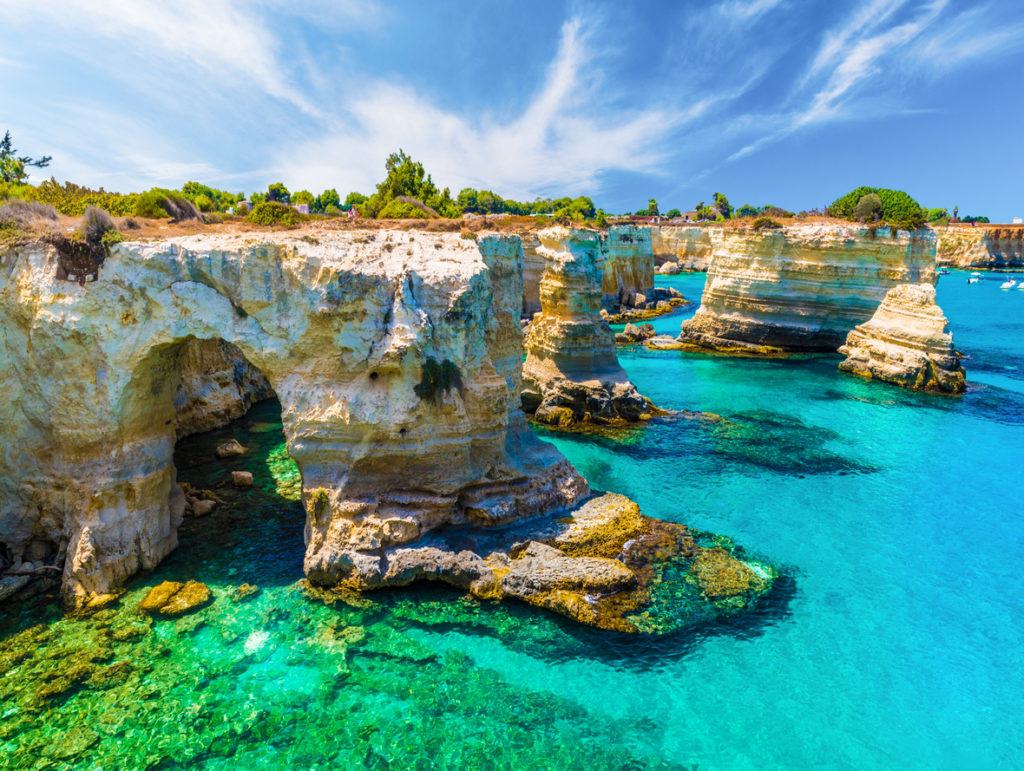 Beach days in Puglia
Puglia is adorned with two coastlines. The coast of the Adriatic Sea enchants travelers with breathtaking scenery dominated by imposing cliffs overhanging over the ocean, mysterious grottos, and shy inlets. Mass tourism hasn't yet reached this part of Italy, so you'll be able to enjoy gorgeous places, like Orso Tower, Santa Cesarea, Castro, and Marina di Leuca, in solitude.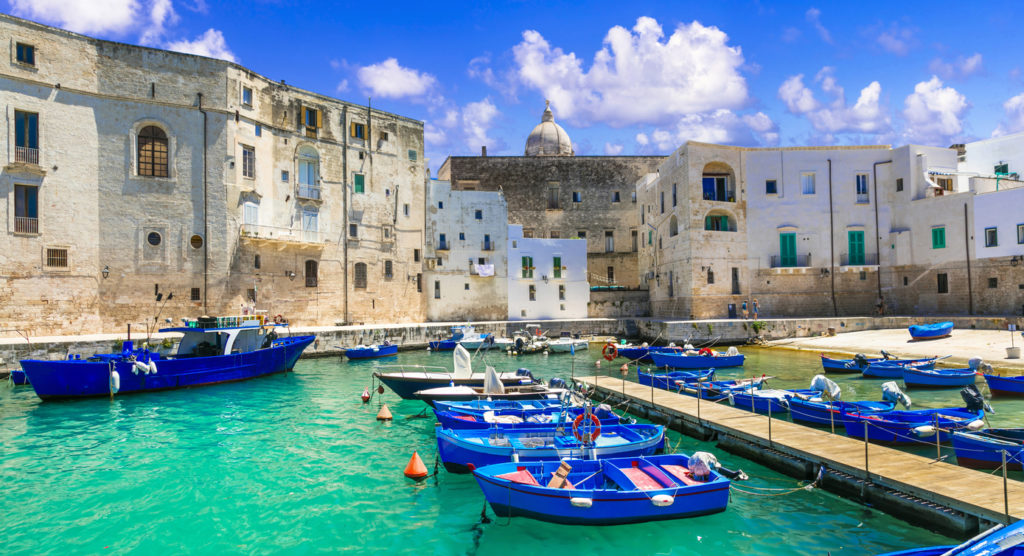 The Ionic coast of Puglia is lower and houses the sandy stretches many sun worshippers are looking for during the summer. It offers lovely views of the Natural Park of Porto Selvaggio, and most tourists choose to set their base in modern beach resorts like Torre San Giovanni, Gallipoli, and Porto Cesareo. One of the most beautiful destinations in Puglia is undoubtedly Gargano, home to the spectacular Gargano promontory, an area fringed by sandy beaches, seaside hotels, and campsites, and decorated with white cliffs rising out of a gorgeous sea. Hop on a ferry from Gargano and head to Tremiti islands for a chance to swim in crystalline waters while admiring a landscape that seems to have been created by the gods for the gods.