New Yorkers don't need to go to Napa Valley for great wine. They have has great wine regions in their backyard. Moreover, New York State is home to a few of the oldest vineyards in the US. Some of them are so old, that they have been planted by French Huguenots. They planted the first vines in the Hudson River Valley in New Paltz in 1677 and, while the French Huguenots are long gone, the vines are still there, now part of Ulster County. Moreover, New York State is home the oldest continuously operated winery in the country – Brotherhood, which opened her gates in 1839 in Washingtonville and, since then, has kept making New Yorkers happy with their wine.
Millions of bottles of wine are made every year in New York State, which is considered to be the third-largest wine producer in the country. Many of the wineries offer wine tours and tastings, so let's start our short tour of vineyards of New York State and see where we are going to spend some of our autumn breaks.
Just a short ride away
Long Island combines a winery tour with long walks on the beach. Vines thrive in this area due to the mild temperatures and large bodies of water, especially the ones that make chardonnays, merlots, and several other European wines. Duck Walk Vineyards is definitely one of the most popular vineyards in Long Island with its custom tasting bars and affordable wine prices. Although you might very well consider Duck Walk Vineyards a luxury winery due to its amazing outdoor patio, high vaulted ceilings, and, of course, its award-winning wines, you can easily buy a good bottle of wine for less than $15.
Only 45 minutes by train from New York City, Hudson Valley surprises visitors with an abundance of wineries and beautiful sceneries. This is one of the most historic wine regions in the country, especially since is home to Brotherhood, the nation's oldest winery. Brotherhood awaits with "spiced" wines, so prepare your taste buds for ginseng, strawberry or wildflower honey wines. Due to its impressive old-world architecture, Brotherhood is often the setting for weddings and other special events.
The Hudson River Valley is a favourite wine destination for those who want to taste Chardonnay and Cabernet Franc, but also Baco Noir and Seyval Bland. It is also a great starting point for several wine trails, such as the Shawangunk Wine Trail, Dutchess Wine Trail, and Hudson-Berkshire Beverage Trail.
Go further for Riesling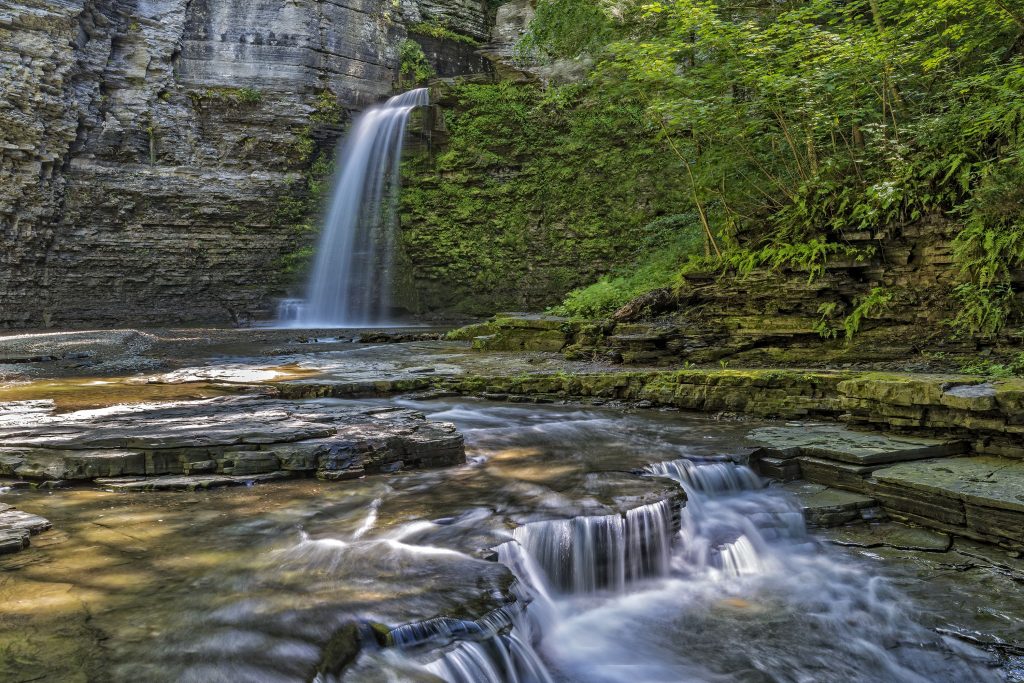 Finger Lakes impresses visitors with more than 120 wineries, so you can be sure you will find more than just one favourite wine in the region. The climate is ideally cool for wines here, and the grapes in the region are tough and can withstand cold winters. The most popular variety is Riesling, but don't hesitate to also taste the Chardonnays, Cabernet Franc, and Pinot Noir of the Finger Lakes region.
Bully Hills Vineyards should definitely be on your list. This is one of the largest and oldest wineries in the region and not only offers the chance to learn about winemaking, but visitors also get to visit a museum and art gallery. The tours at Bully Hills Vineyards are fascinating and add a touch of laughter to the experience due to the fun personalities of the tour guides and the wineries' quirky bottle labels.
If you're not in a hurry to get back to New York City, you should also dedicate a few hours to the Standing Stone Vineyards, especially if you like a good white wine. This is one of the must-visit vineyards on any Finger Lakes wine tour.
Don't forget your Vino Visa Passport
Get a Vino Visa Passport and head to the Niagara Wine Trail if you want to save money on wine tasting and wine purchasing, as well as on transportation, restaurants, and lodging, and discover more than 22 wineries and breweries. The area between the Niagara Escarpment and Lake Ontario is perfect for various types of traditional vines, and an award-winning region for its fruit wines, ciders, and meads.
Make sure you stop at the Spring Lake Winery, a vineyard situated near Niagara Falls that features a private outdoor tasting area of about 78 acres and offers beautiful views of a lake. A perfect getaway for couples or weddings! The winery specializes in Rieslings, but this doesn't mean you won't delight your senses with excellent Merlot, Chardonnay, and Zinfandel wine too. A visit to the Spring Lake Winery will also give you the unique opportunity to ride a 1940's train that departs from Lockport and takes passengers on a historical journey through the countryside.