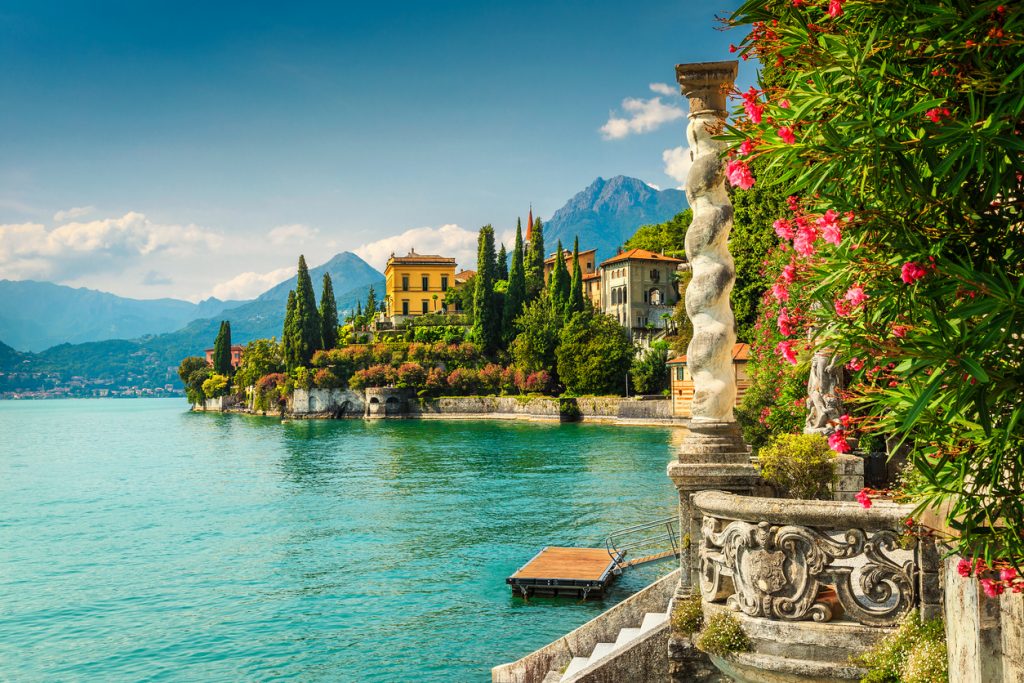 Lake Como is one of the most popular destinations in Italy and a haven for the rich and famous. However, the lake's beauty doesn't gravitate (only) around its superb lakefront luxury villas and Hollywood celebrities. There's a mysterious and poetical atmosphere in the villages around the lake, especially during foggy and rainy days, when the lake seems to come to life and the streets exude a boost of nostalgia and romance. This is the Lake Como travelers often come to discover!
Adorned with Victorian gardens, splendid villas dressed in wisteria and bougainvillea, and waterfront restaurants, Lake Como is a destination for artists and romantics. It has been this way since Roman times and will continue to lure travelers searching for beauty and melancholy until the end of time. Caressed by the crisp mountain air and dotted with picturesque resort villages, Lake Como awaits only 40 km north of Milan and is a favorite weekend destination for the Milanese. It also is the deepest lake in Italy and undoubtedly the most famous.
As expected, summer brings tourist crowds around the lake, so if you want to enjoy Lake Como at its liveliest, this is the time to book your holiday in Lake Como. If you prefer a quieter Lake Como holiday and you're not afraid of the breezy months of winter, Lake Como will make you feel at home even from November to March. It's easy to get to the most beautiful villages in Lake Como due to the abundance of boats available to take you anywhere you wish. You can opt for a ferry tour of the towns or just rent a private boat and experience la dolce vita!
Como
Right at the base of the lake, you'll find the tiny town of Como. Often overlooked by tourists in search of the most picturesque villages in Lake Como, Como makes for a great base to discover the region. Moreover, it has a lovely medieval downtown and a pleasant local feel where everybody seems to know (and like) everybody. Its cobblestone streets are lined with tall and colorful buildings, as well as cute little cafes where you can sit back, relax, and watch the world go by. Como is like a prelude to the lake's majestic beauty. Don't leave Como without taking the funicular up to Brunate to capture spectacular views of the lake.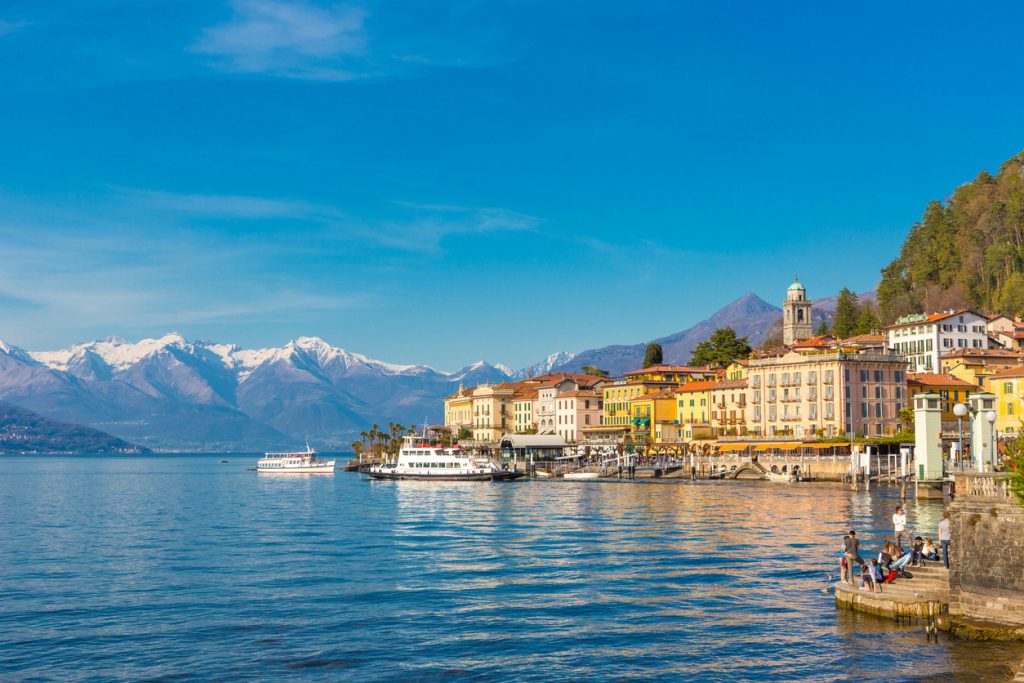 Bellagio
One of the exclusivist members of the "Golden Triangle" of Lake Como – Bellagio, Menaggio, and Varenna – this famous little town awaits in the heart of the lake. Its picturesque narrow alleyways adorned with art galleries, Italian restaurants, and boutiques overflow with charm, while the tall mountains, cypress trees, and palatial villas create an idyllic setting for luxurious holidays in Lake Como. Once the day-trippers have left, the enchanting town of Bellagio embraces peacefulness and serenity and creates the perfect backdrop for romantic candlelit dinners.
Menaggio
Menaggio is a larger town in Lake Como and a favorite destination for travelers who want to combine a trip to Lake Como with a day trip to Switzerland. A vibrant resort town, Menaggio has an impressive entertainment scene and abounds in hotels, restaurants, and shops. It's also a hub for boat rental companies and a superb departure point for hiking and cycling in the hills.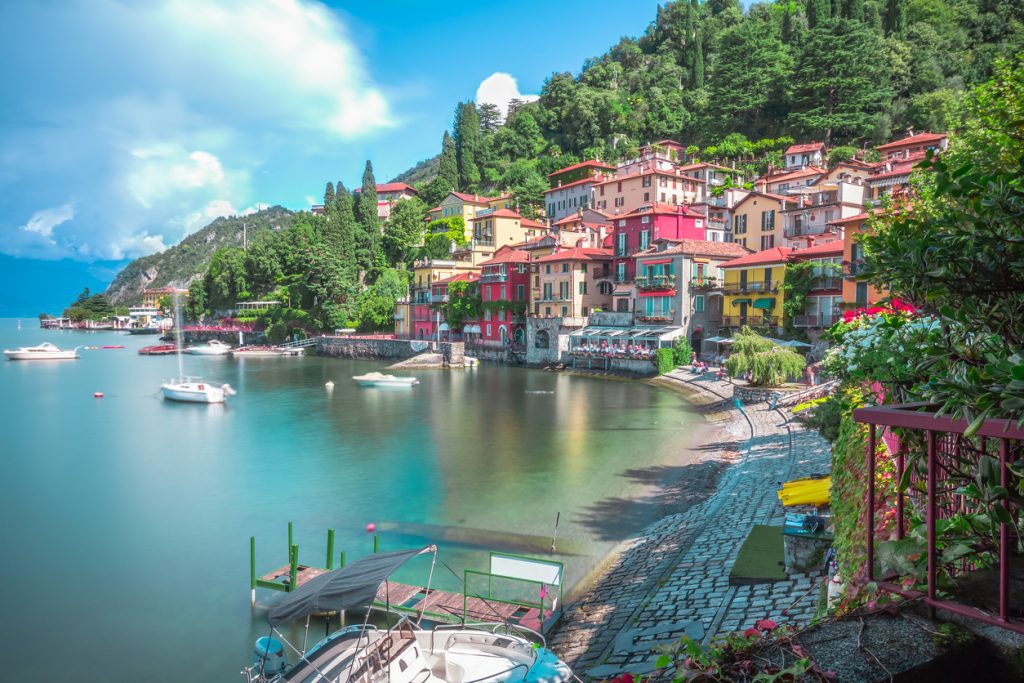 Varenna
The little town of Varenna is incredibly picturesque. Guarded by majestic mountains, Varenna is a sleepy fishing village that has remained true to its rural charm. However, its beautiful waterfront restaurants and chic hotels enrich the setting with a touch of luxury and sophistication. It's pure joy to explore Varenna, especially if you like admiring traditional Italian houses and walk on cobbled streets. Don't miss a visit to the romantic gardens of Villa Monastero and hike up to Vezio Castle to capture magnificent views of the lake.
Tremezzo
Right across from Bellagio awaits the superb little town of Tremezzo, home to the famous Grand Hotel Tremezzo, the most popular luxury hotel in Lake Como. Grand Hotel Tremezzo is unrivaled when it comes to its luxury amenities, and dazzles guests with sweeping views of the lake and rooftop suites, as well as a heated swimming pool and a private beach. This dreamy lakeside town is home to the splendid Villa Carlotta visited mostly for its 14 acres of azaleas and rhododendrons that create a frenzy of colors and scents from late April to early Mar. The gardens also abound in palms, cacti, banana trees, orchids, and camellias, to name just a few of the more than 500 species of plants that adorn the garden.