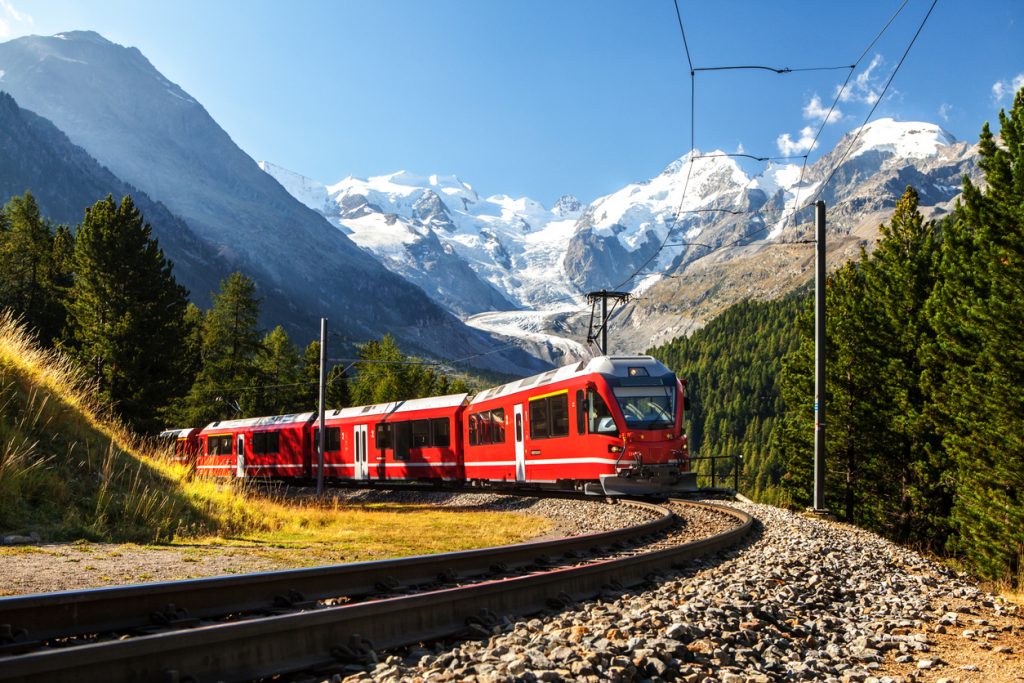 The majestic, grandiose, and breathtaking Switzerland is best explored by rail. A 5, 7 or 14-day train itinerary will give you the opportunity to admire the idyllic scenery, stop at some of the most beautiful places in the country, and enjoy a comfortable and eco-friendly train ride. Moreover, if you purchase a Swiss Travel Pass, you won't have to buy tickets for train, bus or boat rides. As expected, this magnificent country has a great rail network. Whether you're on an express train from Zurich to Geneva or ride a train between two anonymous towns, you can be sure your travel experience will be enjoyable, safe, and speedy. Here is an example of a Switzerland rail itinerary that will get you to some of the most spectacular destinations in the country.
From Zurich to Lucerne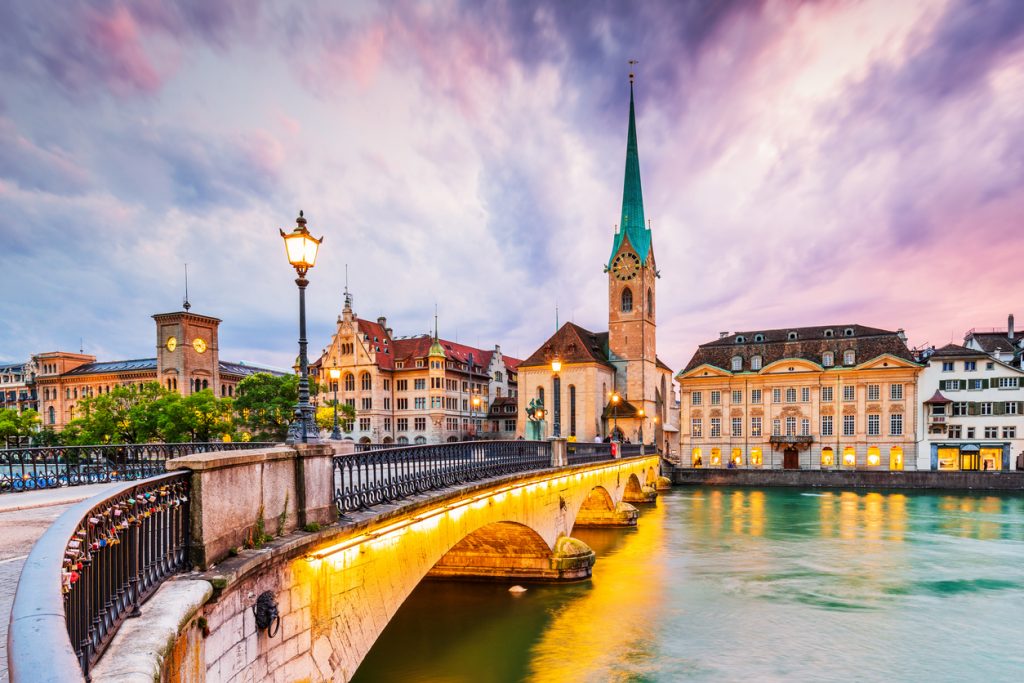 Most travelers land at Zurich airport and from there head to Lucerne by train. Lucerne is often the starting point of many train journeys in Switzerland. Hop onboard the Lucerne-Interlaken Express adorned with huge windows and get ready for one of the most outstanding journeys in your life. The journey takes only two hours, but these hours will be filled with amazing views dotted with Alpine lakes, majestic peaks, superb waterfalls, and cows roaming peacefully on beautiful meadows.
Options in Lucerne:
Once you're in Lucerne and fancy a trip back in time, take a seat in one of the vintage carriages of the Wilderswil to Schynige Platte cog railway and enjoy the splendid views of Eiger, Mönch, and Jungfrau. You will be admiring the views from an attitude of 2132 meters and you'll feel awesome!
If you want to add another fabulous rail experience to your itinerary, plan a day trip to Jungfraujoch. You'll get there on a cogwheel train from Kleine Scheidegg after a short trip on the Jungfraujoch Railway that will carry you up to 4,500 feet. The final station, Jungfraujoch is the highest railway station on the continent and a great starting point for hiking, tubing, and climbing.
The Bernese Alps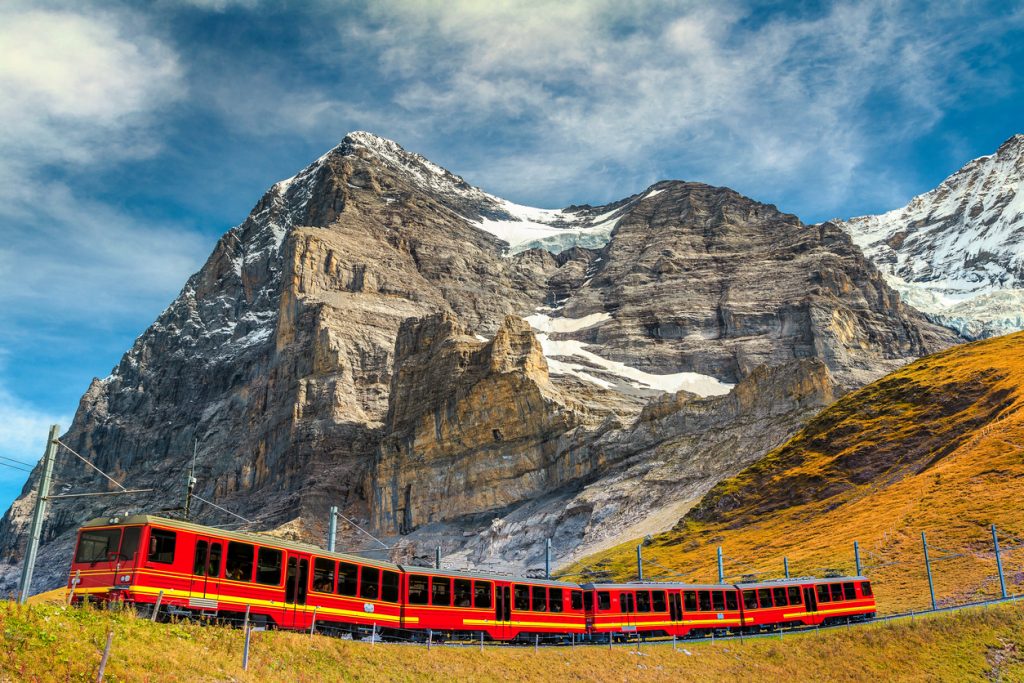 The Luzern – Interlaken Express will then take you to the Bernese Alps. The train ride offers the chance to admire three lakes and all the idyllic scenery that creates the beautiful Mt. Brünig. The Bernese Alps will make a breathtaking appearance once you leave behind the Brünig mountain pass. You can either spend a few hours in Brienz for a stroll around a very turquoise lake or continue your journey to Spiez, a great destination to spend the night and try the local cuisine.
On your way to Locarno
The town of Spiez will undoubtedly win your hearts and convince you to stay for a day or two. You can do that or just continue your rail journey to Locarno, an idyllic 4.5-hour train ride that will pamper you with superb panoramas. To reach your destination you'll have to change trains in Domodossola, Italy. If you want to spend some time in Domodossola, you should do that. The town is very pretty and has a lovely historic center. From here, you'll be following the Centovalli railway all the way to Locarno, where everything revolves around a majestic lake and, surprisingly, you'll get to rest under the shade of exotic palm trees.
Enjoy the fabulous St. Moritz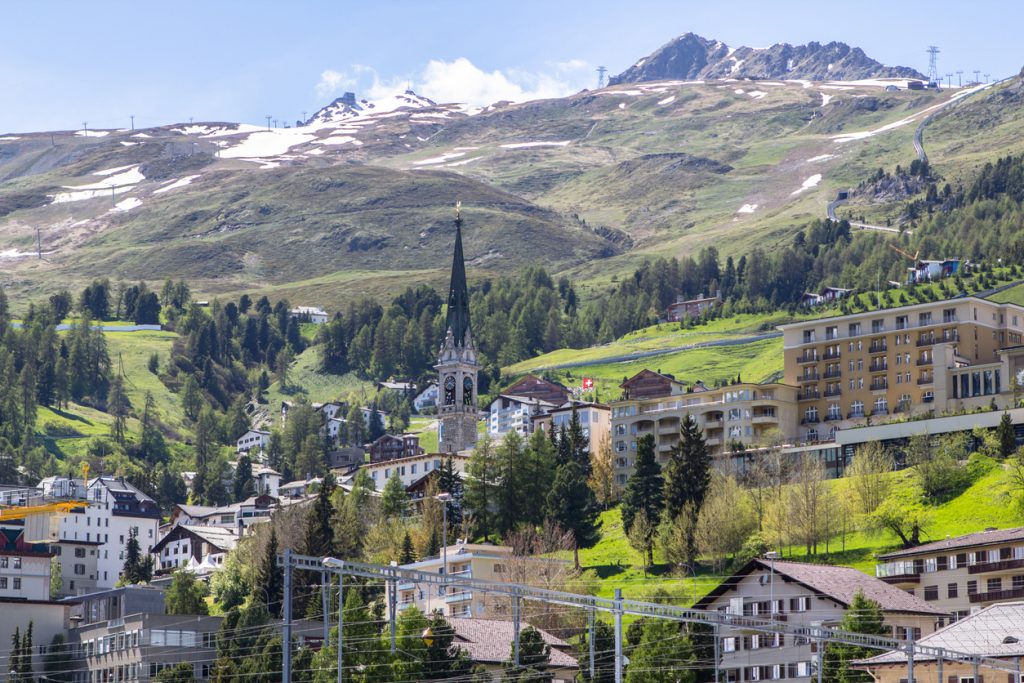 The glitzy, glamorous, and fab St. Moritz awaits at the end of a 4-hour journey with the Palm Express, a bus that travels from Lugano and takes you through the scenic Maloja Pass. If the Palm Express is not available, you should get a bus to Thusis and from there the Bernina Express train that will take you straight to St. Moritz. You are now in the Italian-speaking part of Switzerland.
Final stop: Lausanne
This is the moment many travelers look forward to when planning a trip to Switzerland by train. This is when you'll get to board the Glacier Express, the slowest express train there is, but also one of the most fabulous too. You'll get to spend over 6 hours in this panoramic train that connects St. Moritz to the famous Zermatt, a great destination to spend at least a day or two in Switzerland, especially if the weather is good and you want to see the Matterhorn. The Glacier Express will pass by the beautiful castles in the Domleschg Valley and the superb houses of the Engadin. You'll cross almost 300 bridges, pass through 91 tunnels and admire a superb rural landscape and nature in all its splendor. Just sit back and enjoy the views!
If you enjoy reading this article then please take a look at this: https://www.purevacations.com/the-winter-villages-of-switzerland/