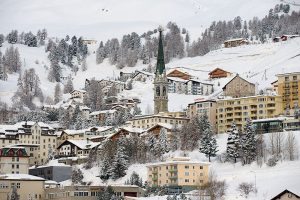 Switzerland! Or what Instagramers might call – the gift that keeps on giving. Switzerland abounds in romantic ski villages and postcard views. Anytime I see a photo from Switzerland, I just feel the urge to fly there and just sit on top of a mountain or, more realistically, on a flowery meadow, and spend my days admiring the scenery.
Many of us don't even need to know about the sights and activities that await in Switzerland. Just the views of rugged mountains, quaint villages, and peaceful valleys will do. You can sit for hours on a blanket surrounded by this surrealistic beauty, and you won't feel the need to do anything else – not even check your phone!
When winter comes, Switzerland becomes a winter wonderland! Words can't describe the beauty of winter in Switzerland. And once the night falls, the entire land is like a fairytale page, where the flickering lights are hypnotized by their reflection in the carpet of snow on the roofs and streets. You just have to be there to believe it!
Posh St. Moritz
Probably the most famous ski resort in Switzerland, St. Moritz deserves its fame and reputation among skiers and people who love a luxurious winter getaway. Guests are always pampered in St. Moritz with impeccable service, five-star accommodation, an impressive variety of outdoor activities, some of the best ski slopes in the country, as well as numerous shopping opportunities, and a vibrant nightlife. A destination for those who love luxury and breathtaking winter views, but also a playground for those who love winter sports, like skiing, snowboarding, and snow-shoe trekking.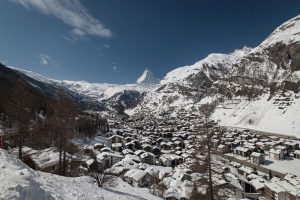 Glamorous Zermatt
As famous as St. Moritz, Zermatt comes second in the top of the most popular winter villages in Switzerland, impressing its tourists with amazing ski and snowboarding slopes. Situated at the foot of Matterhorn, one of the highest mountains in the country, this ski resort combines the fun winter outdoor activities with glamour and class. By night, the village is a Christmas postcard and a great destination for those who want to dance the night away in elegant nightclubs. If you want to admire breathtaking views, just hop on a cable car into the mountains and feast your eyes with spectacular views of Matterhorn.
Picturesque Grindelwald
A superb village in the Bernese Alps, Grindelwald has been a famous tourist destination since the 18th century. It's the largest ski resort in the Jungfrau region and a town that offers some of the most beautiful views of Eiger. The ski resort has 213 kilometers of slopes divided into three areas, perfect for skiers and snowboarders of all levels of experience. Take the time to discover more of the Jungfrau region and admire superb scenery and the lofty mountains, Jungfrau, Monch, and Eiger, that will be coated with glittering snow.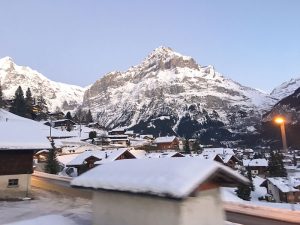 Traditional Interlaken
If you're searching for a traditional Swiss village, Interlaken is your best choice. Nestled on a stretch of a valley, the town is dominated by the presence of three mountains, Eiger, Monch, and Jungfrau that create mesmerizing views. Interlaken is a paradise for winter sports lovers, having more than 45 mountain railways, cable cars, and skiing trails. Due to its abundance of outdoor activities, the town is also known as the adventure capital of Switzerland. A winter destination since the early 1800s, Interlaken will keep the entire family entertained and happy!
Elegant Davos
Although it's not as famous as Zermatt and St. Moritz, Davos can be considered as hip and beautiful as them. This is the highest town in the Alps offering a plethora of possibilities to practice winter sports. Davos is home to Parsenn, a 12-kilometer-long ski slope that can be reached via a funicular. Situated at an altitude of 2,662 meters, the ski slope is perfect for ski lovers and for Hillary Clinton fans, since the Meierhofer Tälli is Hillary's favorite ski region. Davos is also a great destination for shopping and fine dining and delights its visitors with wonderful accommodation options. It also houses a casino, so if you're feeling lucky and you have nothing against spending the night among billionaires, head to the Casino Davos.
Romantic Arosa
It's impossible not to fall in love with the small town of Arosa. A dreamy destination, Arosa impresses with its splendid mountain peaks and snowy scenery that provide so many opportunities for snow sports and activities. You'll be able to choose from 225 km of slopes in the region of Arosa Lenzerheide, and due to the connecting cable, you'll be able to get from Arosa Hörnli to the Lenzerheide Urdenfürggli in only 3 minutes. The region is also a great destination for snowshoe hiking, curling, cross-country skiing, and sledding. Arosa is hiding away at the end of the melancholic Schanfigg Valley, but it's one of the most trendy winter destinations in Switzerland, being a great destination for young skiers or families with kids.
Bonus: While in Davos, don't miss a chance to take a train ride on the UNESCO-recognized Rhaetian Railway, from Davos Platz to Ospizio Bernina. These will probably be the best two hours you'll ever spend on a train. Your trip will reward you with the beautiful view of a turquoise lake, Lago Bianco.