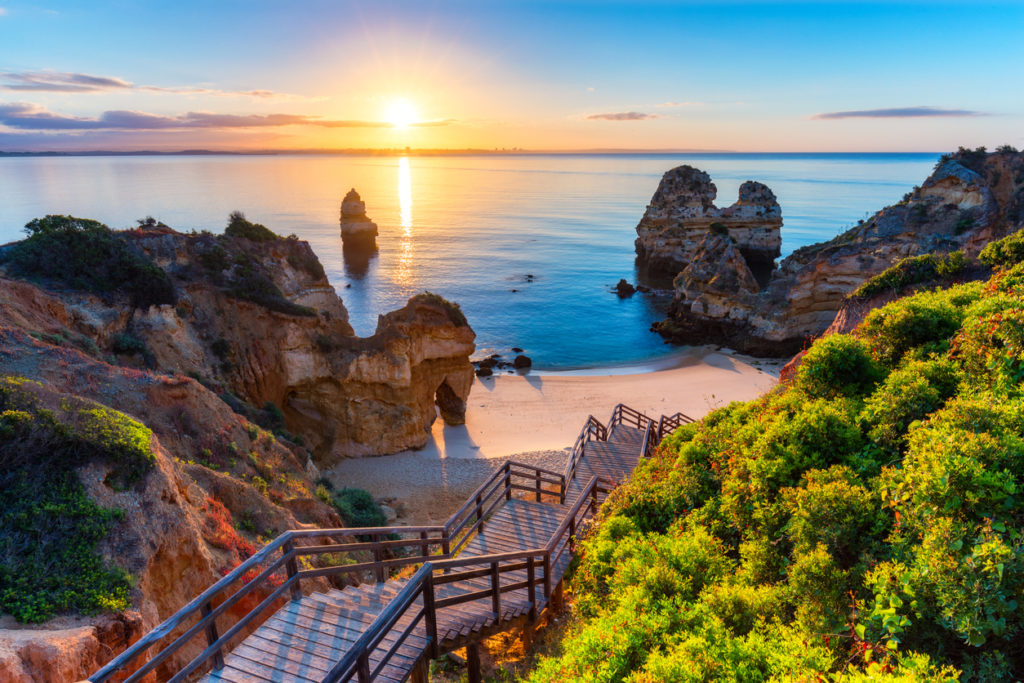 The fabulous beauty of the beaches of the Algarve in Portugal. Stunning golden beaches caressed by turquoise waters, some hidden in lonely coves, others stretching for miles and miles, dotted with dramatic rock formations and cliffs or waiting on pristine islands, wild and raw or luxurious and elegant, the beaches of the Algarve are unique and mesmerizing.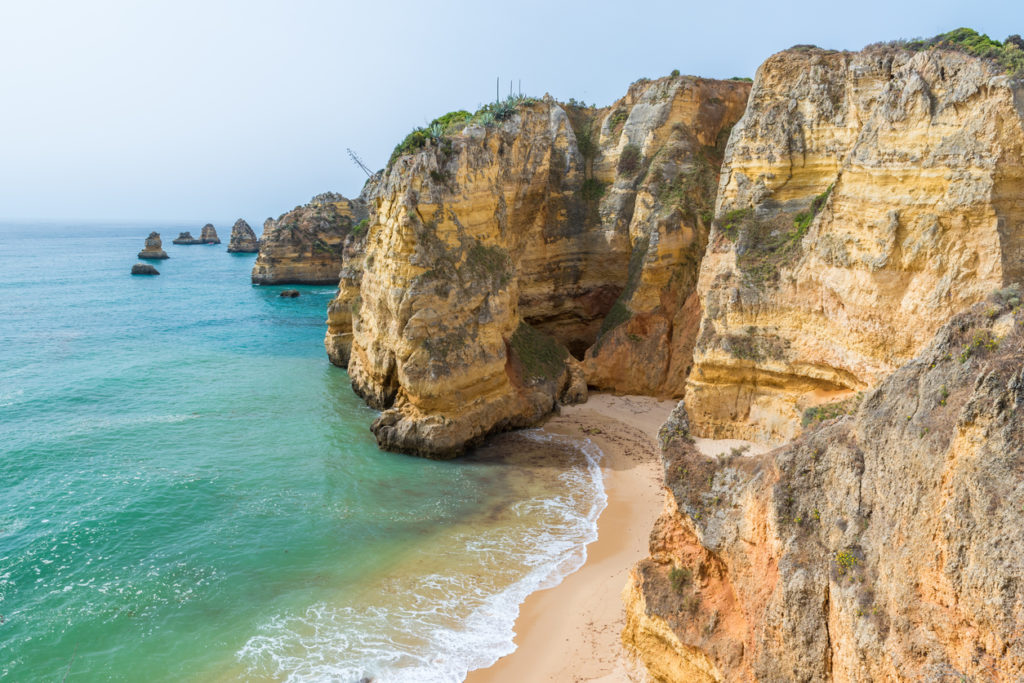 Praia de Dona Ana
Situated just outside the town of Lagos, Praia de Dona Ana is one of the most visited beaches in Algarve. And not just because it's situated so close to the town, but also because it's undoubtedly one of the most picturesque beaches in Portugal. Guarded by imposing, rugged cliffs and dressed in soft golden sand, the beach is simply spectacular. Due to its guardians, the beach is protected from the wind and the ocean, being a favorite bathing spot for tourists and locals alike. Kids love to explore the rocky coastline, but remember that since the beach hides underneath the cliffs, it can only be accessed by a steep wooden staircase. There are no sunbeds for hire and no lifeguards, so bring your beach towels and vigilance with you.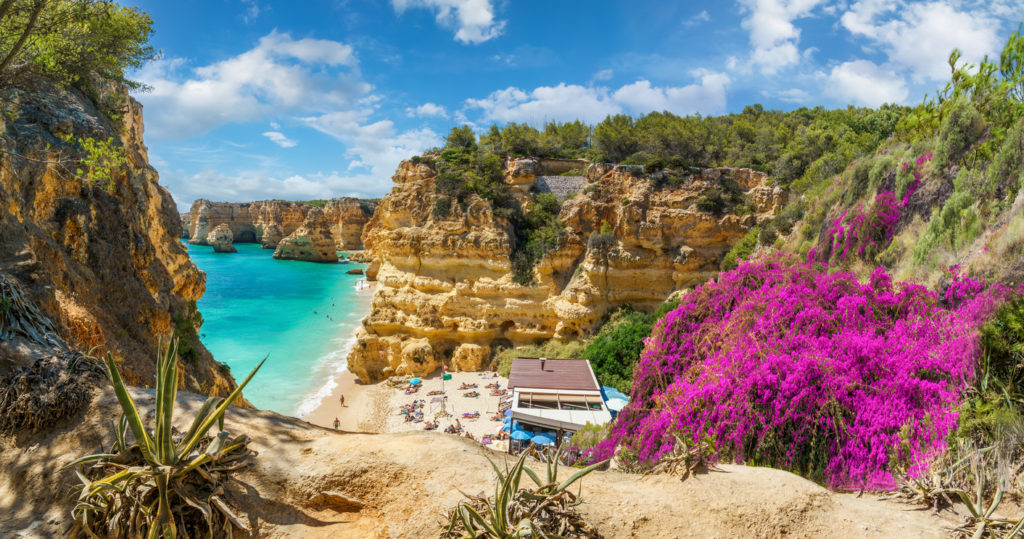 Praia da Marinha
Often considered to be one of the most beautiful beaches in the world, Praia da Marinha is a breathtaking summer painting. Boasting golden sands and crystalline blue waters and surprising its visitors with surreal rock formations and cliffs, this beach is a precious gift of nature. You'll find it along the coast between Carvoeiro and Armação de Pêra, but watch out for the stairs that make the climbing up part rather difficult, especially in the heat of a summer day. The beach is a great destination for both snorkeling and hiking. Due to its unworldly beauty, it often gets crowded in the summer, so it's best to visit early in the morning or late in the evening to avoid the tourist crowds and maybe even rent a sunbed.
Praia do Ancão
Impressive due to its mammoth size and abundance of sand, Praia do Ancão is a favorite sunbathing destination for locals and the Portuguese high class. A Blue Flag immense stretch of sand, this is a great destination for families due to its calm seas and the presence of trained lifeguards. The beach is equipped with sunbeds and sunshades and offers plenty of space to throw a towel on the sand, even if you arrive later than everybody else. You'll find many restaurants and bars nearby, as well as water sports centers and boats to rent.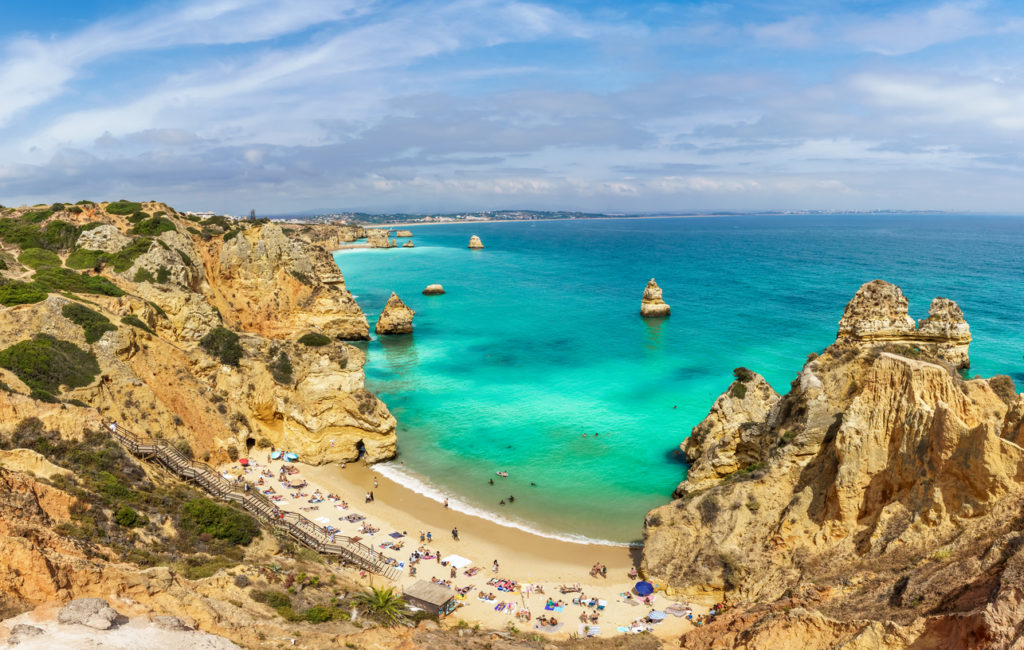 Praia do Camilo
Let's spend a bit more time around and underneath the dramatic cliffs of the Algarve that protect beautiful strips of sand! Praia do Camilo awaits at a short walking distance from Praia de Dona Ana, but it's less crowded and quieter. If you're lucky enough, you can even have it to yourself which would be one of the most beautiful gifts you can receive. A picture-perfect beach adorned with magnificent rocks and the superb shoreline of Costa d'Oiro, Praia do Camilo is a secret little gem. You can spend your time on the beach, swim in the crystal clear waters or explore the mysterious coves and grottoes around.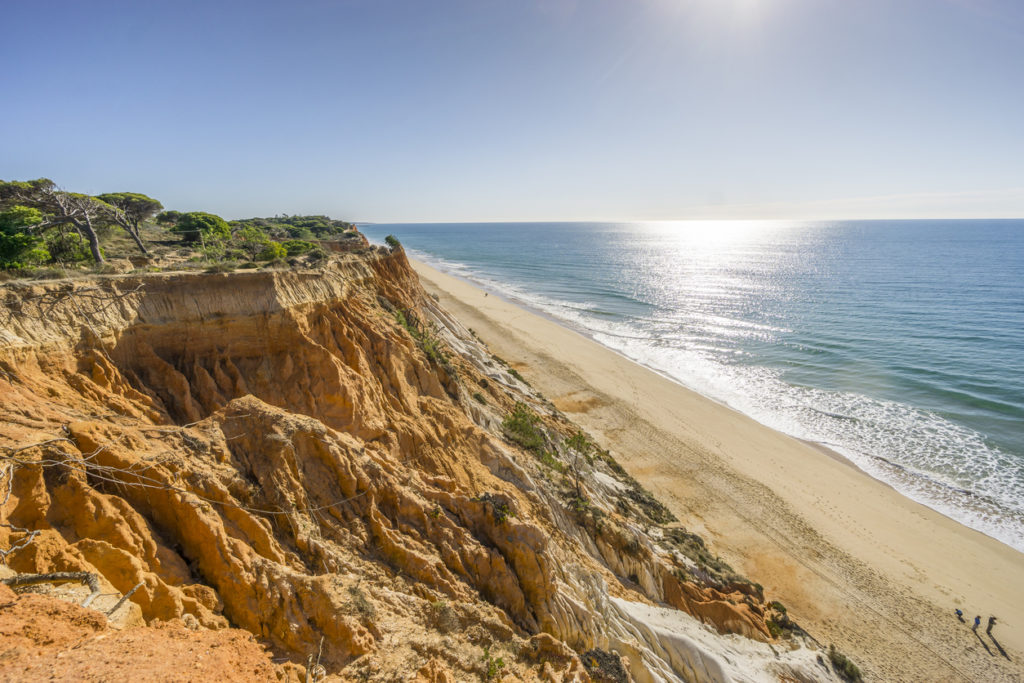 Praia da Falesia
Fringed by picturesque colorful cliffs dotted with pine trees that add a certain Arizona look to the scenery, Praia da Falesia is one of the longest and most beautiful beaches in Algarve. Stretching along 6 kilometers, this lovely ribbon of golden sand is well groomed and equipped with all the necessary facilities to add comfort to a superb beach day. The beach is situated between the towns of Vilamoura and Albufeira. If you want to have access to shallow water, you should choose the section closer to Vilamoura, a great spot for families with kids. Also a great destination for a variety of water sports, Praia da Falesia manages to combine outstanding natural beauty with modern facilities and great accommodation.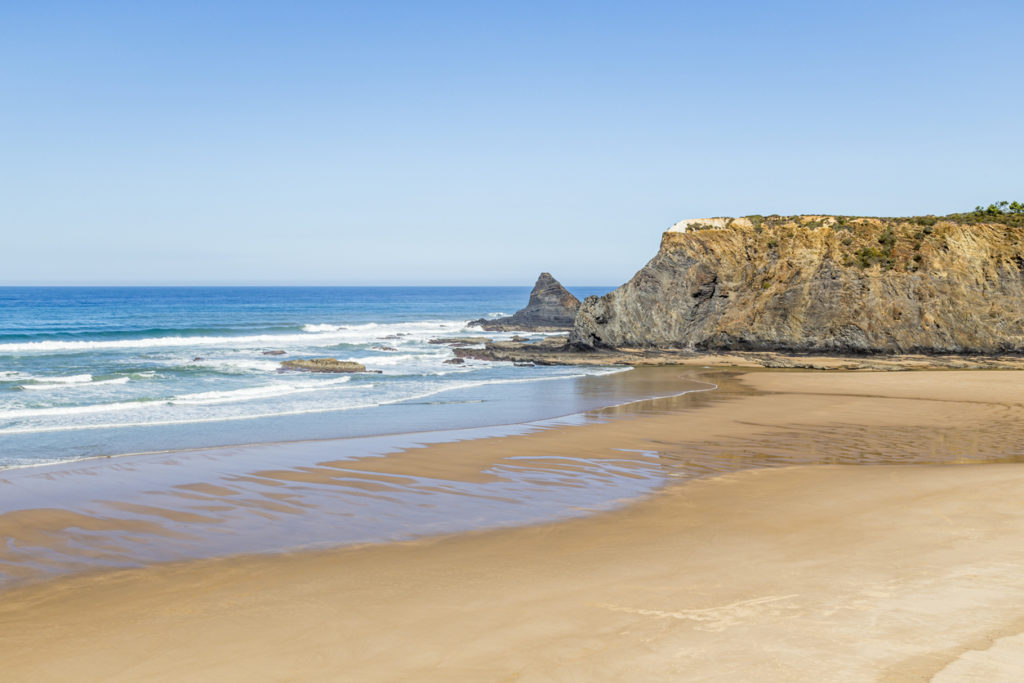 Praia de Odeceixe
The lovely blue-flag beach of Odeceixe enchants visitors with its peculiar beauty. Since it's delimited to the northeast by Ribeira de Seixe, which runs around one side of the beach, Praia de Odeceixe contains a river beach and creates a unique and lovely setting for visitors to relax with access to both the sea and the river. The beach boasts an abundance of soft golden sand and it's an ideal surfing spot. Being considered one of the most beautiful beaches in Portugal and even one of the national Seven Wonders, Praia de Odeceixe offers a beach experience you'll never forget.