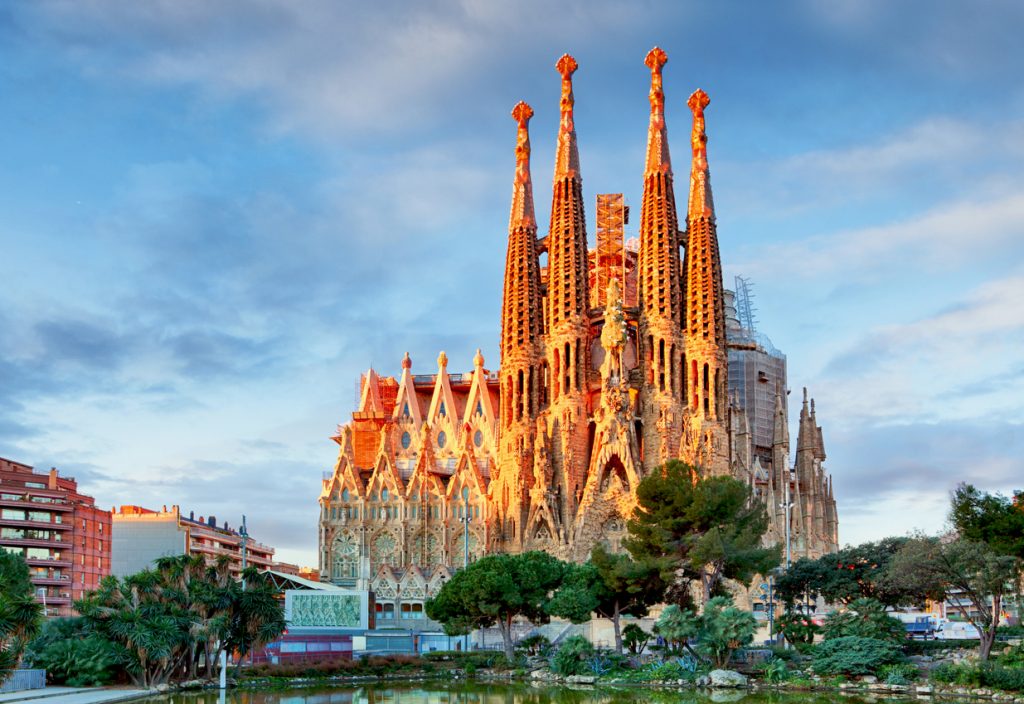 A vibrant metropolis with its own amazing beach? It's possible! Barcelona is the city that has it all. The superb architecture, the awarded restaurants, the fabulous sandy beaches, the historical squares, and the amazing nightlife. What more one could want? Maybe to have more than just a short break in Barcelona. However, if you're there for only a few days, don't despair. The number of things to see and do might be overwhelming at first, but take a deep breath and prioritize. Do you want to admire Gaudi's masterpieces? Or maybe to be lazy on the beach and swim in the Mediterranean Sea? Do you want to party all night long? Or just to take long walks on the cobblestone streets of the city's old neighborhoods? Regardless of what you choose, there are some things that you simply have to see or do! You just have to! They're the essence of Barcelona, especially if you're a first time visitor. So write them down:
Walk along La Rambla
Some adore a walk along La Rambla while others simply hate it. It's like Marmite! You either love it or hate it! What is La Rambla? Only the most famous boulevard in Barcelona. A walk along the 1.2 km-boulevard implies navigating through a sea of tourists but most of the times the boulevard is not as crowded as expected. You'll discover an abundance of restaurants, terraces, and souvenir shops, as well as many street artists. Connecting Plaça de Catalunya to Port Vell, the city's oldest harbor, a stroll on La Rambla is almost unavoidable and captures the essence of the touristic Barcelona. Stop for sangria and do some people watching! It's surprisingly relaxing.
Be in awe with Sagrada Familia
There isn't other like it! The majestic, magnificent, and marvelous Sagrada Familia is an architectural masterpiece like you'll never see anywhere else. Designed by Gaudi, this fabulous basilica has been in the works since 1882 and it still has cranes around it. But it will be finished in 2020! As soon as you step inside, you'll feel like you're inside the mind of a genius. Because this Gothic masterpiece that embraces the Art Nouveau curves will take your breath away and make you rethink everything you knew about the limitations of the human mind. Sagrada Familia is proof that humanity can create amazing things!
Discover more of Gaudi's masterpieces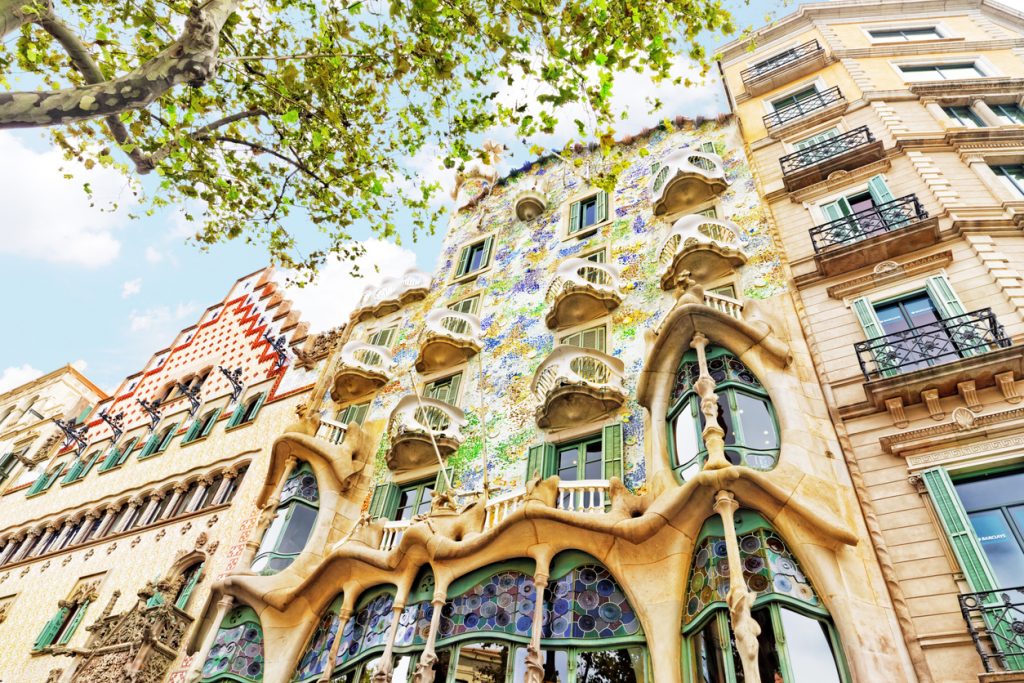 If you're not a fan of architecture and history, you can very well skip these sights, but if you want to discover superb architectural gems, do stop at Casa Batllo and La Pedrera. The curves, the lines, the vision! Gaudi created true works of art that will pass the test of time and be as fascinating tomorrow as they are today. Head to Parc Guell for more curves designed by Gaudi but also to capture superb views of the city and sea.
Eat Spanish food and drink Spanish wine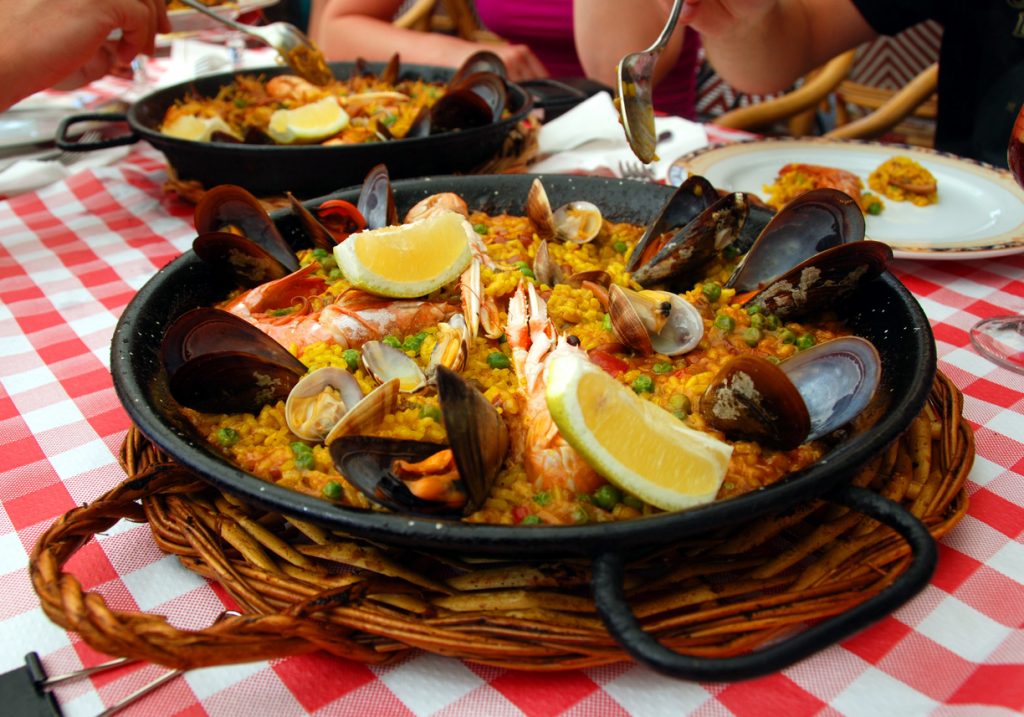 Food in Barcelona gravitates around tapas and paella. And then there's the wine! Be it transformed in sangria or dry and flavorful! If you're on a budget, stay away from the restaurants on La Rambla, for obvious reasons, and head to Plaza Real, a small and incredibly photogenic square situated close to the end of La Rambla. Easily mistaken for a large courtyard, Plaza Real invites tourists to taste traditional tapas and wine for affordable prices in a cozy and intimidate setting. You can also head to Mercat de la Boqueria, Barcelona's most famous market and a true tourist attraction, to buy culinary souvenirs, but also to try a variety of Spanish meats, tapas, and other Spanish specialties, including delicious sweet treats.
Enjoy the magic fountain show in Plaza Espanya
When the evening comes, one of the best places in the city to spend a few moments or more is Plaza Espanya, especially if you're there on the evenings when the Magic Fountain show takes place. This is when the fountain comes to life and puts on a superb spectacle of water, lights, and music! For Free! Make sure to check the schedule of the show ahead. However, even if you're visiting Plaça Espanya on a day when the fountains are just…fountains, you'll still have plenty to see and do here. The plaza is home to Palau Nacional Art de Catalunya, a museum dedicated to Catalan art, and also to a former bullfight arena. The arena is now a shopping center, Las Arenas, and has a beautiful terrace from where you can admire a superb view of the city.
If you enjoyed reading this then why not read this next article: https://www.purevacations.com/barcelona-the-city-that-has-it-all/