When we first got into Springfield, the view was absolutely stunning. I had never before been able to see so far in front of me. I'll never forget the day; it was June 30, 2015, and the sun was just setting; it was like the sun was touching the ground as it set. We got here way later than we had planned, but in a way, I am glad we did. It was love at first site; I already did not want to leave. We had entered Springfield on 68 coming from Urbana. Since we got into town so late, we decided we would stay at a hotel until morning, which then we would go set up our tent at Clarence J. Brown Reservoir. We stopped at a Speedway on 68 and asked about any nice, pet friendly hotels that were close, as we had our Pomeranian with us. The cashier was extremely nice, and made us feel welcomed to town. She recommended a hotel called the Marriott and wrote down the directions for us.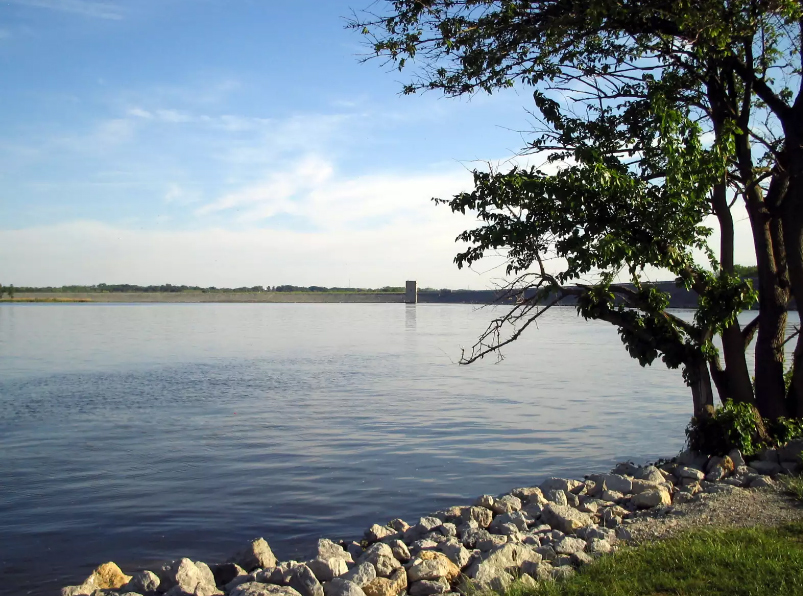 I would say it was about a ten to twelve minute drive….not too bad. The look of the hotel was very "gem" like. They had all of the amenities that anyone would need, including an extraordinary lobby bar and restaurant, a swimming pool/spa, a workout room, continental breakfast, and free high speed internet. I noticed they were wheelchair accessible too. The rooms were extremely clean and the staff went above and beyond our expectations. We fell asleep once we got to the room.
When we woke up, we had breakfast (the food was fabulous), and checked out. Our plan was to go straight to C.J. Brown Reservoir's camping area, and set up our tent, but we heard a couple during breakfast talking about the "Heritage Center" that was adjacent from the Marriott, so we decided we would stop there and check it out. The Heritage Center is a building all about Springfield's history, which was pretty interesting to walk through and look at/learn about. After we walked through the museum part of the Heritage Center, we did not want it to get any later, so we decided to head on to the Reservoir. When we got to the Reservoir, that was a site to see; it was so beautiful and peaceful. Everyone that we passed, either smiled, waved, or said hello to us. We got checked in and got to our camping area, set up our tent, and unpacked. What shall we do first? We ended up deciding to walk down the bike trail to look at the scenery and get to know the area since we would be staying there for 3 nights and 4 days.
While we were walking down the beautiful bike/walking trail, admiring the peaceful, country view, and stunning reservoir, we thought, "Why didn't we bring our boat?!?!" Next time we will unquestionably be bringing our boat! We did not realize from the pictures that the reservoir was so large, as our boat is pretty sizable.
We finished our walk, and headed back to the tent considering we were getting hungry. We brought our camping grill since we were not sure if we would have a fire pit, but it seems that every camping spot had their own fire pit and picnic table, so we were set. We built a fire and relaxed for a little while, then cooked some hot dogs over the fire. "What do we want to do next?" There were so many things to do, but we decided since we were full and tired, we would take our fishing gear down to the north end of the lake to see what we could catch.
Fish that you can expect to catch in C.J. Brown Reservoir:
Walleye
White crappie
Bluegill
Suckers
Channel catfish
Largemouth bass
Bullhead catfish
Sunfish
Black crappie
Carp
White bass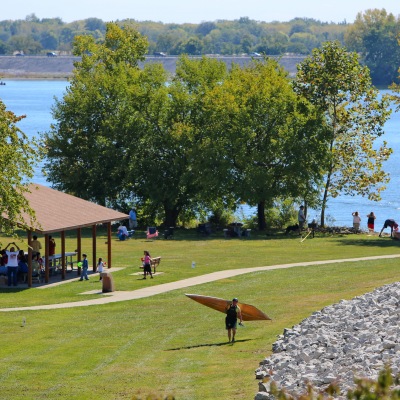 We ended up staying the rest of the day down there catching all different kinds of fish, but mainly Largemouth bass. We never once ran out of new things to see the whole time we were there.
We met lots of interesting people there, and one couple we are still friends with to this day. We met them while fishing at the North end of the lake; the lady is a nurse and the man is a doctor. I am and was going to nursing school at the time. They had asked us if we lived there and I told them "no, we live in Virginia." I never in a million years would have thought taking a trip to Ohio just to travel and explore different areas of the United States, I would land myself actually living in Springfield, Ohio. I guess the man and women really liked me a lot, because the Doctor ended up offering me a job with amazing pay if we decided to move to Ohio, which we did, and to this day still live here. I do not work at the Doctor's office anymore because I am a full time student and need to finish school, then I may go back. I figured since we would be there for almost a week, we would be able to go do other things around Springfield, but we had so much fun at the Reservoir, we ran out of time.