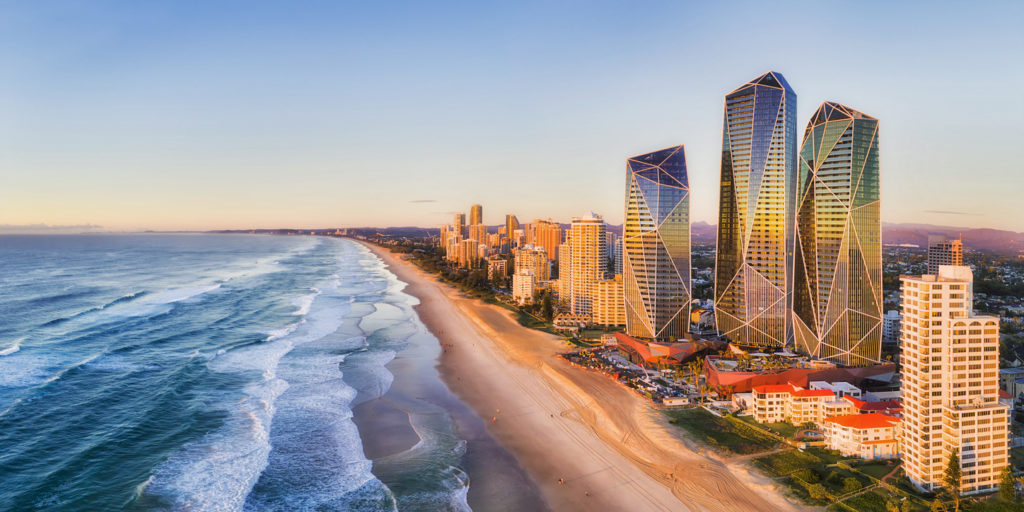 Visit the Gold Coast for sun, sand, and surf, as well as for spectacular adventures in the tropical rainforest. The Gold Coast is an iconic region that boasts 57 kilometers of coastline. There are more attractions in the Gold Coast area than in any other destination in the southern hemisphere, a true cornucopia of fun sights and experiences.
Situated on the east coast of Australia, the Gold Coast can be reached from Brisbane in just about one hour either by car or the local service – Airtrain that connects Brisbane Airport to the Gold Coast.
Whether you're a loyal sun worshipper, a courageous surfer, an explorer, or a foodie, you'll instantly fall in love with the region. With over 300 days of sunshine per year and infinite natural beauty, it's no surprise travelers who get to visit the Gold Coast pledge they will return again and again.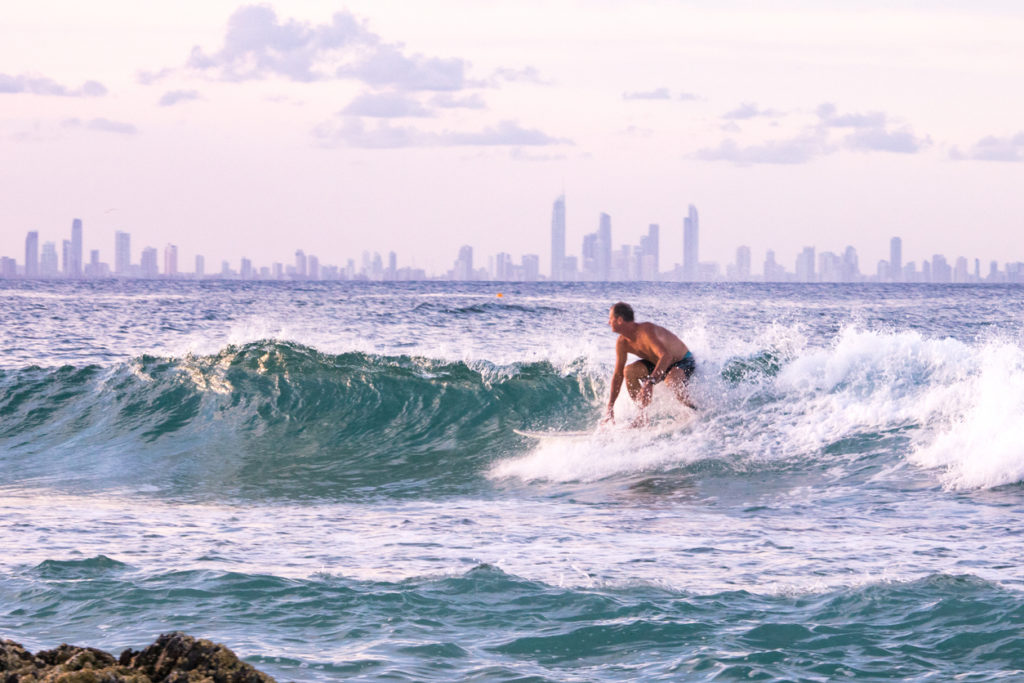 Superb beaches and memorable surfing
If there is one thing the Gold Coast is known for is its spectacular ribbons of sand. There's no visiting the Gold Coast without being lazy on the Main Beach, a favorite destination for both locals and tourists. However, if you're looking for the most beautiful beach on the Gold Coast, go straight to the famous Burleigh Beach, a white-sanded beach fringed by imposing Norfolk pines. Climb up the Burleigh Head national park's highest point, an ancient volcano, for a chance to admire the ribbon of white sand below in all its splendor.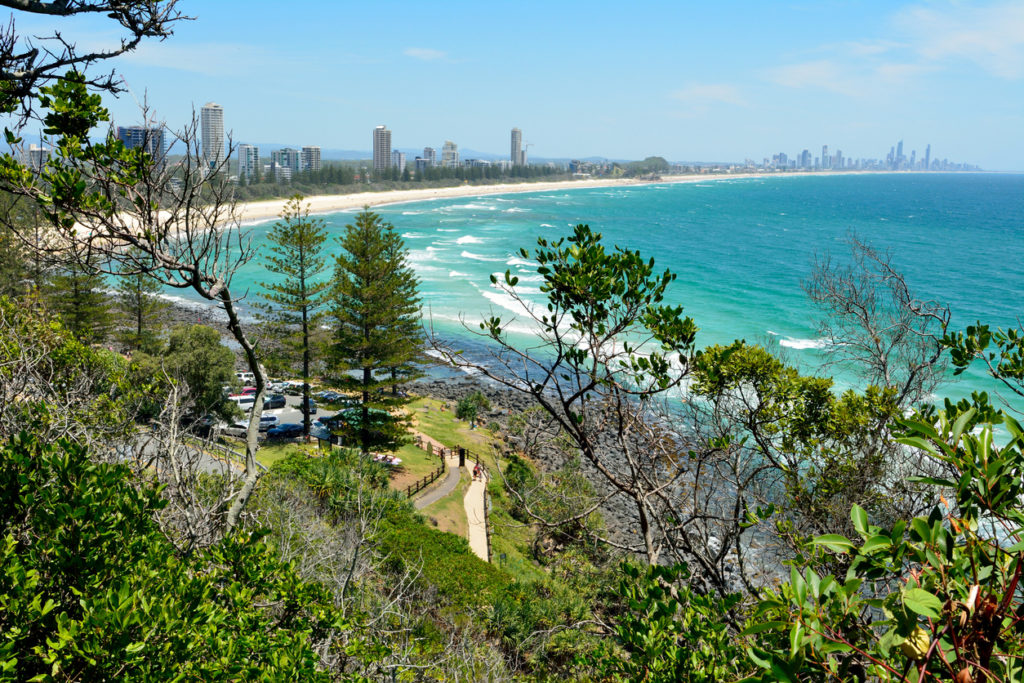 Surfers often meet at Burleigh Heads due to its point break and legendary "Burleigh barrels" waves. Moreover, some of the best restaurants in town await just a few steps away from the sand, including the seafood restaurant Fish House and the pan-Asian Rick Shores. For a more relaxed atmosphere, opt for Broadbeach and Kirra Beach, the latter being considered the spiritual home of surfing. As a matter of fact, Kirra Point is praised as one of the best surf breaks in the world.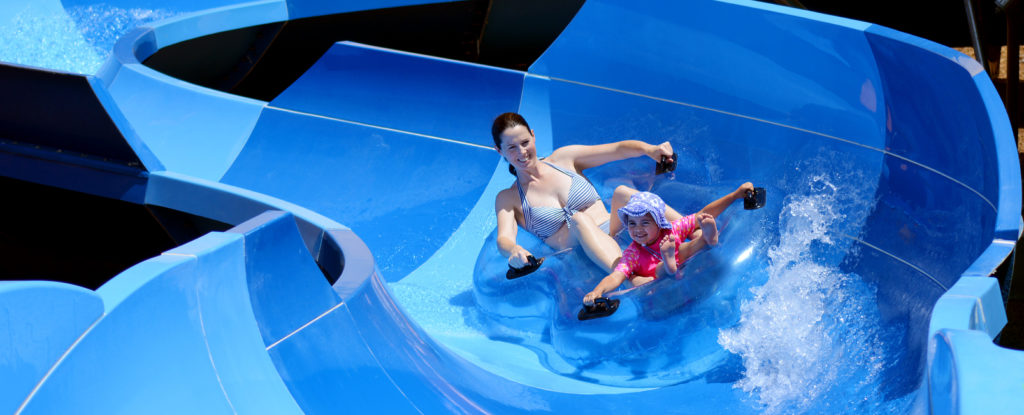 Heart-racing adventures at iconic theme parks
The Gold Coast is known as the amusement park capital of Australia. And this can only mean one thing: thrill-seekers will never want to leave this place! This is where Dreamworld, the largest theme park in the country, lures adrenaline junkies with so many rides and shows that they will need at least one week to try them all. It's enough to spot the Giant Drop, a 400-foot vertical plummet that may very well be called skydiving to understand the appeal that Coomera's Dreamworld has to theme parks aficionados.
There's also the Wet'n'Wild Waterworld, the biggest water park in Australia, where water sports enthusiasts will find an extravaganza of slides and pools. For some extra adrenaline, check out the WhiteWater World, renowned for its epic water slides and unforgettable nautical experiences. Water rides such as the Blue Ringed Octopus and The Rip will keep your heart racing, while small kids will have the time of their lives at the Pipeline Plunge and Wiggle Bay.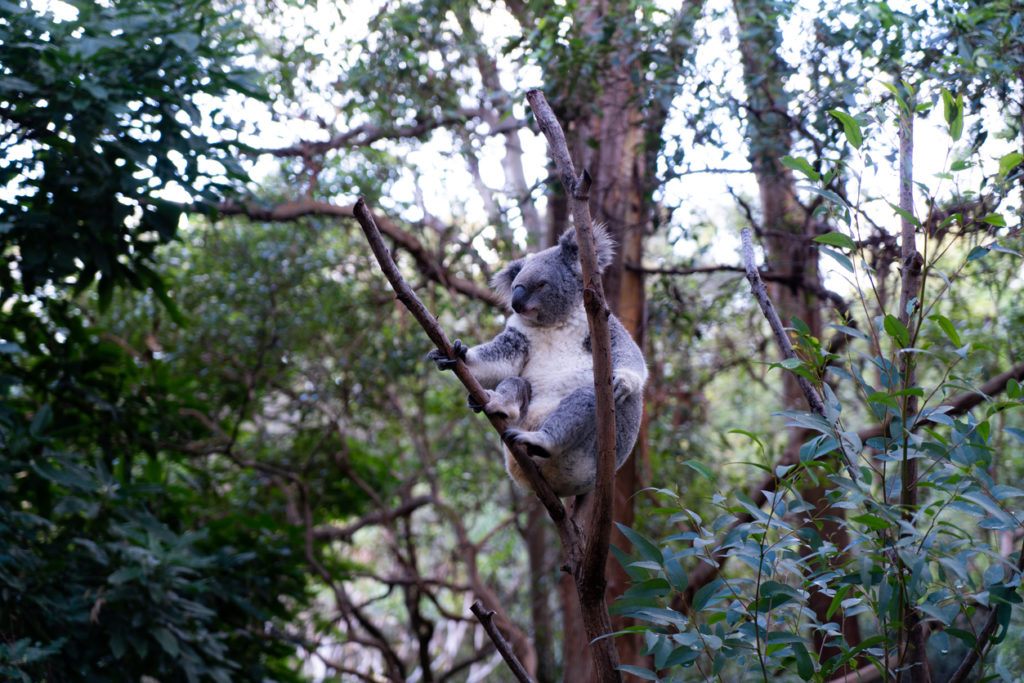 Enchanting experiences on the trails of rainforest parks
The Gold Coasts boasts beautiful national parks set in tropical rainforests. Nature lovers will find it hard to resist the temptation of exploring the Lamington National Park and its lush flora. The park is home to diverse plant and animal life and is part of the largest subtropical rainforest on the planet. Adorned with Antarctic beech trees, waterfalls, and mountain pools, and inhabited by 160 native bird species, the Lamington National Park can be easily mistaken for a corner of paradise.
If you're looking to spot the superstars of Australia – kangaroos, koalas, and dingoes, plan a day trip to David Fleay Wildlife Park. Situated in Burleigh Heads, this magnificent wildlife park offers the chance for close-ups with the native animals of Australia, including crocodiles, and platypuses. However, the true wildlife institution of the Gold Coast is the Currumbin Wildlife Sanctuary, a 70-acre reserve, home to an impressive variety of native species, including kangaroos, koalas, wombats, dingoes, emus, and even Tasmanian devils. Jump aboard the sanctuary's mini train and you'll get to witness animal feedings, as well as various shows.
Tambourine National Park has prepared a different type of adventure, taking visitors on rugged landscapes created by volcanic eruptions more than 20 million years ago. You'll get to walk on volcanic soils and discover luxuriant vegetation, as well as great wineries, restaurants, and lodges if you prefer to spend more than one day on these trails.