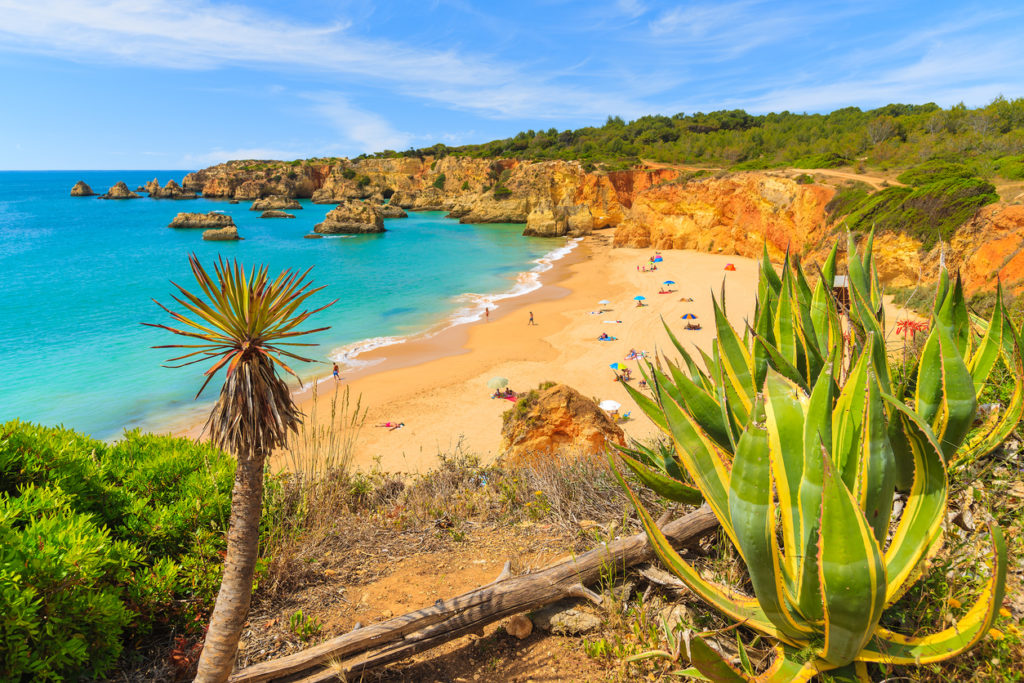 With more than 300 days of sunshine per year, superb beaches, and a backdrop that invites to relaxation and discovery. The Algarve is one of the most beautiful European family-holiday destinations. Moreover, this region of Portugal is known for its affordable tourist facilities and low prices and has an infinite variety of leisure activities destined to keep both grown-ups and kids happy and entertained. You should make sure that you Family Travel to the Algarve takes in many of the resorts below.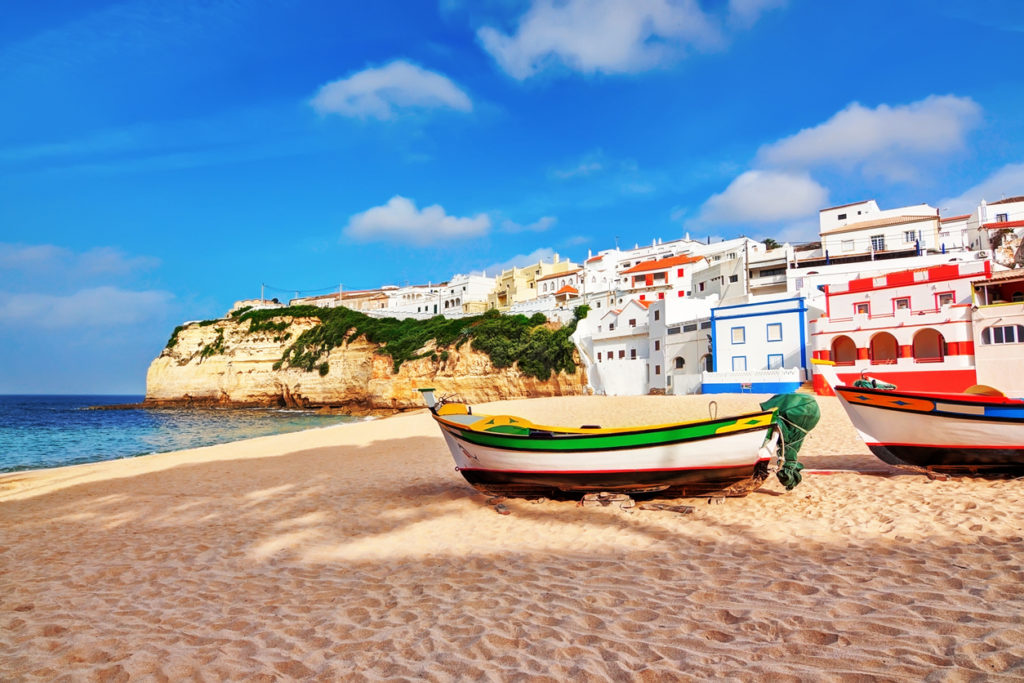 The Algarve beautifully blends more than 5,000 years of history with the exotic vibes of a beach holiday in a land where the average high-season temperature is above 30ºC and the waters are perfect for a variety of sports. This destination invites travelers to discover pretty little towns and relax in family-friendly resorts on the shores of the Mediterranean.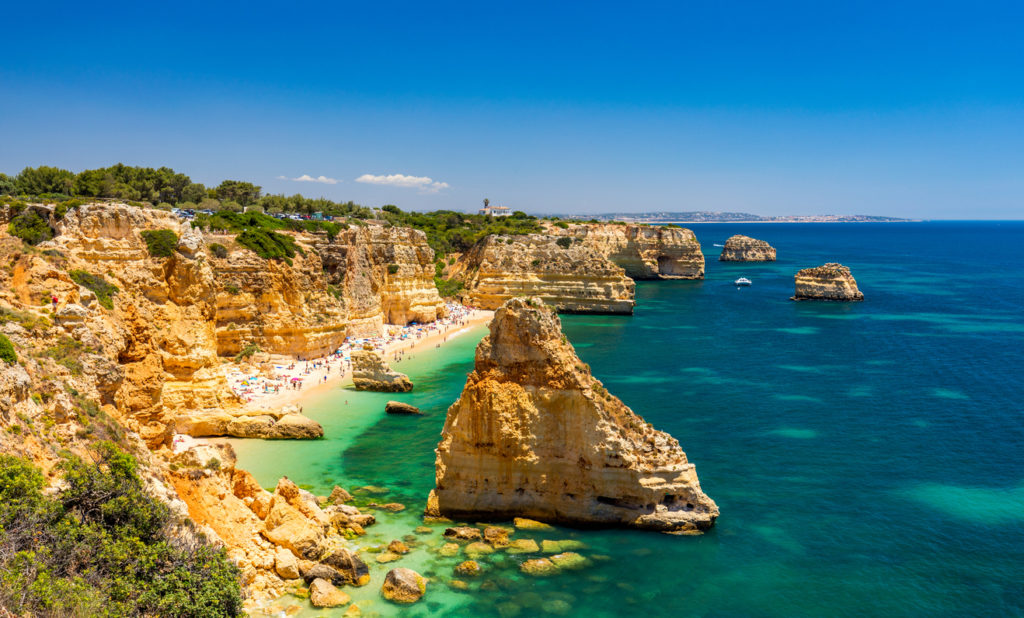 Relax on the gorgeous beaches
Take it slow and relax under the sun of the Algarve. More than 100 miles of coastline await in the Algarve. While the south coast is caressed by gentle waters, the western coast is mostly windy and often visited by waves big enough for surfing and kitesurfing. Whether you prefer popular Blue Flag beaches or you want to get away from it all on a secret beach, the Algarve has the perfect strip of pure white sand for you.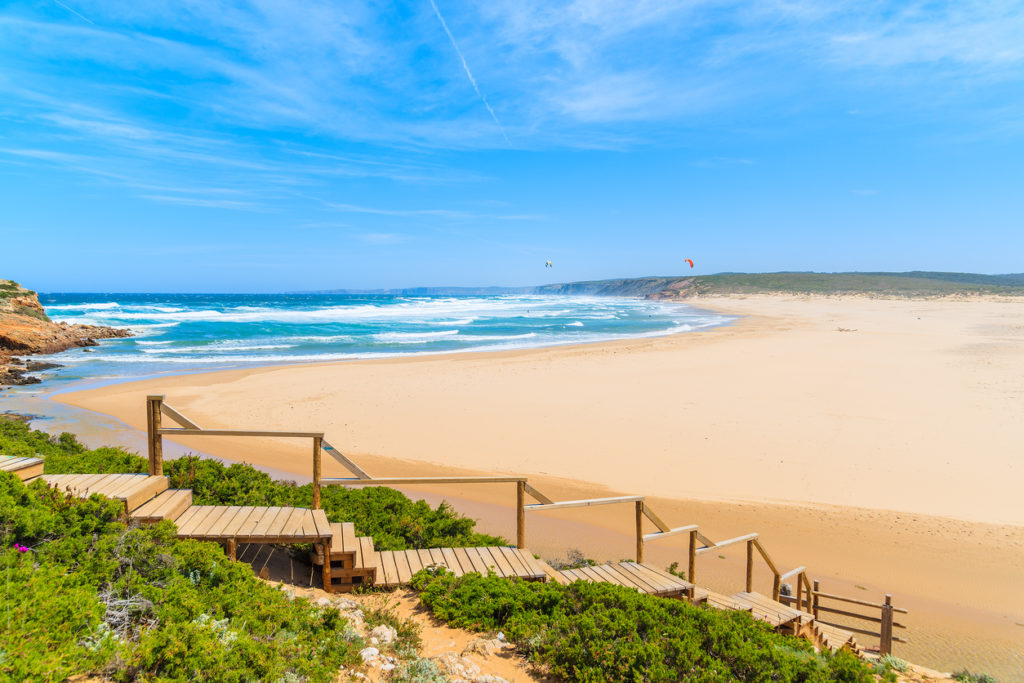 Praia da Marinha, an incredibly photogenic beach adorned with towers and arches, is the most famous beach in the region. It can get quite crowded but all the frenzy is worth it! Praia da Borderia can be found on the west coast of the Algarve and has a fabulous backdrop created by sensational sand dunes. The beach is unique and kids just love to climb on the waves of sand.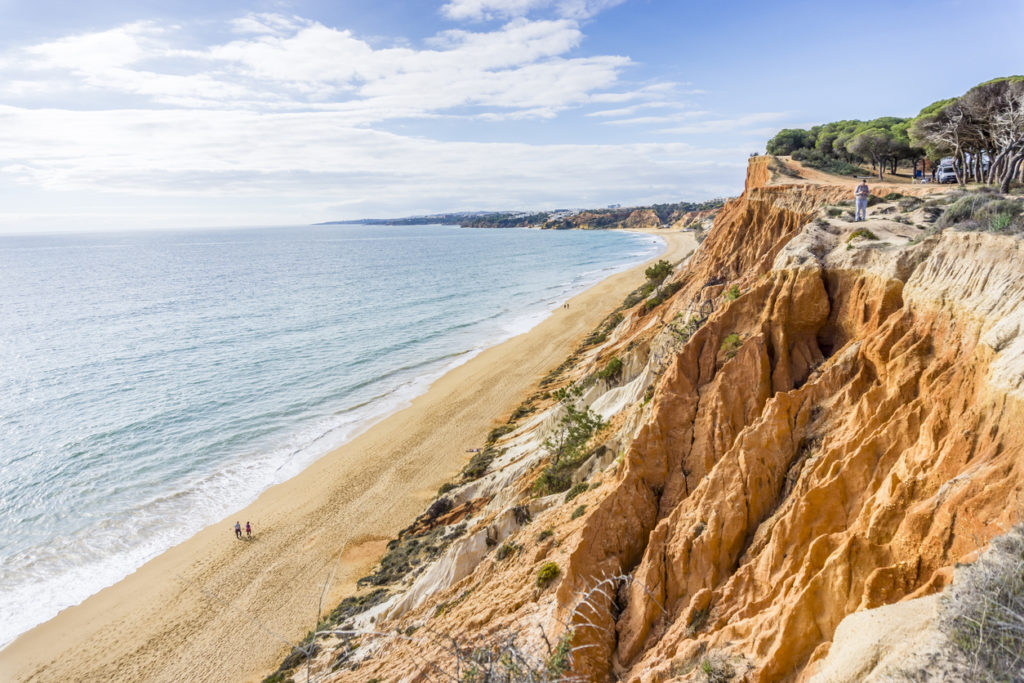 Praia da Castelo is one of the little coves favored by families who want to spend their beach days away from tourist crowds. The beach is remarkable especially due to its gigantic seashells. If you're searching for a long and popular beach, Praia da Falesia is a great choice, with plenty of sand for huge sandcastles and perfect waters for long swimming sessions.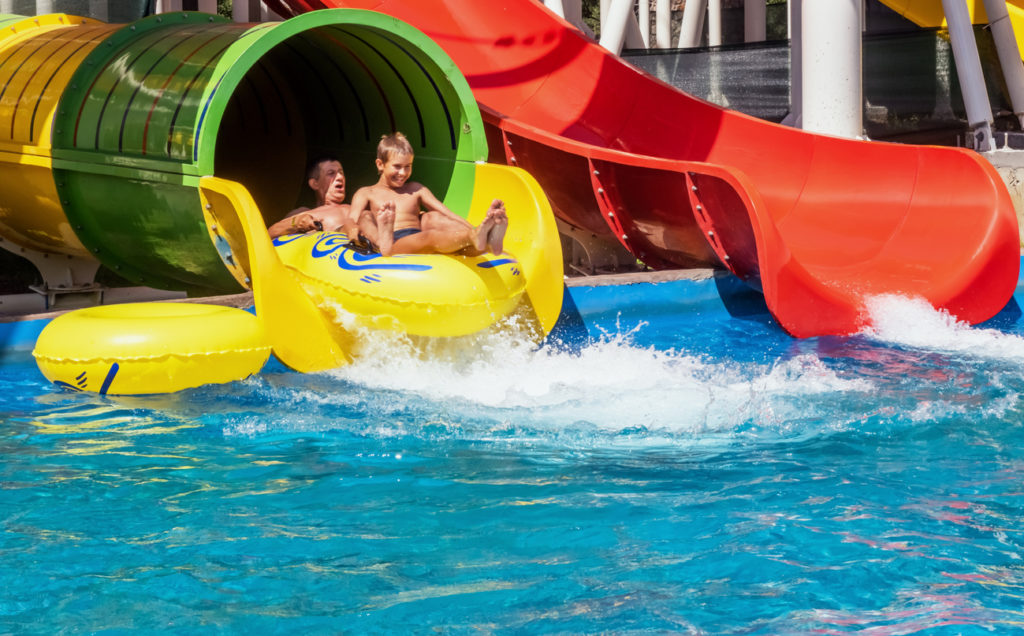 Family travel to the Algarve should include fun at the water parks
The Algarve is renowned as a family-friendly destination and the multitude of water parks definitely contribute to its fame. Slide and Splash is loved by the little ones due to the many slides, pools, and rides that keep everyone busy for the most part of the day. Both adults and kids are big fans of the Aqualand, renowned for its wave pool, slides, and Kamikaze and Banzai slide adventures designed especially for adrenaline seekers.
True adrenaline junkies can't seem to stay away from the White Fall ride that lures them at Aquashow Water Park. This ride is unique in the world and definitely not for kids. The park also has the biggest wave pool in the country where the entire family can have plenty of fun.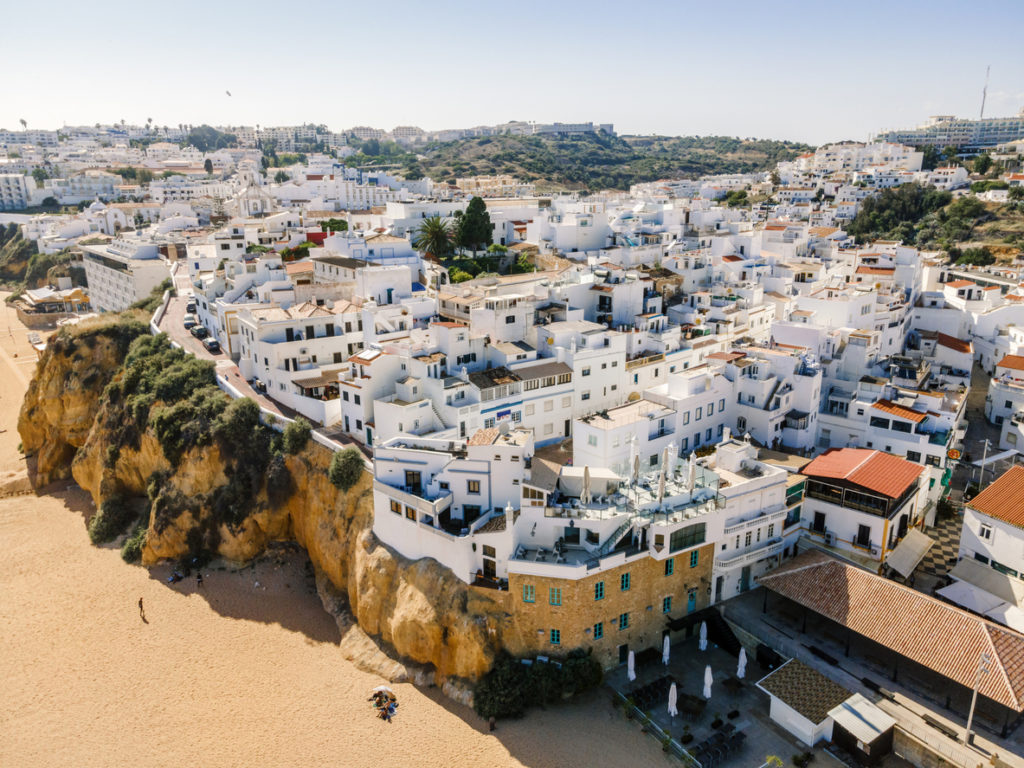 Albufeira 
The most loved destination in the Algarve is undoubtedly Albufeira. It's true that this resort has its own "Strip" of clubs and bars, but this doesn't cancel its family-friendly aura. Just take a walk in the Old Town and discover its beaches and you'll find why Albufeira is ideal for a family holiday. It has a lovely marina and is home to the superb Praia da Falesia and Praia de São Rafael, as well as to a karting course, a golf course, and a paintball field. Moreover, it's a great departure point for fun boat tours.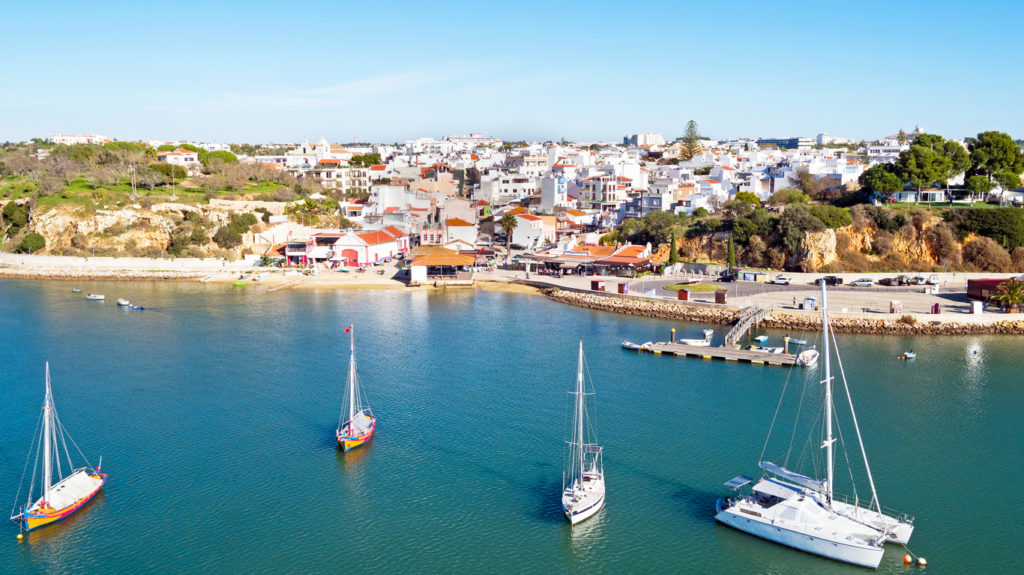 Alvor
For canoeing, kayaking, and stand-up paddling head to Alvor, a quaint town rich in Moorish architecture and tourism facilities. Decorated with whitewashed traditional houses, narrow alleyways and a castle, and home to many dining venues where you can enjoy fresh fish, Alvor is a superb destination for your family. It has its own beautiful beach and offers access to various boat trips that will take you closer to the dramatic cliffs and mysterious caves of the western coastline.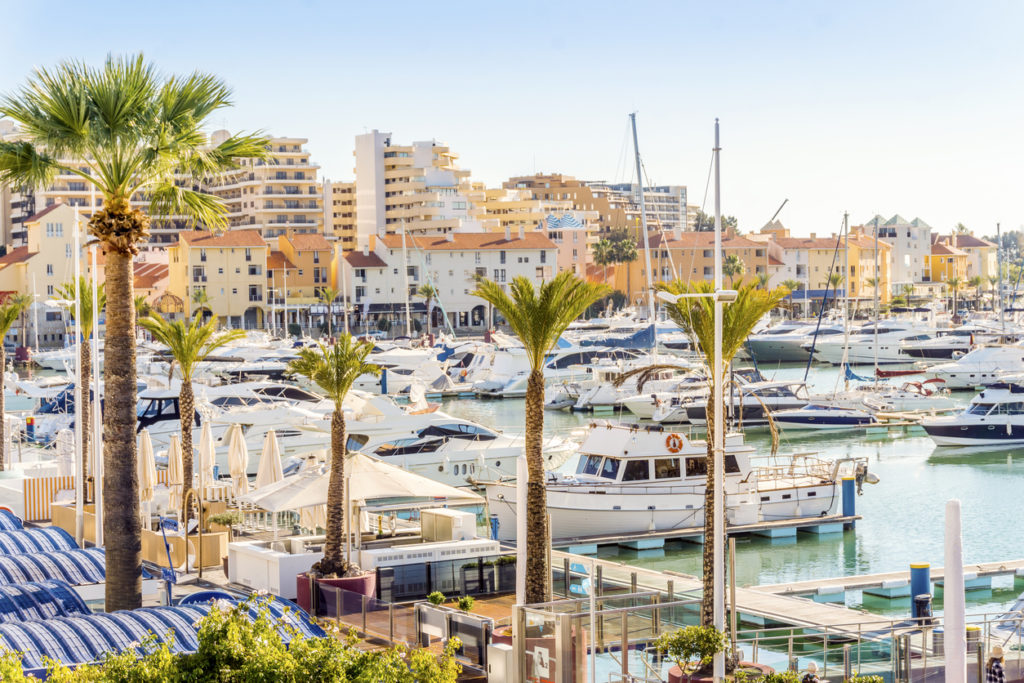 Vilamoura
Vilamoura takes pride in its marina and is blessed with superb beaches, like Praia da Balaia or Praia da Vilamoura. It's a luxury destination, stylish and elegant, but still reasonable-priced and family-friendly. The resort is the pearl of the Algarve, a spectacular holiday destination with perfect gardens, superb golden beaches, a casino, four golf courses, tennis fields, and plenty of water activities to keep everyone active. Parasailing, banana boat rides, boat trips to see the dolphins, and horse riding can also be added to the itinerary if you choose to spend your family holiday in Vilamoura.