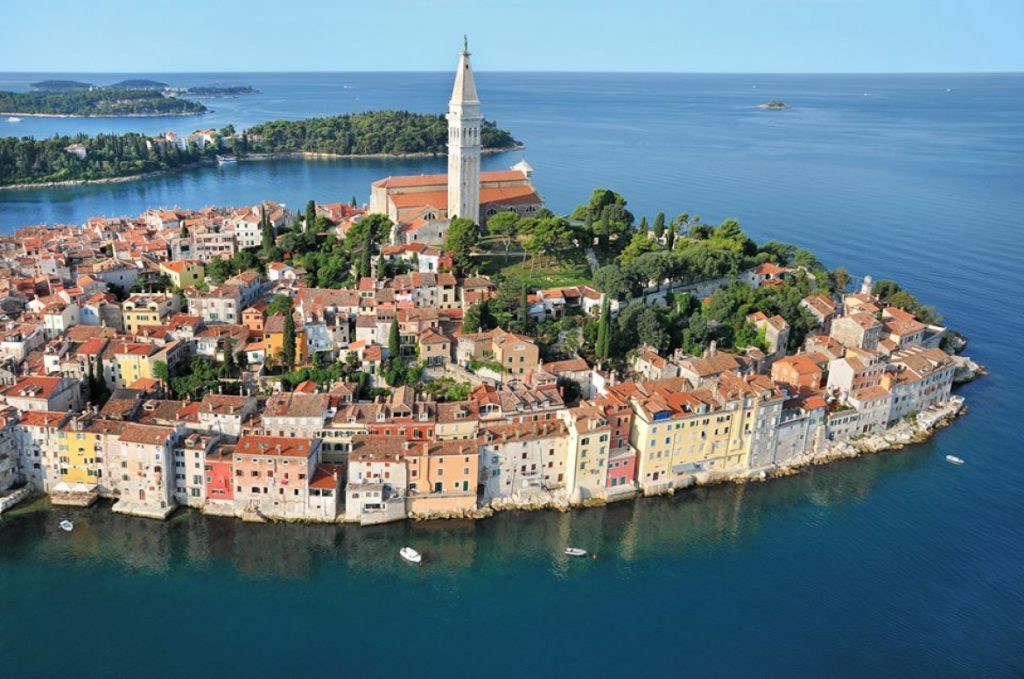 Now that popular European vacations destinations, such as Turkey and Egypt, have lost their share of tourists because of security threats, many eyes turn toward Croatia. Although Croatia has always been an absolutely spectacular country, rich in natural attractions, historical landmarks and many stories to tell, and it is inhabited by absolutely wonderful people, it seems that only recently tourists have started to pin it on their maps. Oh well, better late than never!
If you don't know where to start your Croatian journey, we recommend Rovinj, an Istrian gem and beach destination, surrounded by the Adriatic Sea. Once hidden, this Croatian treasure is now out in the open, ready to receive its well-deserved fame and appreciation. There are many reasons to visit Rovinj, especially if you're a history and outdoor sports aficionado, but we think that only these five reasons will certainly seal the deal:
Rovinj is one of the last authentic Mediterranean fishing ports
It might surprise you to find out that Rovinj was originally an island. Yet, so it was! However, in 1763, due to the town's expansion, the channel that separated the island from the mainland was filled in. Now, when seen from above, the Old Town of Rovinj looks like an egg-shaped peninsula. The archipelago includes 14 islands, Sveta Katarina (St Catherine) and Crveni Otok (Red Island or St. Andrew Island), being two of the most popular destinations for day trips from Rovinj. The city's fishing port is still a departure point for fishermen, who head out to the sea early in the morning. They sail away so early that you will be able to see them returning, while enjoying your breakfast. Fishing was such an important sector of the town's economy that, back in the 19th century, most inhabitants had their own boat. This activity is no longer one of the main occupation for residents, but it is nonetheless one of its most cherished traditions. If you want to find out more about fishing in Rovinj, visit the Batana House, a museum dedicated to a fishing boat named, of course, batana, the symbol of the town's fishing tradition.
Rovinj is a touristic destination that didn't sacrifice its authentic charm
Although more and more attractive to travelers, gathering no less than 3 million tourists during the summer season, Rovinj has managed to modernize its touristic facilities without compromising its history and local charm. Tourists are able to find accommodation at 4-star hotels and resorts, and eat at high-class restaurants, but to get there they will walk on picturesque, winding cobblestone streets and cross historical piazzas, while admiring delightfully pretty pastel buildings that still whisper Venetian stories about their ancient residents. And this is because, Rovinj, like the rest of Croatia, was under Venetian rule for many centuries. Rovinj was one of the first towns in Istria conquered by Venetians, and travelers can still admire architectural souvenirs left behind by them.
Rovinj is the perfect setting for time traveling
Rovinj was indeed a playground for Venetians, especially for architects. One of the most admired attractions in Rovinj is the Church of St. Euphemia that dates back to 1736. This impressive structure, designed by the Venetian architect Giovanni Dizzi, is the largest Baroque building in the region. Moreover, its bell tower is the highest in Istria and a replica of the famous St Mark's Basilica's bell tower. Climb to the top of the tower to capture dazzling, colorful views! Another must see is the Balbi Arch, a Venetian creation, erected in 1680 and situated at the town's old entrance. The arch illustrates the coat of arms of the Balbi family, as well as the Lion of Saint Mark, a symbol of the grandiose Venetian Empire. All narrow, winding backstreets seem to lead to Ulica Grisia, a beautiful street lined with local art galleries and a breathtaking faeria or Gothic, Baroque, Renaissance and Neo-classical buildings, portals and squares.
Rovinj charms travelers with rocky, pine-fringed beaches and crystalline bays
Once the history lessons end, travelers relax on the beach or explore the waters of the Mediterranean Sea. It's true you won't find beaches dressed in fine sand, since the town's coast is guarded by rocks, but this doesn't mean sunbathing and swimming will be less pleasant. On the contrary, while admiring the mixture of rocky capes and serene bays, perfect for kids to swim in and for grown-ups to relax under the Croatian sun, you will discover a certain beauty that can't be found anywhere else. The pine-fringed beaches are to be found at the Zlatni Rt Forest Park (Punta Corrente Forest Park). If you insist you are not a fan of Rovinj's stony coast, then opt for Cuvi Bay and Moulin Rouge Beach, two beaches covered with fine gravel and equipped with modern facilities, such as showers, toilets, dressing rooms and bars. The underwater world is absolutely spectacular, so diving and snorkeling are absolutely recommended, especially at Baron Gautsch, where a fascinating wreck and a diverse flora and fauna awaits.
Rovinj is an ideal destination for outdoor sports
Whether we're talking about hiking, biking or sailing, Rovinj is prepared to offer the perfect setting for your outdoor experiences. No nature lover can stay away from a trip to the Zlatni Rt Forest Park, situated a 20 minutes' walk from downtown. You can get here by foot or bike, it really doesn't matter as long as you will dedicate at least one day to this fairy tale forest. Guarded by oak and pine trees, and boasting no less than 10 species of cypress, this park is an idyllic setting for hiking, biking, jumping off the rocks into the sea or just enjoying a picnic while admiring the islands of the archipelago. When visiting Rovinj, big game fishing is almost like a tradition, so if you're into this sport, you should definitely give it a try. You might capture tuna, marlin or even reef sharks. Kayaking is also an option, tours including a trip around the islands or to the Lim Fjord, a canyon flooded by the sea, considered to be "an area of outstanding beauty".
As you can see, Rovinj is a destination for everybody and, while you have so many reasons to visit this destination, you have absolutely no excuse to exclude it from your "must visit destinations" list. Oh, and more thing! It's so much more affordable than other "trendy" European destinations!
If you liked this article then have a read of this one: https://www.purevacations.com/lido-di-jesolo-and-rimini/