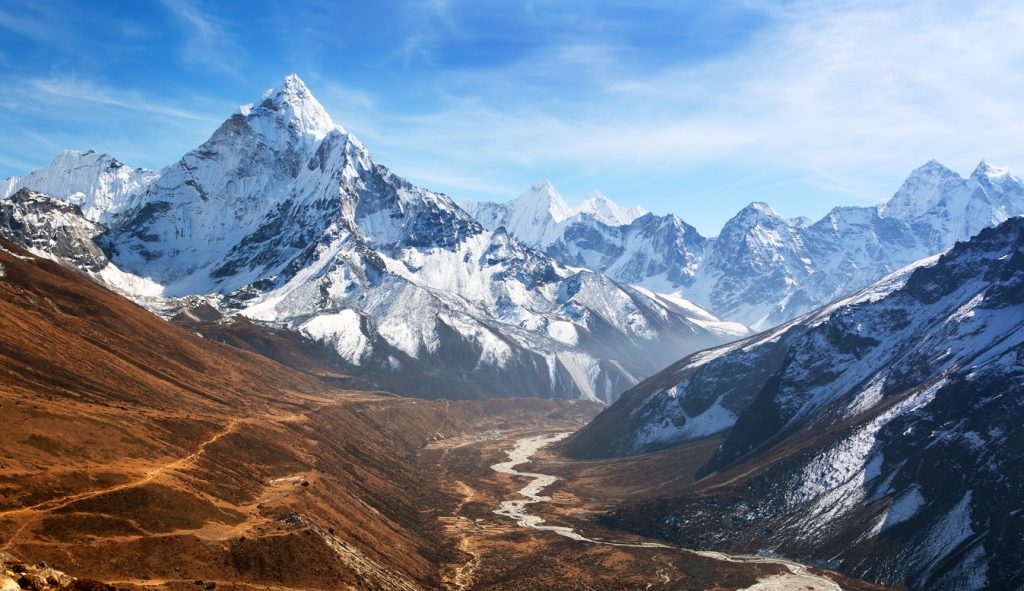 You've had enough of exotic vacations and being lazy on ribbons of white sand? Are you feeling adventurous and ready for a memorable experience? Try mountaineering in Nepal! No, you don't necessarily have to climb the Everest to breathe in the crisp, pure air of the Himalaya Mountains. You can just settle for more modest peaks that create the perfect setting for an exciting mountaineering experience without the risks and difficulty level the mighty Everest demands from experienced mountaineers.
Nepal is home to an infinite variety of trekking peaks and many of them are beginner-friendly. Just make sure you'll limit your excitement to peaks with altitudes under 6,500 meters and you'll be fine. These require no previous experience in the art of mountaineering but they demand the adventurers to be physically fit. Even if the trek is classified as easy, you still need to be apt for the challenge. It's the Himalayas! Perfect for beginners brave and curious enough to discover this outstanding scenery and admire the breathtaking views of this realm of giants. So, let's get going!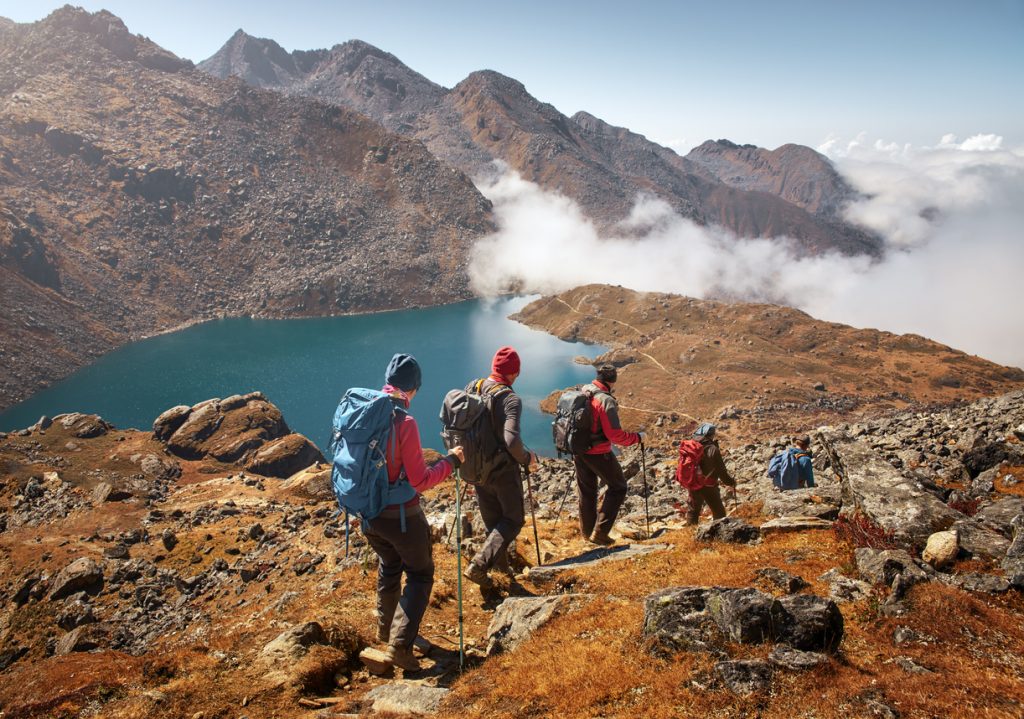 Island Peak
One way or another, we always find a way to an island. Only this time, the island is a snowy giant in the beautiful region of Everest and Solu Khumbu. This peak is perfect for beginner mountaineering. You'll be taught a few technical details about snow climbing and take part in an acclimatization training that might take place at the Everest Base Camp. This is the perfect adventure to learn the basics of Himalayan expeditions and understand how the acclimatization process works. Moreover, once you get on the peak, your efforts will be rewarded with fabulous and extraordinary views over Everest, Lhotse, and Makalu peaks. Not bad for a beginner, isn't it? You'll need one or two days for this adventure that will take you at an altitude of 6,189 meters. The best time for a trekking experience on the Island is April and May or October and November. Considering that about 3,000 people take on this challenge every year, this trek is definitely of little difficulty and perfect for your initiation in the fascinating world of mountaineering.
Mera Peak
Although is the highest trekking peak in Nepal, reaching an altitude of 6,476 meters, Mera doesn't put up much of a fight and allows beginner mountaineers to conquer it and be in awe with the fabulous views of the surrounding peaks of Everest, Lhotse, and Cho Oyu, all mighty giants that reach altitudes over 8,000 meters. And it's not just a peak! It's actually a group of three summits in the Solu Khumbu region. Along the trek, you'll be accompanied by the beauty of rhododendron forests and astonishing views and you'll get to take a sneak peek of the Nepalese mountain life when passing through remote and almost mystical mountain villages. It's not a technical climb and is considered of little difficulty, but you'll need to use some equipment, such as ropes and axes. Even if the trek is less accessible than the Island trek, it can be considered a tad easier and less technical than this. You'll need about three days to conquer Mera and the best time to do it is between September and November, but if you're here in April or May, it should also be fine.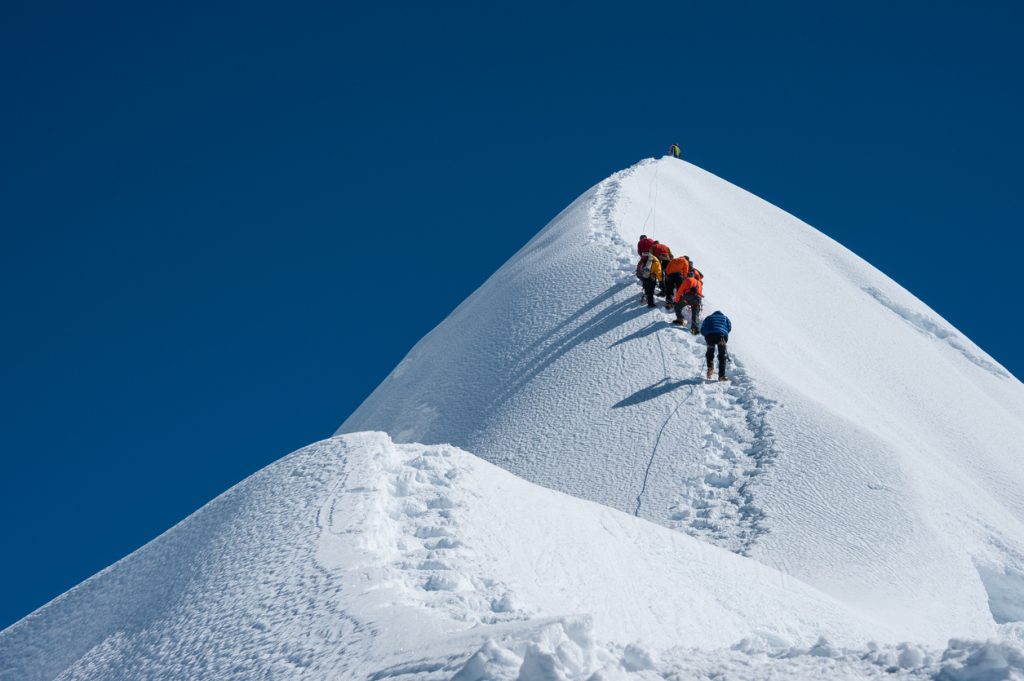 Lobuche East Peak
Another trek that will get you as close as possible to the Everest without requiring any special training of your part is the extraordinary Lobuche East Peak. Also situated in the Solu Khumbu region, Lobuche East not only takes your breath away with amazing views of the Everest but also offers the opportunity to capture memorable views of the peaks of Nuptse, Pumori, and Ama Dablam. Moreover, on your way to the top of this 6,119 meter-peak, you'll pass Everest Base Camp and the famous viewpoint Kala Patthar situated at an altitude of 5,545 m. The trek takes three days and is a bit more challenging than the Island and Mera treks but it's perfect for valiant beginners because it doesn't require any special equipment or training. Now, if you're up for a challenge and you're experienced, Lobuche West Peak promises a difficult and glamorous adventure. Plan your adventure from mid-March to May or October to mid-December to make sure nature supports your endeavor with the perfect weather.