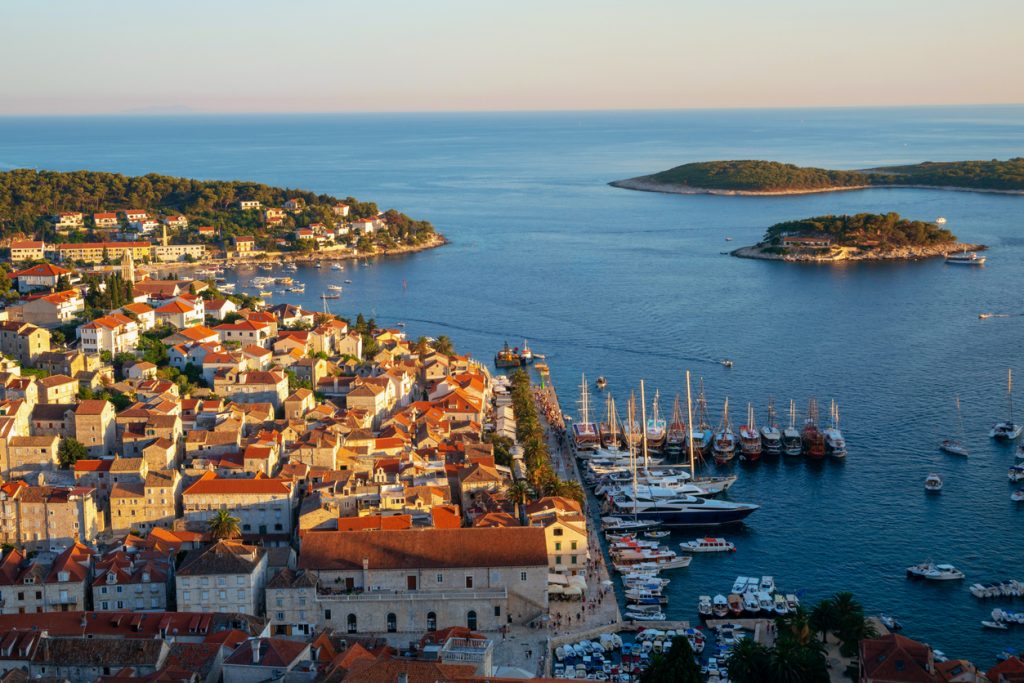 There are numerous islands and islets along the Croatian coastline but not many shine as bright as the islands of Hvar and Brac. Two of the largest and most popular islands in the Adriatic Sea, the islands of Hvar and Brac mesmerize travelers with splendid natural beauty, excellent outdoor activities, a superb array of hotels and resorts, and a peaceful atmosphere. The city of Split is the center of Dalmatia and also the bridge between the mainland and the islands of Hvar and Brac. While Brac can be reached in one hour from Split, a trip to Hvar will take you about 30 minutes more.
Both Hvar and Brac are incredibly picturesque and create the perfect backdrop for relaxing holidays in the sun. However, each has its own personality and charm, and they usually attract different types of crowds. While sleepy Brac is an ideal choice for outdoorsy people who prefer to spend their time connected to Mother Nature's gifts in a serene ambiance, lively Hvar is a destination for posh travelers who like to worry about what to wear for a night out and have a passion for luxury amenities.
Cosmopolitan Hvar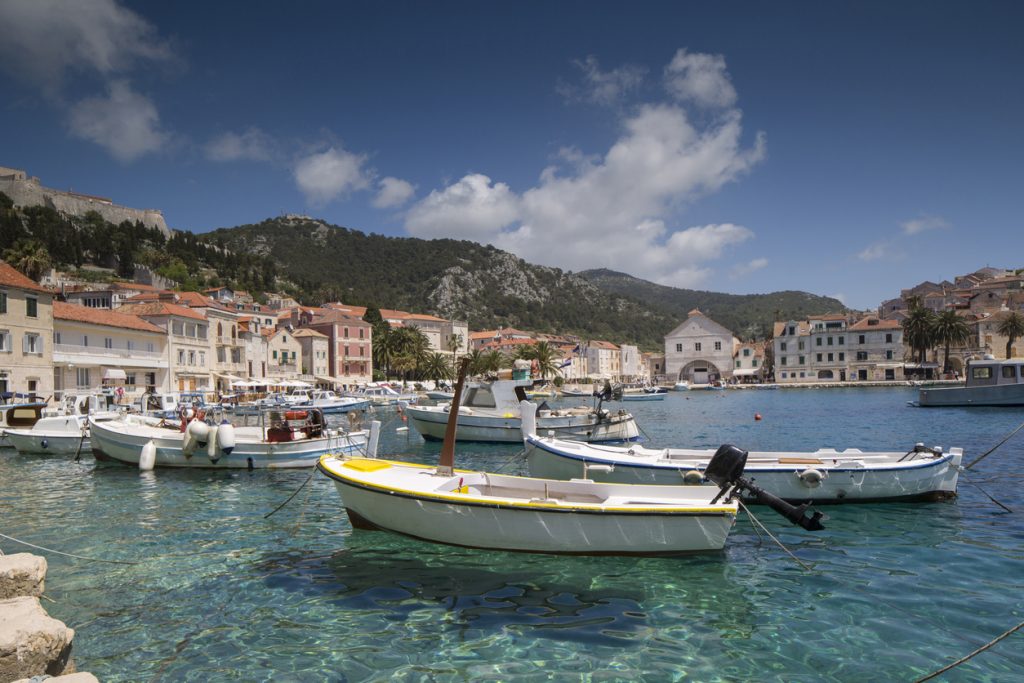 Almost always sunny, the island of Hvar is a haven for travelers who love chic hotels, fine dining, and a relaxed beach life. While the island's coastline is adorned with flawless sandy and pebbly beaches and shy fishing villages, its interior is hilly and rocky, ideal for scooter tours that will take you to beautiful lavender fields, romantic vineyards, and fascinating abandoned settlements.
Most travelers prefer to book their room at one of the elegant hotels in Hvar Town. This cosmopolitan town crossed by a labyrinth of cobblestone streets, lined with stylish restaurants and posh nightclubs, is also the historic heart of the island and home to a beautiful medieval fortress. All roads eventually lead to the modern harbor of Hvar, a chic destination where you'll find waterfront bars, excellent restaurants, and the usual luxury yachts.
The town of Jelsa on the northern shores of the island is a favorite of travelers who want to experience the beauty of Hvar without having to face the tourist crowds. Jelsa is blessed with beautiful beaches and offers a wide selection of private accommodation, usually in splendid villas with pools and fabulous sea views. The atmosphere is more relaxed and tranquil, and the prices are a bit more reasonable in Jelsa.
The beaches of Hvar are clean and guarded by scented forests that add a velvety breeze to the long summer beach days. The island is perfect for beach hopping. The sunny journey will take you to famous beaches, like Jelsa, Stari Grad, and Vrboska, but also to secret coves and bays, such as the pristine Dubovica beach where you'll find a beach bar and restaurant, ideal for lunch and cocktail breaks.
Idyllic Brac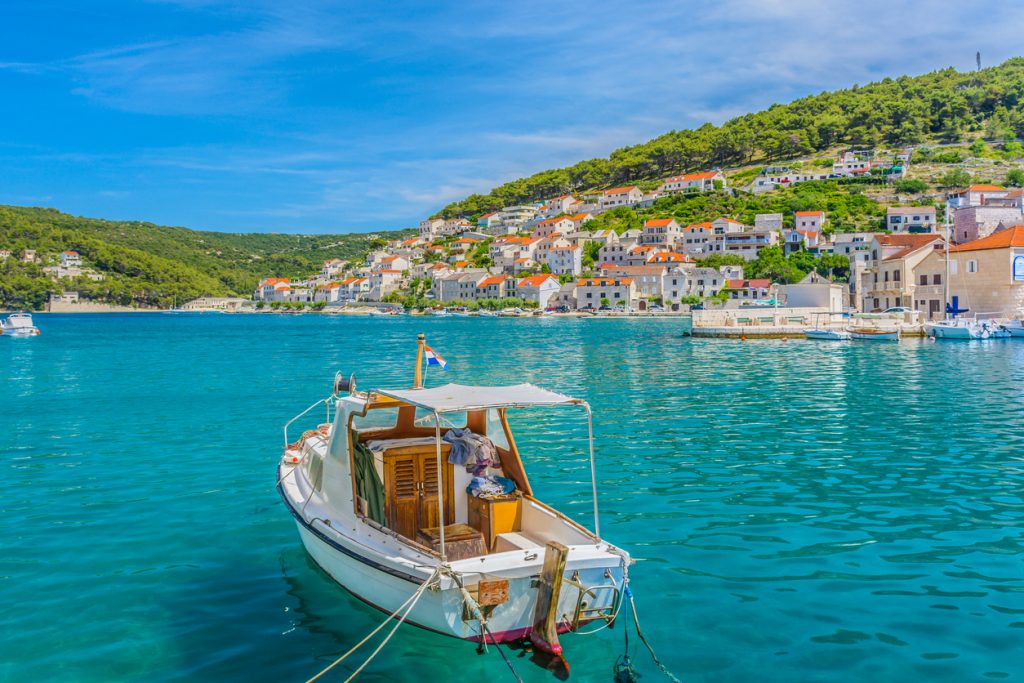 The mountainous island of Brac is renowned due to the spectacular beach of Zlatni Rat. Considered the most beautiful beach in Croatia and dazzling travelers with its quirky shape, Zlatni Rat alone is an excellent reason to visit Brac. However, this is not the only beautiful beach on the island of Brac. The entire south side of the island is dotted with beautiful beaches dressed in perfectly rounded pebbles, soft to the touch and not at all an impediment to enjoying superb beach days. Some of the most popular beaches in Brac are Lovrecine, Murvica, Lucice, and Ratac. The great part of all these "other beaches"? They're never as crowded as the island's superstar beach.
The island is home to pretty fishing villages and has a superb nature park ideal for outdoor activities, such as hiking and mountain biking. Passionate hikers are always happy to find their way through pine forests, and many of them even hike to the top of the 2,552-foot-high Vidova Gora, the highest peak on the Adriatic Island and a superb viewpoint. The sleepy villages of Brac create an idyllic setting for a romantic summer holiday or a relaxing getaway with the family.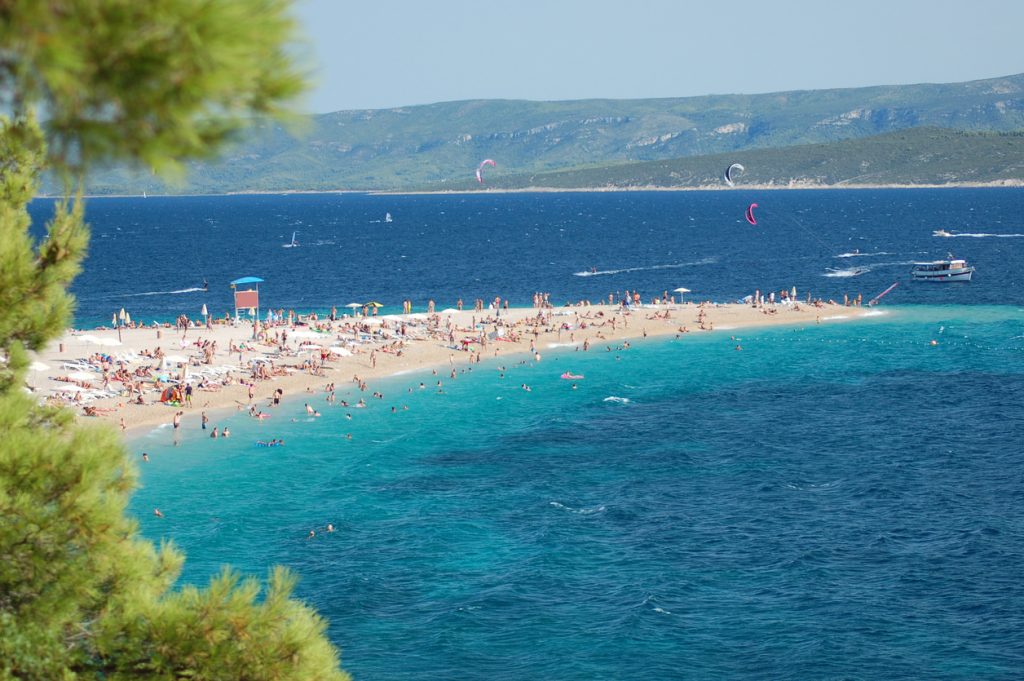 The town of Bol is an ideal base for travelers who want to explore Brac while enjoying lovely accommodation and a large variety of restaurants and bars. Brac is the only town on the island where you'll have access to hotel complexes and B&Bs. The rest of the island offers mostly private accommodation. At the east end of Bol, you'll discover the beautiful Paklina beach, while west of Bol, awaits the quiet pebble beach of Vela Farska.
If you liked this article you may like to read this one: https://www.purevacations.com/delights-of-sardinia/