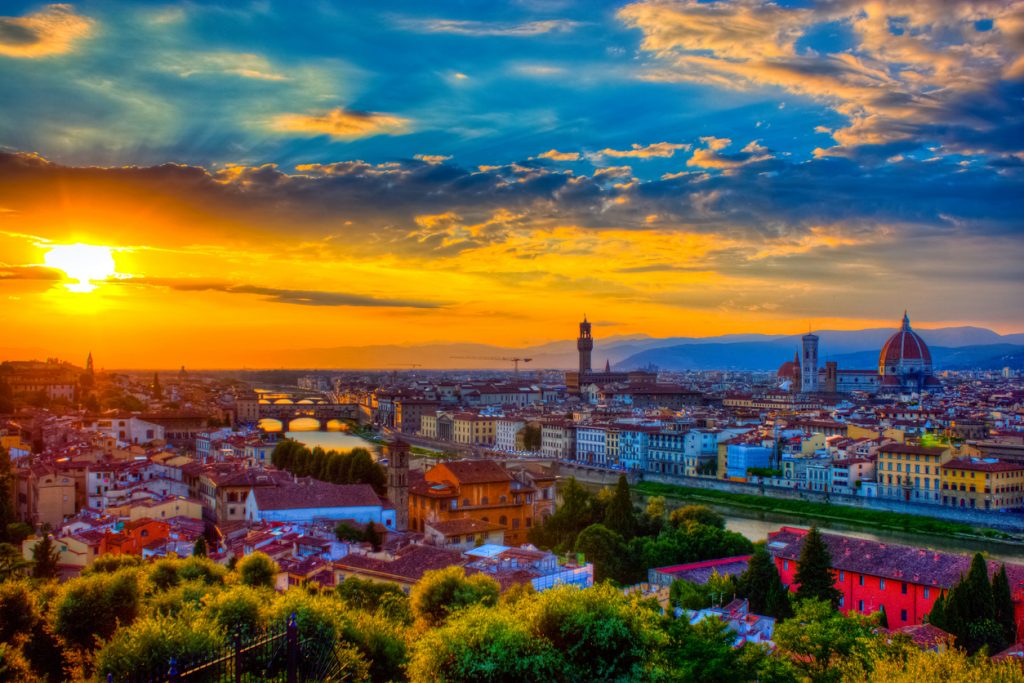 The cradle of Renaissance and one of the greatest cities of Italy, Florence mesmerizes and overwhelms. Its winding medieval streets lead to priceless artistic treasures housed inside museums, basilicas and palaces, while its skyline is painted with red roofs and majestic domes. A city of surreal beauty, Florence has a depth unparalleled by any other Italian city. You'll discover its fascinating history every step of the way while walking on its cobbled streets accompanied by the shadows of some of the world's greatest minds and talents like Leonardo da Vinci and Michelangelo.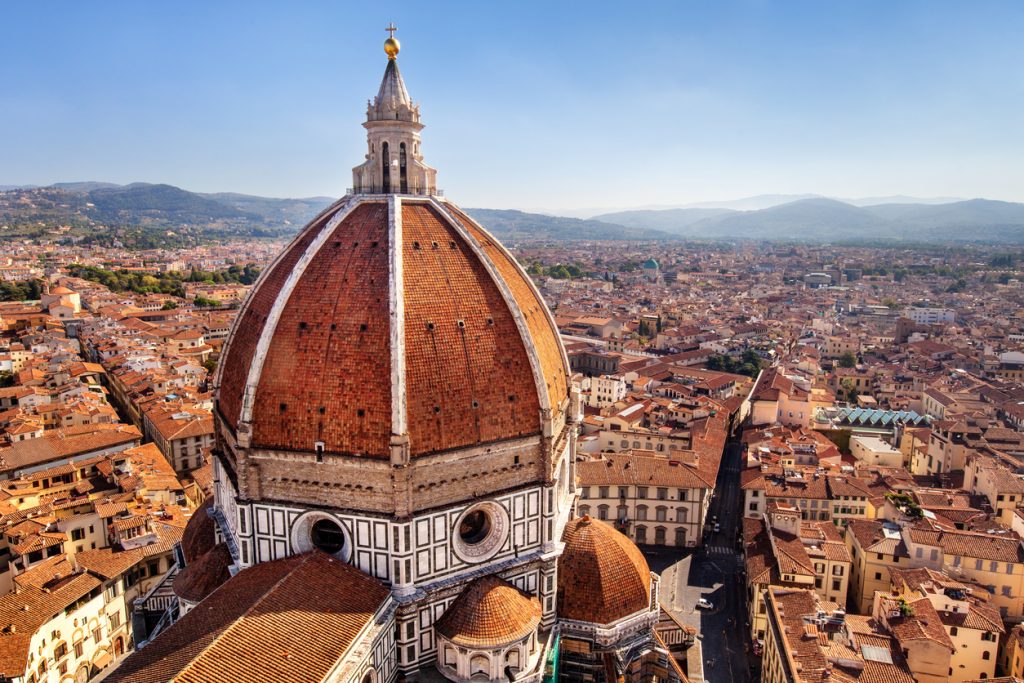 Once you take a break from your rush to get from one masterpiece to the other and look around, you'll discover a lively city with a rich cultural scene. Travelers are invited to attend opera and classical music performances and admire contemporary art at the many local art galleries. Florence is still a muse for artists from all over the world and keeps writing history. Despite its deep roots into the past, the city keeps up with the trends and has a spectacular culinary scene that reinvents the traditional Italian cuisine and creates a festival for the senses.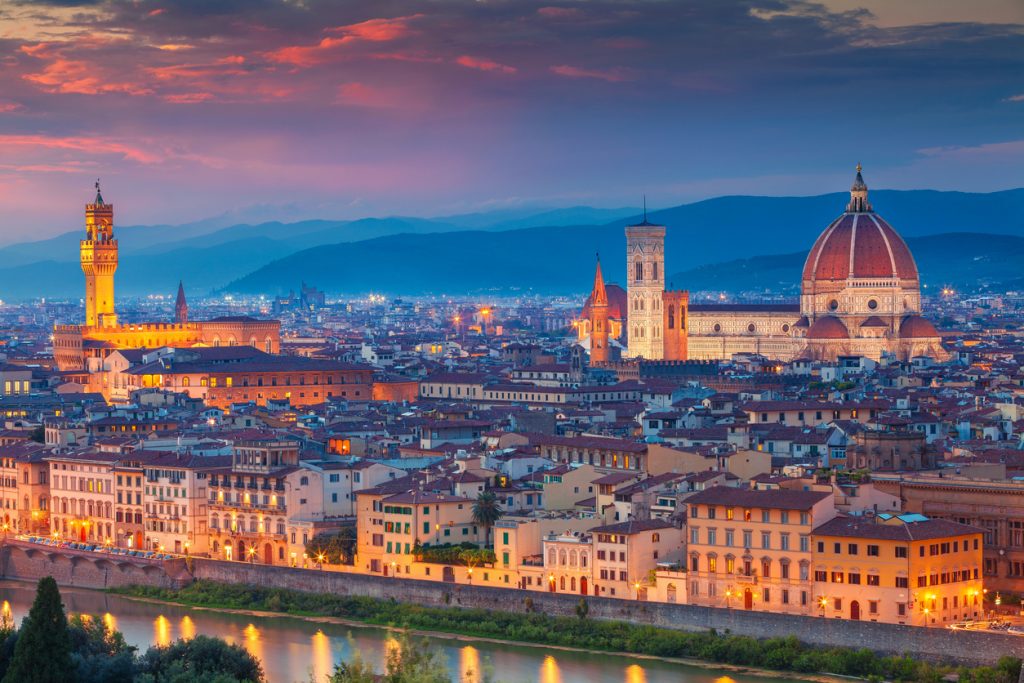 Attractions in Florence
Since its entire historic center is classified as a UNESCO World Heritage site, Florence is an enchanting open-air museum that whispers tales from the times when the Medici family was ruling the Republic and nurtured geniuses like Michelangelo and Botticelli.
The city abounds in fascinating attractions, but there's no feeling like the feeling that wraps your senses when you're standing face to face with the grandeur of the gargantuan Duomo. Florence's cathedral reigns over the city's skyline tall, proud, and curvaceous. You'll be witnessing an architectural wonder that has the largest self-supporting dome since the classical era, a masterpiece dressed in lavish pink, white, and green marble. However, as soon as you get inside, the lack of decoration and unexpected simplicity silences the exterior splendor and creates a modest setting for meditation and praying.
Art lovers touch ecstasy during a tour of the Uffizi Gallery, home of some of the most important collections of art in the world. Housed inside the splendid 16th-century Uffizi Palace, this museum gathers under one roof inestimable works of art by artists like Botticelli and Leonardo da Vinci. The incursion into Florence's art continues with an exercise of humility in front of the unworldly David, the famous statue created by Michelangelo in 1502 and displayed at the Gallerie dell'Accademia.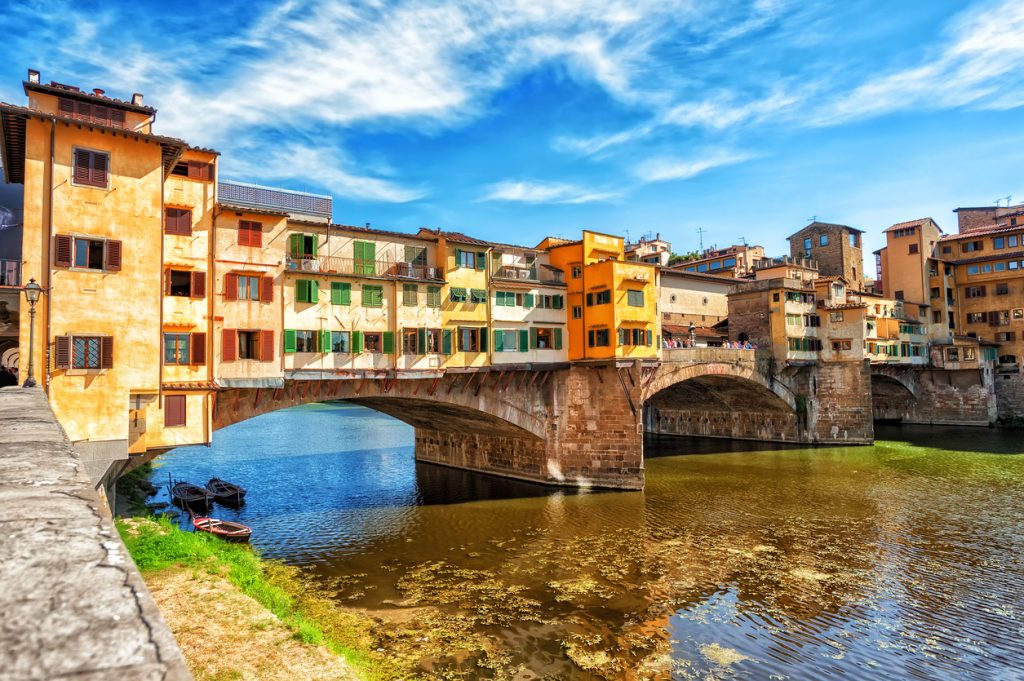 Follow any of the narrow cobblestone streets of the historic center, and you'll eventually get to the photogenic Ponte Vecchio, a 14th-century bridge that is currently home to the gold and silversmiths of Florence. Quite the shopping trap for tourists, the boutiques along the bridge are irresistible, and no one can fight the urge to acquire a little souvenir or two.
Cross the bridge, and you'll enter the fascinating world of the Pitti Palace and Boboli Gardens. This remarkable palace that dates back to 1440 was once the sumptuous residence of the Pitti family. Currently, the palace houses six museums, including the Gallery of Modern Art that houses 18th and 19th-century Florentine art – because modern is still old in Florence, and Galleria Palatina that enchants with masterpieces by Rubens, Raphael, and Titian. A tour of the Boboli Gardens rewards travelers with spectacular views of Florence.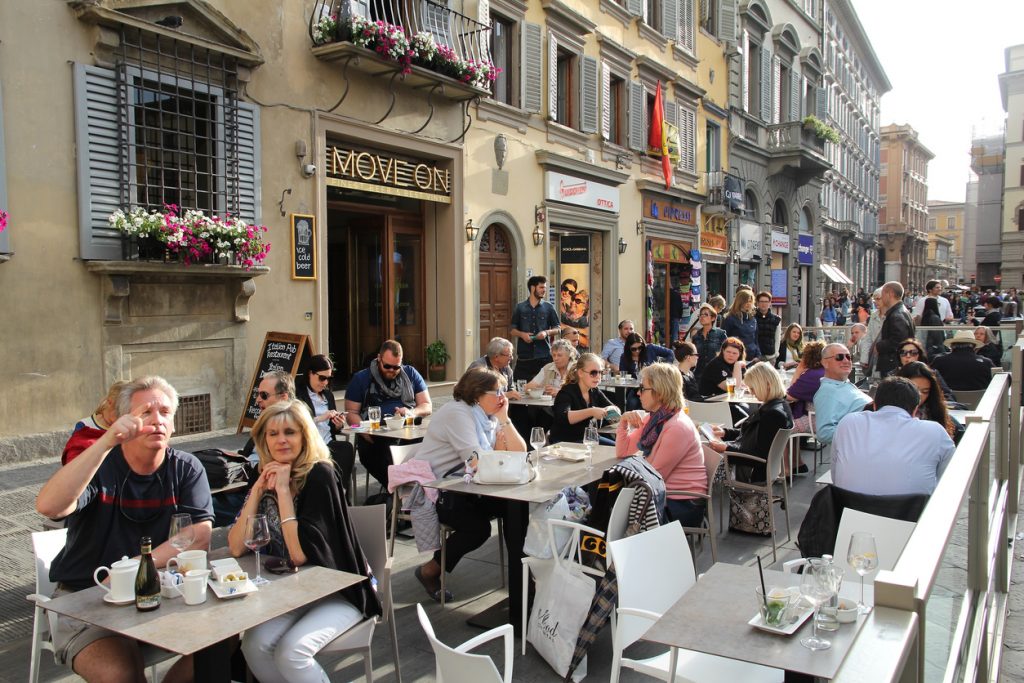 Delights of Florence
Although the art of Florence feeds the soul and nourishes the spirit, there's no visiting Florence without tasting its amazing culinary specialties. Whether you choose to attend a food tour, take a cooking class, or book a table at some of the most popular restaurants in Florence, your taste buds will be pampered.
For a classy dinner in an elegant décor adorned with frescoed ceilings, Enoteca Pinchiorri is an ideal choice. The restaurant serves gourmet Italian cuisine that encapsulates the finest ingredients provided by local artisans and producers. With a wine cellar that houses over 150,000 bottles, be ready to dedicate some time to choosing the perfect wine for your tagliatelle with sardines and pork or risotto with sea scallops.
Florence's most famous dish, bistecca alla Fiorentina, a hearty steak, often makes an appearance in the local menus, one of the best being served at Antico Ristoro di Cambi. This family-run restaurant serves traditional Tuscan dishes and enchants with views of the Arno River. If you love meat, you'll enjoy a meal at the Regina Bistecca too, where the bistecca alla Fiorentina is served with white beans in an ex-antiquarian bookshop.
There's no Florence vacation without a scoop or two of gelato. You can find it at every corner of the street, and it tastes divine regardless of the flavor you choose. However, if you get to Piazza della Passera, don't hesitate to buy a chestnut or fig gelato from the Gelateria della Passera. Expect to be amazed!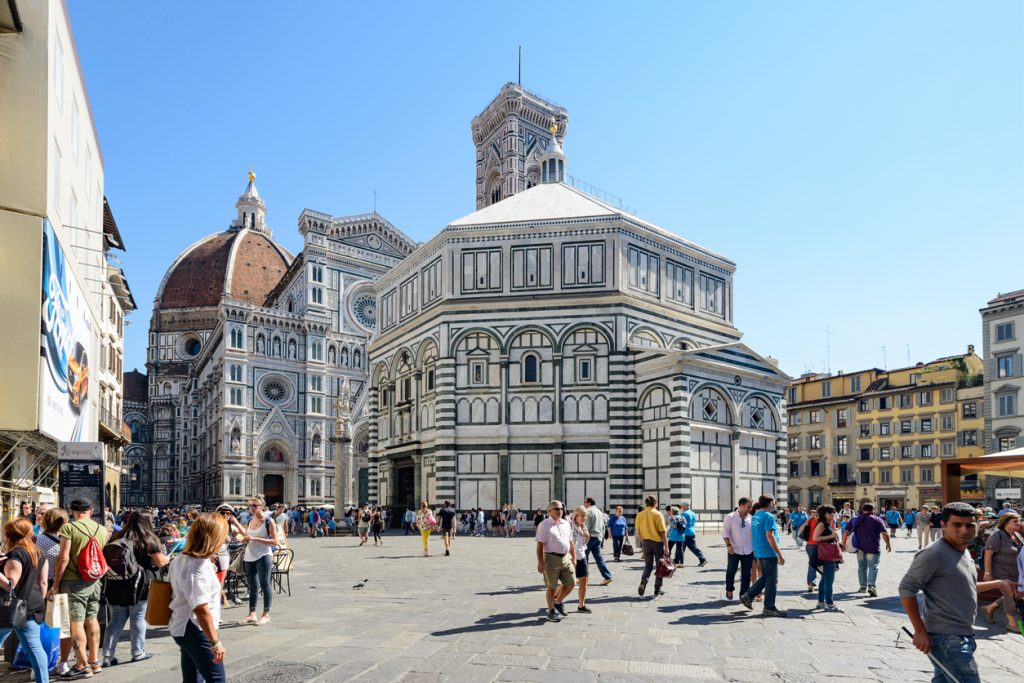 A cappuccino break is always recommended between visits and tours of Florence, especially when you're visiting Piazza della Signoria, the political power hub of Florence. Here you'll find Florence's imposing town hall, but also Café Rivoire known for its memorable cappuccino.
If you liked this article you may also like: https://www.purevacations.com/milan-italy/