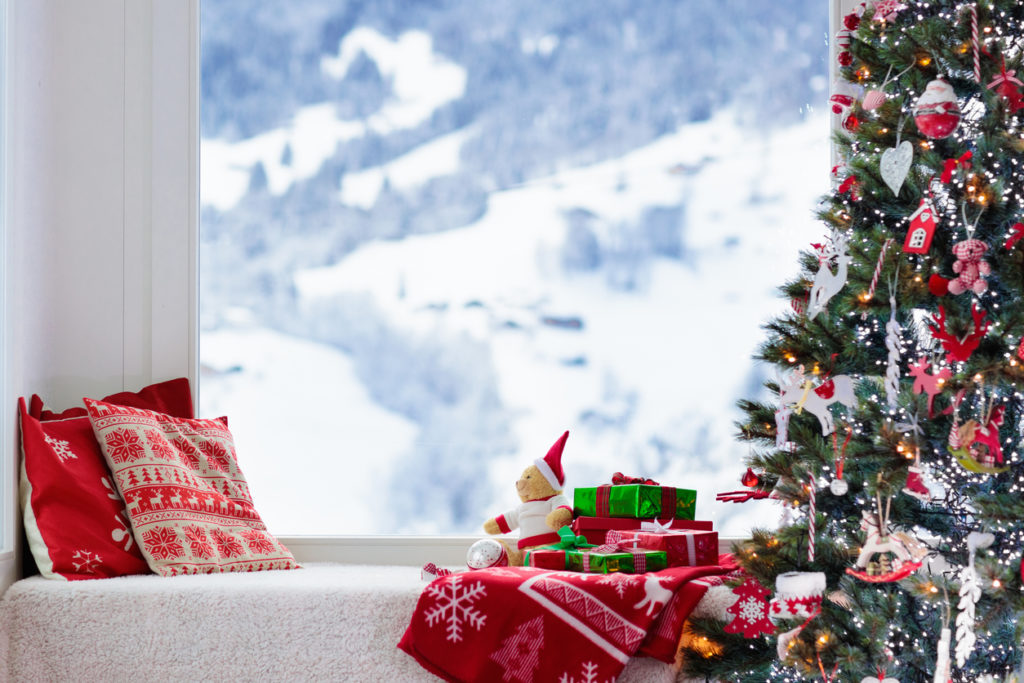 With its breathtaking peaks and romantic ski villages, Switzerland becomes a wonderland in the winter. However, when Christmas comes, the winter extravaganza reaches new heights. Just imagine adding a festive spirit and a frenzy of lights to the already marvelous winter villages and cities in Switzerland! There are no words to describe the atmosphere and views that await every step of the way. However, we will do our best to capture Switzerland's Christmas spirit and carefully lay it on paper.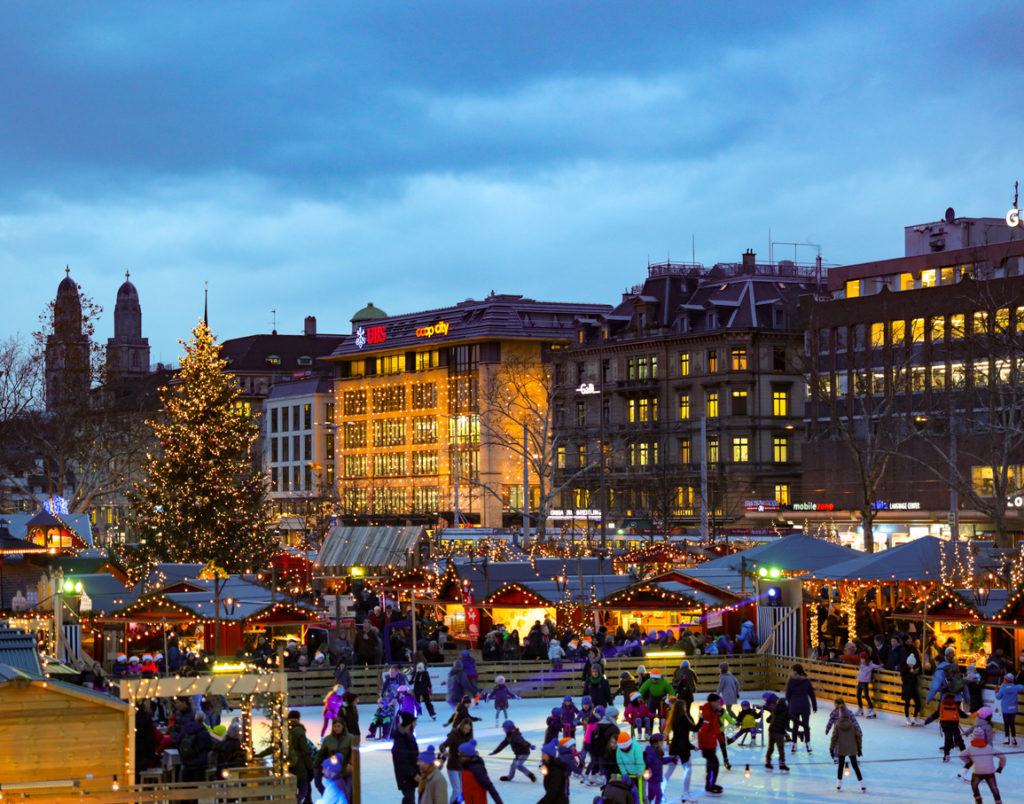 Christmas in Zurich
Zurich gets new shiny clothes every Christmas and delights visitors with spectacular lights and one of the most beautiful Christmas trees in Europe. More than 12,000 lights adorn the city's main shopping street, Bahnhofstrasse. Everybody is waiting for the ceremonial switching on of Lucy, as they affectionately call the lights that add magic to a city already incredibly beautiful.
The scent of mulled wine and cinnamon wafts will guide your steps towards one of the most beautiful Christmas markets in Europe. You are now on the winding streets of the Old Town, each dressed in festive clothes and bathed in magical light. If you love Christmas, you're going to love what Zurich has prepared for you. The oldest Christmas market is set in the Old Town, but you'll find numerous other Christmas markets all over the city, including at the urban "Wienachtsdorf" Christmas village.
Zurich has Christmas markets for every taste and enchants visitors with lovely market stands where they can find everything from mulled wine, punch, and raclette or fondue to an impressive array of gifts and decorations. Whether you're looking for colorful scarves or wood carvings, you will be spoilt for choice. While the oldest Christmas market awaits in Niederdorf, the poshest one is the popular Christkindlimarkt in the central railway station. The latter is home to the most beautiful Christmas tree in the city, a gorgeous fir tree decorated with thousands of Swarovski crystals.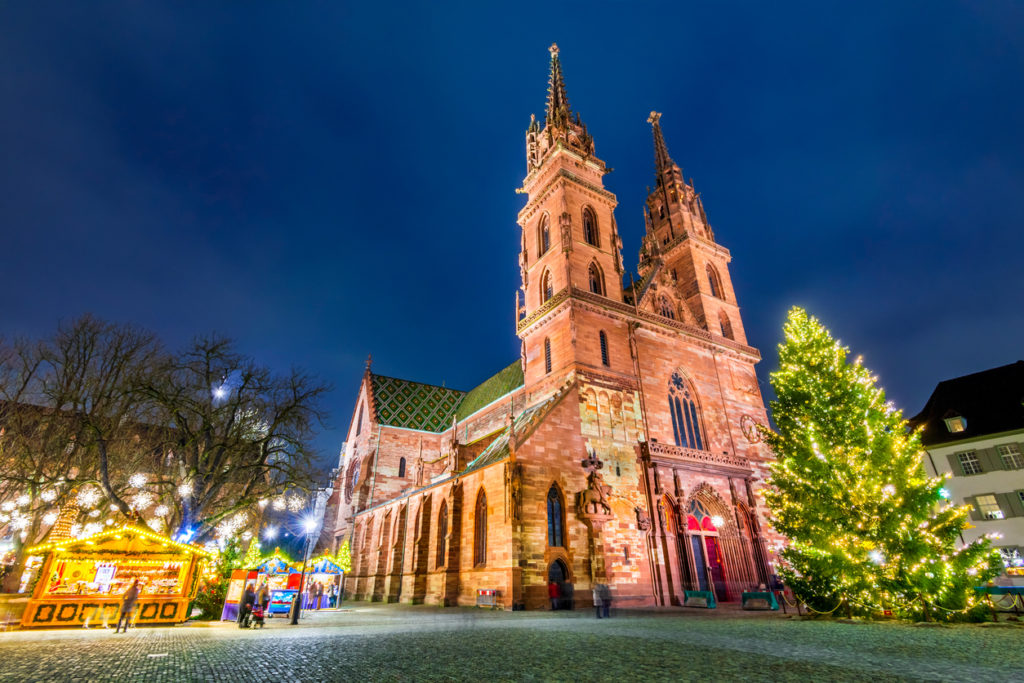 Christmas in Basel
Basel is home to one of the prettiest and largest Christmas markets in Switzerland, so expect to find crowds of Christmas lovers eager to take in all the festive spirit around. The main Christmas markets are Barfüsserplatz and Münsterplatz, situated right in the heart of the city. You'll discover a lovely Old Town, magnificent Christmas trees, an extravaganza of ornaments, and all the mulled wine you can sip while singing Christmas carols.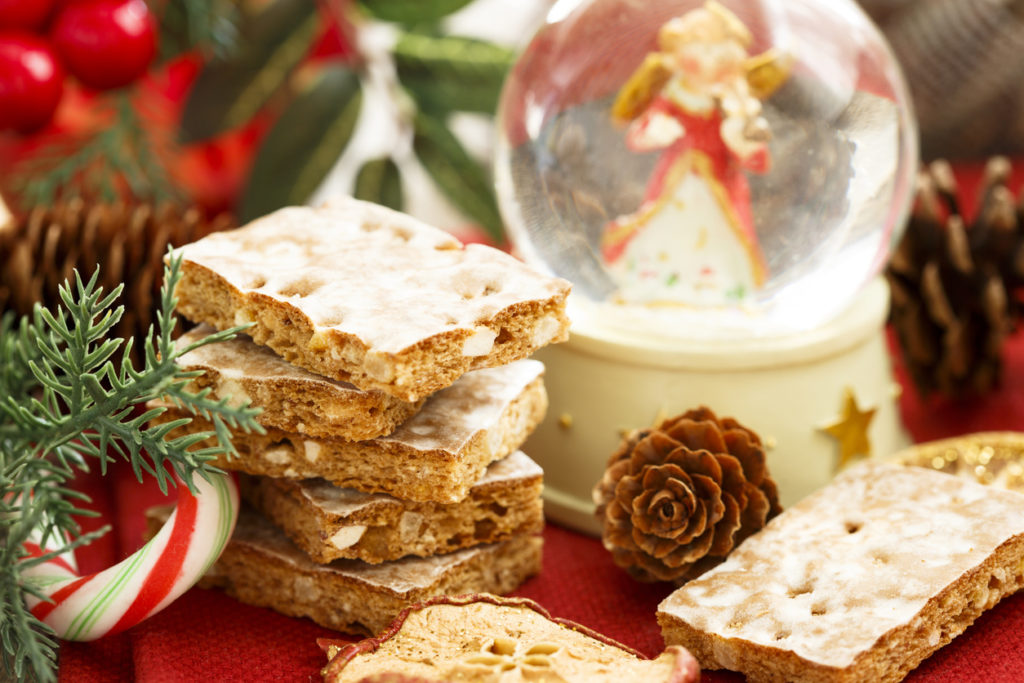 The Christmas market in Münsterplatz is set in a spectacular background dominated by the presence of Basel's spectacular cathedral. The square gets its fairy tale clothes and superb lights as soon as December says hello. The air is filled with enough joy and cheer to go round and the Christmas program has plenty of fun things to keep everyone entertained. Children especially love the magical forest where they can get their hands dirty while baking, making candles, and creating abstract but lovely decorations.
If you're up for some Christmas shopping, then the Christmas market in Barfüsserplatz should be your first stop. Situated at the intersection of eight different tram lines, this is the most popular Christmas destination in Basel. The market houses an abundance of stalls that sell everything from candles and paper stars to Peru and Laos merchandise. If you want to keep your energy levels high, refuel at the stands that sell the Chäsbängel, a baguette filled with fondue.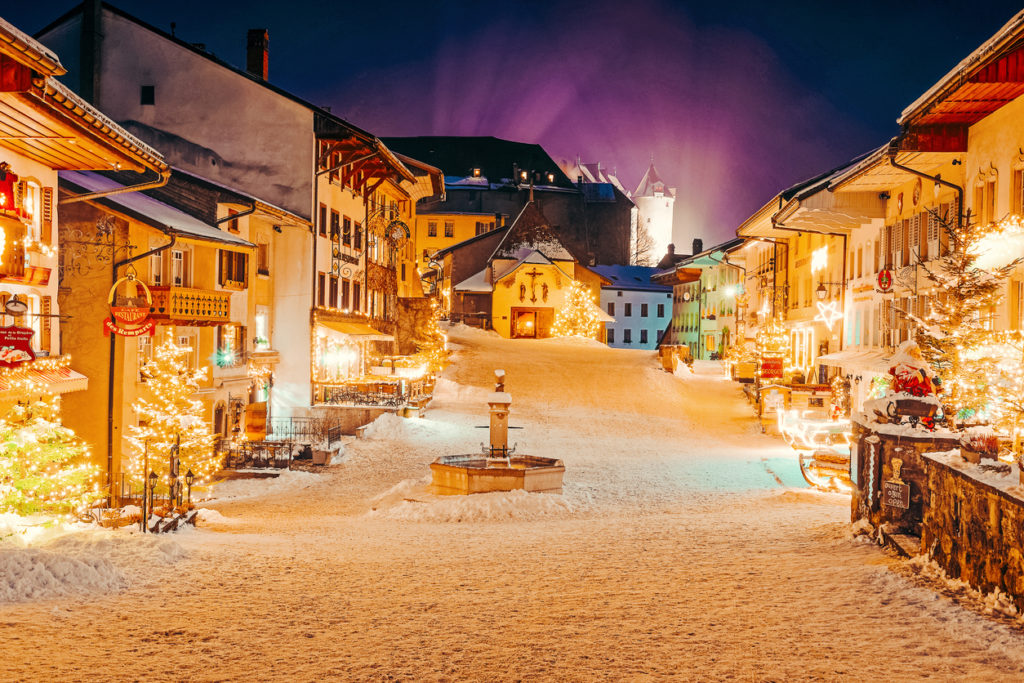 Christmas in Gruyeres
Thousands of Christmas lights light up the medieval city of Gruyeres when Christmas is just around the corner, and tens of thousands of Christmas aficionados arrive to enjoy the festive ambiance. Set at the foot of the Pre-Alps and considered to be the most beautiful village in western Switzerland, Gruyeres has everything a place needs to become a Christmas postcard.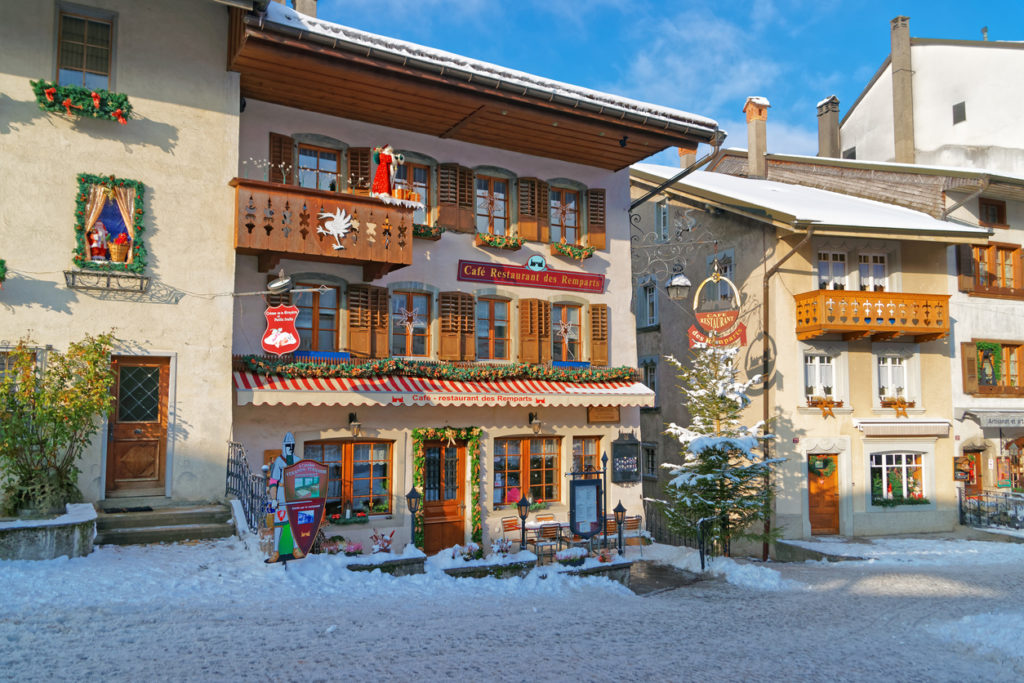 A thousand lights adorn the cobblestone streets of Gruyere and more than 60 talented artists enchant visitors with handmade decorations and gifts. Moreover, the local administration makes sure to prepare various activities and fun things to do for visitors of all ages to find their festive spirit.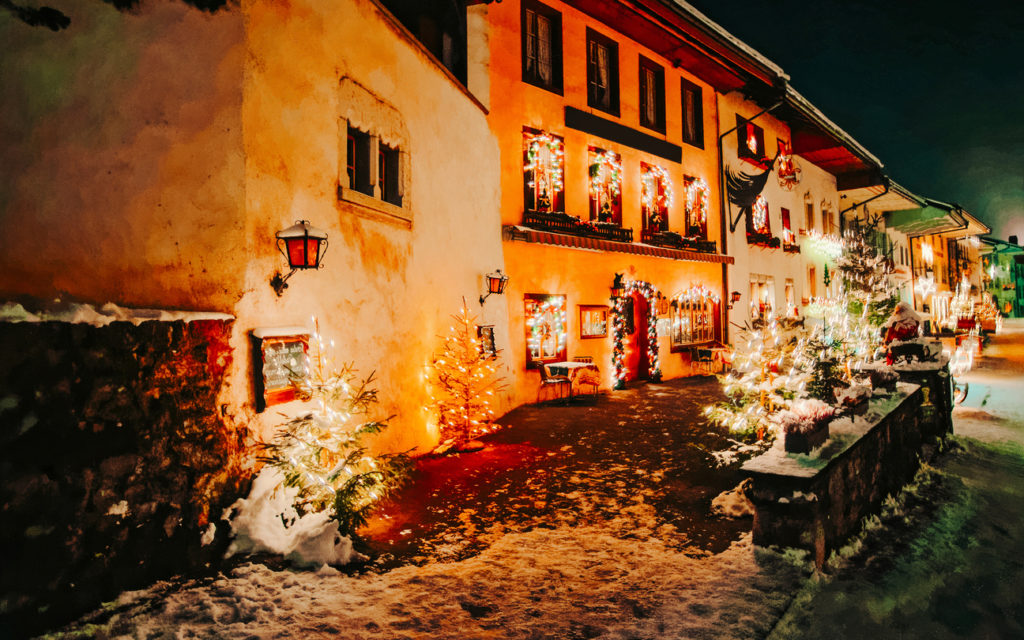 Don't leave Gruyeres without exploring its lovely streets. The architecture is sensational and comes to life under the magical touch of soft lights. Visit the Gruyeres Castle and find out why Gruyere cheese is so delicious at the cheese dairy La Maison du Gruyere. Have a fondue and end your day with a glass of mulled wine while listening to soothing Christmas music.