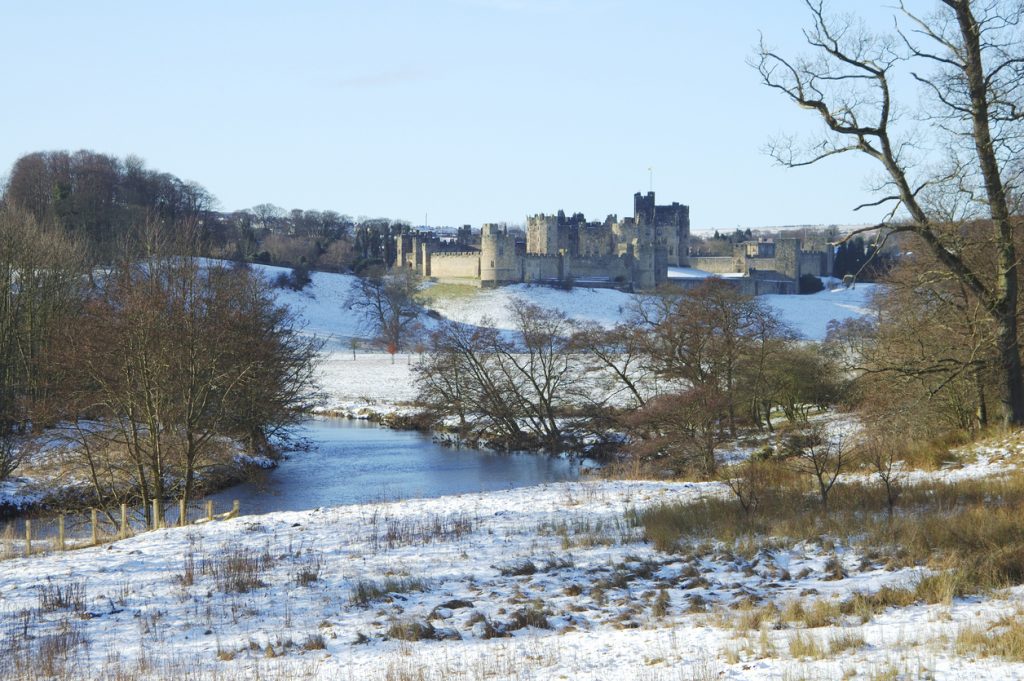 Christmas at the castle sounds like a dream for many! And England makes this happens with style, elegance, and a touch of decadence. What better way to spend the holiday season than sipping tea and eating a slice of Victoria sponge cake in a magical historical décor adorned with a frenzy of Christmas lights and splendid Christmas ornaments? With hundreds of years old tales, gorgeous architecture, romantic ambiance, and a ghost or two just for fun, the castles in England create an idyllic Christmas setting for the entire family. Discover the most beautiful Christmas castles in England and create your own Christmas story this year: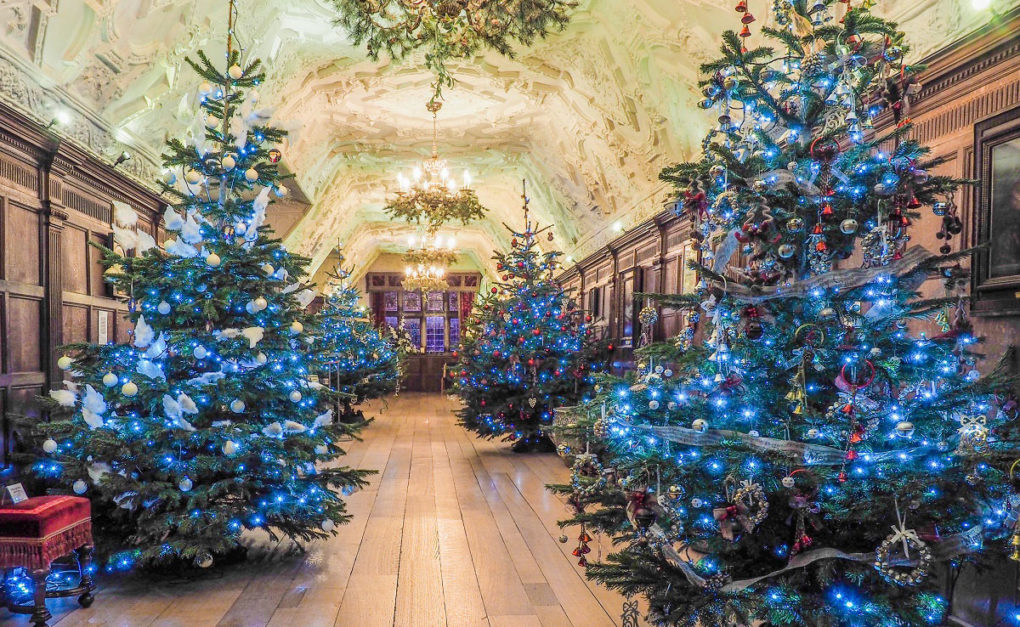 Hever Castle
The romantic Hever Castle enchants visitors with splendid rooms and magnificent gardens set in 125 acres of majestic grounds. Dating back to the 13th century and once the childhood home of Anne Boleyn, the castle takes you back in time with its impressive collection of fine furniture, antiques, tapestries, and Tudor paintings. The B&B rooms of the hotel await in the Astor Wing and Anne Boleyn Wing. Every year, Hever Castle welcomes Christmas guests with a different theme and a plethora of fun festive activities for the entire family.
While the great hall and Tudor dining room embrace the Christmas spirit with a superb collection of Christmas ornaments, fires in the fireplaces, and soothing Christmas music, upstairs you'll discover a trail that leads your steps to fascinating Christmas tales, like The Nutcracker and The Silver Skates. Stop along the way to admire Anne Boleyn's childhood room and the bedroom where King Henry VIII slept. The castle's grounds create a Christmas light extravaganza with fairy lights twinkling in the trees and light displays dancing on the alabaster skin of statues, columns, and fountains. The entire family is invited to follow the Christmas trail for an adventure that will take them face to face with real characters from various Christmas stories.
2019 theme: Alice in a Christmas Wonderland
Highlights: The Christmas trail, Twilight Evenings, meeting Father Christmas
When: 23rd November – 8th December (Wednesday – Sunday); 9th December – 24th December (daily)
Leeds Castle
One of the most beautiful architectural gems in Kent, Leeds Castle is located just a few miles away from Maidstone. Many have called it "the loveliest castle in the world" even before seeing it with its Christmas clothes on. Once the Christmas spirit inhabits Leeds Castle's grounds, the location becomes truly magical. Set on two islands within a moat adorned with black swans, Leeds Castle has a fascinating 900-year-old history mostly related to powerful women. From the medieval queen Eleanor of Castle to the Catherine of Aragon, the women who have stayed at the castle have left behind traces of their elegance and taste illustrated through splendid royal decorations and gorgeous rooms.
The holiday season comes with a lovely Christmas market that overlooks the castle's grounds, as well as with an abundance of Christmas decorations and events that turn the castle into a winter wonderland. Visitors have the opportunity to become guests by booking an overnight stay at the castle's Stable Courtyard, Five Star Maiden's Tower Bed and Breakfast, or one of the cottages on the castle's grounds.
Highlights: Christmas market, Magical Birds & Festive Feathers, Christmas shopping soiree, meeting Father Christmas, Christmas Party in the Fairfax Hall, The Great Pantomime Murder Mystery
When: Christmas market: weekends, from 23rd November to 15th December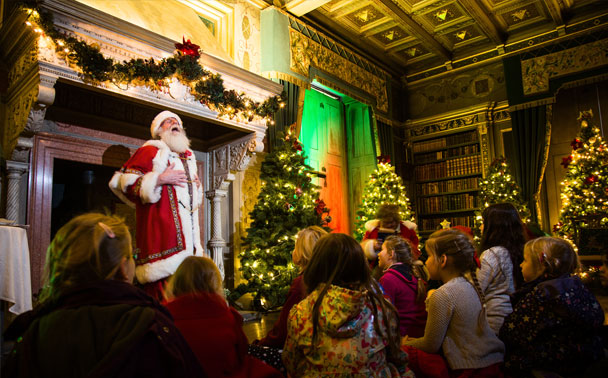 Warwick Castle
From the full English breakfast with Santa to the Horrible Histories Christmas Trail, Warwick Castle knows how to do Christmas right. This magnificent castle dates back to 914 and has since guarded the banks of the river Avon. Situated only 15 minutes from Stratford-upon-Avon, Warwick Castle is more than just a testament to the greatness of England's history. It's also a fascinating theme park-like destination for kids of all ages who have the chance to become characters in historical tales and attend jousting tournaments or the launching of a fireball by the largest trebuchet in the world.
Christmas metamorphoses the castle into a fairytale land where the entire family can enjoy wonderful moments under the guidance of Santa Claus and Mrs. Claus and their trustworthy elves. From the moment you step inside the castle through a beautiful entrance decked out in twinkling lights and hear the Christmas music that resounds within the castle's walls, you'll feel the Christmas spirit taking over. There's no season like the festive season at Warwick Castle, where the entire family is invited to play fun games and attend numerous Christmassy events. And if you're daring enough to walk on the Horrible Histories Christmas Trail and climb the 500 steps to the top of Guys Tower, your effort will be rewarded with spectacular panoramic views of the castle and its gorgeous grounds.
Highlights: English breakfast with Santa Claus, Stories with Santa, A Winter Wedding, Winter Birds of Prey, Scavenger Hunt, Christmas parties, Santa sleepover (includes accommodation)
When: 30th November – 31st December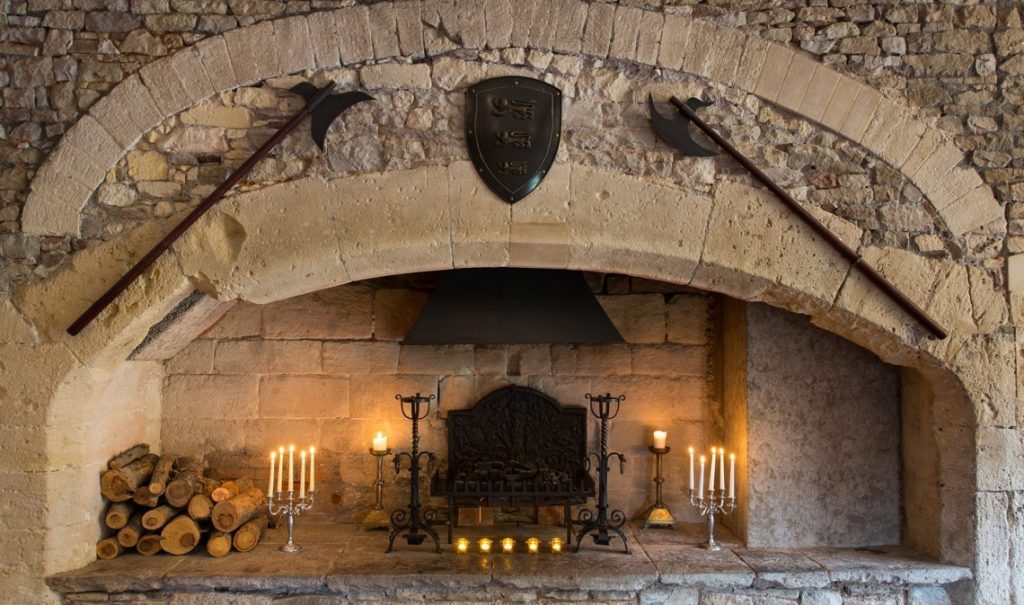 Thornbury Castle
If you want to enjoy a luxury Christmas at the castle, Thornbury Castle Hotel in South Gloucestershire might be exactly what you're looking for. After all, this is the only Tudor castle hotel in England and was good enough for Henry VIII and Anne Boleyn who spent their honeymoon right here – yes, you can book the room where they stayed. The castle's story began in 1066, but the castle you'll be admiring today was actually built during the reign of Henry VIII. Thornbury Castle welcomes guests with 28 sumptuous chambers and the oldest Tudor gardens in England and enchants visitors with superb medieval decorations and the aura of a grand castle.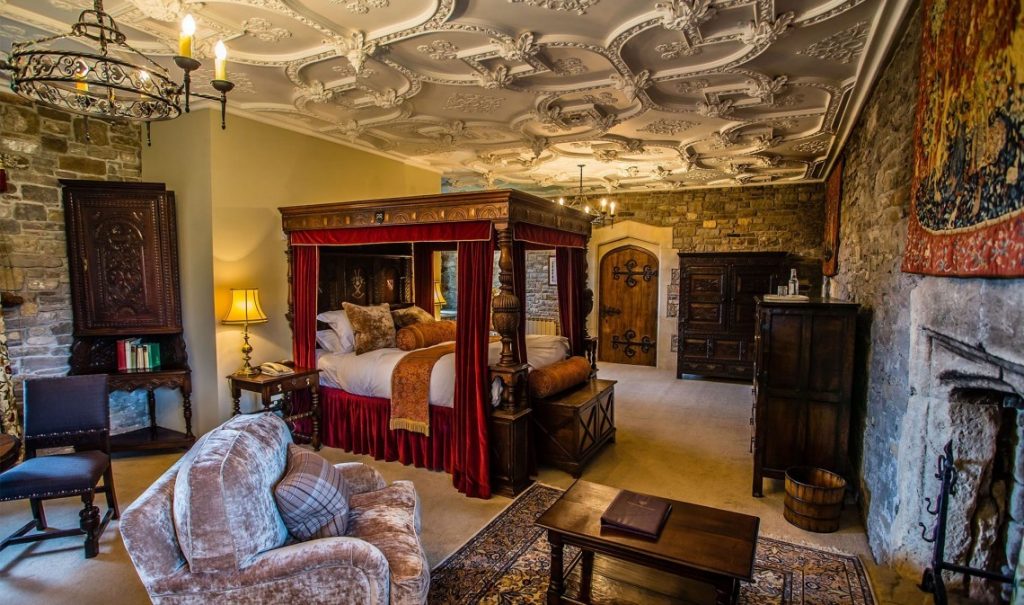 This is your chance to enjoy a Tudor Christmas in a spectacular setting where the Christmas lights twinkle gently into the night, the fires roar, and the festive feasts seem endless. The castle invites guests to enjoy a three-day Christmas package that includes everything from carol concerts and black-tie dinner on Christmas Eve to breakfast in bed(chamber), a Tudor Quest on Christmas day, and a relaxing and entertaining Boxing Day.
Highlights: Tudor Quest, Hunter's Breakfast, falconry display, wine tasting
When: 24th December – 27th December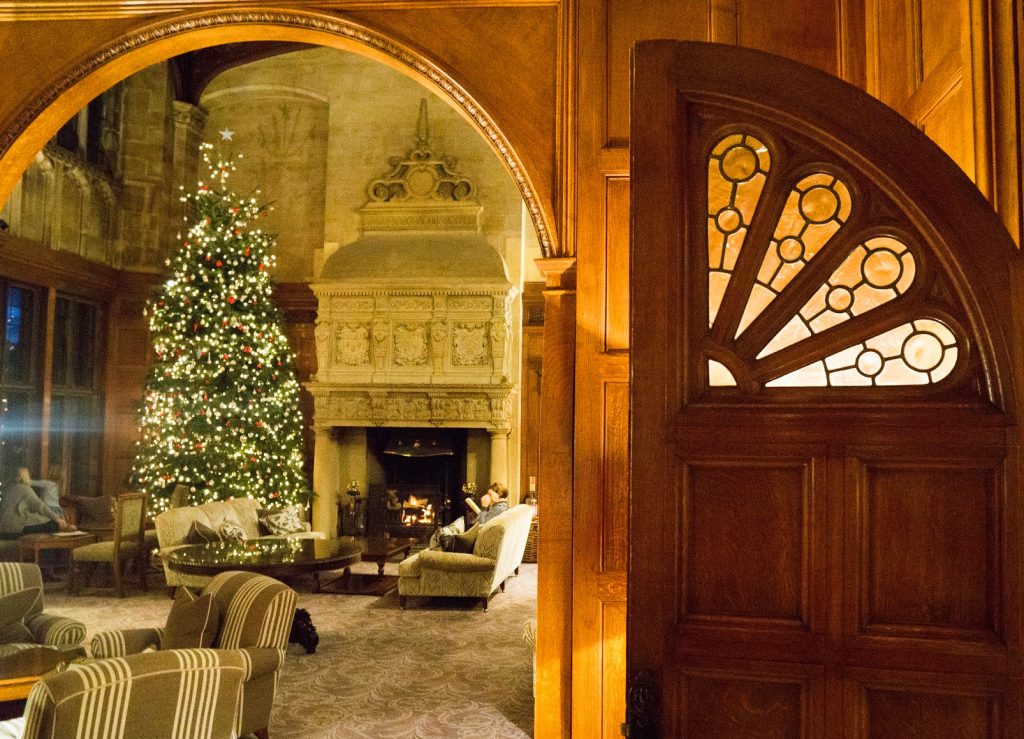 Bovey Castle
The elegant Bovey Castle is the ideal setting for a luxury Christmas break. This gorgeous family-friendly country house becomes a superb festive hideaway in the winter, inviting guests to relax in cozy armchairs while admiring superb Christmas trees and decorations and nibbling on walnuts and oranges. The grand Bovey Castle awaits in Dartmoor National Park and is now a luxury hotel that pampers its guests with gorgeous rooms, fine dining, and entertaining outdoor activities. The granite castle dates back to the 20th century when it was built for WH Smith, and despite being relatively young, it creates a melancholic atmosphere ideal for a Christmas stay.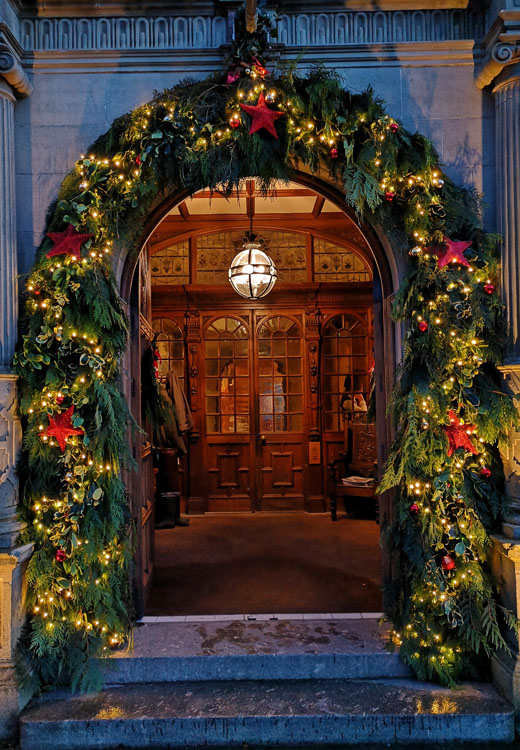 The castle is adorned with breathtaking mahogany staircases, oak paneling, and gorgeous stone fireplaces that combined with its lush fabrics and shimmering wallpapers create a glamorous, yet comfortable décor. When the Christmas season arrives in town, the castle puts on its most glittering and sophisticated clothes, inviting guests to relax and have fun in a luxurious setting. While kids get to visit a falconry school and pamper their taste buds with sweet Christmas treats, adults can relax at the spa. Despite the castle's upscale charm, there's nothing pretentious about the hotel. The staff is friendly and chatty, and the hotel welcomes with open arms lords and ladies, children and dogs. The three-night Christmas break includes accommodation, meals, festive entertainment, and plenty of fun activities.
Highlights: Festive afternoon tea, Dip'n'Dine Spa experience, Bovey Ranger activities, meeting Father Christmas, guided walks, golf tournament
When: 24th December – 27th December
If you liked this article you may also like this article too: https://www.purevacations.com/christmas-in-the-cotswolds/