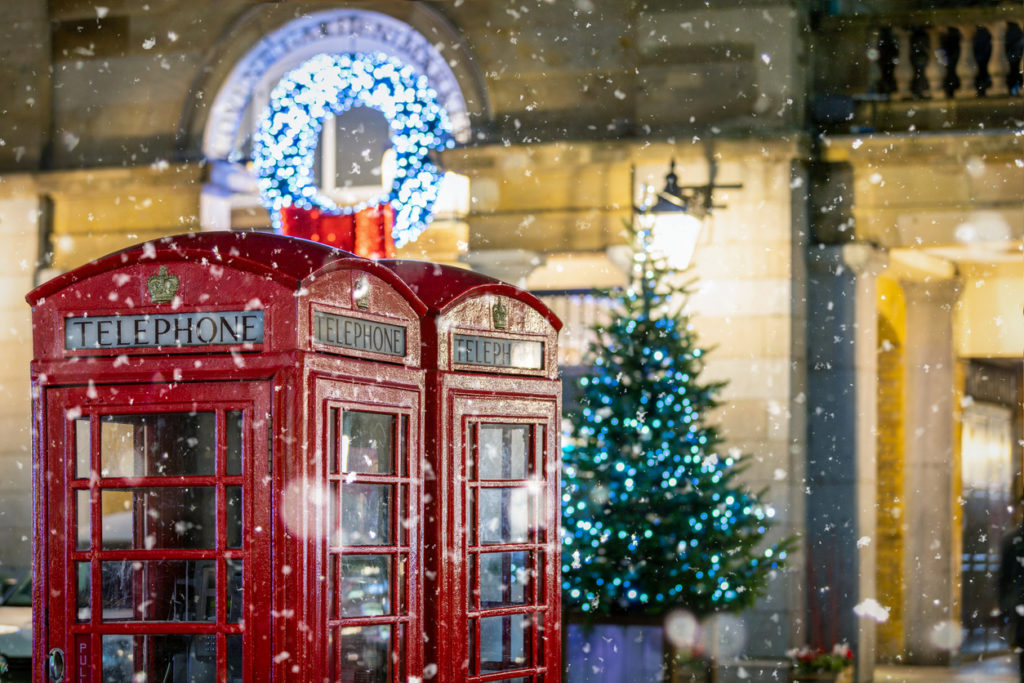 London is beautiful, crowded, noisy, vibrant, and sleepless! It's an authentic metropolis where people are always on the run, and there's always something happening. However, when the festive season arrives in the city, London sheds its contemporary clothes and puts on one of the most glittering and gorgeous Christmas attires in the world. Times seems to run slower and its main boulevards are invaded by fabulous Christmas lights, while the department stores' windows try to keep up with the Christmas frenzy and compete for the best festive decorations.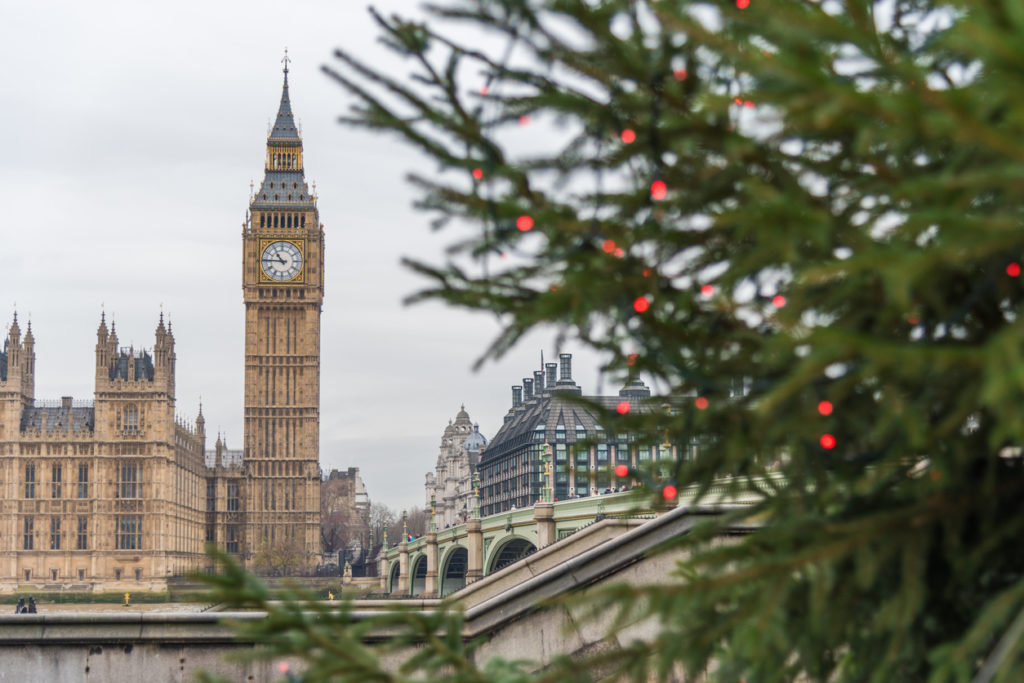 There are Christmas markets dotted all around the city, charming pubs create a cozy and festive ambiance, the grand hotels light up their fireplaces, and superb Christmas trees can be admired at the windows of lovely Georgian townhouses. You'll suddenly feel like a character in A Christmas Carol! If you're visiting London at Christmas time, make sure you add these activities to your itinerary: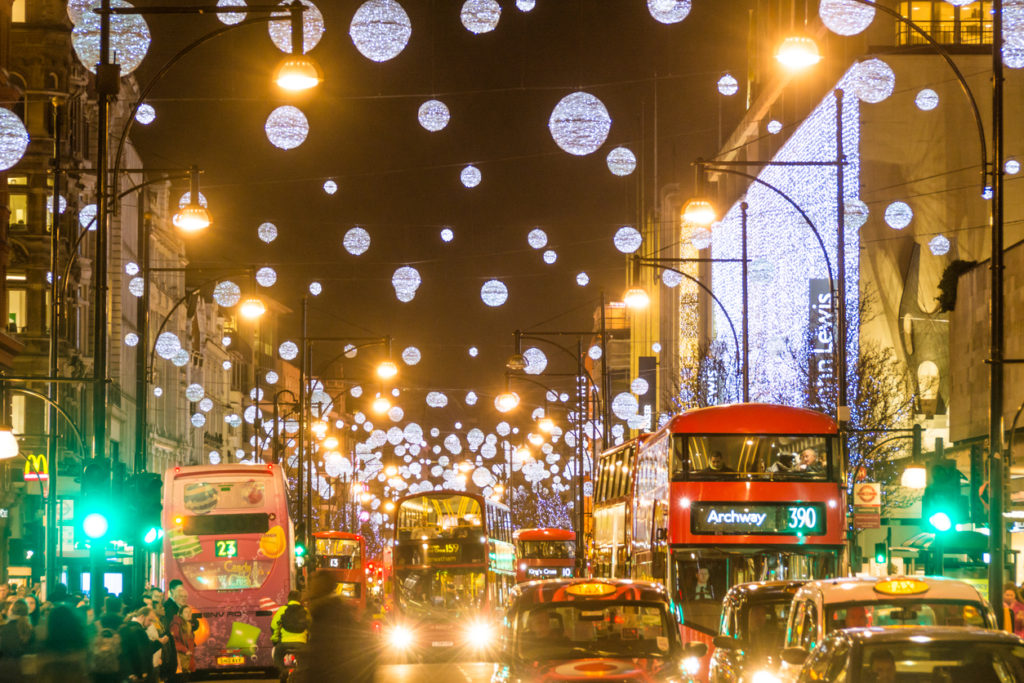 See the Christmas lights and decorations
Stroll along Oxford Street to admire the most bright and beautiful lights in the city and soak up the Christmas atmosphere. After walking up and down the street several times to make sure you capture at least one thousands of photos of these gorgeous Christmas lights, you can continue your festive itinerary with a stop at the Winter Wonderland at Hyde Park or another walk, this time along Regent's Street. For more festive lights visit Covent Garden, Bond Street, and Carnaby Street, and explore the chic and romantic covered markets around Piccadilly Circus.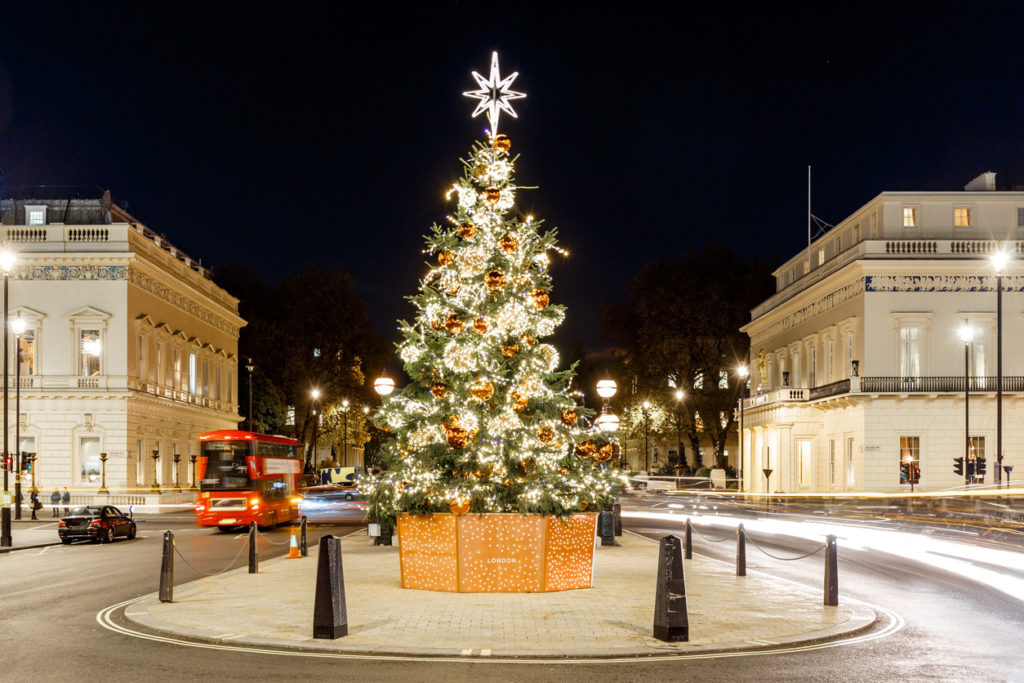 Be in awe with the Christmas tree at Trafalgar Square
The majestic Christmas tree that reigns supreme at Trafalgar Square during the month of December can't accept anything else than admiration and awe. An annual gift received from Norway, this tree is one of the most famous Christmas trees in the world and a true symbol of London's festive season. Daily carolers often gather under the tree to enliven the square with their Christmas songs and joyful appearance. However, this is not the only fabulous Christmas tree in town. Covent Garden and St Pancras International too have magnificent trees!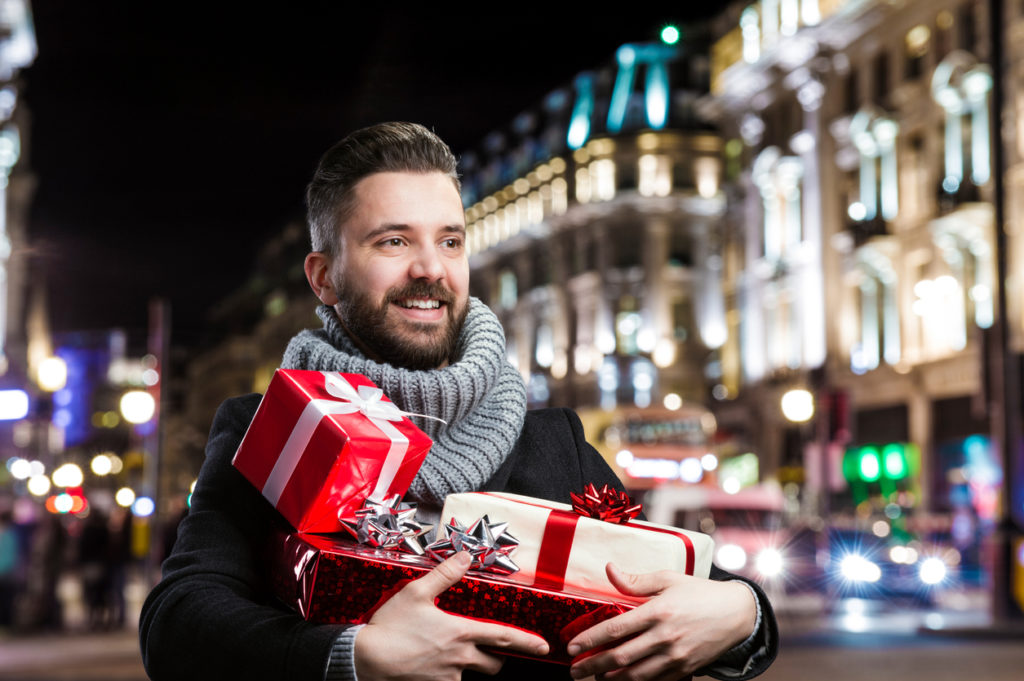 Ice skate at Somerset House
When winter comes, London becomes a playground for ice skaters who enjoy spending their time dancing on the rinks opened at the Canary Wharf, London Eye, Hyde Park, Natural History Museum, and Somerset House. A gorgeous backdrop for ice skating though is undoubtedly the superb Somerset House, whose 18th-century courtyard metamorphosis into a frozen realm. While you're here, you can buy some gifts from the Fortnum & Mason pop-up or have dinner at the Michelin-starred restaurant Spring. In the area, you'll also find the best bar in the world – the American Bar.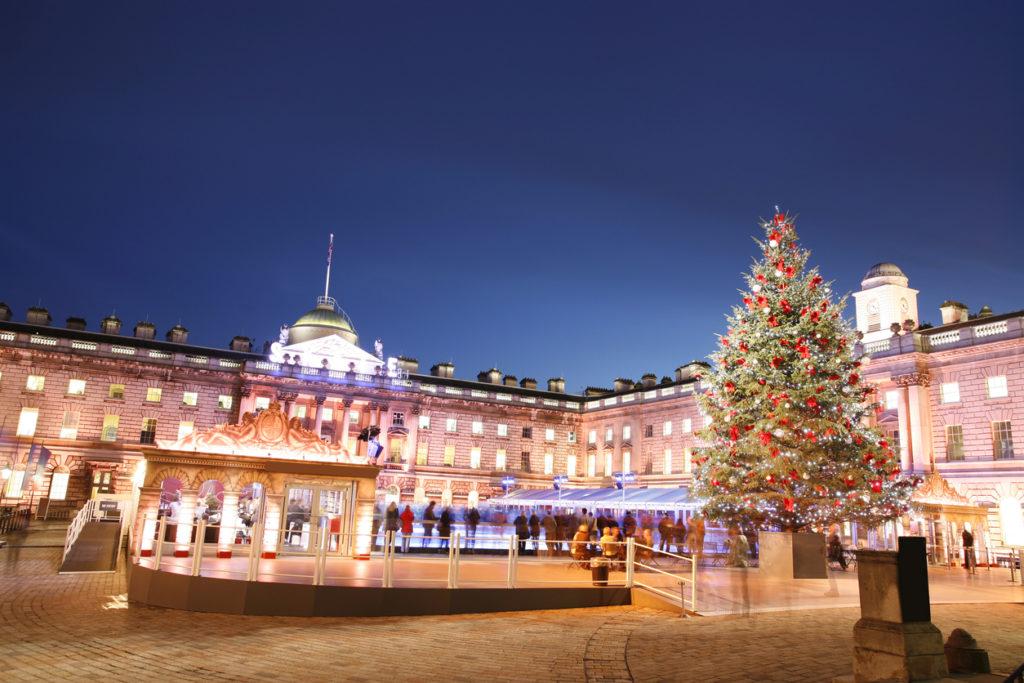 Embrace the Christmas market cornucopia
Even though London is not often included in any top 5 Christmas markets in Europe, this doesn't mean you won't discover a true Christmas extravaganza at the many wooden stalls along the way. Some of the best Christmas markets in London are the Hyde Park Winter Wonderland, Covent Garden Market, Southbank Center Christmas Market, and Tate Modern Christmas market. Winter Wonderland is probably the loveliest Christmas market in London welcoming visitors with fun Christmas rides and fairground games, mulled wine, and delicious culinary treats.
Do some Christmas shopping
The Christmas markets, fairs, and festivals abound in a variety of enchanting handmade products, while the department stores lure visitors with upscale presents. Whether you choose to do your Christmas shopping from English artisans, at pretty bookstores, or you prefer to buy luxury presents from Selfridge's or Harrods, your friends and family will be enchanted with your London trip.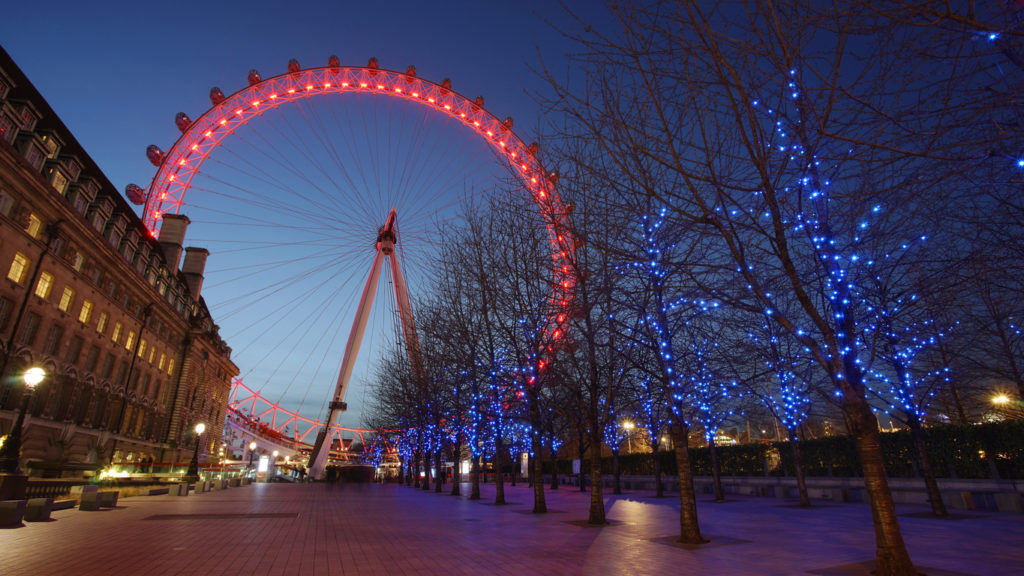 Attend Christmas events
Every year comes with a variety of new Christmas events meant to keep everybody happy and entertained. This year invites Christmas lovers to become spectators at many Christmas movies, visit the Enchanted Eltham Palace, a superb winter lights trail accompanied by mulled wine and mince pie, and discover Winterville at Clapham Common, where they'll find a funfair, roller disco, street food stalls, and even crazy golf. Kids are expected at Santa's Grotto where Santa is going to listen to their Christmas wishes. For a truly whimsical experience, don't miss a walk along the light trail at the Kew Gardens, where you'll also find Victorian funfair rides.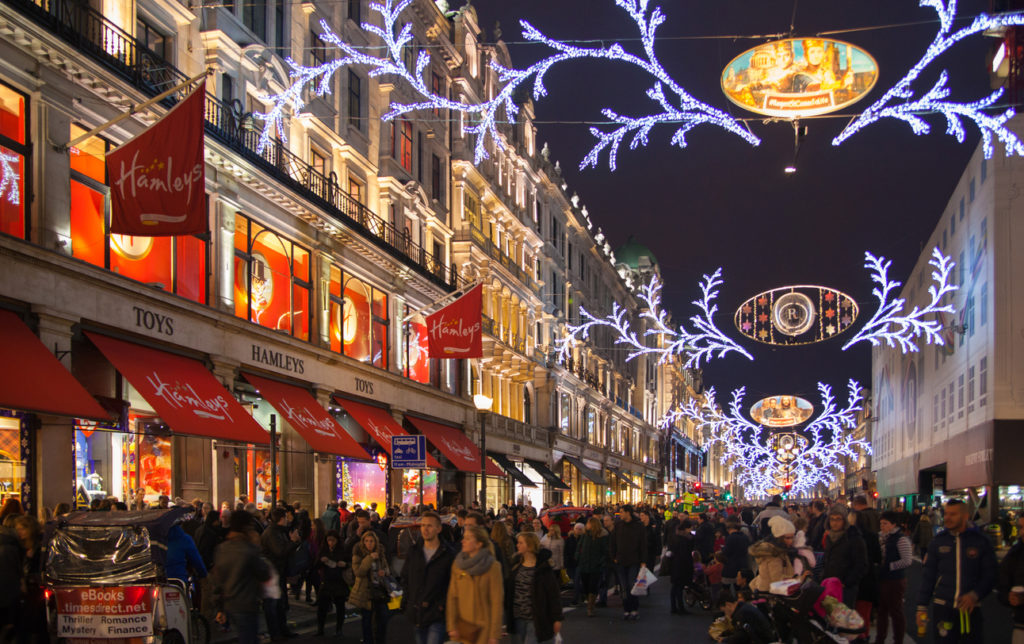 Eat and drink to your heart's content
It's Christmas time and the best time to indulge in everything your taste buds long for. The best places to go for a unique culinary experience are the pop-up winter igloos along the Thames River, especially the Coppa Club igloos. If you're up for a drinking challenge (with moderation!), check out the 12 Days of Christmas pub crawl.
If you liked this article you may also enjoy: https://www.purevacations.com/christmas-in-the-cotswolds/