It's common knowledge that Fiji is renowned for its breathtaking beaches that seem to have been Photoshopped by gods and strategically placed into our humble reality. However, there is a secret, amazing adventure that awaits in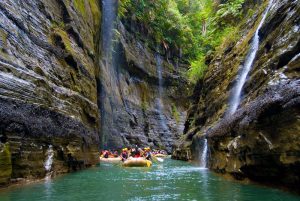 this beautiful country and, surprisingly, it's not related to beaches, palm trees, coconut cocktails or being lazy in a sun lounge. On the contrary, it implies effort, adrenaline and a passion for unknown!
A river trip in Fiji is not among the most common activities planned by tourists, but those who want to break patterns and enjoy outdoor adventures are the first to sign up for a river trip in this amazing country that shelters secret rainforest highlands, mesmerizing gorges of green and crystalline, whirling waters. Not many know about them and this is a good thing! These places are serene and pristine, remote and fascinating!
It doesn't matter if you're a veteran or a novice when it comes to river rafting and kayaking. You will find the perfect adventure that will take your adrenaline to the exact level your heart desires. When I booked my trip on the Upper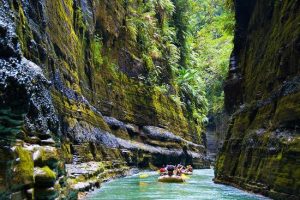 Navua River, I didn't know what to expect. None of my friends had ever been there, so we were all excited to discover the highlands of Viti Levu and paddle on the Upper Navua River. However, one thing was sure! I wasn't expecting to discover the 18-mile long tropical version of the Grand Canyon!
It was an absolutely fabulous and memorable experience, and I felt, once again, the greatness of nature and discovered its never-ending beauty. The day started quietly, when the driver came and picked us up from our hotel. We then traveled through the breathtaking, secret rainforest of Fiji and eventually stopped in Nabukelevu Village.
After receiving our life jackets, paddles and, of course, helmets, we did a short hike and arrived at the starting point of our rafting adventure. And from there, a surreal journey began, an adventure that took us in a land where humans have no place to be, but they are tolerated, and nature reigns.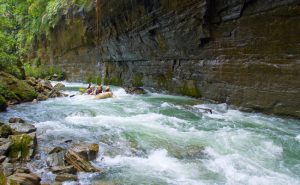 Guarded by lush rainforest, the Upper Navua River has wonderful surprises for its visitors. It welcomes them with superb waterfalls (and I'm not talking about one or two, but about seventy or so), virgin oasis of greenery and challenging rapids.
The journey took us through many kilometers long deep, narrow canyons and numerous side canyons that simply took our breath away and made us feel small and really unimportant. They were imposing and majestic, nature's works of art that are now imprinted in my memory and will always remind me of this amazing adventure.
I was also impressed with the black volcanic walls that showed up unannounced from time to time, huge creatures measuring over forty meters in altitude, which were framed by the always surprising emerald rainforest.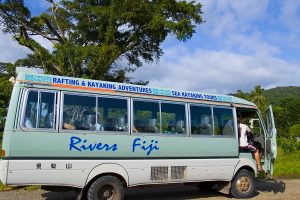 The soundtrack of my adventure was a mix put together by birds, especially parrots and fruit bats, and the loud beating of my heart, excited not only with the fast rapids that were playing with us, but also with the immense beauty that surround me, in a world so far away from my universe.
The journey ended with our arrival at Wainadiro Village and then our transfer to the hotel. However, the excitement continued long after I arrived at the hotel, reliving the experience over and over, and applauding my decision to step away from the irresistible beaches in Fiji and into the unknown, mysterious rainforest, on mystical waters and in a spectacular canyon.