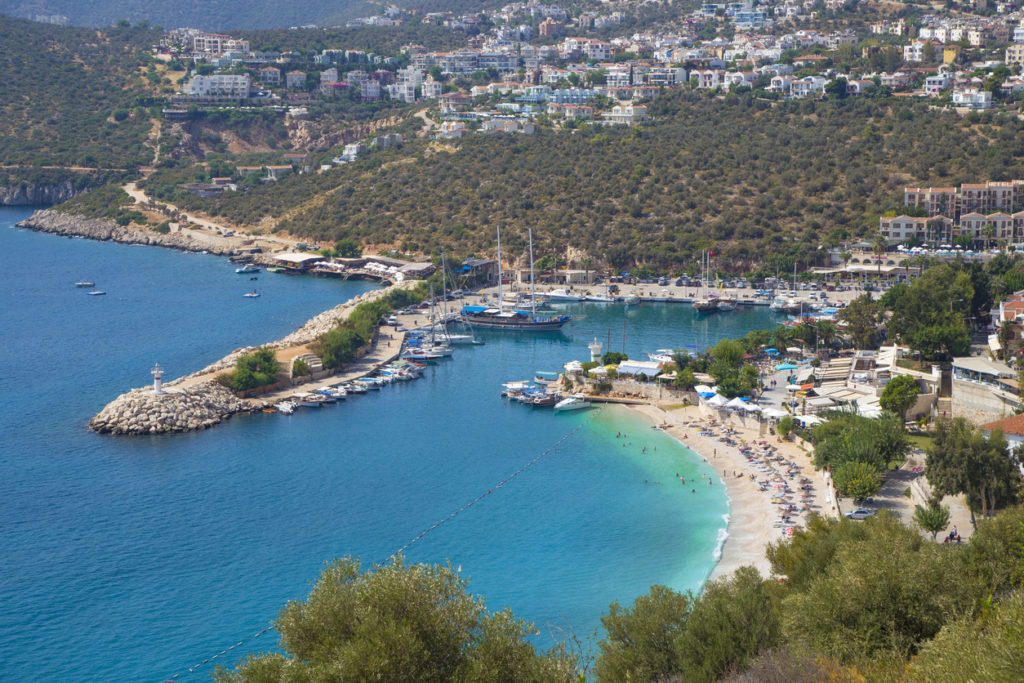 Mediterranean to the core, enchanting and traditional, the beautiful resort towns of Kas and Kalkan await visitors on the southern tip of the Lycian peninsula. Adorned with whitewashed houses, labyrinthine streets, and pink bougainvillea flowers, and fringed by pretty beaches and harbors, Kas and Kalkan are postcard-perfect villages that create an idyllic setting for relaxing and fun holidays.
Although they're situated on Turkey's Turquoise Coast, you won't have to walk too far to notice the Greek architecture of some of the older properties, beautifully illustrated through wooden shutters and large terraces. Both Kas and Kalkan have once been Greek villages and have brought much of their traditional Greek beauty and ambiance into the present.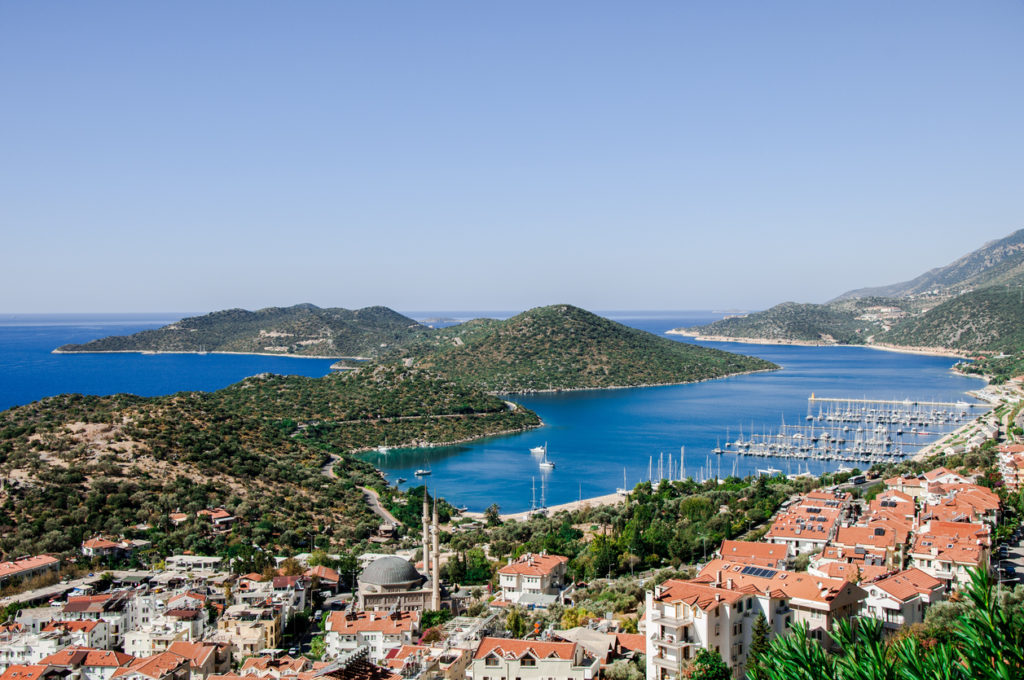 Kas
With houses dressed up in bougainvillea flowers, framed by the sea, mountains, and forests, and crossed by narrow cobbled streets, Kas is unbearably charming and incredibly lovely. Exuding a Mediterranean atmosphere from all its pores and dotted with pretty cafes, traditional restaurants, and intriguing ancient sites, this superb resort town is the ideal destination for sunbathers who prefer to spend their days in the sun, away from the hustle of big summer resorts.
Kas is peaceful and relaxing without being dull or quiet. It has its slow-paced Mediterranean lifestyle, but the ambiance is enlivened by the happy murmur of tourists sipping their coffees in the cafes and tea-gardens and the fishing boats and yachts coming and going. However, don't expect a lively nightlife and high-rise hotels. Kas is an unspoiled Mediterranean gem that makes up for its lack of bars and clubs with authentic charm and raw beauty.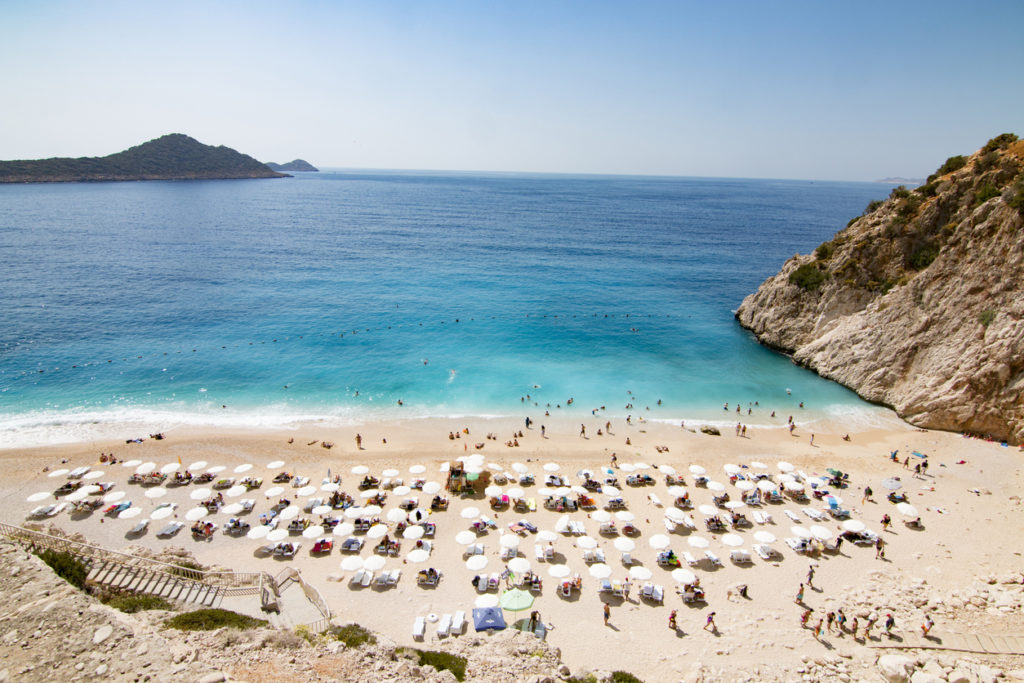 Accommodation is plentiful in Kas, ideal for travelers who prefer to stay in guesthouses, villas, and chic little hotels. An important agricultural region, the resort attracts tourists with restaurants that serve food made with fresh and seasonal ingredients, and the menus abound in fish and seafood brought in daily by local anglers. Kas is a destination for tourists who love to spend their holiday far from the summer frenzy, sunbathing on a little beach or hiking on picturesque trails. Other fun activities in Kas include canyoning, mountain biking and scuba diving.
Although the resort itself doesn't have any beaches, except for a small pebble cove, you'll find plenty of ribbons of sand in the neighboring villages. The settlement of Patara situated nearby is home to a gorgeous and giant sand beach that stretches along 20 km of coastline and has a width of no less than 1500 meters in some parts. A natural park, Patara has often found itself on the list with the best beaches in the world, so you won't regret paying the small entrance fee to have access to this corner of paradise. If you're lucky enough, you may even spot giant loggerhead turtles.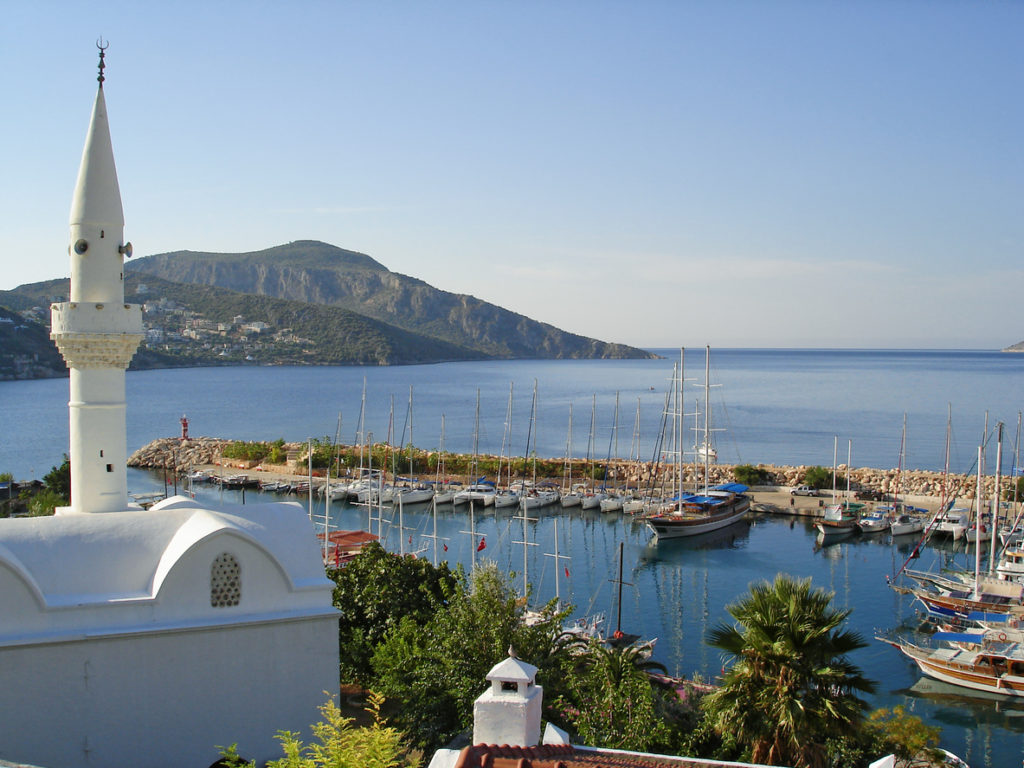 Kalkan
More vibrant and developed than its neighbor Kas, Kalkan is a sophisticated summer resort that boasts a splendid marina. The promenade along the harbor is lined with smart cafes and restaurants, as well as boutique shops and villas. Just a stone throw away from the marina, you'll discover resort hotels ready to pamper guests with modern amenities, sea-view rooms, and wellness centers.
However, don't think that because of the recent real estate developments, the town has lost its traditional charm. While the building and developing takes place up in the hills, the old town has remained untouched by contemporaneity, and its narrow alleyways continue to be adorned with whitewashed houses and fishermen's cottages. A walk along its cobblestone streets unveils a quaint town that tells stories about its Greek past and invites you to discover its Turkish present.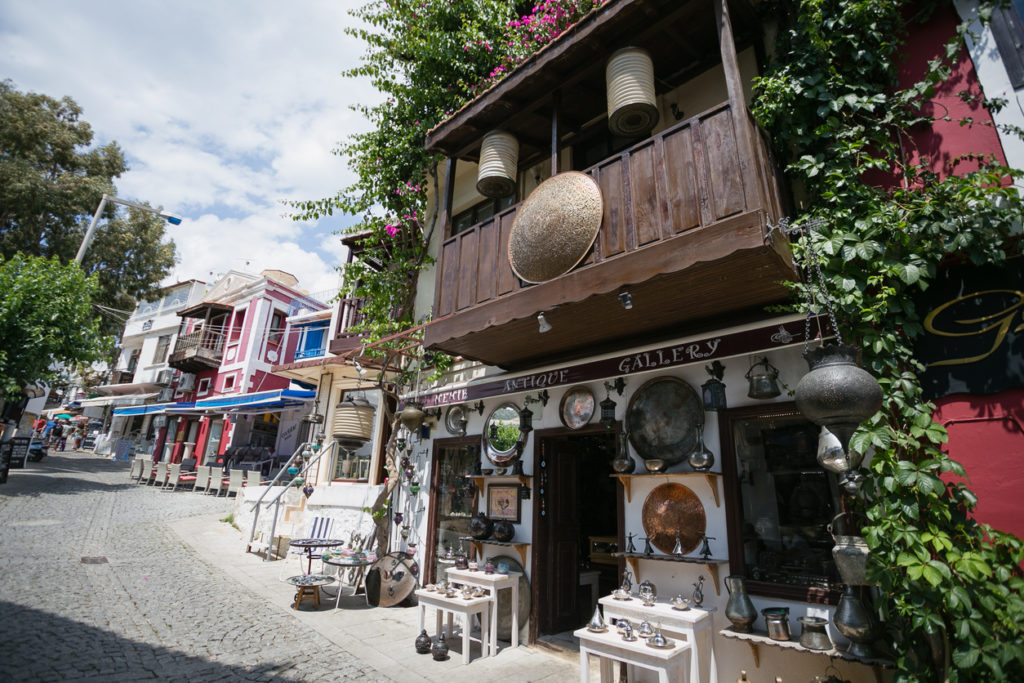 Kalkan Town Beach is the resort's main beach that prides itself with a Blue Flag for cleanliness. This pebbly beach is situated to the east of Kalkan's harbor and attracts visitors with its crystalline waters, lovely surroundings, and abundance of cafes. Close by awaits the Kaputas beach renowned due to its outstanding beauty and turquoise waters. The beach is a superb stretch of sand framed by high cliffs, ideal for snorkeling and swimming.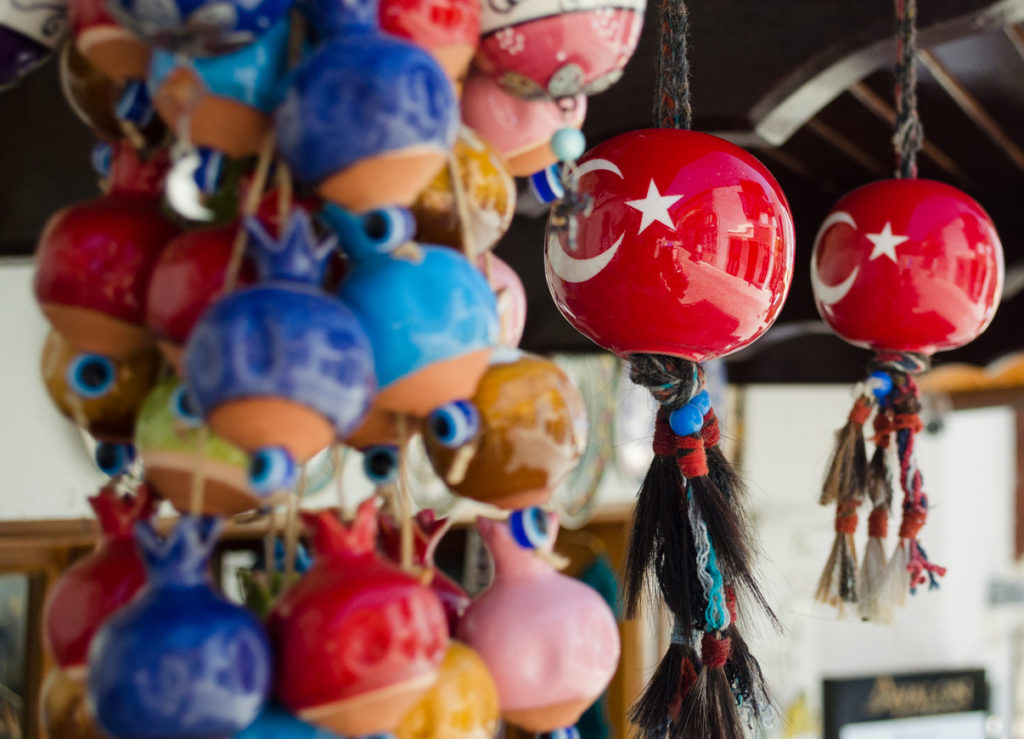 From both Kas and Kalkan, travelers can plan day trips to fabulous attractions like Saklikent Gorge, the second largest gorge on the continent. The canyon is situated about one hour from Kalkan and measures 20 km in length. Impressive due to its steep walls looking down on mortals, the gorge is open from spring till autumn. In and around the gorge, you'll find cozy little restaurants that invite guests to sit on Turkish rugs and enjoy a refreshing beer or a cup of coffee.
If you want to extend your trip in the area, drive for about four more km from Saklikent, and you'll encounter the magnificent ancient city of Tlos, one of the oldest settlements in Lycia. The site houses the ruins of a 2,500-seat stadium, as well as bathhouses, a gymnasium, Lycian sarcophagi and tombs.
If you enjoyed this article you might also enjoy reading: https://www.purevacations.com/beach-trip-to-montenegro/