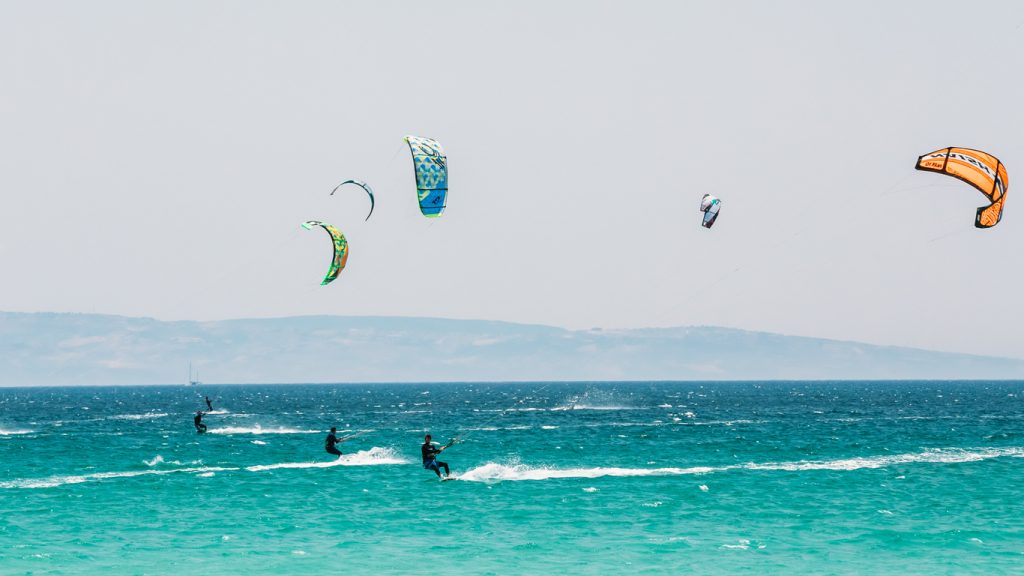 Kite surfing is addictive and those who have caught the bug can never return to a world without this rush. It's hard to find the perfect destination for kite surfing but this only means the search never ends and the adventure continues in fabulous places all over the world. If you're looking for new spots to test your kite surfing skills, here are the top 5 kite surfing destinations that perfectly combine strong winds, silky smooth waters, picturesque settings, and sensational beaches.
Tarifa, Spain
Often on the itinerary of those passionate about this sport, Tarifa is a true mecca for kite surfers in Europe. Blessed with 300 days of wind and sun per year, Tarifa checks all the musts for a memorable kite surfing experience. The area can get crowded but there are so many beaches to try your luck and find the perfect spot just for you that this never holds anyone back. Among the most popular beaches are Los Lances and Valdevaqueros. The Strait of Gibraltar designs an impeccable wind tunnel to summon the Levante, a rather strong wind, especially between July and October. Known as Europe's wind capital, Tarifa is an ideal kite surfing destination for both beginners and experienced riders. Moreover, since this is Spain, expect to find superb Mediterranean food and a vibrant nightlife too.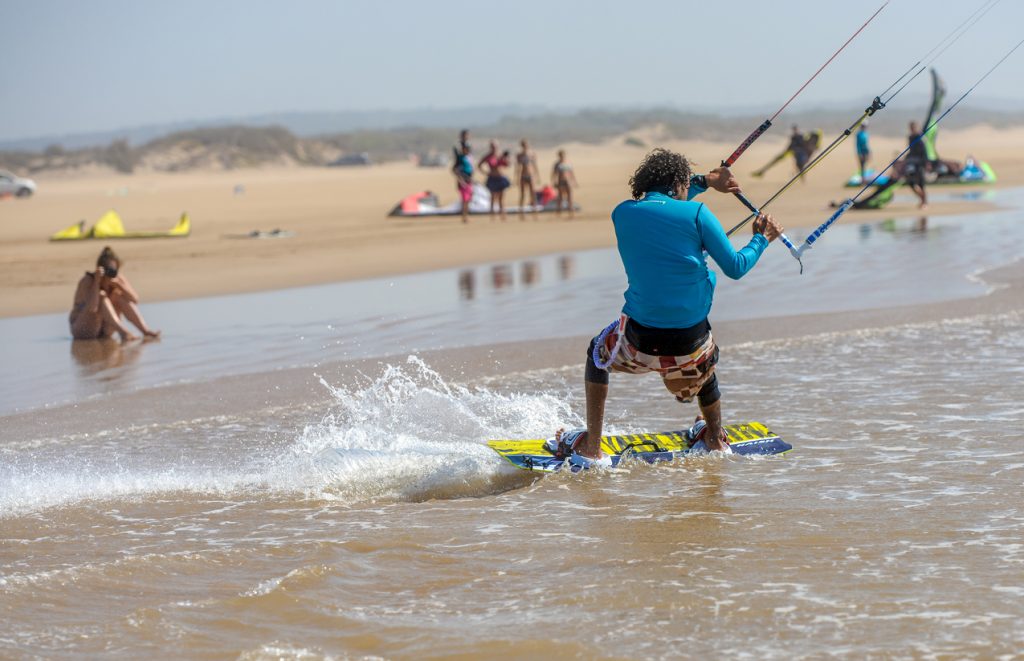 Essaouira, Morocco
Morocco surprises travelers with world-class kitesurfing. A vibrant fishing harbor situated on the Atlantic Coast of Central Morocco, Essaouira is not only one of the best kite surfing destinations on the planet but also a charming, well-developed town. The small island of Mogador protects the bay from strong winds but this doesn't stop rogue waves to find their way through. The friendly flats are the best place for beginners that come here to take part in some of the best kitesurfing camps in the world. Many of them try kitesurfing for the first time on the friendly beaches at Sidi Kaouki and Imessouane, situated outside of town. Those who are already masters of the waves should visit in July when the wind can hit 40 knots. Essaouira is the ideal spot to enrich your kite surfing adventure with a cultural experience.
Maui, Hawaii
The place where it all started, Maui has made kite surfing famous worldwide. In the late 1990s, kiting pioneers introduced the sport to the world and, since then, their passion conquered the hearts of many. Since the wind is constantly showing its preference for this tropical paradise, kite surfing can be practiced all year round. Beginners can learn tricks at Action Sports Maui, while the advanced are expected especially between March and April and October and November when the waves are at their best. Kite Beach is a favorite kite surfing spot, a lovely beach with clean, warm water, and consistent winds, as well as numerous world-class instructors. Kite surfing starts after 11 am in Maui but this only means you'll have plenty of time to try some surfing or paddleboarding.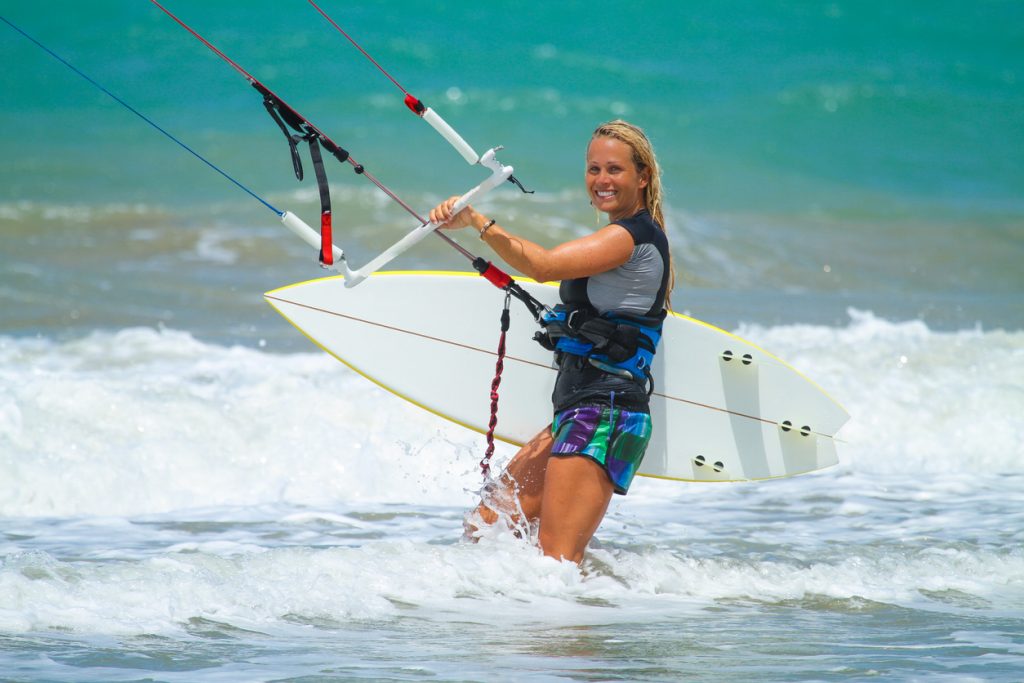 Cabarete, Dominican Republic
Home to the longest and windiest beach in the Dominican Republic, Cabarete never disappoints riders. Enjoying strong trade winds and perfectly calm waters all year, Cabarete might get crowded but the experience is so wonderful that no one cares. Kite surfing is mainly practiced on Cabarete Kite Beach and Cabarete Bay. Beginners should try their skills before the wind picks up around 11:00 am and stay close to shore, especially at Cabarete Kite Beach. Those who want to test their limits should venture offshore where the reef creates beautiful breaking waves. If the wind is a no-show in some days, you can always redirection your appetite for adventure to mountain biking, canyoning, dirt biking or caving.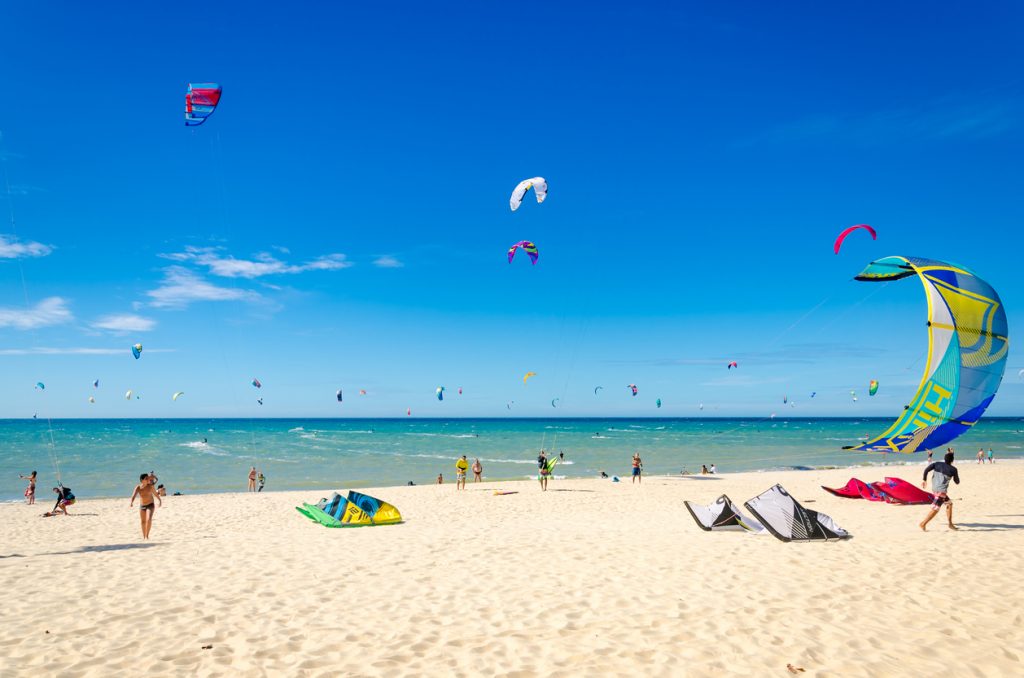 Cumbuco, Brazil
The beaches in Cumbuco are often a training spot for kite boarding pros and this says a lot about the destination. Situated in northeast Brazil, Cumbuco is a Brazilian fishing village gifted with a 6-kilometer long strip of sand. The region gets consistent cross-shore trade winds and plenty of sunshine to make everyone happy regardless when they decide to show up. Cumbuco is favored by kite surfing experts who rush to catch the breaking waves further offshore. Beginners will easily find their spot too, especially since the beach has a shallow and flat-water lagoon right next to shore. Cauipe Lagoon is the most famous kite surfing destination in the region, with the south attracting beginners and the north challenging the experts. It can get quite crowded, so it's best to kite in the early morning or late afternoon to be the only one who harnesses the power of wind for spectacular rides. The village itself is dynamic and fun being situated only 40 minutes away from Fortaleza.