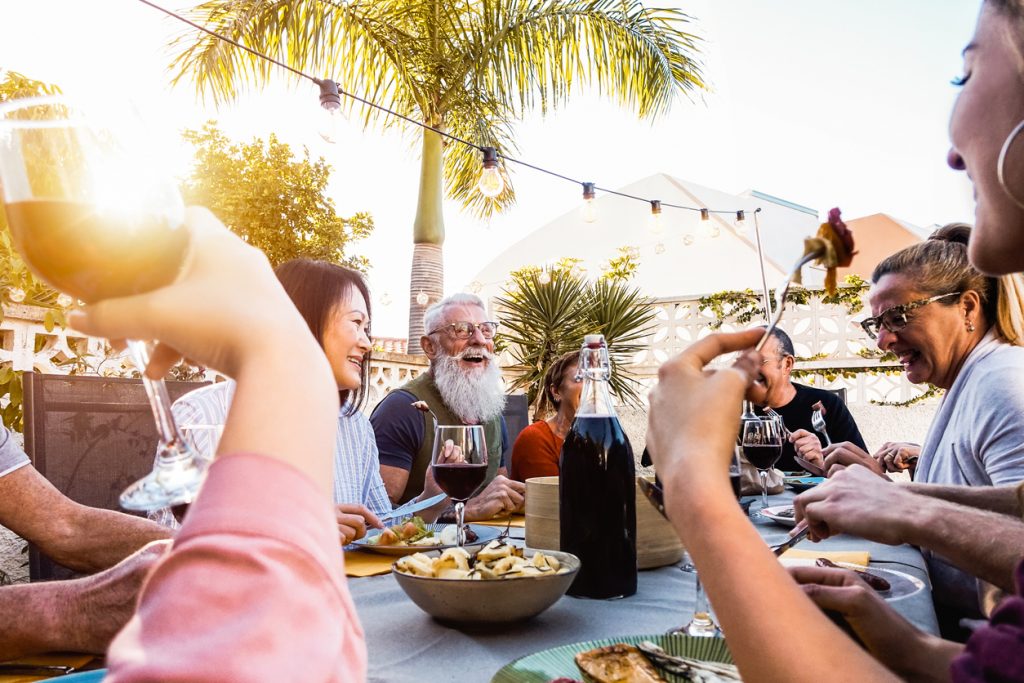 No travel experience is ever complete without trying the local food. Here we have made a list of the Top 5 Food Dishes of Spain. The most popular food dishes tell stories about the country's culture and way of life, as well as about the nation's past, passions, and character. For a traveler, food is often more than what they see on a plate. It has its own language and it can tell many stories in just one bite.
Spain loves food! You will see that every time you walk into a restaurant or a bar and along with your beer or wine order comes a plate of tapas…from the house! There is no drinking on an empty stomach in Spain and no one ever says no to these little culinary surprises. Each region has its own staples and favorite dishes. However, there is a certain consensus when it comes to the most popular food in Spain. Discover the top 5 food dishes of Spain and try them when you visit Spain. You will get a taste of the Spanish lifestyle.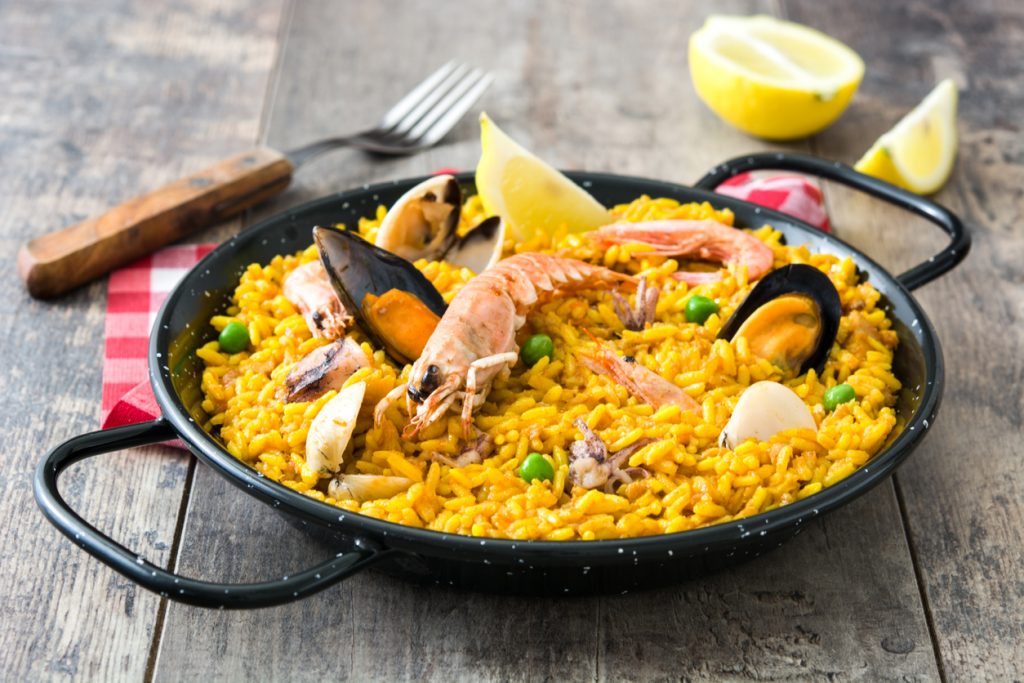 Paella
There is an unbreakable connection between Spain and paella. Almost every restaurant in Spain serves paella, a colorful rice dish made with chicken, seafood, or even rabbit. Originally a Valencian dish, paella has become the epitome of Spanish food.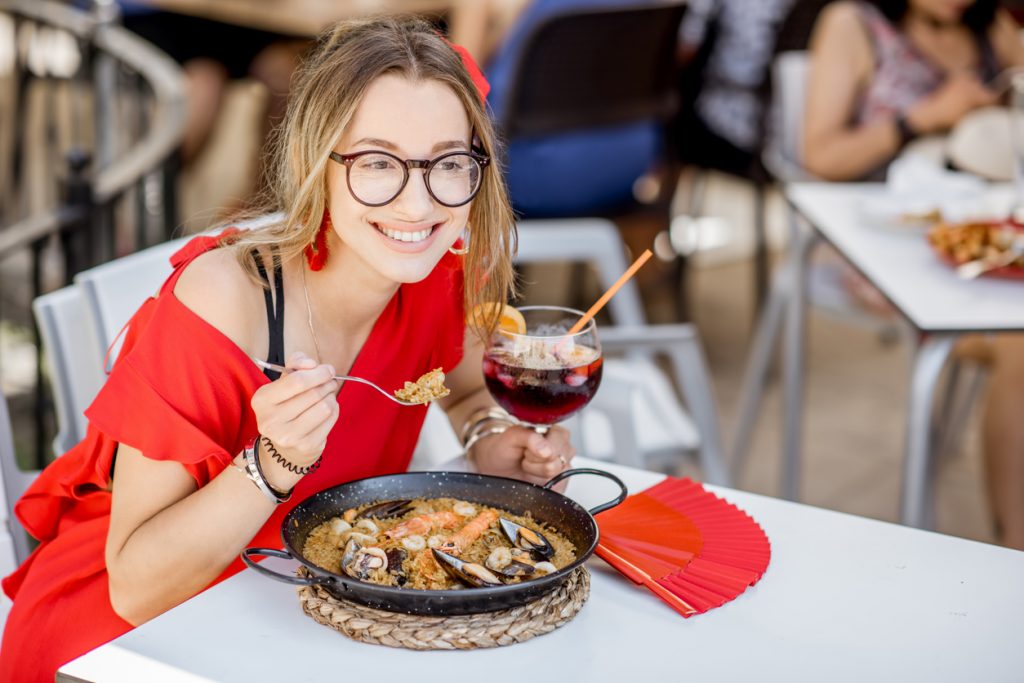 Travelers love their seafood paella served either from a street stand or in a fancy restaurant. Adorned with calamari, prawns or clams, steaming and delicious, paella is a hearty meal impossible to resist. You can even try black rice with octopus or with squid ink paella if you want to experience new flavors! This really should be top of your list of the Top 5 Food Dishes of Spain to enjoy.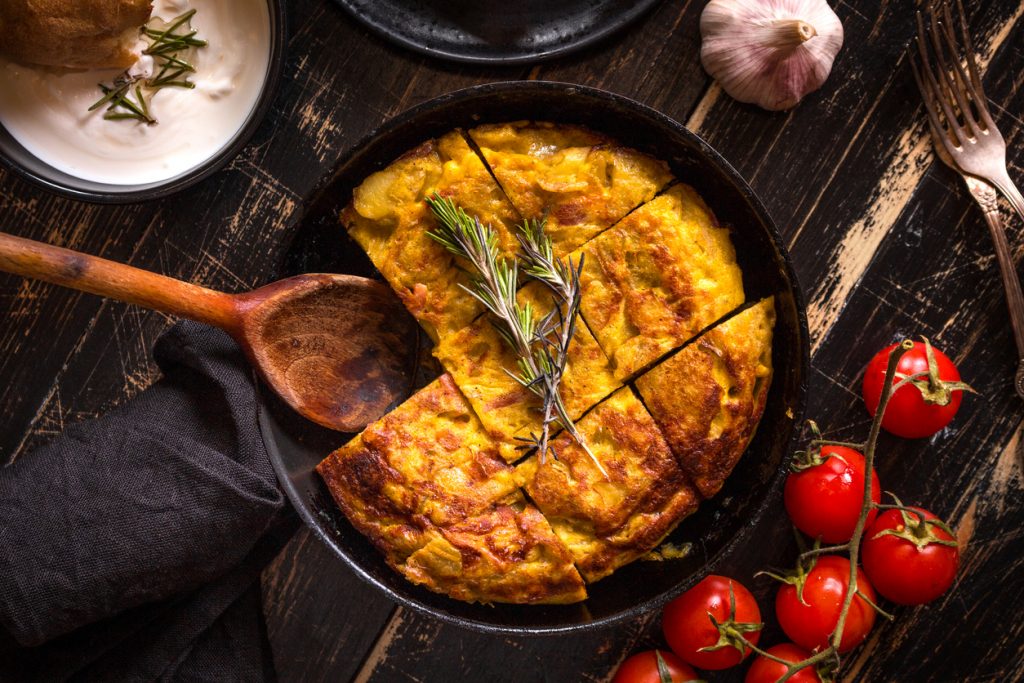 Tortilla de patatas
Tortilla de patatas is the breakfast of choice for many in Spain. A thick and delicious potato omelet, tortilla Española is usually served by the slice and eaten for breakfast or as a main dish. It's also a hearty snack or part of a sandwich made for kids or it can be served in small bite-sized pieces as a tapa. Every family has its own tortilla de patatas recipe but the main ingredients are potatoes, eggs, onion, and olive oil. However, this is just the starting point. You can also add chorizo, bacon, or spinach. The variations are infinite!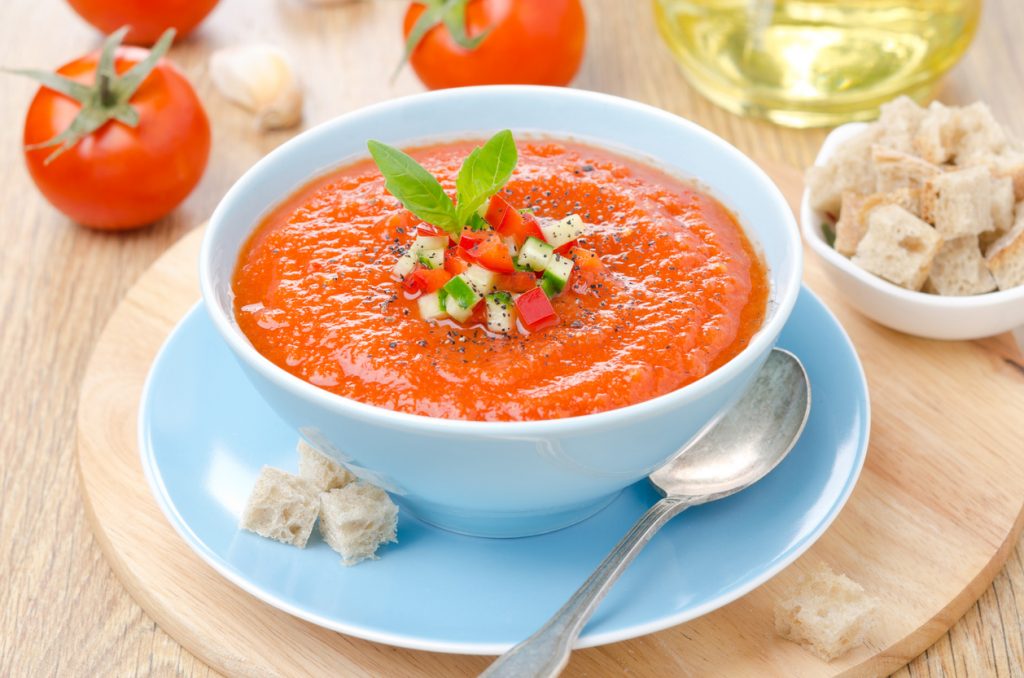 Gazpacho
Served usually cold, gazpacho is a tomato soup made from fresh tomatoes, cucumber, and red bell peppers. The recipe also includes garlic and olive oil, and the dish is best served with toasted bread. This refreshing soup is the perfect meal in a hot Spanish summer day and it can be eaten as an appetizer or a proper meal. It is usually served in a bowl but don't be surprised if it also comes in a glass. Either way, it is incredibly tasty!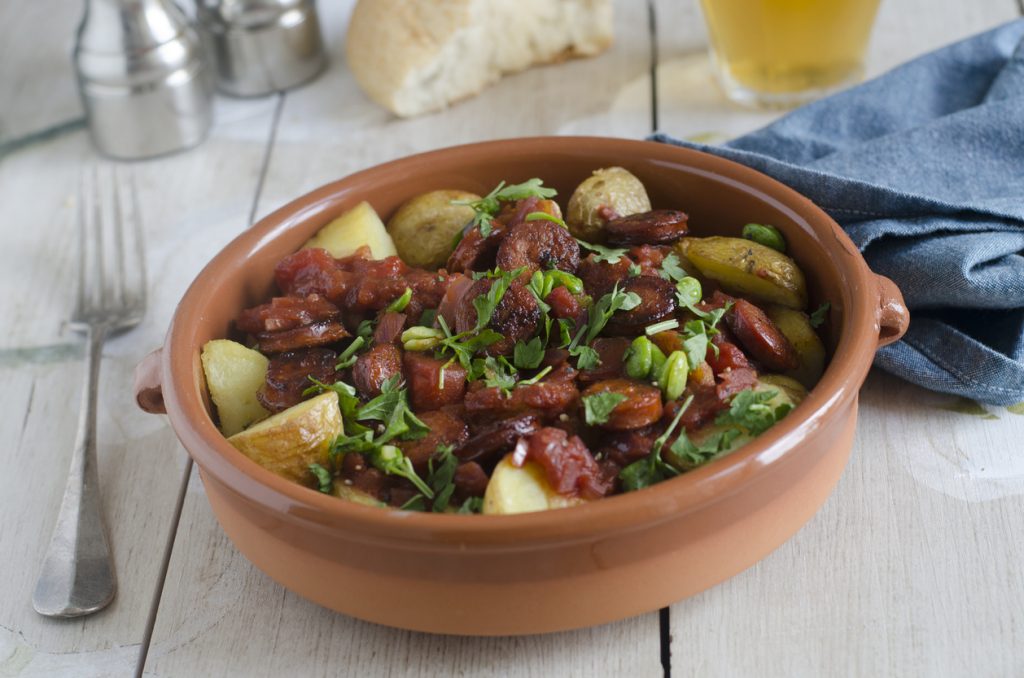 Patatas bravas
A prominent presence at any dinner party, patatas bravas is one of the most delicious tapas in Spain! Their version of chips, patatas bravas takes the form of cubed potatoes fried in olive oil. Usually served with a spicy red sauce, this snack is omnipresent in restaurants and bars across Spain, but it's a true superstar in Seville. As expected, this is just the basic recipe. The Spanish creativity has enriched the patatas bravas recipe with a variety of other ingredients, such as chorizo, fried fish, chicken, or creamy garlic sauce. A lovely dish to add to your Top 5 Food Dishes of Spain list?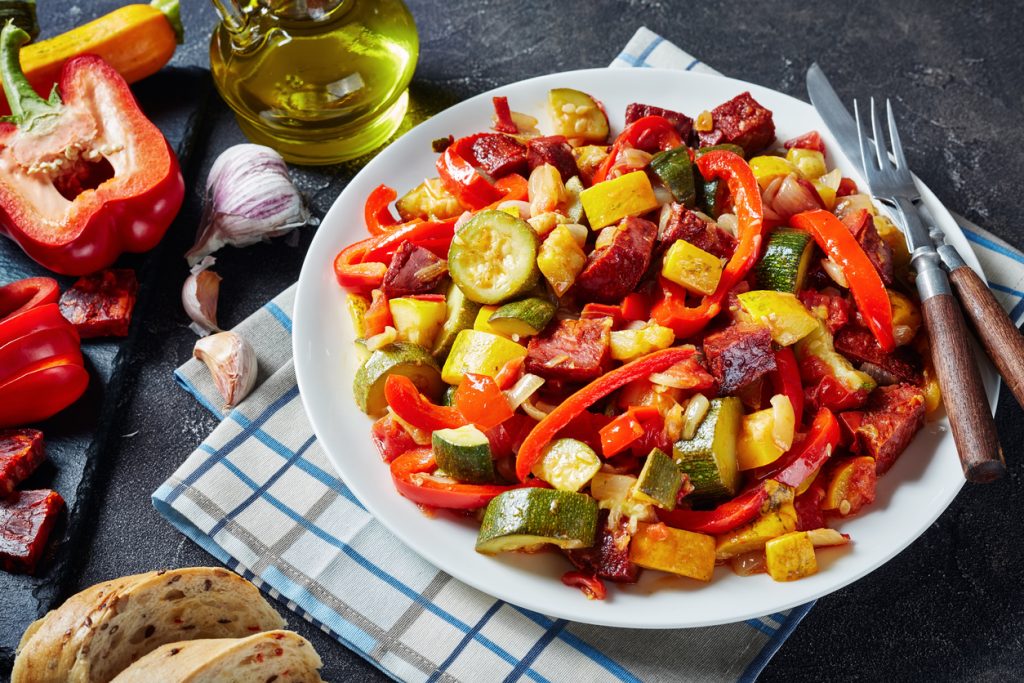 Pisto
Pisto may seem a close relative of the delicious French ratatouille but it has its own colorful personality and specific flavors. You will see an abundance of tomatoes, peppers, eggplant, and zucchini mixed with onions and garlic, all dancing slowly in a sea of olive oil. Originating from the plains of the La Mancha region, pisto is a flavorful dish often served as an appetizer or side dish, but it can also make for a consistent and healthy main course. Even though it seems like a simple recipe, it isn't!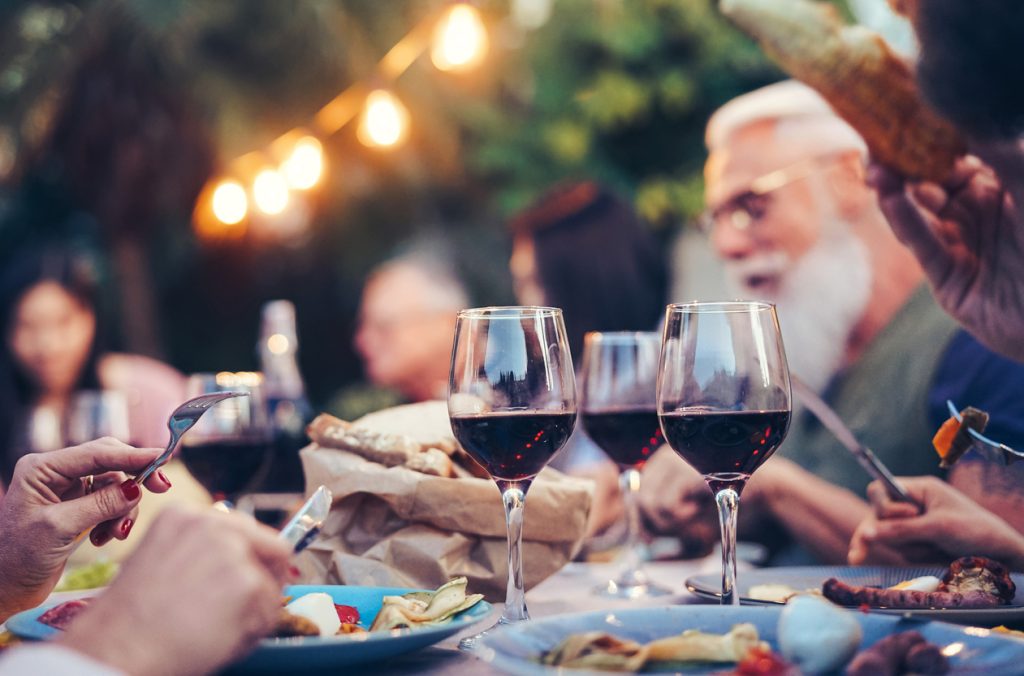 To make a superb pisto you need fresh ingredients of the highest quality and a touch of passion and experience. You can eat pisto with bread and, if you want to enjoy a touch of extra flavor, you can always add some chorizo to the recipe and accompany the feast with a glass of red wine.