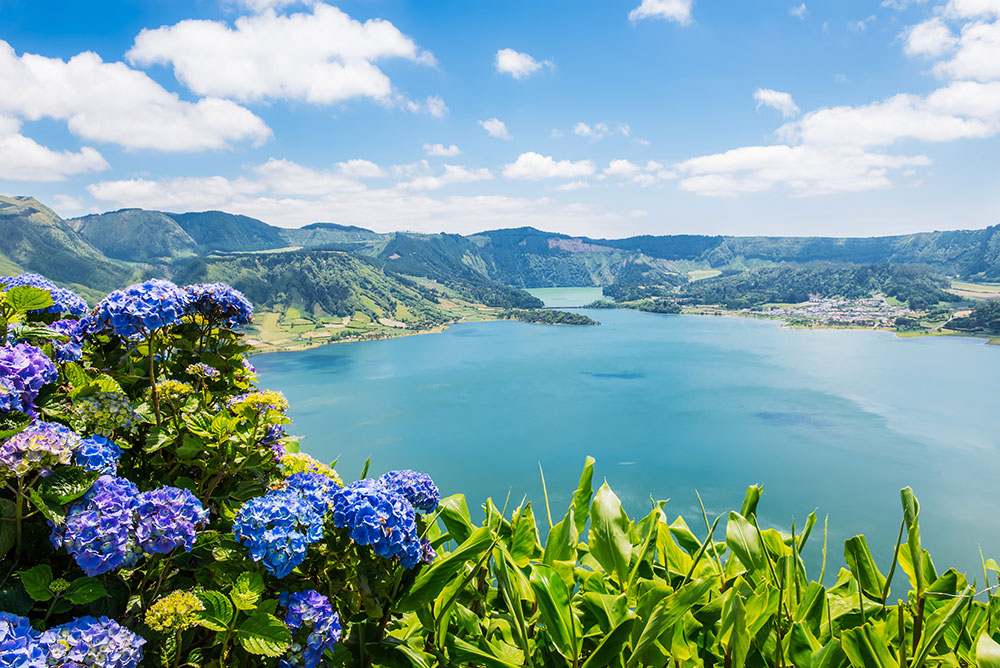 Europe has its own Hawaii and it's called the Azores. This remote Portuguese archipelago is a destination for those who love exotic islands, adventures, hiking, diving, sailing, and whale watching because, yes, Azores has them all! It also is a wonderful place for surfing and a variety of other watersports, as is a great destination for biking, horseback rides and discovering (very) active volcanoes and mud pots.
Dropped in the middle of the Atlantic, the Azores is a volcanic archipelago where the weather is unstable, Mother Nature pretty much runs the place, everybody baths in hot springs and it's always the perfect time for a cup of tea. No, the Azores is not a party destination but it definitely is a place of wonders.
The Azores are home to two UNESCO World Heritage sites – the vineyards of Pico and the old town of Andra do Heroismo on Terceira, as well to three UNESCO biospheres – Graciosa, Flores and Corvo. There are more than 30 Blue Flag beaches and only five per cent of the land is a built environment; the rest of the Azores is just nature in all its glory, protected areas, and marine reserves.
Recently, it's become easier and cheaper to get to the Azores, due to direct low-cost flights from London to São Miguel, the main island. There are actually three island groups that cover over 370 miles, with the most popular being the easterly cluster that includes São Miguel and Santa Maria. The tiny westerly group includes Flores and Corvo, while the central cluster is home to Terceira, Graciosa, São Jorge, Pico and Faial. If you decide to dedicate a few days to the central group, get ready for island-hopping on ferries and even internal flights. Your efforts will not be in vain. You will discover superb beaches, breathtaking vistas, ruins that were once dipped in lava, whales and dolphins, and delicious cuisine.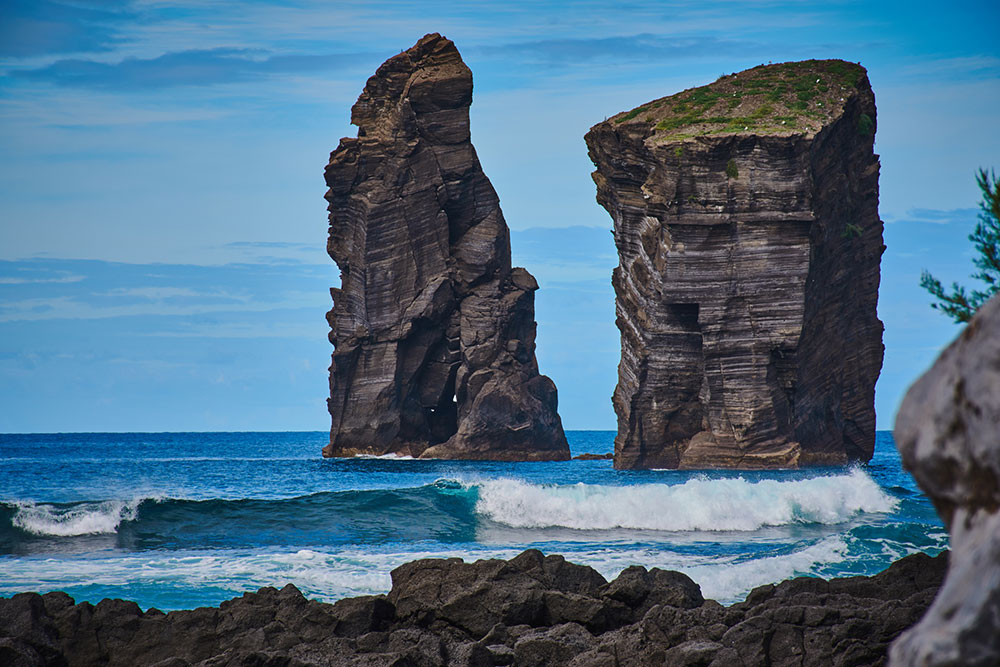 São Miguel and Santa Maria
Time slows down in the Azores. The island has thousands of years of history and it doesn't seem to be disturbed by the fast rhythms of our era. However, São Miguel is a lively destination. It's home to almost 50,000 people and it has a very important university, so expect to find everything you need for a comfortable and even luxurious holiday. Sights like the Porta de Cidade, a gateway with three arches that dates back to 1783, the beautiful mosaic square of the Praça de Goncalo Velho, as well as the Forte de Sao Bras, tell stories about the colonial heritage of the island.
The capital of São Miguel, Ponta Delgada, a black and white experience, is always on the move and has plenty to offer to tourists searching for great restaurants and boutique hotels. It has picturesque mosaic cobbled streets and plenty of fish restaurants. This city is also the departure point for whale watching adventures. The Terra Nostra estate situated nearby is perfect for a dip into thermal waters and for an incursion into the island's tropical flora that boasts azaleas, ginger lilies and camellias. Don't miss a visit to Gorreana, Europe's only tea plantation that has been the same since 1883.
The oldest of all islands, Santa Maria surfaced around 10 million years ago. The "mother island" has probably the best beaches in the Azores and the water is warmer here than anywhere else. Tourists usually gather to admire the bay of São Lourenço, as well as Praia Formosa, a Blue Flag beach known as a perfect setting for jet-skiing, surfing and kayaking. The villages in Santa Maria remind visitors of those in the Algarve, so expect to find plenty lime-washed houses with cylindrical chimneys here.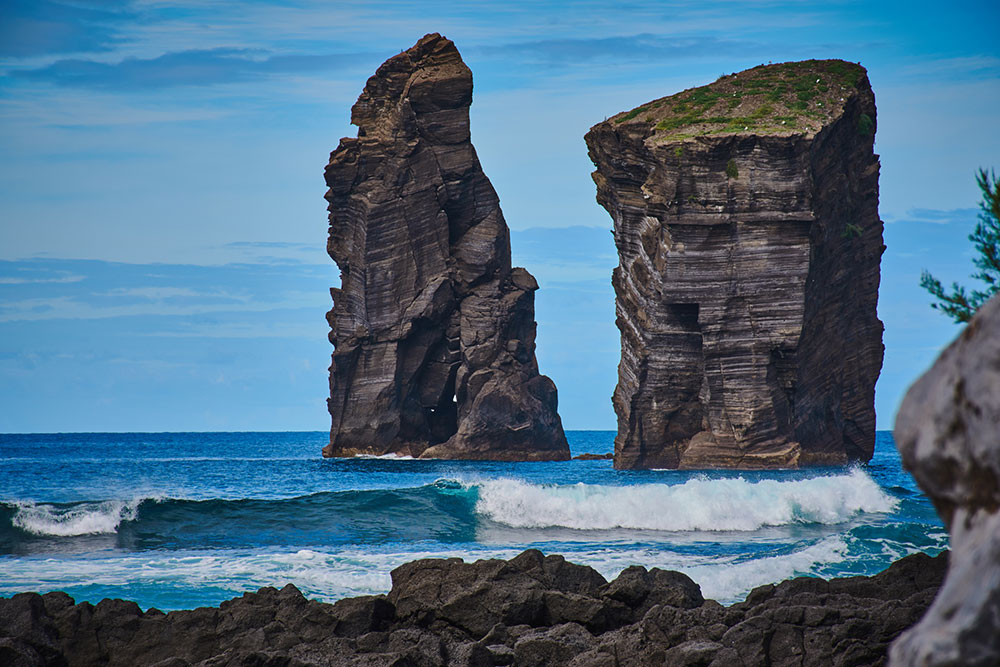 Pico and Terceira
The stars of the central cluster, Pico and Terceira are ready to dazzle and take your breath away. Pico's scenery is dominated by a perfectly symmetrical volcano that sprung out of the deep blue waters of the Atlantic millions of years ago and continues to look menacing and merciless. Montanha do Pico is 2351 m high and if he would want to, he would definitely be able to swallow up the entire island without going to through much trouble. Fortunately for us, the volcano is quiet and ready to be hiked, if you're up for a three to four hours hike up and another four hours down. Pico is home to the UNESCO volcanic vineyards situated on the Caminhos de Santa Luiza. Descend on one of the world's longest lava tubes, Gruta das Torres, for more extraordinary vineyards.
It's true that you will find more cows than people on the roads of Terceira, but this is not necessarily a bad thing. You will enjoy quiet walks and beautiful vistas of patchwork fields and a dazzling blue Atlantic that always finds a way to show up on the horizon. To the west, you will spot the volcanic Serra de Santa Bárbara massif. However, the main attraction in Terceira has to be the oldest city in the Azores, the UNESCO World Heritage Site Angra do Heroísmo. The town is home to a 16th-century fortress and a superb Renaissance old town. Fancy a swim in a lava-rock bathing pool? Head to Algar do Carvão, a 90m-deep volcanic chimney and follow the road to Biscoitos.
Flores and Corvo
Flores is a UNESCO Biosphere Reserve since 2009, which means this is the perfect destination for nature lovers. It's true that all the Azores islands are rich in wildlife and flora, but Flores has a beautiful luxuriant botanical garden blessed with the highest rainfall, so get ready to be mesmerized by scents, colors, lagoons, and waterfalls. Many coastal hikes await in Flores, perfect for loners who want to be away from it all for a few days or more. Canyoning and diving to lava tubes and caves are also popular activities on the island.
A petite island, with only one village and one caldera, and home to 430 inhabitants, Corvo is a remote destination, perfect to recharge your batteries, hide away and admire the unspoiled beauty of Mother Nature. Yes, the time has stood still in Corvo, its residents still speaking a medieval Portuguese dialect and locking their doors with juniper latches. A superb destination for birdwatchers that fly here especially in October and November, Corvo is untouched by the contemporary. If you love hiking, 5.3 km of trails wait here, from Caldeirão to Cancela do Pico. Enjoy the silence!