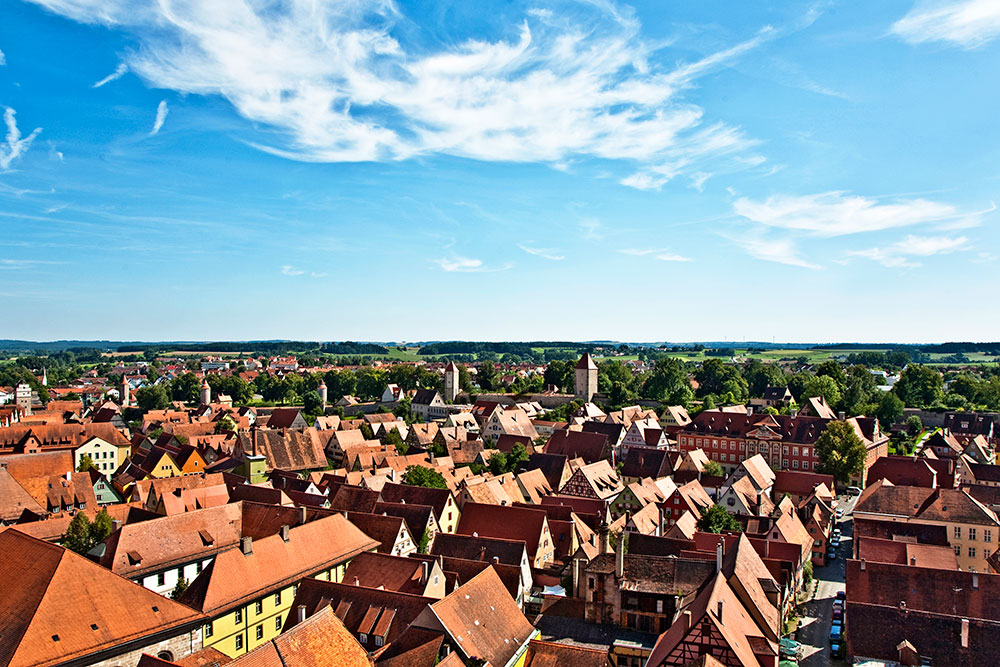 Many of us know about Berlin, Munich, Frankfurt and the other gargantuan metropolises of Germany where you'll find museums, architecture, and entertainment, but also the daily hustle and bustle and frenzy of working people grabbing their coffee on the go and hurrying to get to work. How about we take the less traveled paths of Germany and leave behind the most popular and most visited. I suggest we follow the Romantische Straße (Romantic Road) in western Bavaria and stop from time to time to admire a castle, walk the streets of a medieval village, eat a sausage and drink some German beer. What do you think? The road itself is 355 km long and will take you to places untouched by time and beautiful pastoral countryside. Just follow me and discover a corner of hidden Germany!
Dinkelsbühl
Situated only 30 minutes away from the picturesque, but not-so-hidden, medieval Rothenburg ob der Tauber, Dinkelsbühl is as pretty but lacks the tourist frenzy and street signs in English and Japanese. Walk the cobblestone streets and admire charming half-timbered houses without having to wait an hour to get a clear photo. This lovely town has a beautiful intact city wall and no less than sixteen towers and four entrance gates. What did I tell you? As lovely and frozen in time as Rothenburg ob der Tauber but without the crazy tourist crowd. The towers offer superb views of the town, while the local bakeries will lure you in with fresh pretzel and bread.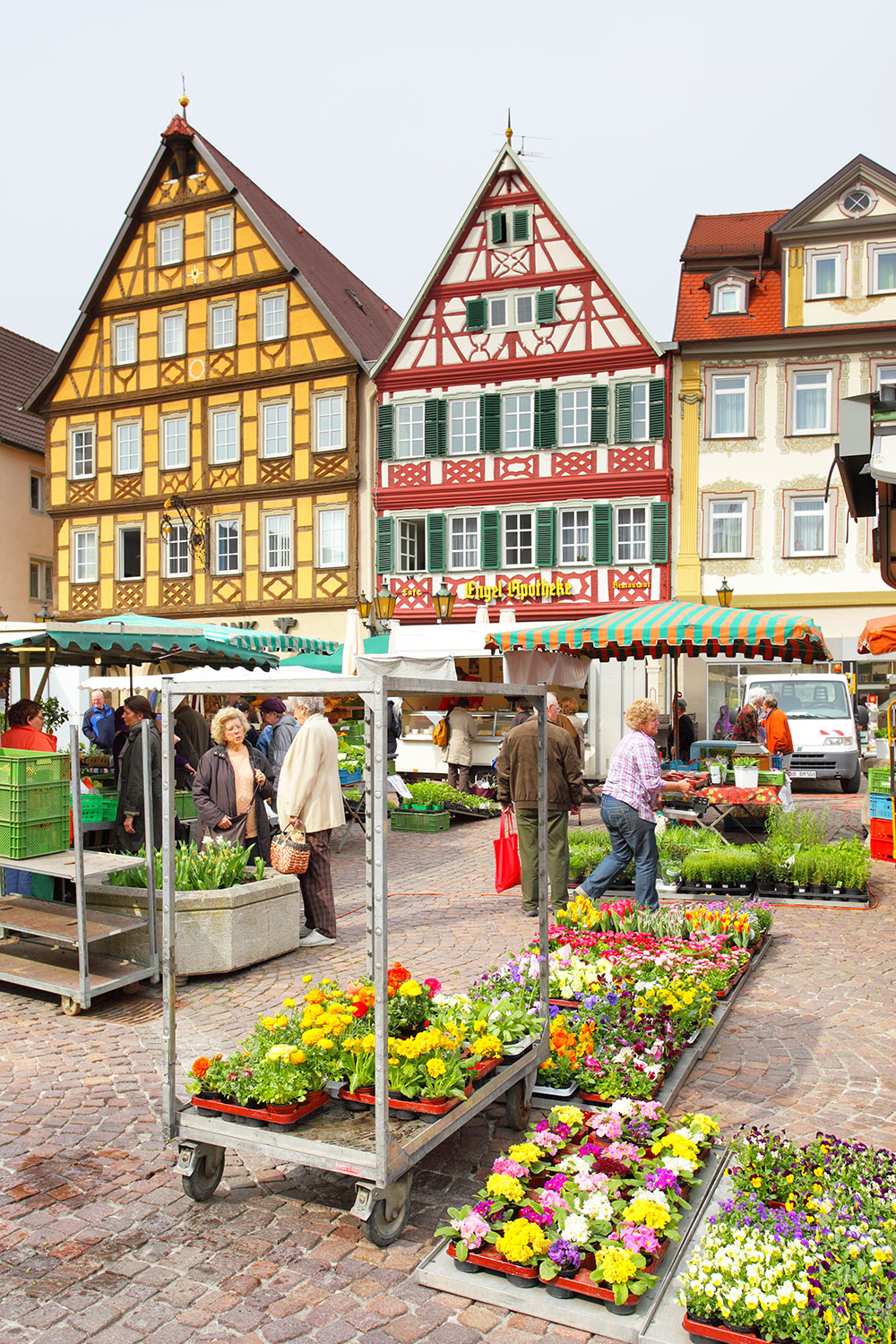 Bad Mergentheim
Many travelers love to stop for a night or more in Bad Mergentheim and explore the city's historic sights. Known as the base of the Order of Teutonic Knights from 1526 until 1809, the town is home to a fascinating castle and a very interesting museum that tells stories about the town's history. Yes, you'll encounter plenty of pretty half-timbered houses in Bad Mergentheim too, so you can add them to your Instagram collection. Also, since the town is a "bad" (spa), it's interesting to know that is mostly known for its mineral waters. As a matter of fact, the town has healing waters and houses a world-class spa center that puts them to good use.
Weikersheim
A small village with a grand palace, Weikersheim is surrounded by vineyards and beautiful countryside. It charms visitors with its imposing royal architecture and elegant market square. The Weikersheim Palace is a lovely Renaissance-style palace from the 12th century used mostly for artistic performances, where visitors can enjoy a tour and admire its Baroque garden. The town's church, Wieskirche is a UNESCO World Cultural Heritage site and dazzles travelers with rich rococo elements of décor and the story of a wooden statue of Christ that shed tears in 1738. You can see the statue in the church's chapel and, who knows, maybe if you spend some time with it and mention the latest news, maybe it will shed tears again. Since the town is often missed by tourists, you'll have the chance to have it for yourself for a while.
Creglingen
Truth be told, Creglingen is a really small town. This tiny settlement seems forgotten by contemporaneity but this is just one more reason to stop by and visit it. A romantic painting dotted with half-timbered houses and a lovely church, Creglingen will pose with nonchalance for a million photos without having to worry that someone will ruin the shot. Even though is little, old, and not at all popular, the town houses some peculiar attractions. You'll find here the Thimble Museum where you can admire over 3,500 such items. But that's not all! There's a second museum, as tiny and quirky as you can expect. The Lindleinturm Museum is half house, half medieval bastion, and it can be visited by small groups of only six people at a time. However, the number one attraction of Creglingen is the Herrgottskirche, a 14th-century church. The altar dates back to 1510 and is a spectacular example of late-Gothic sculpture. I know! So many things in such a tiny, little, funky town!
Nördlingen
First mentioned in 898, Nördlingen enjoys an almost perfect circular design and is considered one of the best walled cities in Germany. You will immediately notice the abundance of red roofs and half-timbered homes that create a lovely medieval picture. Most visitors come here to visit the medieval St. George's Church but once they get to Nördlingen, they will discover the secret behind its circular shape. For many, many years, people believed the city was circular because it was built into a depression left by a volcano. However, in the 1960s the true origin of the circular shape was brought to light. Nördlingen was founded on a crater made by a meteor. Add to this the fact that, at the impact, the asteroid created suevite, a rock that contains, among other things, diamonds, and you'll have yourself a natural, manmade wonder! People used the rock for the town's buildings, which means that these are made from… diamonds! Talking about amazing hidden gems!
Next time you're planning a trip to Germany take the less traveled path! Who knows where it will take you?! Maybe you'll find diamonds, maybe you'll find half-timbered houses, or maybe you'll find beer! Either way, you'll be happy with your German experience!