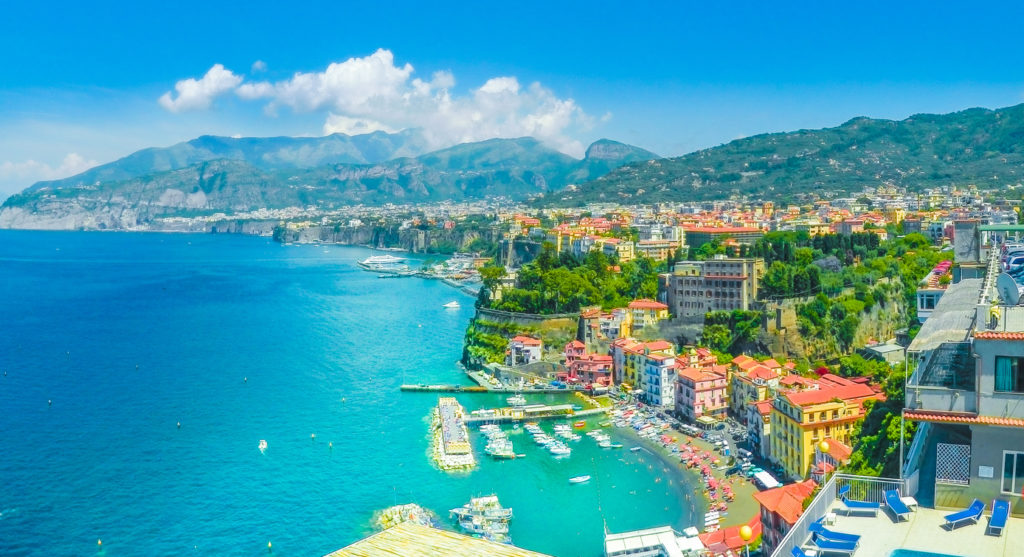 We've all heard about the glamour of Positano and the winding road of the Amalfi Coast but what about Sorrento? Is Sorrento as beautiful as the other towns that adorn the coast? Are there things to do in Sorrento? Can you relax in Sorrento? Our answer is yes to all your questions! Sorrento is a lovely town on the Amalfi Coast situated perfectly between all the major attractions of the region. Surrounded by rolling hills, deep valleys, and the Lattari Mountains, Sorrento makes for a relaxing destination to spend a few days of your holiday in Italy.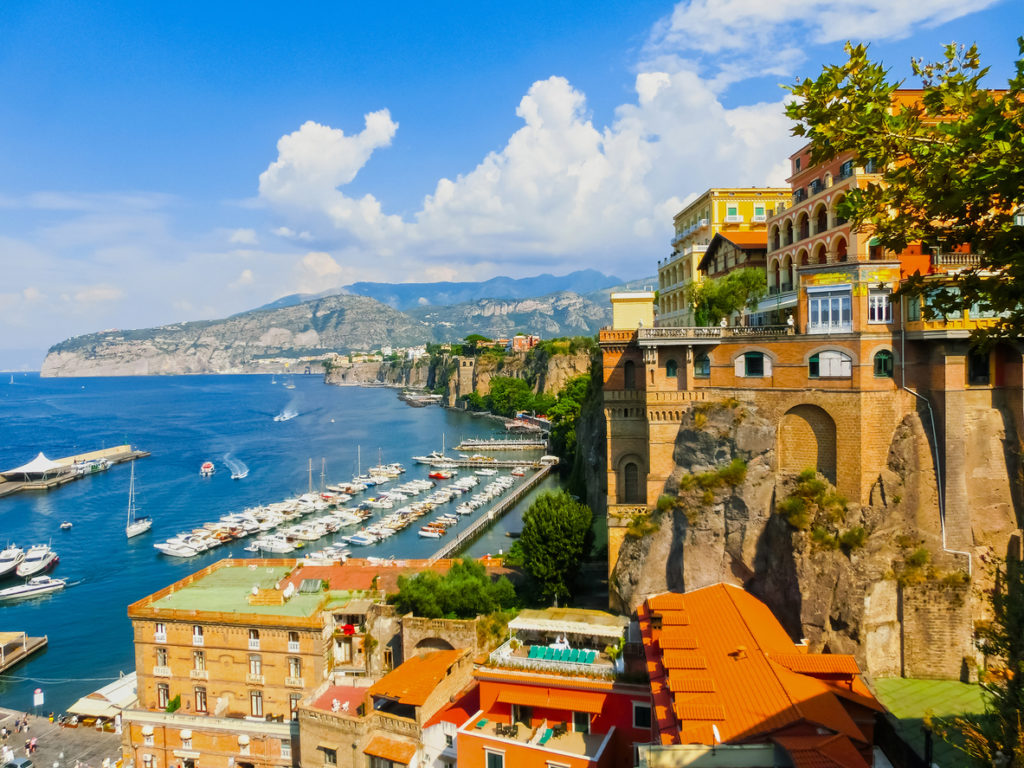 While it offers spectacular views, great food, and superb beaches, it's also more affordable than its neighbors. As you can see, Sorrento is proof that you can have it all when visiting the Amalfi Coast: breathtaking views, excellent food, lovely accommodation, and decent prices. Hop on a plane and head to Sorrento!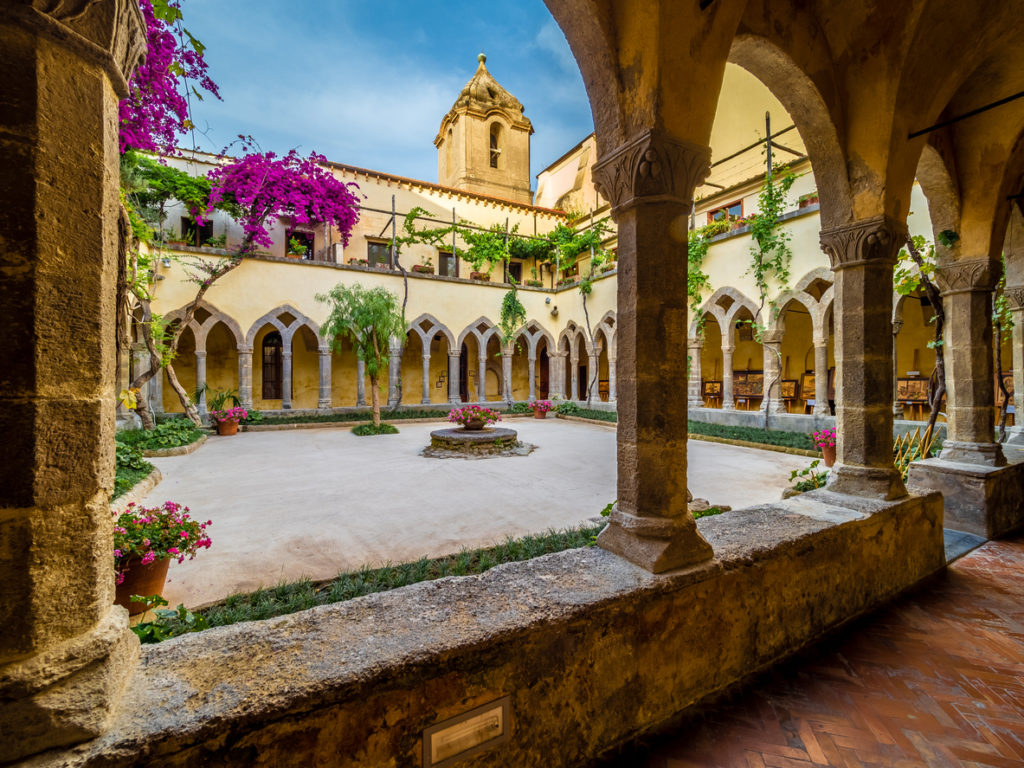 Listen to the silence in the old churches
One of the best ways to achieve interior peace and relax your mind and body is to just sit quietly for a while and meditate in silence. A visit to the Duomo creates the perfect background for your deep breaths. Built in the 15th-century, the Duomo situated on Corso Italia, the town's main street, may not seem impressive at first glance, but once you get inside a world of wooden and marble decorations will remind you never to judge a book by its cover. Sorrento has many old churches, and one of its prettiest has to be the Chiesa di San Francesco. Charming and offering lovely views of the Bay of Naples and Vesuvius, the Church of St. Francis of Assisi is a beautiful place to relax for a while. Its lovely cloister is under the spell of a whimsical forest of plants and exudes serenity every step of the way.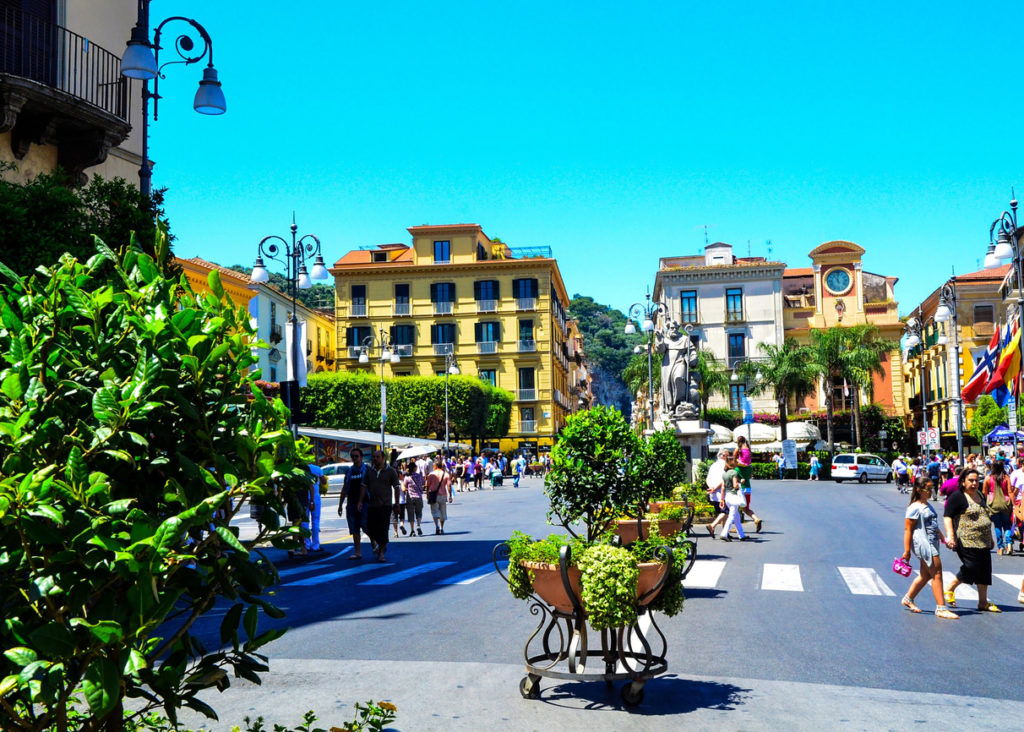 Engage in people-watching at Piazza Tasso
What better way to forget all about your worries than watching other people going about their day? Piazza Tasso seems to have been designed especially for this purpose! With its abundance of terraces and boutique shops, locals offering carriage tours and visitors walking hand in hand, Vespas buzzing around on the busy roads on the side, Piazza Tasso certainly isn't quiet. Nevertheless, it has a special way to quiet those thoughts and invite you to sit for a while at a café and enjoy your daily cup of authentic Italian cappuccino. Choose Fauno Bar if you want to have an excellent lunch, admire pretty views, and feel a bit pampered.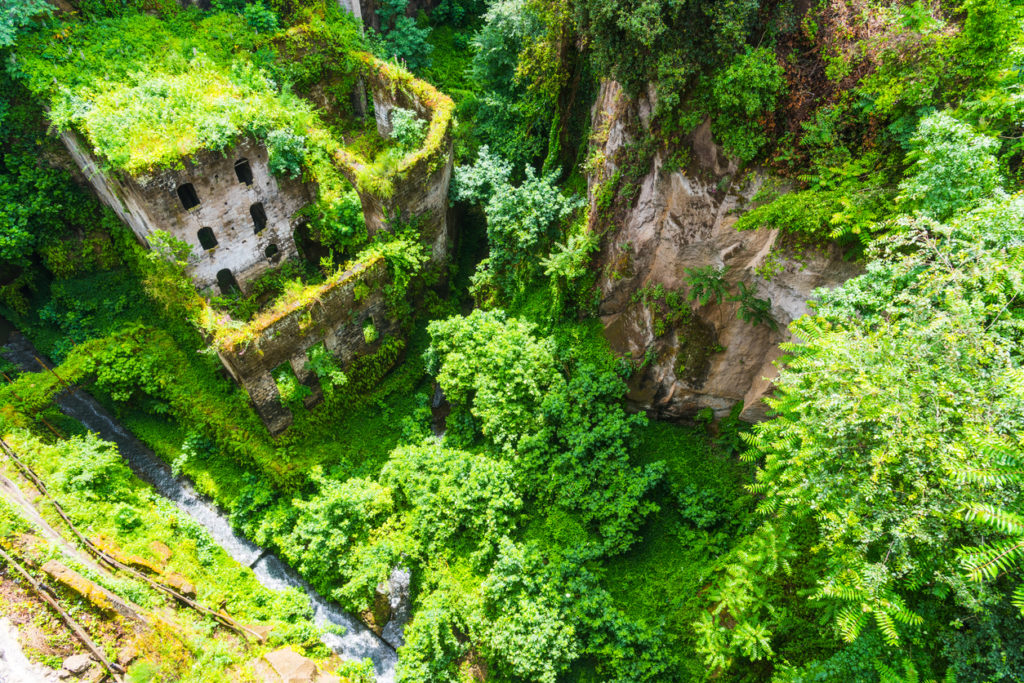 Daydream while admiring Vallone dei Mulini
Il Vallone dei Mulini or The Valley of the Mills is a mysterious valley where old buildings have been taken over by nature. It looks spectacular, like something out of a Gothic novel, and can very well be a muse for daydreaming. Many visitors end up imagining how the buildings would have looked back in the day when they were functional and inhabitable. The valley has a certain primordial look to it that would fit perfectly in a movie about dinosaurs that have taken back the planet! If you insist on getting the facts, you'll be glad to know the buildings are as old as they seem. The mill itself is 700 years old and was abandoned in the 1940s. Nature was eager to claim back the land and create what is now one of the most beautiful attractions on the Amalfi Coast!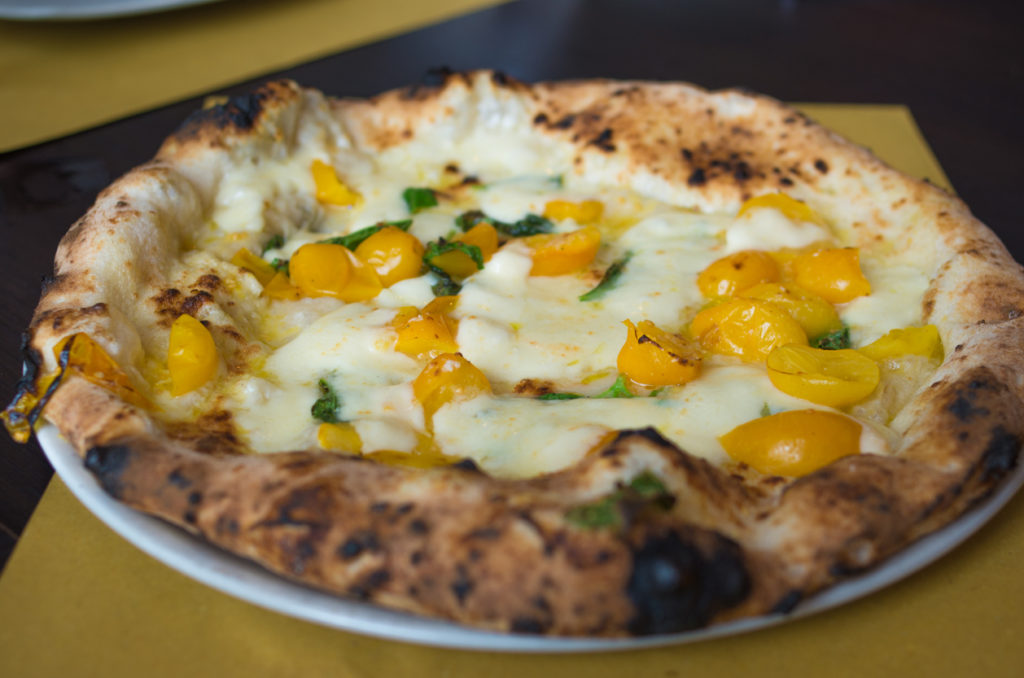 Learn how to cook Italian dishes
Cooking relaxes many people! But learning to cook in Italy is the ultimate experience for gourmands! The food in Sorrento is, as expected, mamma mia! How about learning a thing or two about how it's made? Sorrento has many cooking classes available for tourists, so why not join one and learn how to make pizza, pasta, or even limoncello! Cooking with Mamma Annamaria is a great choice if you want to find the secrets of Italian cuisine straight from a lovely and authentic Italian lady! Annamaria will make sure you'll leave her class wiser than when you came in and will give you a recipe book to take with you!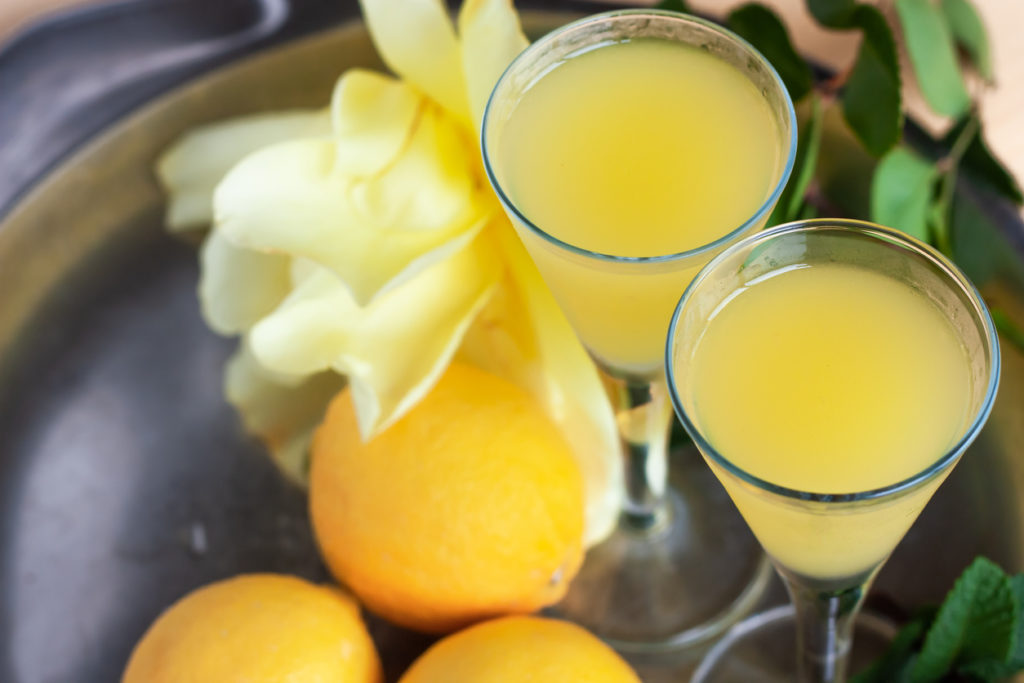 Indulge in seafood at Marina Grande
If you love seafood, you're in the right place! Sorrento has numerous restaurants that serve seafood, and you'll find most of them…well, by the sea! Visit Marina Grande and enjoy a plate of fresh seafood with a view. Marina Grande is a small fishing village annexed to Sorrento that sits on the edge of the bay and can become quite busy in the summer evenings. It is colorful and picturesque, a truly wonderful location, perfect for enjoying some fresh fish pulled earlier from the sea and traditional Italian meals.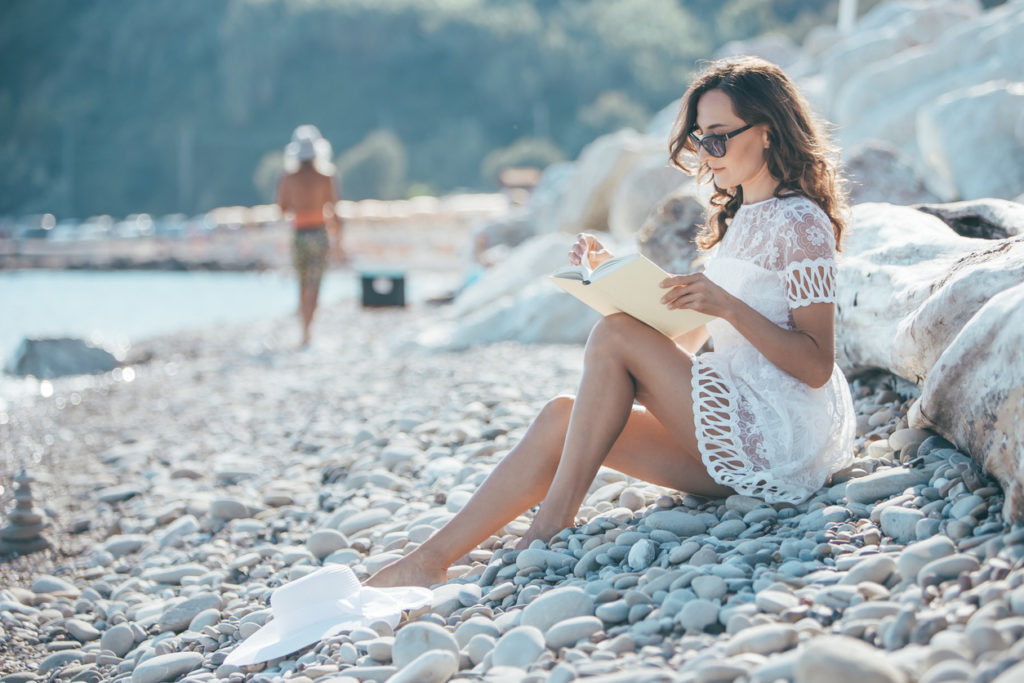 Take a bath at the Baths of Queen Giovanna
If you want to leave the crowded beaches of the Amalfi Coast behind and relax in a secret Garden of Eden, head to the Baths of Queen Giovanna. A divine spot blessed with a natural swimming pool, the Baths offer a serene place for a dip and a nice walk around the cliff tops. The views from here are impossibly beautiful!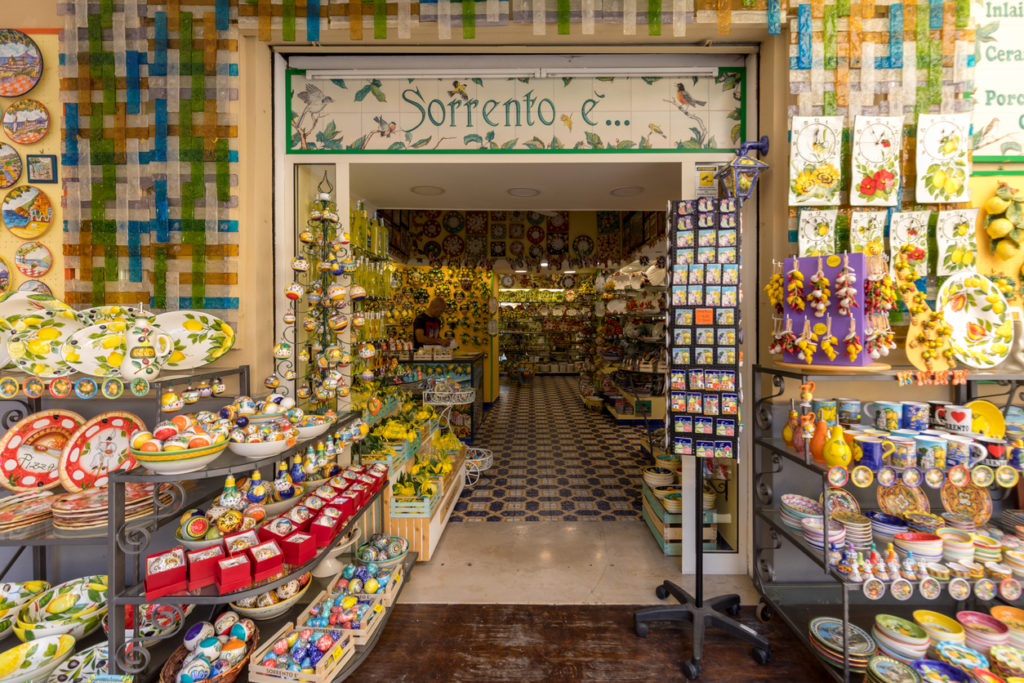 Follow the route along the wooden pier, and you'll eventually reach a lovely waterfront restaurant called La Solara. You can spend your entire day here without feeling anxious, restless, or bored! Sip your wine, eat your Italian dish, and just enjoy the peacefulness!