A secret gem in Croatia, Baska Voda is a little corner of sunny heaven. Nestled at the foot of Mt. Biokovo and boasting long pebbly beaches on the Adriatic coastline of Dalmatia, this picturesque town is home to only 2,900 residents but delights visitors with superb attractions.
Baska Voda was once a farming and fishing town and, according to archaeological findings, it was inhabited 4000 years BC due to its freshwater spring. During the 18th century, after the Turks left the region, the town's inhabitants decided to move their settlement from the slopes of St. Ilija's Ridge to the shore, closer to the sea, and this is when the settlement received the name it has today.
Baska Voda is now a modern beach destination awaiting on the Makarska Riviera. The popular city of Split is situated only 60 km from Baska Voda, so you can easily combine a stay in Split with a visit to Baska Voda or the other way around.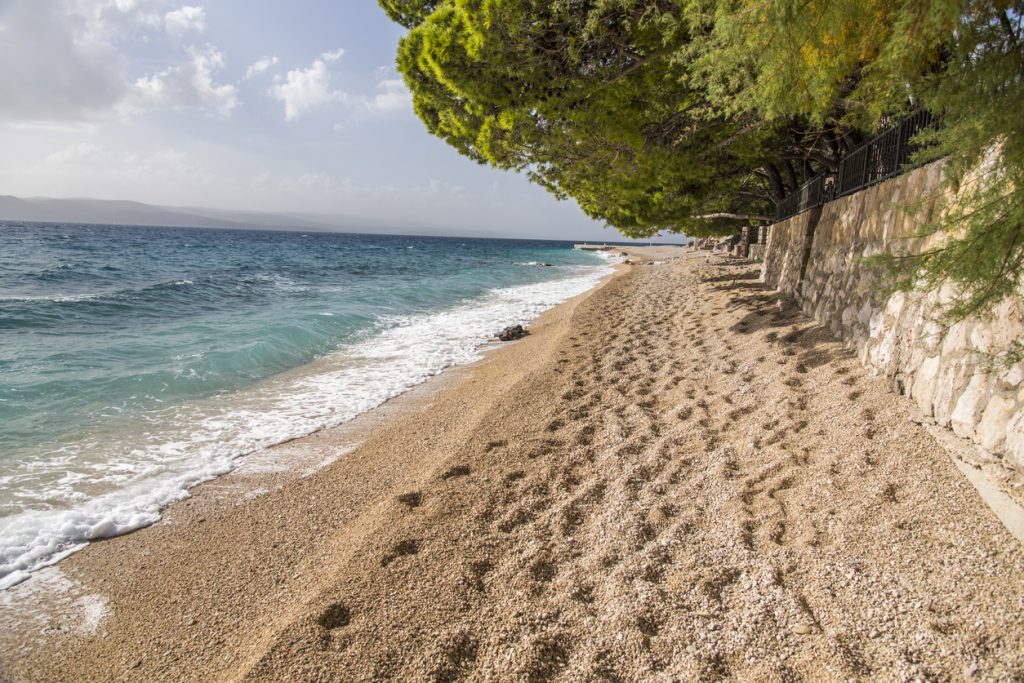 Beaches in Baska Voda
Everybody comes here for its gorgeous beaches. Several kilometers of lovely pebbled beaches await along the Adriatic shoreline in both directions from the town's marina. They're all framed by colossal pine trees that create breezy shaded corners for those who want to hide for a few moments from the generous Croatian sun. The beaches of Baska Voda are modern and equipped with showers, sunshades, and sunbeds. Next to them, you'll find several beach bars that create an exotic atmosphere and invite sunbathers to relax while enjoying a cold beer or an ice cream. The water is crystal clear and always warm during the months of summer.
Nikolina Beach is the town's main beach, a Blue Flag pebbled beach that lures sun worshipers with its crystalline blue waters and lush trees. Nothing is more pleasant than to be lazy on a sunbed while being caressed by the gentle sea breeze and the fresh mountain air. The beach has all the modern facilities you need, including toilets and changing rooms, cafes and bistros. Activities include boat excursions, paddle boating, parasailing, snorkeling, jet-skiing, and windsurfing, but you can also rent a boat or a kayak and have fun in a more classical way.
In the northern region of the harbor, you'll find the beach of Ikovac, another lovely stretch of pebbled beach that enjoys a superb setting. The contrast between the white pebbles and the turquoise sea, accentuated by the presence of the beautiful Biokovo Mountains and proud pines, creates a memorable painting and an idyllic backdrop for relaxation. Kids can have fun in the water, jumping on a trampoline, or playing in the old fashioned way, at the playground. Visitors also have access to paddle boating, banana rides, jet-skiing, and tubing.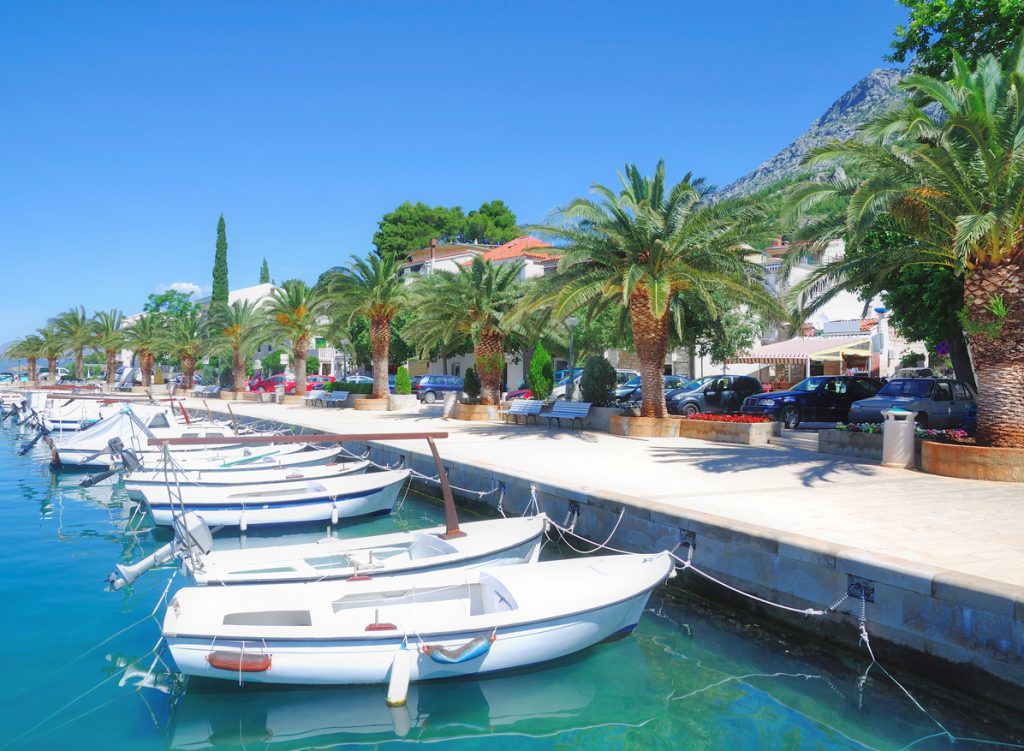 Other attractions in Baska Voda
The town may be small but its attractions are not limited to its superb beaches. Its 16th-century core dominated by Venetian townhouses is perfect for strolls and having lunch or dinner in a peaceful and quaint setting.
Since Baska Voda is soaked in history, you'll find many sights to keep you busy once you leave the beach. The church of St. Lovre, dating back to 1750, is the most famous historical monument in town and for good reasons. It's a splendid example of late baroque architecture and a fascinating piece of history. Visitors also stop at the Church of St. Nikola, built in 1889 in a neo-romantic style and home to superb stained glass, and St. Roko Church, an impressive Gothic building dating back to the 15th century.
History buffs love to visit the town's museums, especially the Archaeological Museum dedicated to the town's turbulent past, and the Malacological Museum, where they can discover an impressive collection of shells from the world's oceans and seas.
Near the town, you'll discover a rich archaeological site, dating back to the Roman times and home to burial sites with lamps, jewelry, urns, and even coins with the head of Alexander Severus Aurelianus. Visitors are often impressed with the headstones commemorating 13 of the town's ancient inhabitants, especially the one dedicated to a boy called Ursinus, who found his end in a shipwreck between 100 and 150 AD.
Hikers will love to know the Biokovo Mountains range is the second-highest mountain range in the country. Its two peaks, St. Elias (1640 m) and Sibenik (1450 m) are guarding Baska Voda and make for great hiking destinations. The trails are a paradise for hikers who'll get to discover a spectacular landscape.