While many just transit Santiago, on their way to other destinations in South America, the capital city of Chile remains behind them undiscovered and overlooked. However, those who avoid spending a few days in Santiago will be forever robbed by wonderful, unique experiences that only Santiago can offer.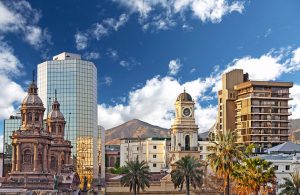 A metropolis that amazes with fabulous views, Santiago is cosmopolitan and sophisticated without being distant and cold. On the contrary! It's a worldly city, energetic and warm, especially during summer, when both nature and locals take over the neighborhoods and bring to life a unique place. Expect to discover amazing museums, great restaurants, crazy parties and an extravaganza of cultural currents.
Situated between the Andes and the Pacific Ocean, Santiago has no choice but to be absolutely spectacular. It's a destination that enjoys a Mediterranean climate, perfect for long strolls, especially between October and May, when rain fails to visit this realm.
Santiago is full of beautiful surprises, most tourists being in awe with its attractions and ambiance. It's the perfect place for strolling and discovering the personality of each neighborhood. Museums impress with interesting collections of art, while the architecture brings to your attention a plethora of styles and visions.
Always start with the view!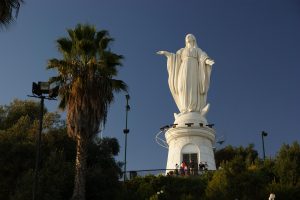 Santiago is guarded by mountains and hills, so you just have to find the highest viewpoints to capture breathtaking panoramas of the city. Climb the hill Cerro San Cristobal and discover a metropolis on a backdrop created by the Andes. You can get here either by foot or bike or, if you prefer the easy way up, you can drive or take the funicular from Bellavista. Either way, you just have to make it up there! Spend a few hours in awe with this majestic city and don't miss the sunset.
Another hill that offers a superb view of the city is Cerro Santa Lucia, situated right in the heart of the city. You can get to the top in less than 20 minutes by foot, and your effort will be rewarded with a sublime 360° panoramic view of Santiago. Enjoy your hike and take the time to discover the numerous statues, ponds and murals that create the perfect urban oasis.
Santiago houses the tallest building in South America, Sky Costanera. This means that you will have access to yet another viewpoint from where you can admire the city. The Giratorio, a restaurant situated on a rotating platform, will also offer 360° panoramic views of Santiago, but this time while you're eating.
Continue with Plaza de Armas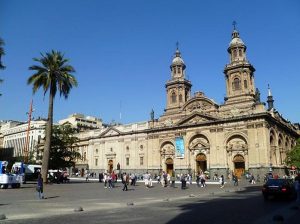 Once the city center of Santiago, Plaza de Armas continues to be one of the most visited places in Santiago. Tourists come here to visit Catedral Metropolitana de Santiago, its interior being a real magnet for photographs, as well as Museo de Arte Sagrado. History aficionados never miss a visit of the Museo Historico Nacional, housed inside the Palacio de la Real Audiencia de Santiago. They also stop for a while at Museo Chileno De Arte Precolombino.
But there is more to Plaza de Armas than its historical buildings. This is also the place where street entertainment enlivens almost every street, and where you can get in touch with locals and discover their lifestyle.
Sing and dance like no one is watching
Because no one is actually watching! They're all busy…dancing and singing. Salsa reigns supreme, and you can dance to its rhythms in almost any dance club in Santiago. Attend one of the many live salsa shows too. Who knows? Maybe you will learn some new moves.
Tango is not exactly at home in Santiago, since its main residence is Buenos Aires, but this doesn't mean it doesn't make its presence noticed in places such as Buenos Aires Tango Club. You can take tango lessons at El Cachfa!
Ile Habana is the place to go for both live music and dancing. Club de Jazz is destined exclusively to jazz lovers who want to listen to the rhythms of Louis Armstrong and Wynton Marsalis.
Take it slow in Barrio Lastarria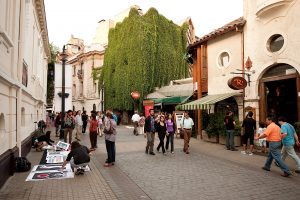 A small oasis of relaxation in the heart of the city, Barrio Lastarria is a beautiful neighborhood that exudes a bohemian ambiance. It's the perfect place to go for a night stroll and book a table at one of its many fancy restaurants or wine bars. Sample the local wines at Bocanáriz, or stop and smell the coffee at Colmando Coffee and Bakery.
Daylight brings street vendors in the barrio, ready to sell you almost anything from art and books to useless antiques. You can also schedule a shopping spree here since you will find many clothing shops ready to surprise you with beautiful creations by independent designers.
Are you in the mood for a break at the museum? Check out the MAVI Museo de Artes Visuales and/or Museo Arqueológico de Santiago.
Santiago is a city open to contemporaneity that will always cherish its traditions and culture. It impresses with a complex arts scene and surprises with a touch of eccentricity. Its economy is continuously growing and the local culture is set an era of renaissance. Santiago is a city of wonders!