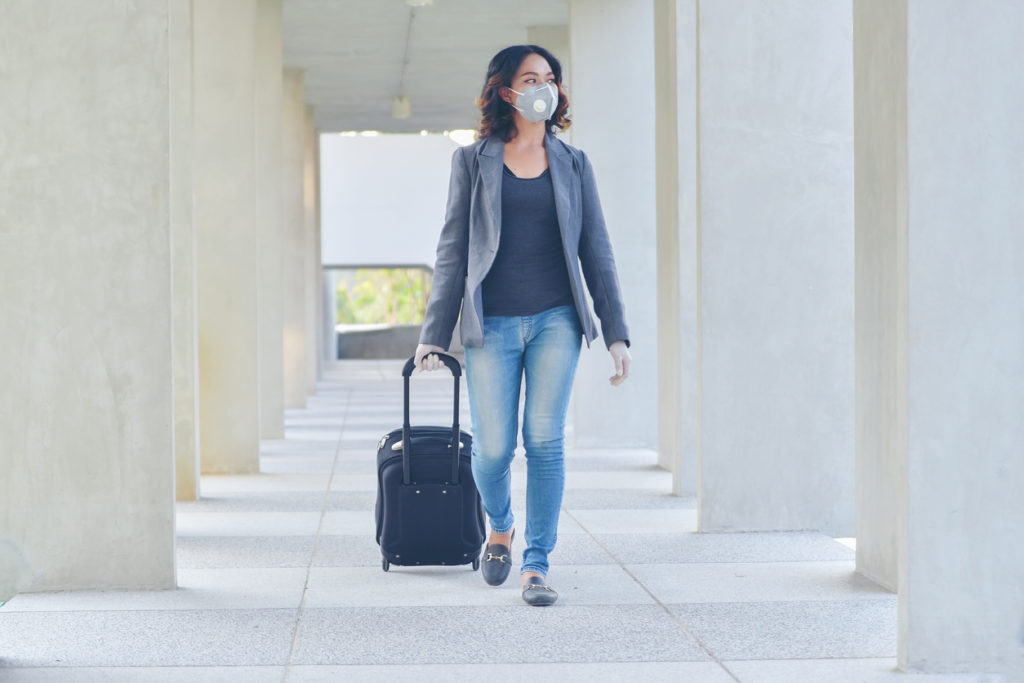 You can't bring too many bras, and you can't bring a bra that covers every kind of apparel and event. Or can you? Here are some tips on choosing bras that will cover your every need on your trip.
3 Must-Have Bras for Travel
Within 6 months before your travel, don't forget to check your bra size. That way, you won't be stuck with an ill-fitting bra for your whole trip. There's nothing more miserable than an uncomfortable bra on a long trip, and nothing more confusing than looking for a well-fitting bra on the fly.
Sports bra
If you want to work out while traveling, don't forget your sports bra. Because while you can't wear your regular bra to sports, your sports bra can always double for regular use.
Underwires give more support. If you're not sure which sport you'll be doing on your trip, it's better to go for something with more support. That way, you can do anything from yoga to tennis.
Full cups give better flexibility. Your sports bra should have full cups (the center gore lies flat against the breastbone). There will be less chafing, and it also fits a wide range of activities.
T-shirt bra
Another great bra option is a t-shirt bra. Usually without underwires, but with wider straps and bands than other bras, it is a solid and comfortable piece for everyday wear. In the interest of flexibility, a t-shirt bra can also double as a sports bra for hiking or other non-strenuous athletic activities. Don't forget to match your tops and dresses to the style! If you're planning a special night or summer wear activities, your next item should be a convertible bra.
Convertible bra
This is a no-brainer. Since you can only take 2 to 3 bras with you on a trip, you need to be prepared for anything. While less comfortable and usually less supportive because of their nature, convertible bras are a great backup if you find yourself attending a dinner or party on your travels. It can also be used on ordinary days when you have a dressier top to show off.
Choosing a Travel Bra
How do you know you're choosing the right travel bra? Here's a short checklist.
Moisture-wicking Properties
Again, think 2 to 3 bras with limited washing options. Since your bras aren't right against your armpits, sweat won't be a problem for a few uses each. However, to make the repeated wearing more comfortable, choose moisture-wicking material. This kind of material wicks away your sweat instead of soaking it up. Another advantage is that this kind of material tends to dry quickly, so even if you have to do an emergency wash, it will dry quickly on its own.
Comfort
If the bra you are considering isn't comfortable, draw a hard and fast line against bringing it. You might think it's fine now, not a big deal, but try to imagine sleeping on a long bus ride or waiting in immigration lines in that bra. If you shudder, don't bring it. Comfort comes from, most importantly, a good fit. Make sure your bra is the best possible fit for you—not too tight, not too loose. Then check all the wires and bands for signs of fraying or chafing. Elastic material might do better than wires.
Style
Stylish bras make a statement when they do show. However, smooth and understated is still a good way to go, especially if you're traveling to multiple places. You might want to consider nude bras, especially if you're bringing a good selection of summer wear or strapless tops. Nude disappears beautifully under light or see-through material.
Fit
We mentioned it in "comfort" but we can't repeat it enough. Before you pack any bra, check that the fit is still good. If you're digging out less-worn bras so they last longer on the trip, you might not fit those properly anymore. Check the fit, the size of the band and the cup, the condition of the underwires and material. Leave nothing to chance, or you might find yourself miserable on a long plane ride.
How to Pack Bras
Tuck the Cups
The most crucial concern for packing bras is, of course, how to keep the cup shape intact. Ever had a bra with a folded and creased cup? Not only does it look weird, it chafes the skin where the crease dips downward. One way to beat that is to fold your bra in half so that one cup fits into the other. After that, roll another piece of underwear up and tuck it into the cup. That way, even after packing, the cups keep their round shape.
Stack 'Em
Another technique is to unhook all your bras and stack them carefully on top of one another, cup against cup. That way, they round each other up and protect each other's internal structure. You can use your other underwear and socks to round out the top cup, and support the bra stack. We suggest the bra stack goes near the "top" of the luggage, so it doesn't get crushed by the other clothing.
Bra Travel Case
If you think that's still not enough to protect your bras, you might want to consider getting a bra travel case. These cases are formed to protect the round shape of the bra cup and keep them from rattling, folding, or tangling during the trip. They also tend to have solid, semi-hard walls that prevent other items from misshaping the bras.
Packing Cube
If you want to bring something a little more flexible when it comes to packing, you can go with a packing cube instead. These have their own shape, and are easy to stuff the corners of. You can start by packing bras and then, again, tucking underwear and socks in the cups and corners to keep them from moving or being damaged.
Packing can be a chore, but the rewards of choosing the best travel bra are endless. Spend some time on choosing or shopping for your travel bra. Every piece will be worth it.